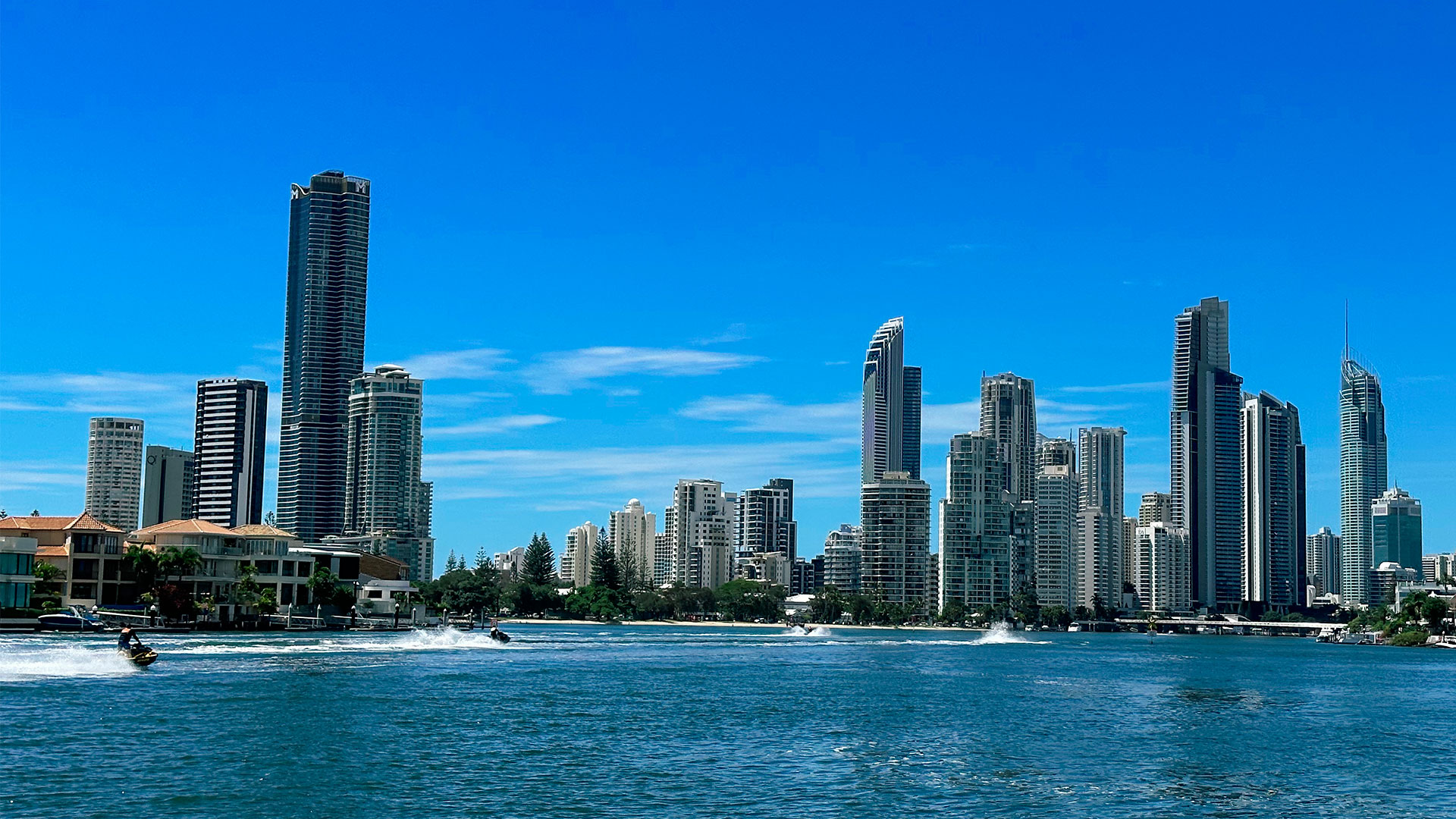 When talking about Australia's Gold Coast, it's the beaches and theme parks that often come to mind. But have you heard about "The Green Behind the Gold", AKA the Hinterland region, or explored the local arts scene? If not, allow me to shed some light from my visit to the Sunshine State earlier this year. 
Whether you're a fan of wildlife, art, shopping or adventure, this guide has got you covered on the new, underrated and must-visit attractions in Gold Coast for 2023 and beyond. Plus, I've included a few food and beverage recommendations and hotels to stay at while you're there!
---
SIGHTS & ATTRACTIONS
O Reilly's Rainforest Retreat and Villas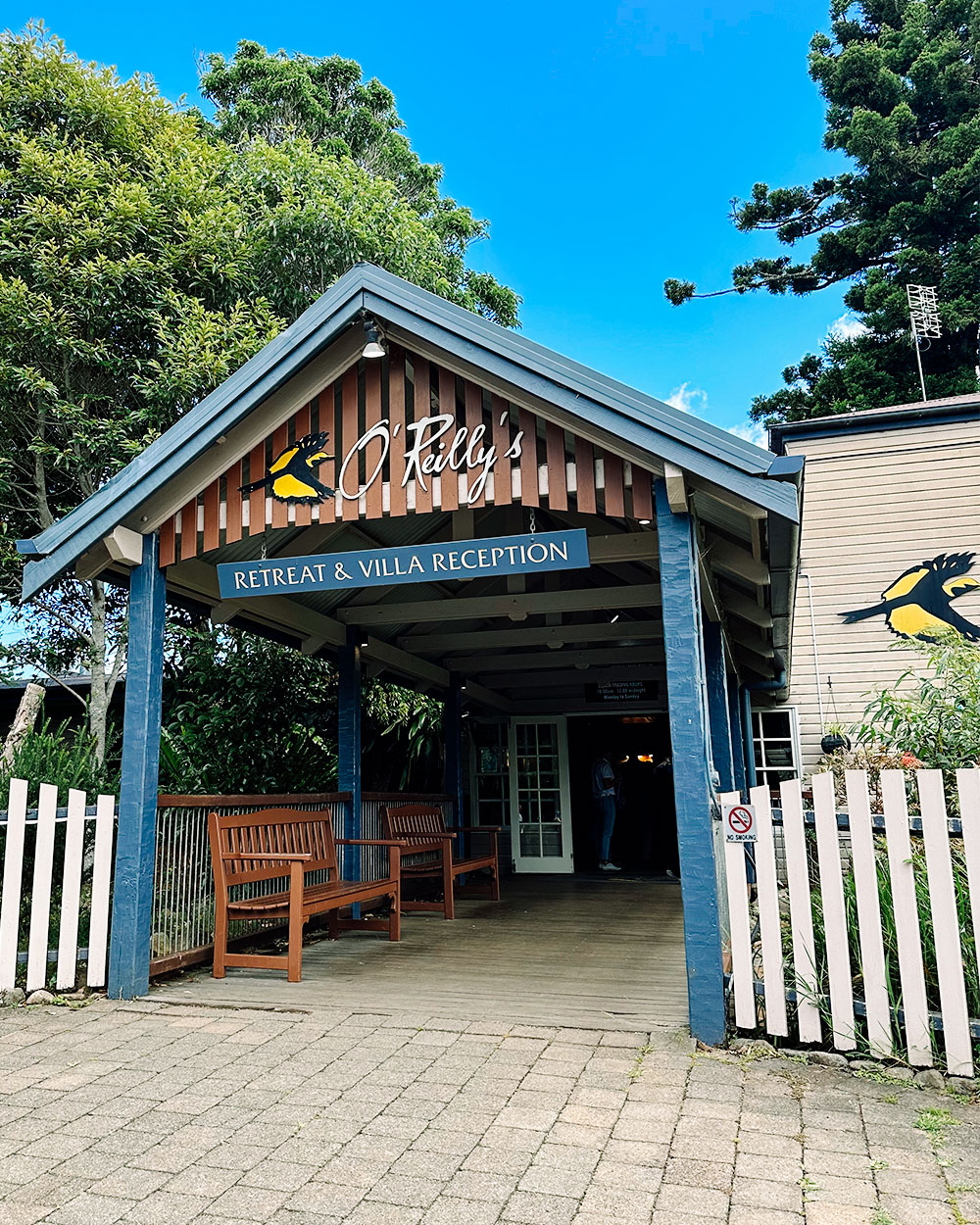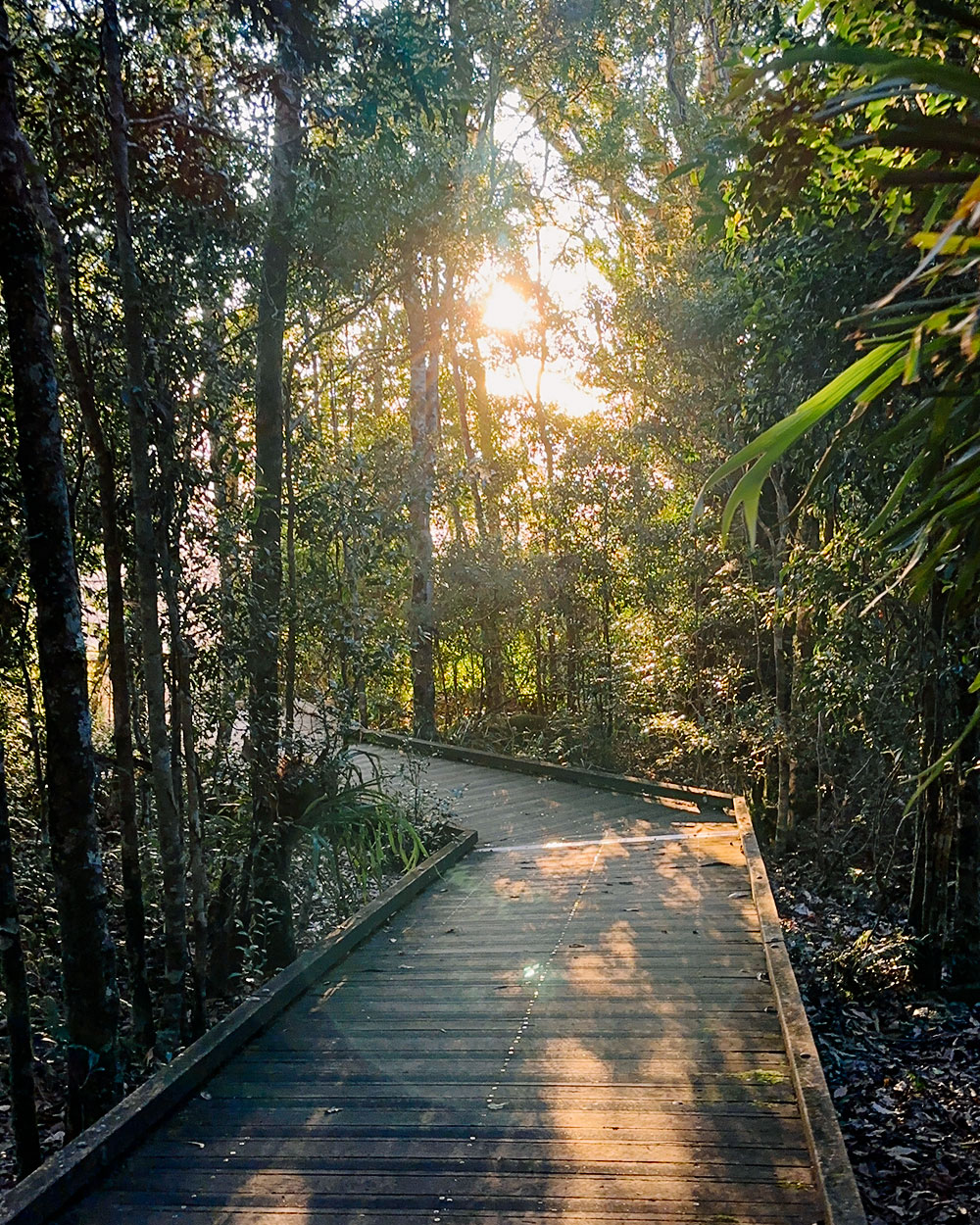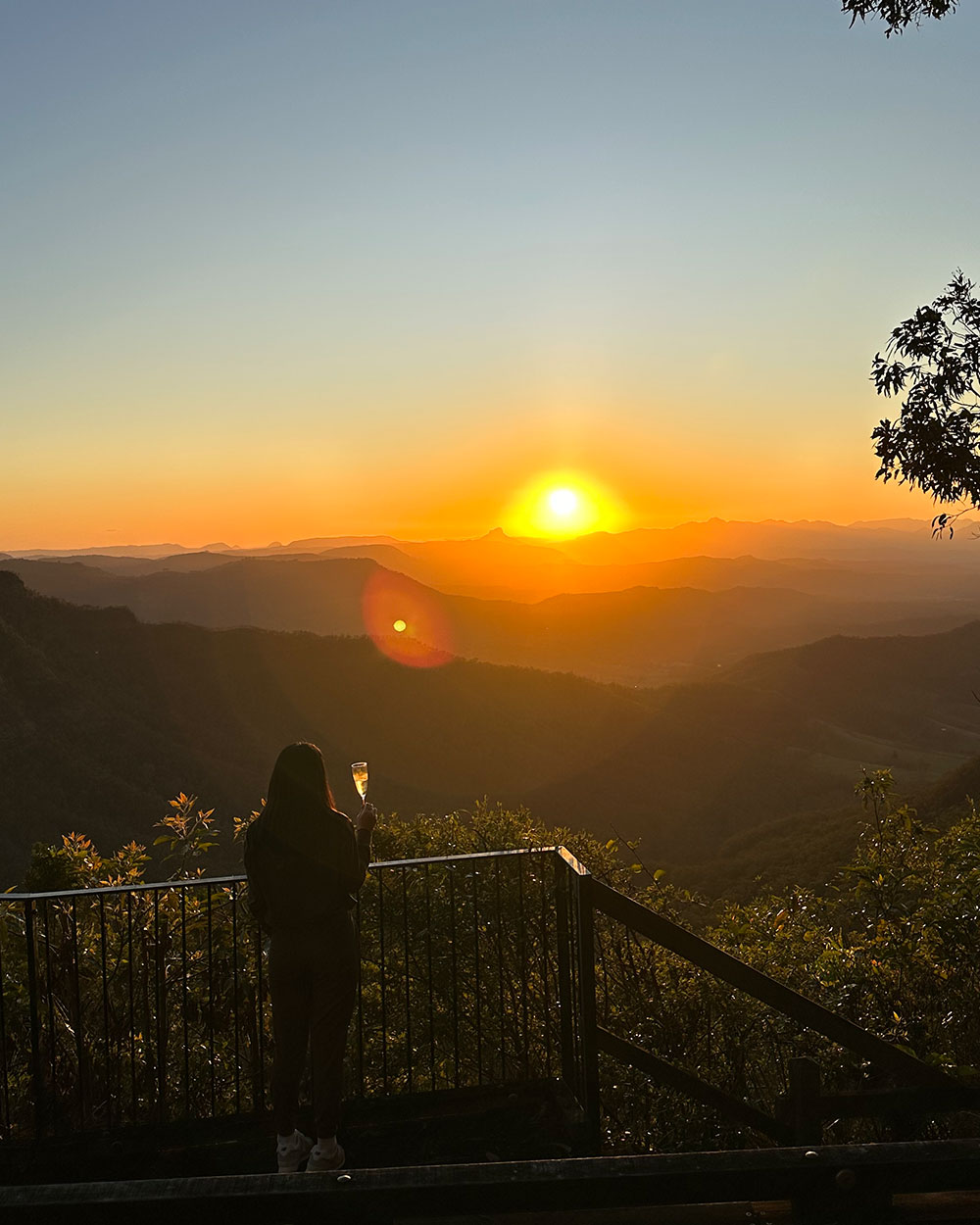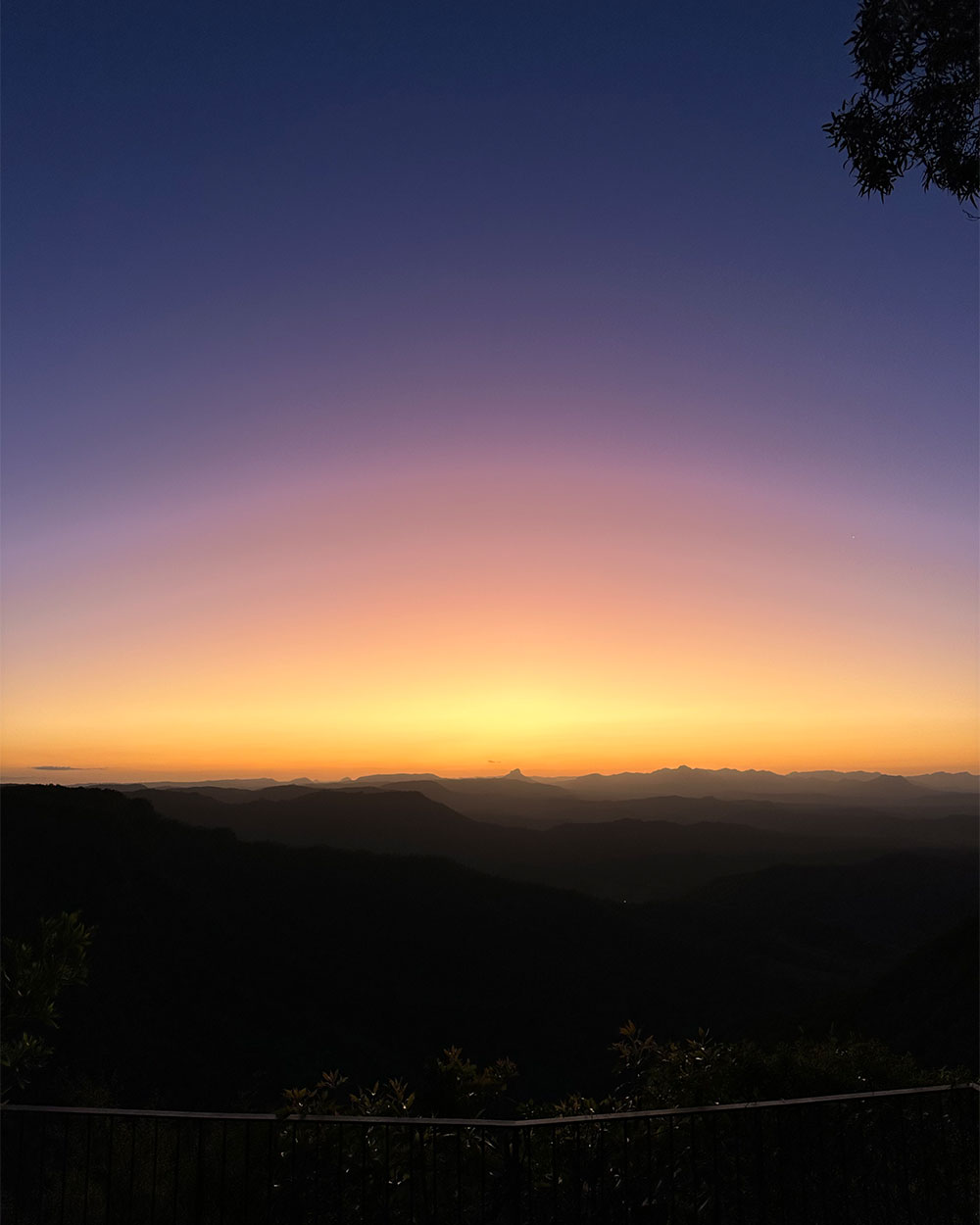 Established in 1926, O Reilly's is both a retreat and an attraction in its own right. While I highly recommend staying here (read more about my accommodation below), day trips are not uncommon for those looking to explore the wonders of the surrounding UNESCO World Heritage Lamington National Park and all its botanical gardens, lush rainforest and fascinating wildlife. Besides, it's only 90 minutes away from Gold Coast. The retreat offers a plethora of eco tours and on-site activities including guided walks, animal encounters, a flying fox adventure, and sunset experience. 
Throughout my adventures here, I found the guides to be very insightful and warm—satisfying every curiosity to the best of their knowledge while ensuring a memorable experience for everyone. The Sunset Walk is not to be missed, promising surreal views of the park under a sky that transitions from a gradient of oranges and reds to a sea of blues and purples, complete with a delicious charcuterie board and champagne refreshments. 
Website | Facebook | Instagram 
Mountview Alpaca Farm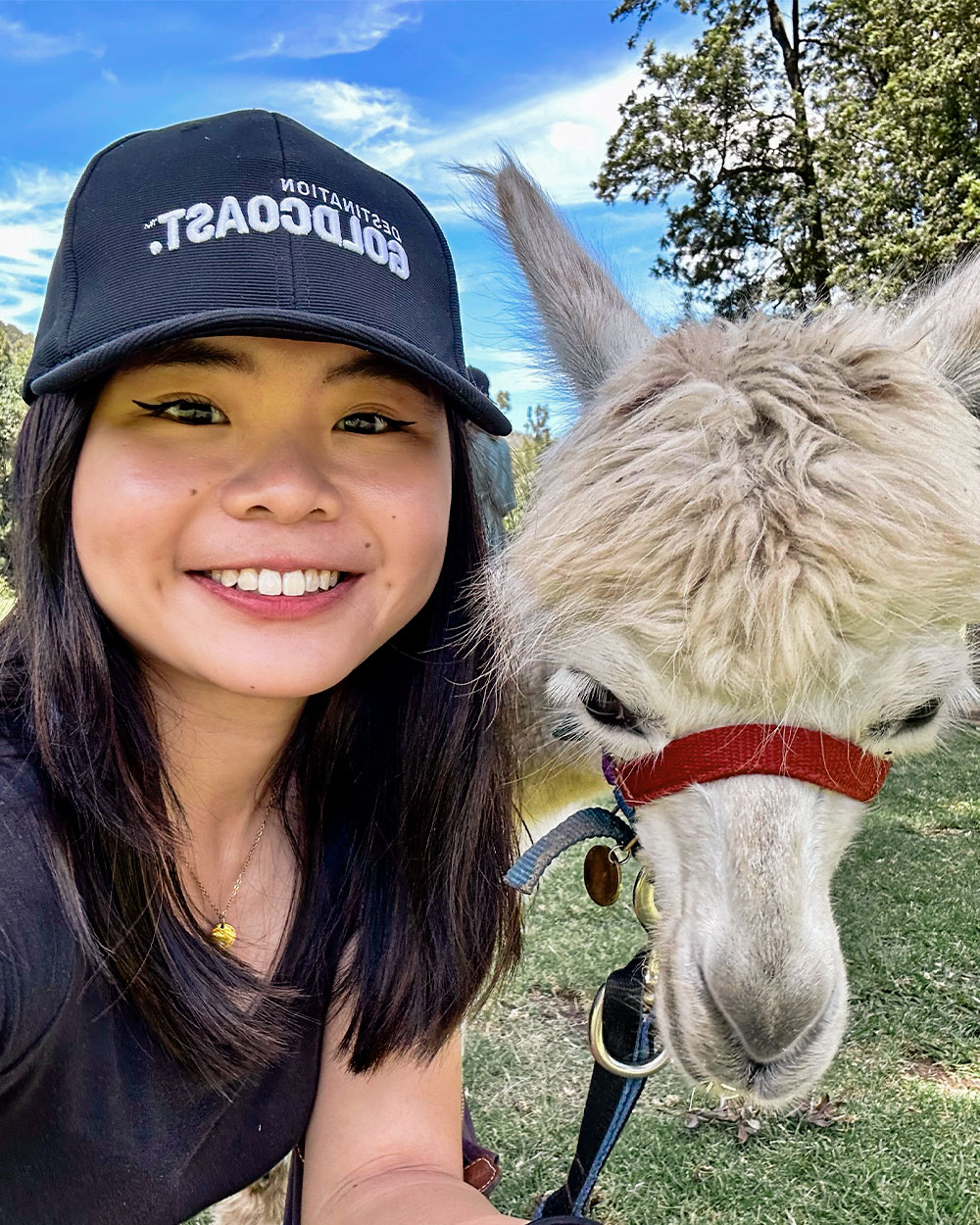 Ever dreamt of walking an alpaca? At this farm, you can walk, feed and take a selfie with adorable alpacas in a scenic vineyard! This family-friendly activity is sure to put a smile on your face as each furry creature has its own unique personality and antics that are just as amusing as it is enlightening. Better yet, book a picnic with the alpacas to graze on a cheese platter and grab a bite in the company of these cute companions.  
Website | Facebook | Instagram
Home of the Arts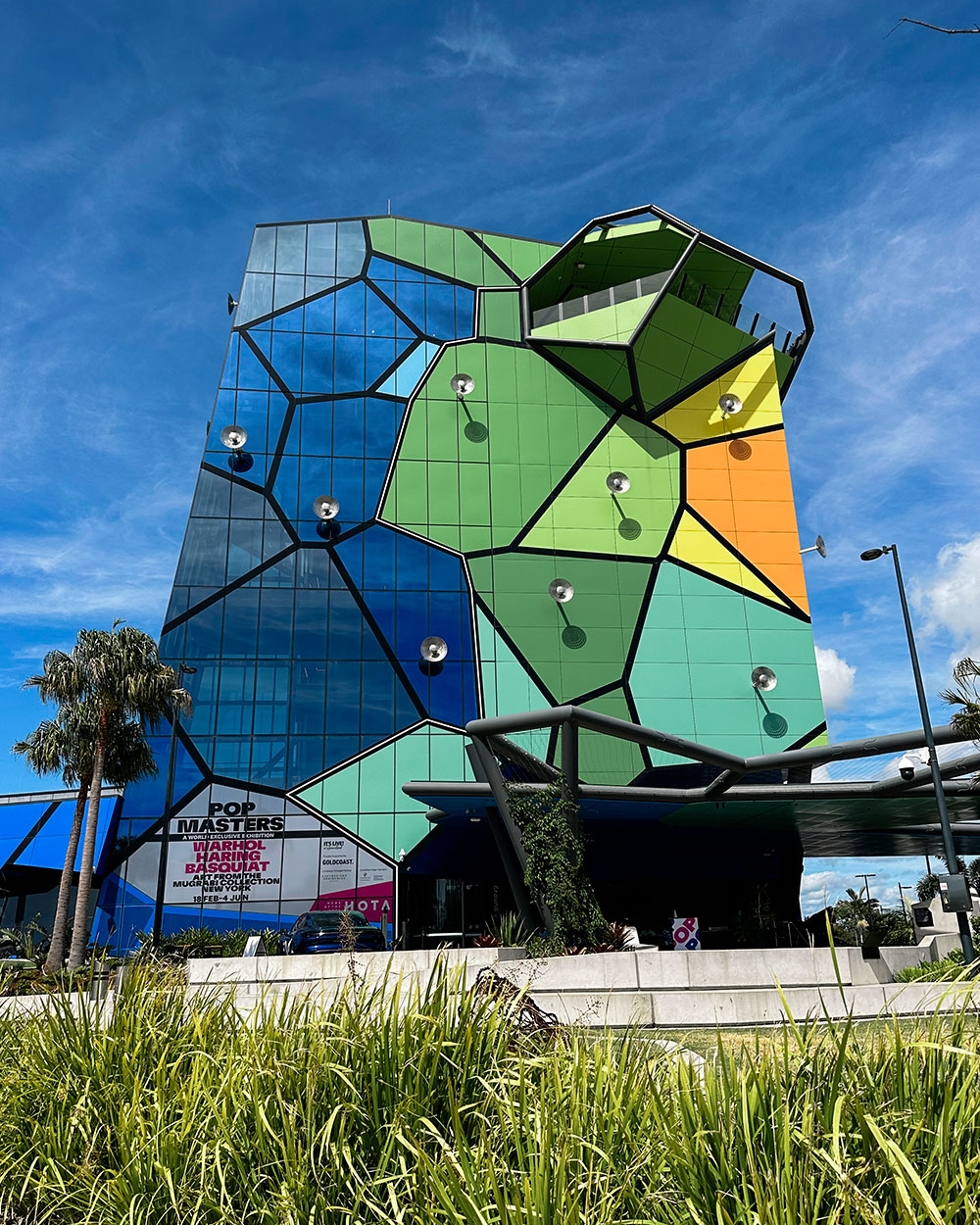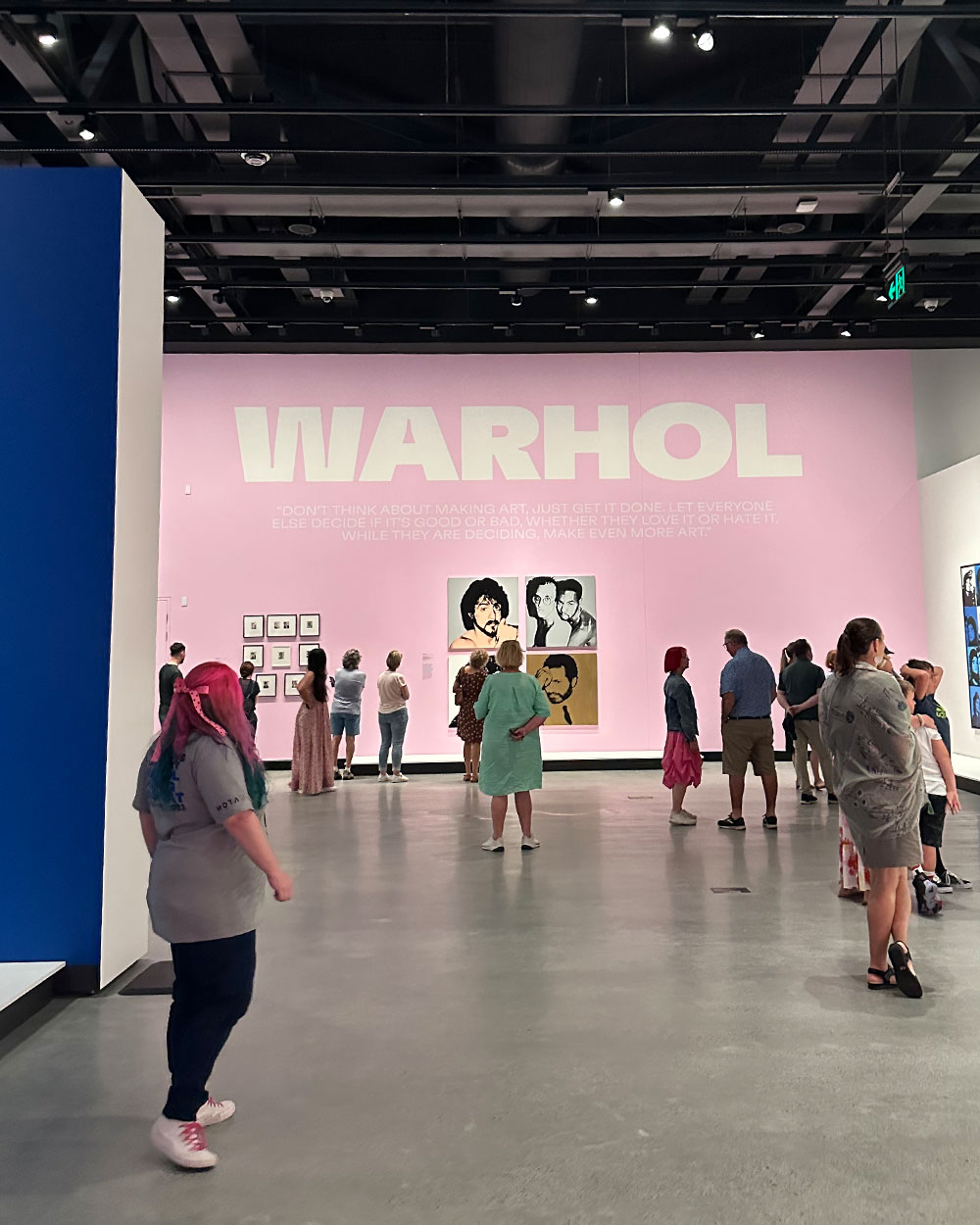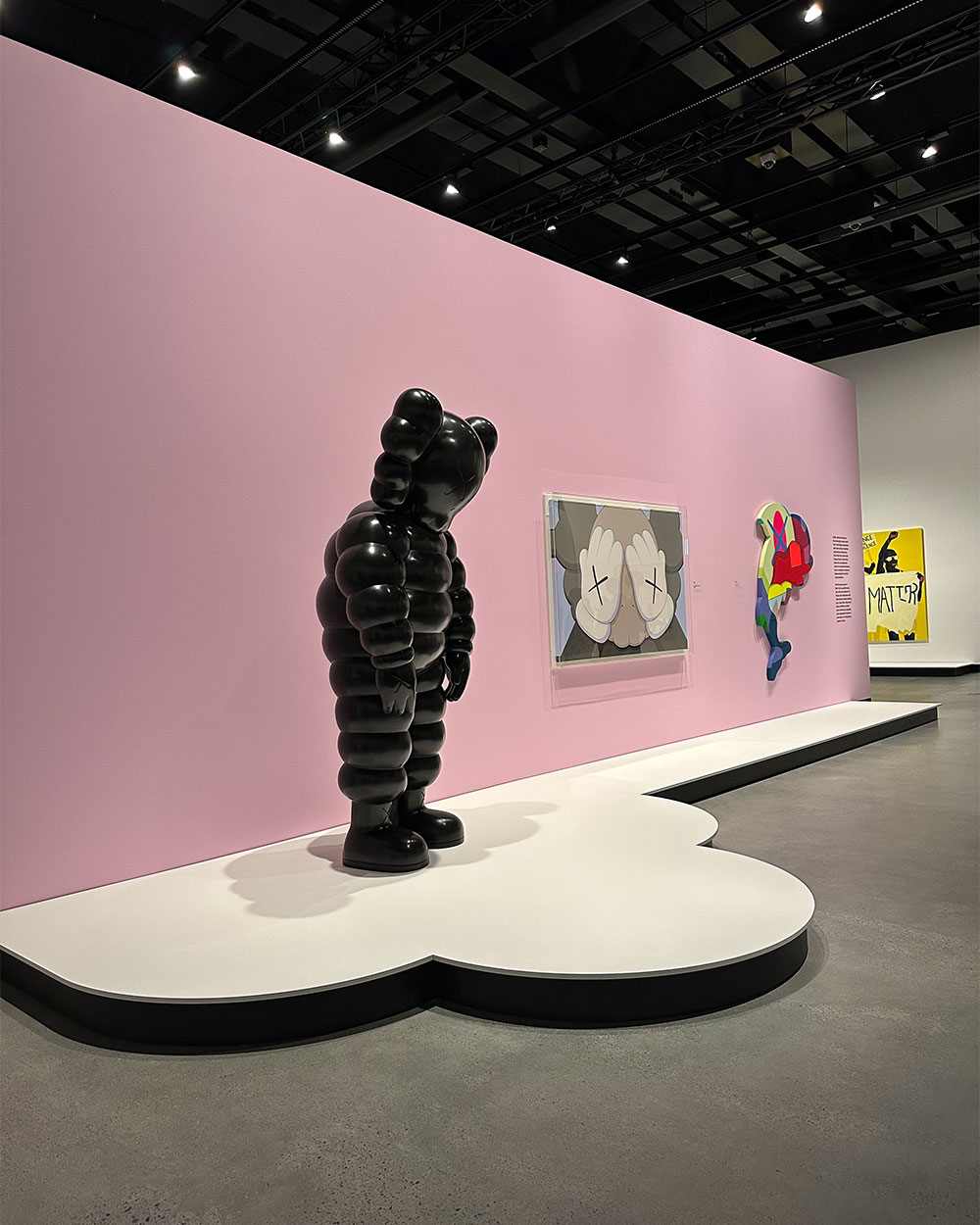 Artists and aesthetes should definitely add Home of the Arts (HOTA) to their itineraries for a taste of the local arts and culture scene. The landmark is home to art exhibitions, galleries, dining and bar venues, and an upbeat roster of events spanning cabarets to dance performances and festivals. I was lucky enough to check out the world-exclusive 'Pop Masters: Art from the Mugrabi Collection, New York' exhibition on its opening day, featuring a curation of artworks by iconic artists such as Andy Warhol, Keith Haring and Jean-Michel Basquiat. The exhibition runs only until 4 June 2023, so drop by while you can!
Website | Facebook | Instagram
Sea World: The New Atlantis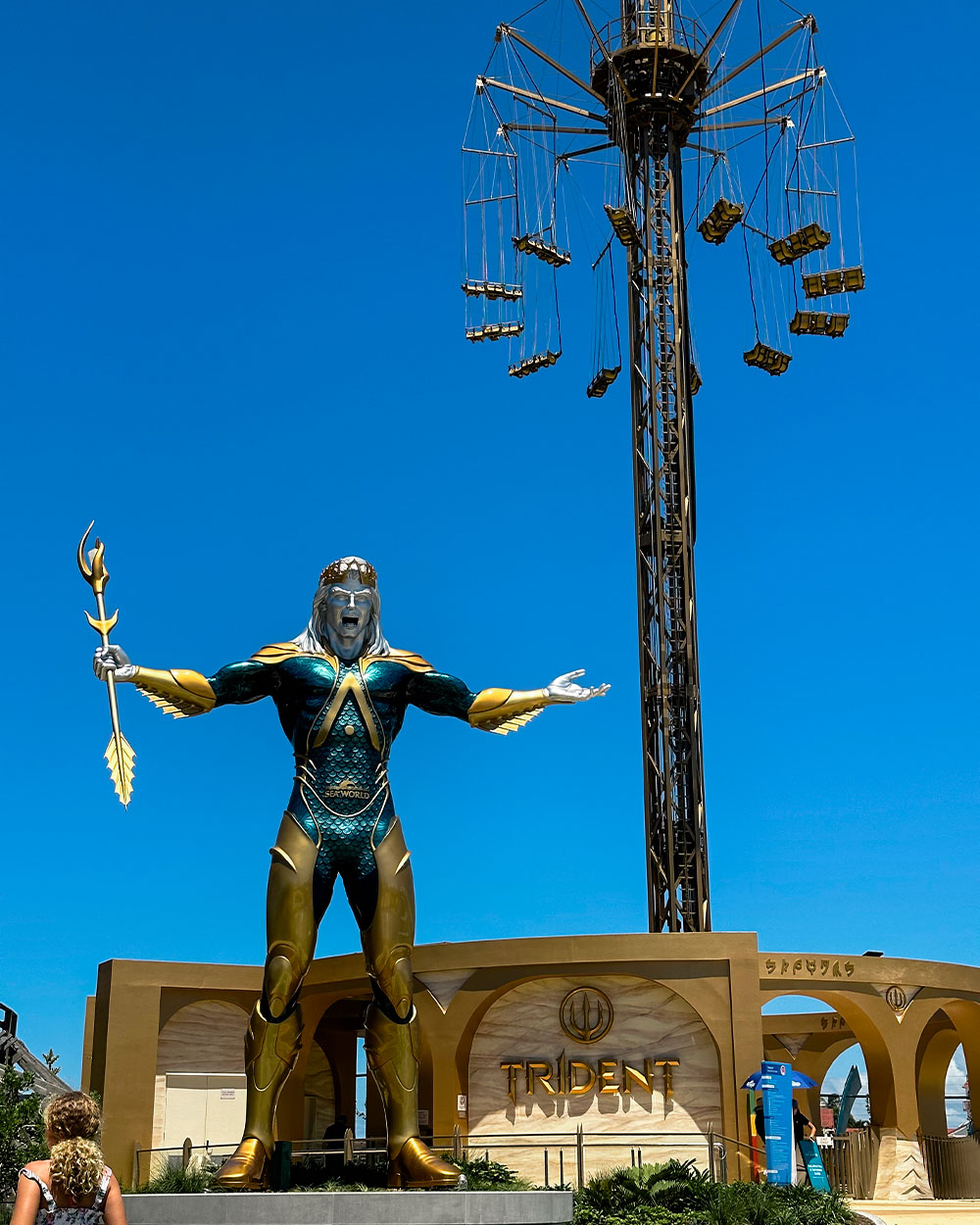 This marine theme park needs no introduction as it has been drawing tourists and locals alike since its inception in 1971. Having said that, thrillseekers have more reason to visit (or return) to explore The New Atlantis precinct which debuted in December 2022. Inspired by Atlantean myths and mysteries, this immersive precinct features three new attractions, namely the Leviathan, Trident and Vortex. I had a go on the iconic wooden rollercoaster which offered exhilarating dips, drops and turns at speeds of up to 80 kmph. Not for the faint-hearted, but it definitely gave this adrenaline-seeking writer a great time. Besides that, there are plenty of world-class exhibits, shows, rides, and animal encounters for families and friends to discover around the expansive park. 
Website | Facebook | Instagram 
Jetboating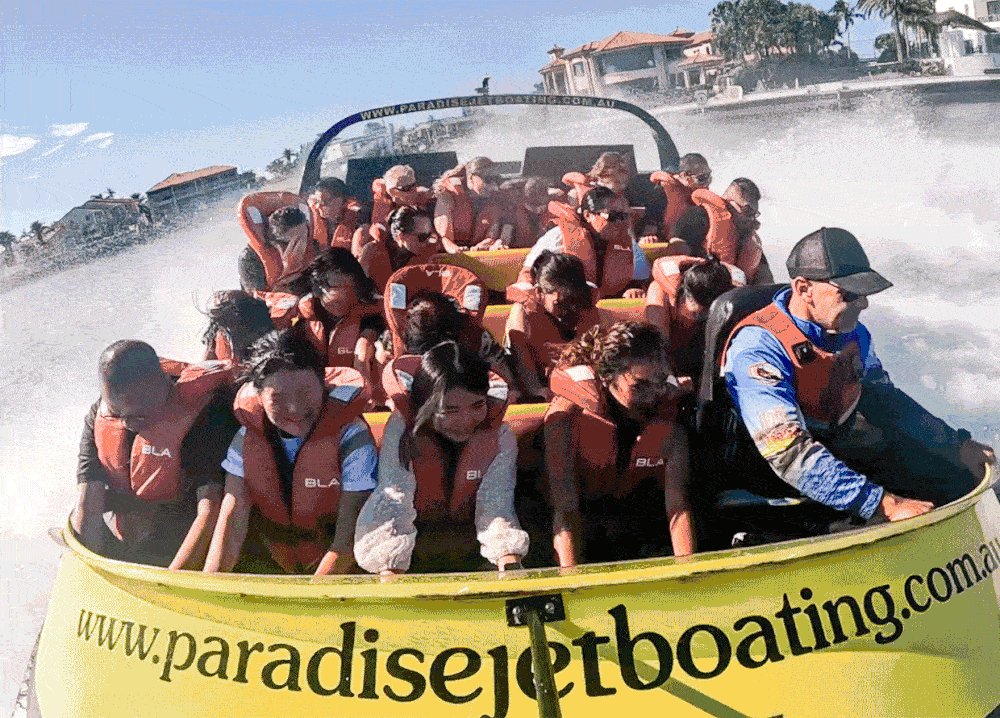 Have you really been to the Gold Coast if you haven't explored its waterways? One of the most thrilling ways to whisk around the well-connected canals is on a jetboat ride—guaranteeing splashes of fun! I went for a Jet Boat 'Express Ride' with Paradise Jetboating and found myself giggling through 360-degree spins, high-speed drifting, and wildlife spotting around Morton Bay Marine Park and the Northern Broadwater Area. Adventure and sightseeing, check! 
Website | Facebook | Instagram
SkyPoint Climb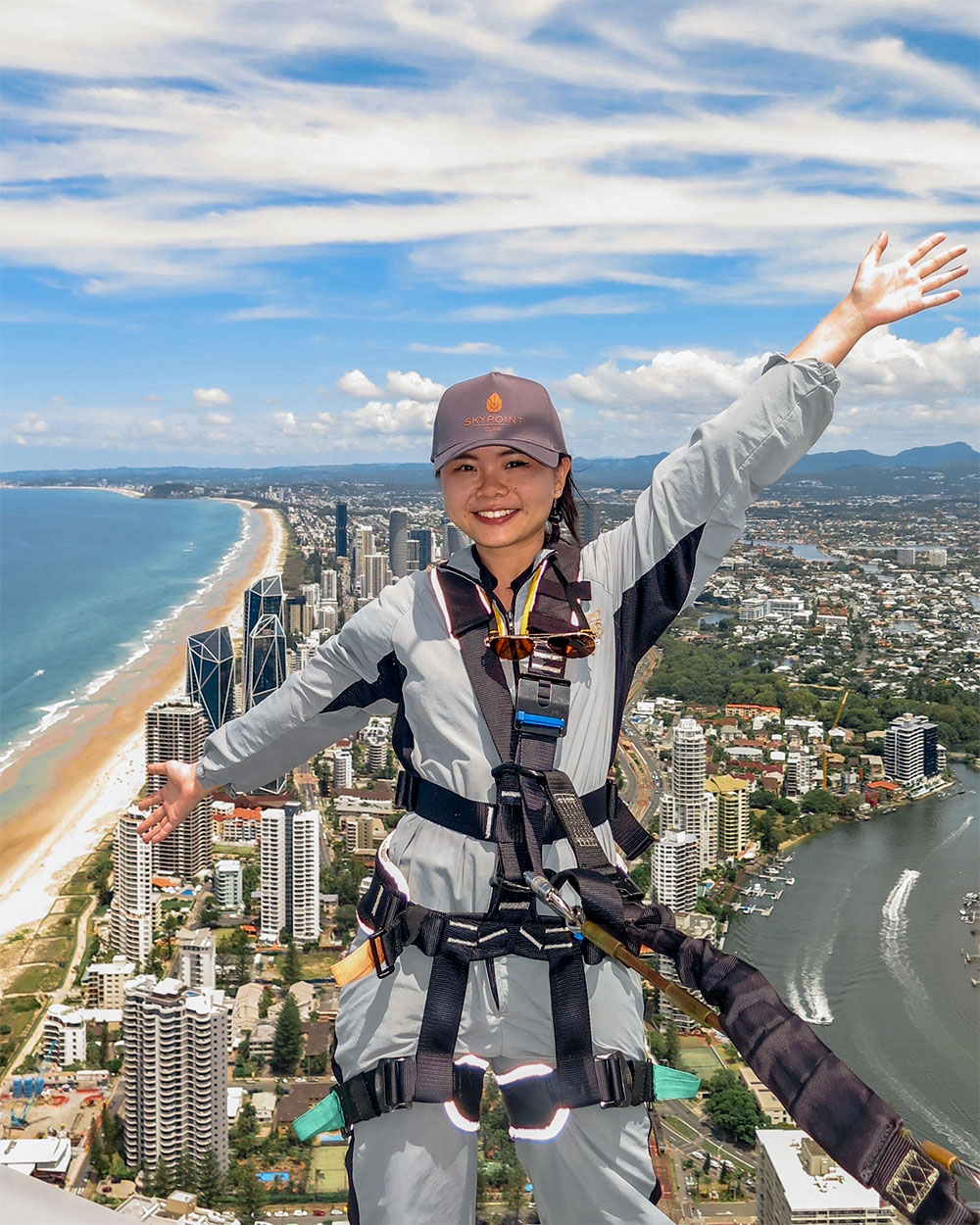 Another adrenaline-pumping activity to check off your Gold Coast bucket list is the SkyPoint Climb—the highest external building climb in Australia. The climb starts on level 77 of Surfers Paradise's iconic Q1 landmark, where a flight of stairs will take daring participants to a platform towering 270 metres above sea level. Once at the summit, climbers will be rewarded with 360-degree views of golden sands, the idyllic blue ocean and waterways, lush mountains, and the vibrant cityscape. A guide will also capture photos throughout the climb for participants to immortalise their amazing feat (see proof above!). 
Website | Facebook | Instagram
Tamborine Mountain Coffee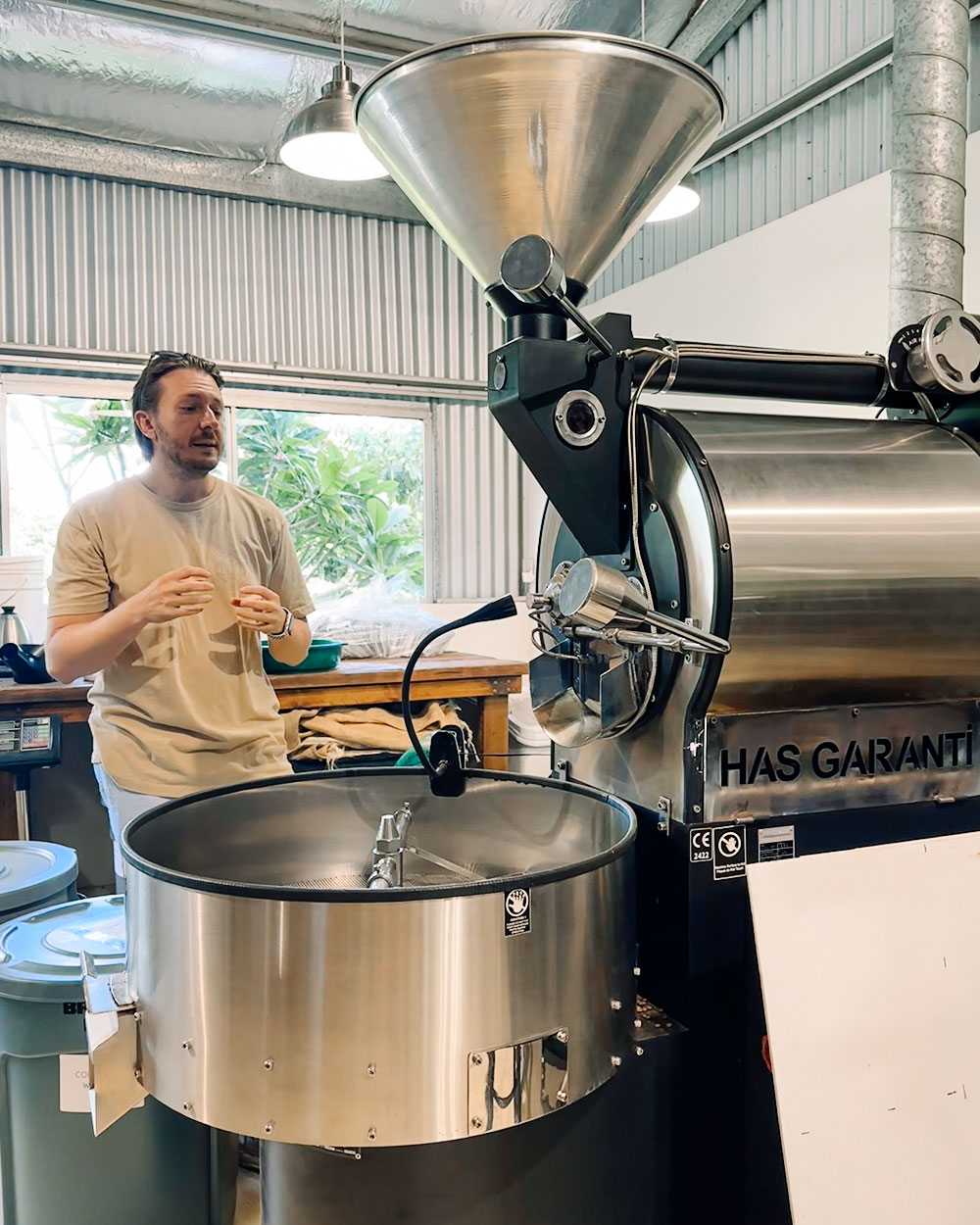 If you're a coffee connoisseur, make Tamborine Mountain Coffee Plantation a stop on your itinerary. This specialty coffee roastery hosts plantation tours that give participants a crop-to-cup experience of its award-winning beans. Alternatively, visitors can sample a freshly brewed cup from the on-site restaurant to pair with their breakfast, lunch, or arvo plates. Better yet, bring home a bag of your favourite blend as a souvenir! 
Website | Facebook | Instagram
Catch A Crab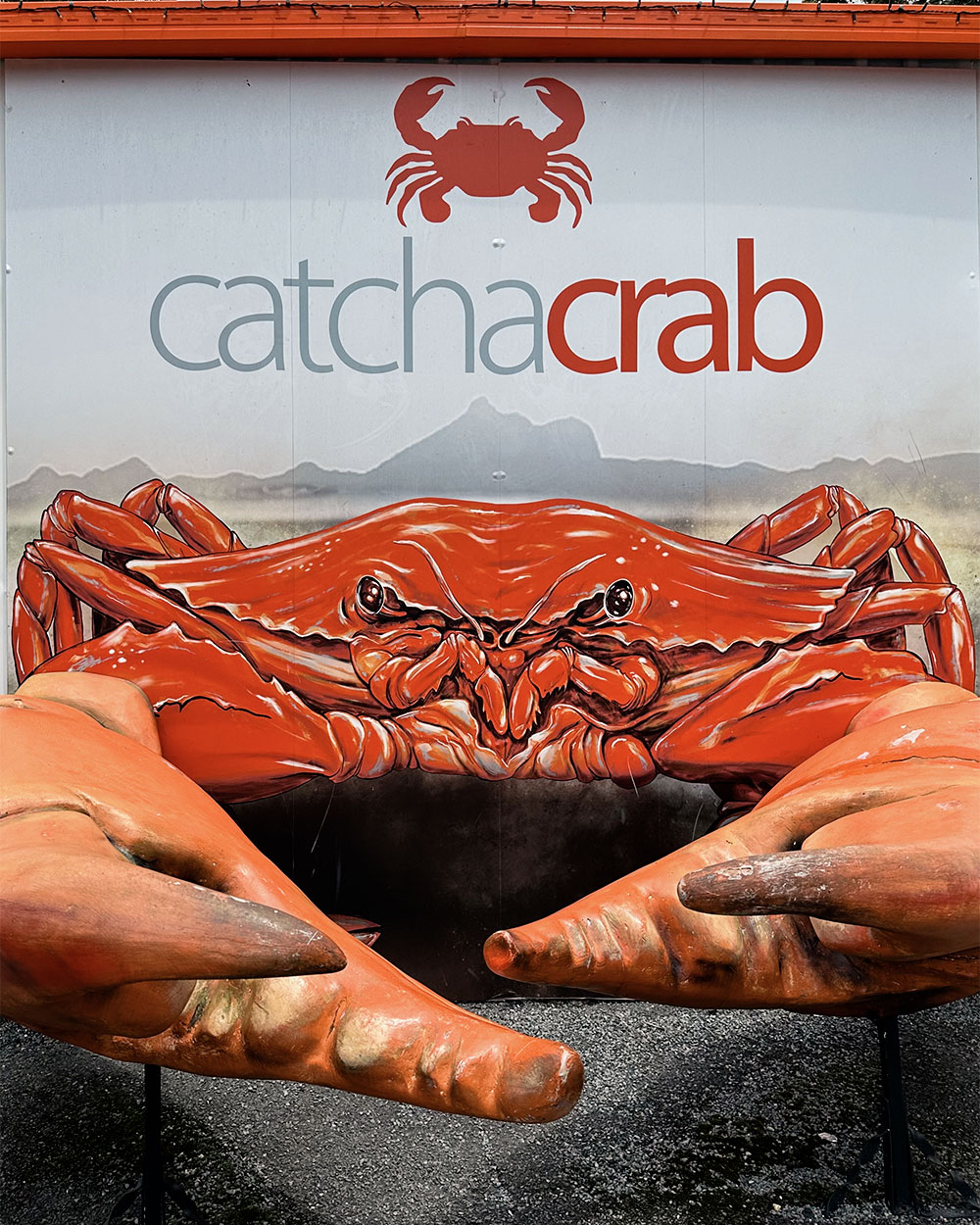 For those who aren't afraid to get their hands dirty, the Catch A Crab Tour offers a multi-award-winning, eco-certified river cruise that the whole family can experience together. Spoiler: it's not just crabs you'll be catching. Participants will also get a chance to "pump" for yabbies, feed wild pelicans, try fishing from the boat, and visit an oyster farm too. The fruits of your labour? A splendid crab and oyster spread, freshly caught from the Tweed River. 
Website | Facebook | Instagram
Currumbin Wildlife Sanctuary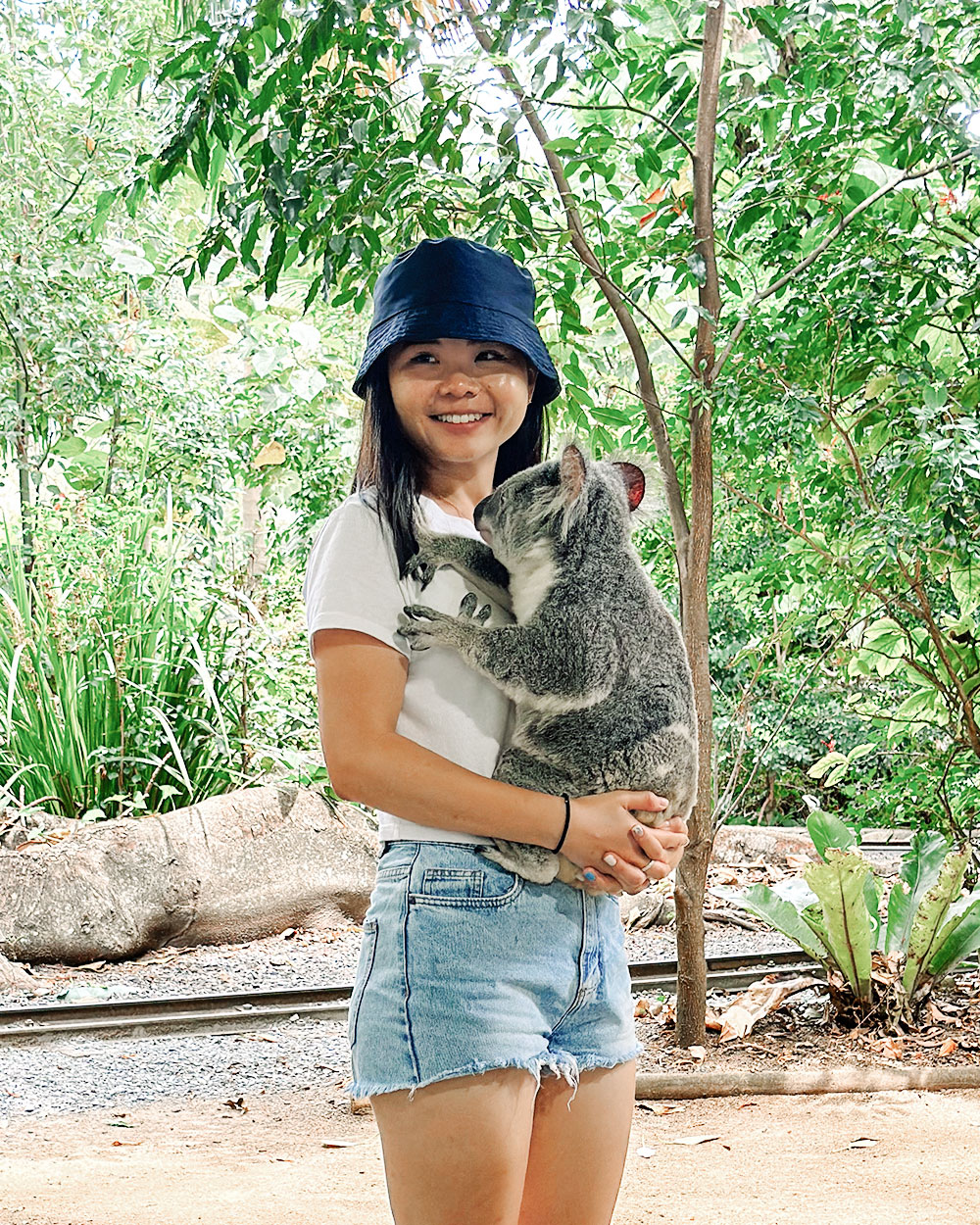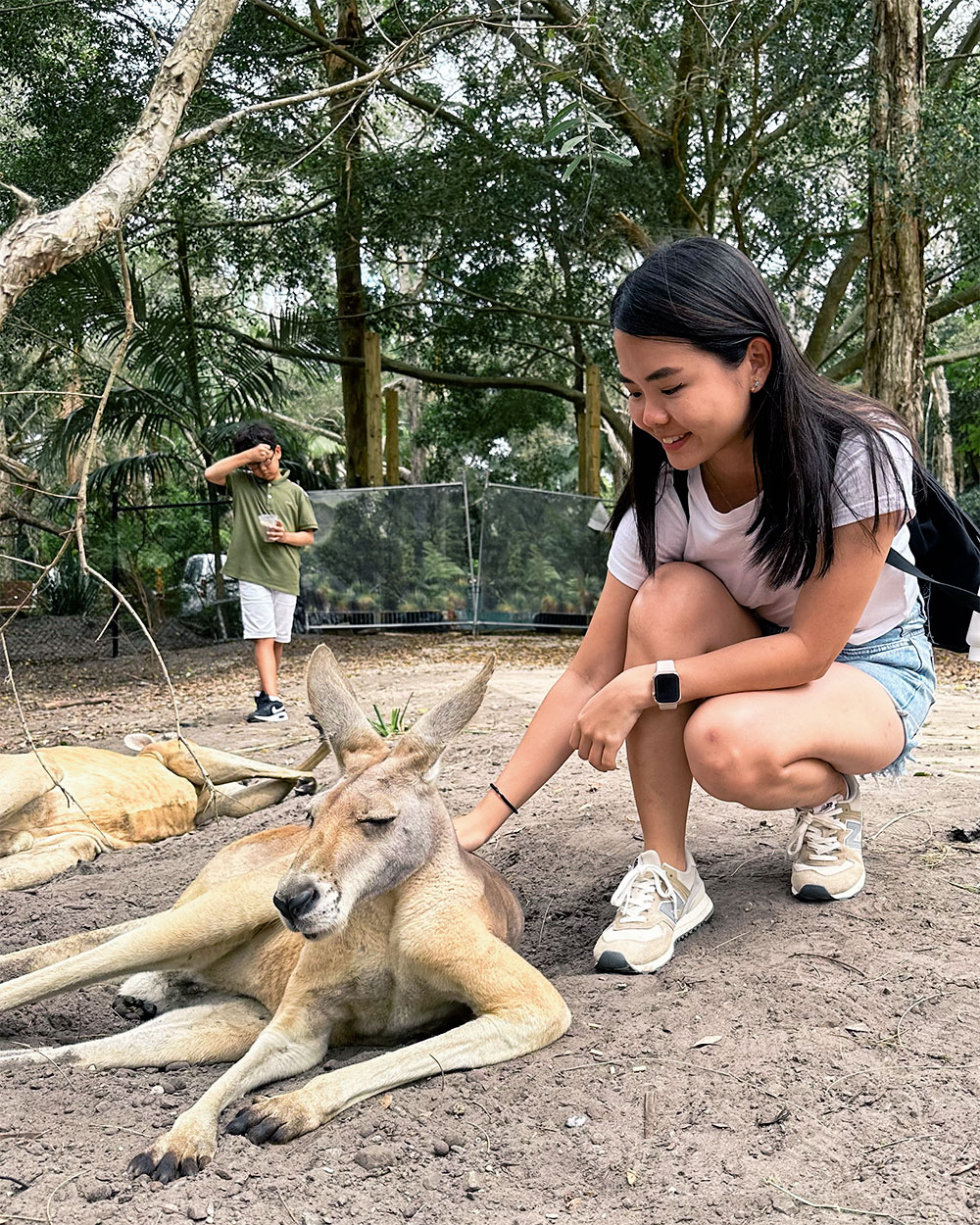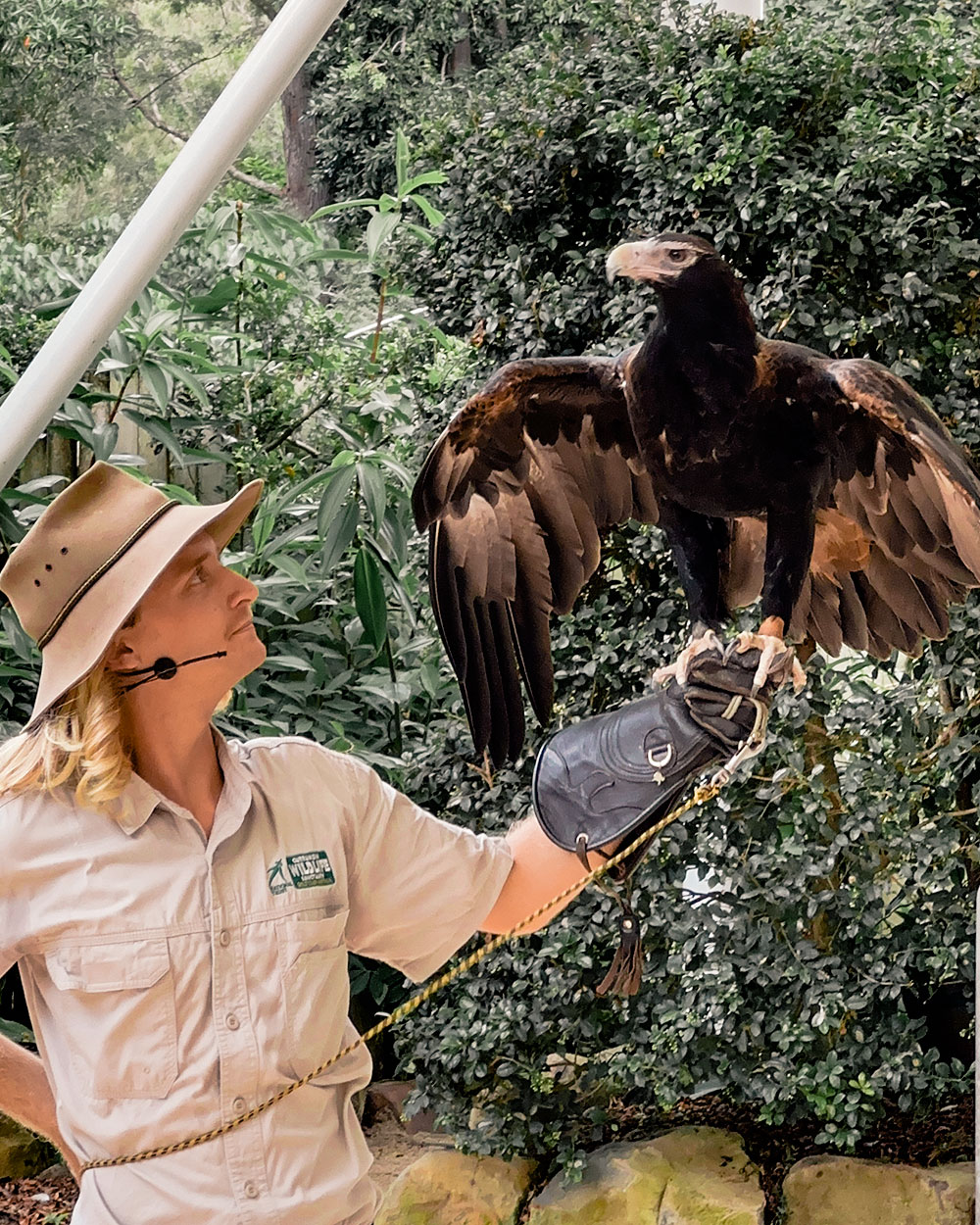 Animal lovers should not miss this heritage-listed haven that's home to more than 1,500 animals comprising over 130 different species. Established in 1947, this 75-year-old sanctuary is a beacon for wildlife conservation and even houses a not-for-profit hospital to treat and rehabiltate Australian wildlife. Visitors can watch exciting daily shows; take a photo with koalas, capybaras, red pandas, and other indigenous creatures; and learn more about the country's diverse and exotic animals. Aside from interacting with the sanctuary's inhabitants, there's also an art trail for shutterbugs and a treetop challenge for daredevils. 
Website | Facebook | Instagram
---
RESTAURANTS & DISTILLERIES 
Rick Shores
View this post on Instagram
Touted as a crowd-favourite spot in Burleigh Heads, Rick Shores should definitely be on your list of restaurants to visit in Gold Coast. The beachfront restaurant serves modern Pan-Asian cuisine using fresh Australian ingredients, with an emphasis on seafood. It has received numerous awards and accolades, including a Chef's Hat in the Australian Good Food Guide (the local version of a Michelin star). Topped with its stunning ocean views and relaxed atmosphere, my dinner here turned out to be one of the most memorable meals throughout the trip. 
Website | Facebook | Instagram
Granddad Jack's Distillery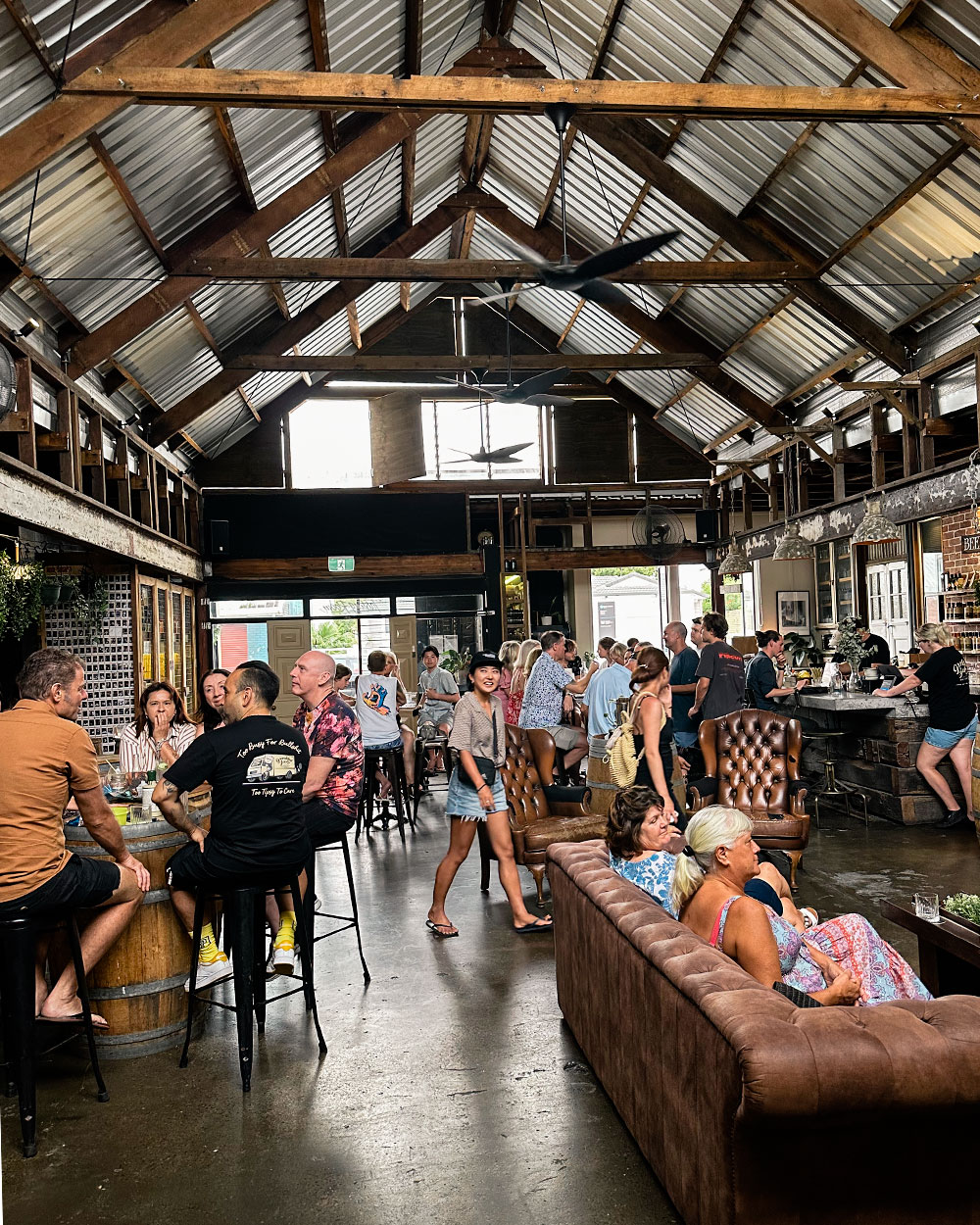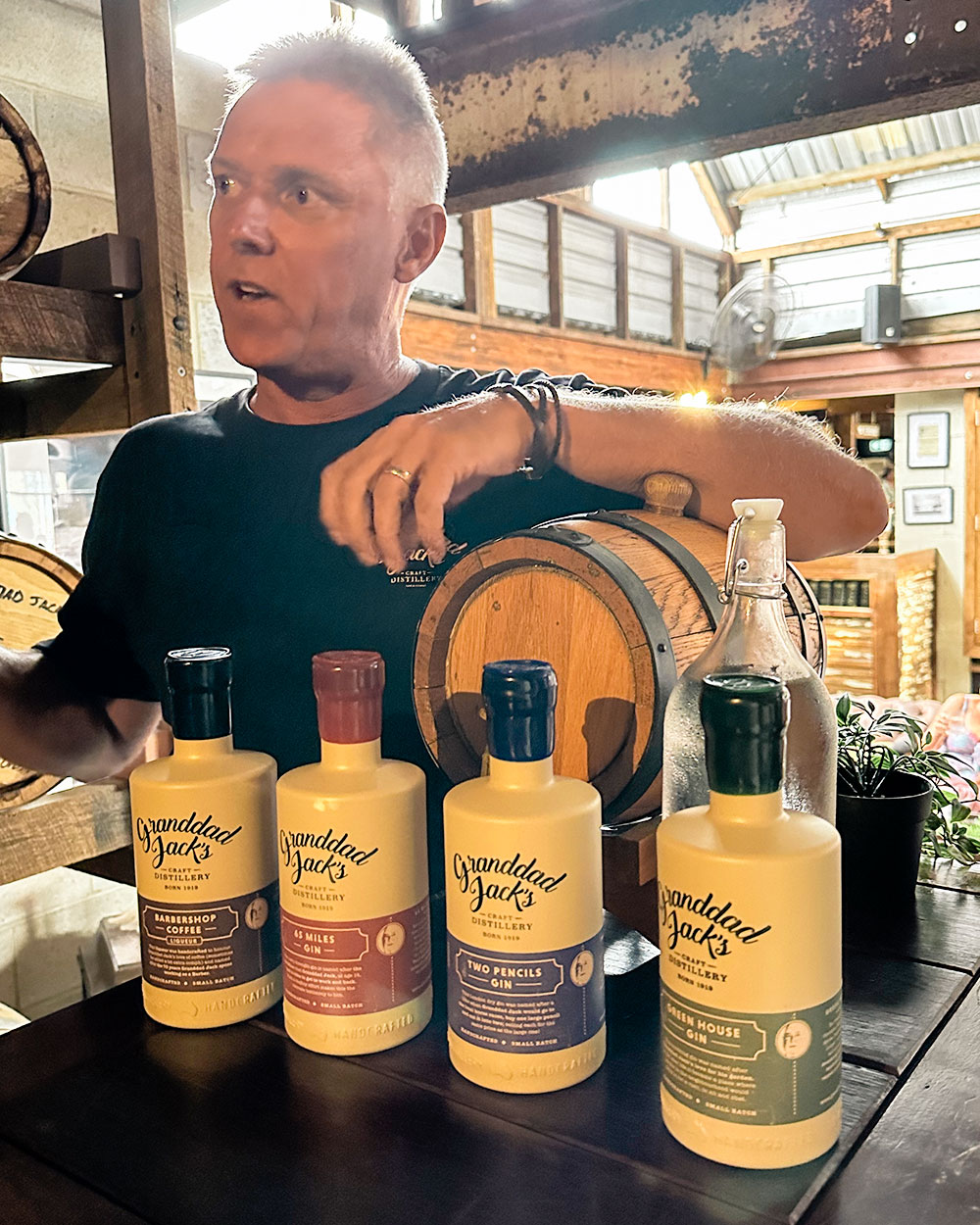 This family-owned and operated distillery is popular for its handcrafted, small-batch spirits including gin, whisky, and rum that are made using traditional methods and locally-sourced ingredients. Walking into the space feels like discovering a hidden gem in a laid-back suburb where locals frequent for a dram and chat with old friends—and their pets. There's a tasting room and bar where visitors can sample the spirits and enjoy a cocktail or two (David Ridden, the founder, passionately walked us through a tasting session). Visitors can also go on an educational tour of its facilities for insight into the distilling process and the history of the distillery. 
Website | Facebook | Instagram
Kiyomi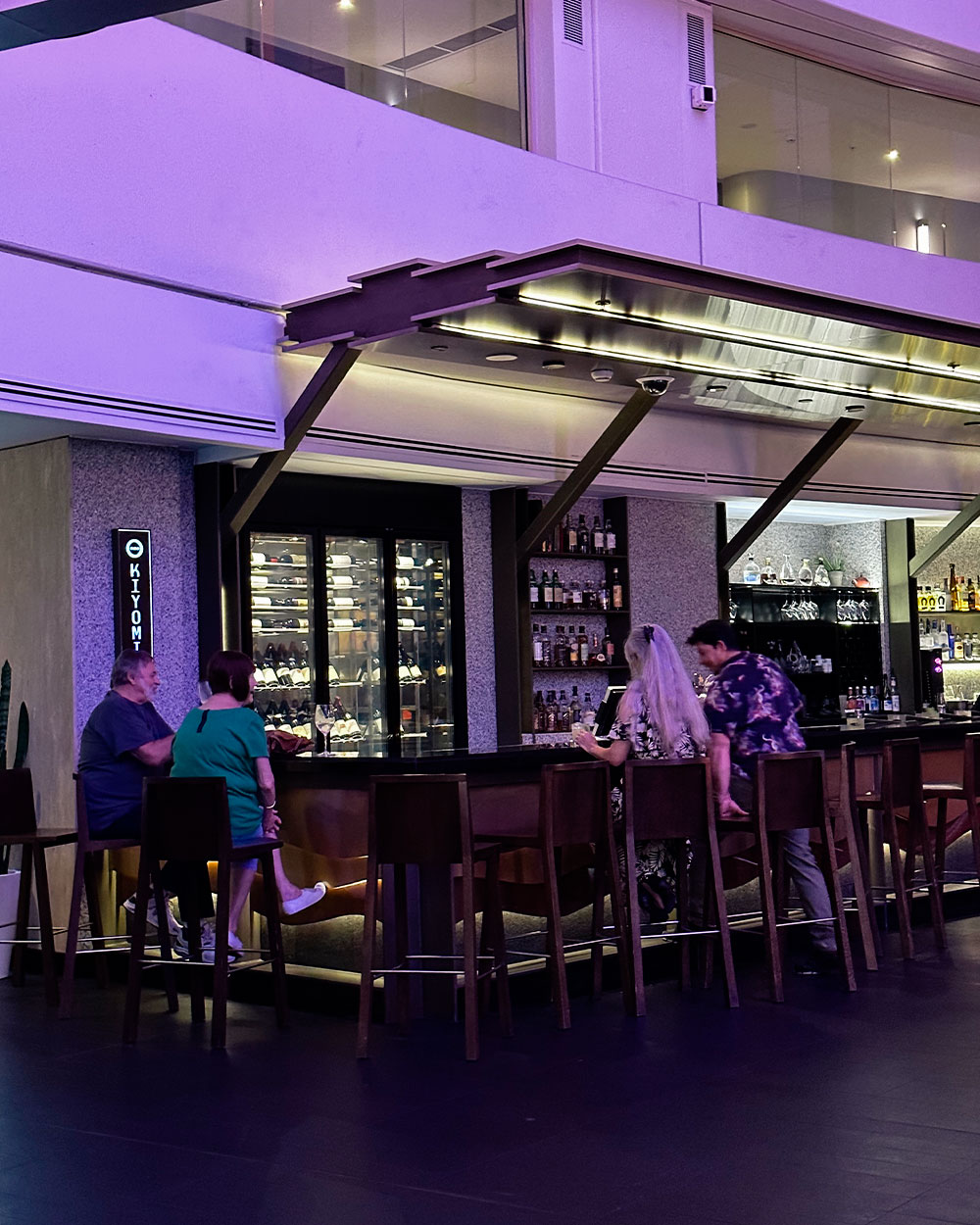 If you're a fan of Japanese cuisine, don't miss this award-winning Japanese restaurant located in the luxurious Jupiters Hotel and Casino. Featuring chic interiors with a sushi bar, private dining rooms, and an outdoor terrace, Kiyomi offers a contemporary twist on traditional Japanese cuisine. Among the standout dishes I tried include the signature sashimi platter, miso-glazed toothfish, and the wagyu tataki. The restaurant also has an extensive drinks menu, spanning Japanese sake, whisky, and cocktails. 
Website | Facebook | Instagram
---
HOTELS & ACCOMMODATION 
O Reilly's Rainforest Retreat and Villas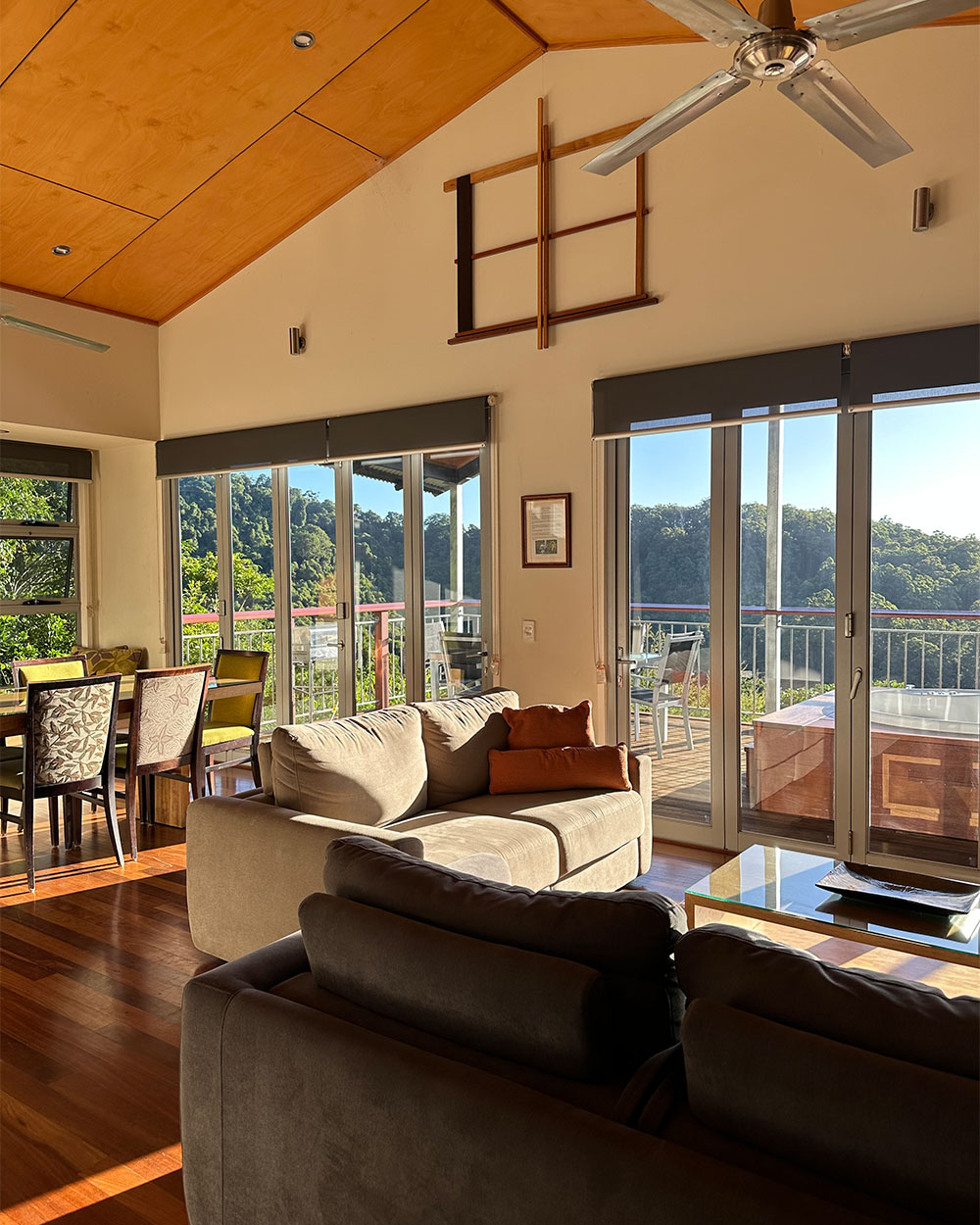 As mentioned earlier, O'Reilly's is a stunning nature-based resort located in the Gold Coast Hinterland. If you'd like an escape from the usual beachfront or city hotel, this is the perfect place to experience "the green behind the gold". The retreat offers a range of accommodation options, from guest rooms and suites to private villas—all surrounded by lush rainforest and mountain views. Honestly, I still dream about the spa bath on the private deck of my Two Bedroom Rainforest Villa to this day. Whether you're travelling with your other half or the whole family, O'Reilly's promises to leave you with precious memories.
Website | Facebook | Instagram 
The Langham, Gold Coast
View this post on Instagram
On the other hand, if you prefer bathing in luxury, this newly opened 5-star hotel is sure to impress. Nestled between Surfers Paradise and Broadbeach, The Langham, Gold Coast boasts elegant and sophisticated room and suites; a resort-style outdoor pool with a swim-up pool bar; a zen-like indoor magnesium pool; a fully-equipped fitness center; and a well-appointed day spa offering a range of treatments and massages. There's a variety of on-site dining options, including a stylish bar, a high tea lounge, and an all-day restaurant serving contemporary Australian cuisine. With its impeccable service and attention to the smallest details, The Langham, Gold Coast promises an indulgent stay just ​​minutes away from Queensland's most exquisite beaches.
Website | Facebook | Instagram
QT Gold Coast
View this post on Instagram
While QT Gold Coast has established its reputation as one of the city's trendiest 5-star hotels, it has something new to offer those constantly looking for the next travel experience. Enter the qtQT cabins, a small home-inspired cosy sanctuary. It's where laid-back meets luxe, highlighted by creature comforts and bespoke services with the help of a 'Curator of Sunshine'. There are six cabins in total, each equipped with locally sourced amenities, board games, coffee table books, and homemade treats. Step inside and you'll be transported into a blissful, thoughtfully curated hideout; step outside and you're back in a coastal designer playground with exciting dining options and facilities. 
Website | Facebook | Instagram
Dorsett Gold Coast 
View this post on Instagram
Dorsett Gold Coast is a great option to consider for those who prioritise proximity to shopping and entertainment outlets. Situated on Broadbeach Island and forming part of The Star Gold Coast's world-class leisure hub, the hotel is strategically within walking distance from the beach, Pacific Fair Shopping Mall, a 24-hour casino, and exhibition centre. It has a wide range of room types and suites to suit all travelers, from solo adventurers to families. In terms of dining options, there's an all-day dining restaurant serving international cuisine, a lobby bar, and a rooftop bar with picturesque views of the city and ocean. The hotel also features an outdoor pool, a fitness center, and a day spa for an all-rounded stay. 
Website | Facebook | Instagram
---
TRAVELLING TO GOLD COAST
Scoot currently offers direct and connecting flights from Kuala Lumpur to the Gold Coast. For added comfort, there's the option to upgrade to ScootPlus—the airline's upsized travel experience that comes with reclineable full leather seats, 30kg check-in baggage allowance and two 15kg cabin baggage, your choice of meal and beverages (inclusive of alcoholic options), as well as 30MB Wi-Fi and in-seat power. In addition, the ScootinSilence service offers a child-free cabin with four-way adjustable headrests to ensure a restful journey. 
Book your flights here. 
---
GETTING AROUND GOLD COAST
By tram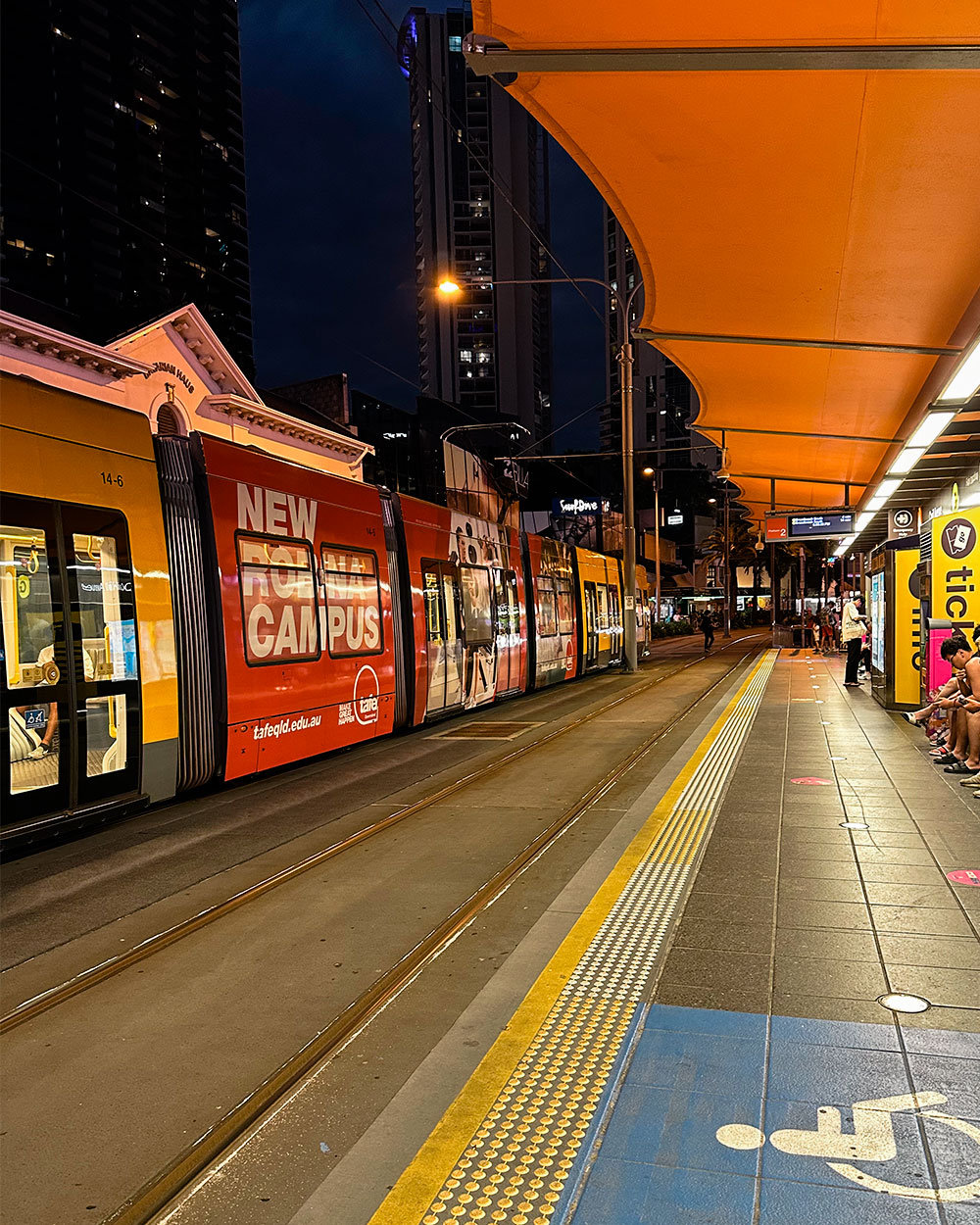 The G:link, also known as Gold Coast Light Rail, is a convenient way to travel around the city. It runs from the Gold Coast University Hospital in Southport to Broadbeach South, with stops at various locations including Surfers Paradise and Main Beach. To use the G:link, you will need to purchase a go card, which you can top up with credit. It can be purchased at selected retailers, online, or at the G:link station. Once you have your go card, simply tap on at the start of your journey and tap off at the end. 
By ferry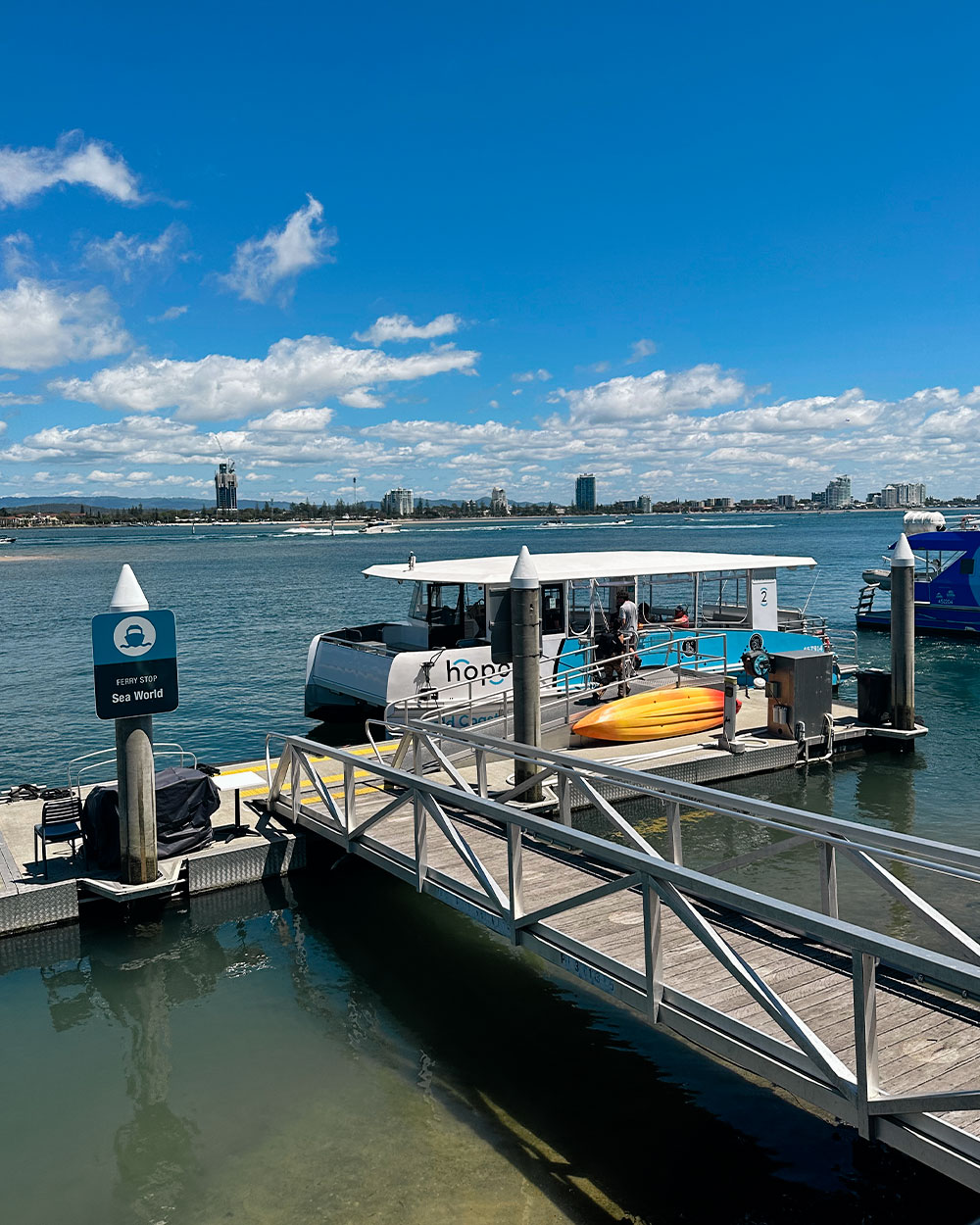 Alternatively, you can opt for a ride on the Hop-on Hop-Off ferry (HOPO), which covers five must-see destinations in the Gold Coast—a few of which are included on this list, such as Surfers Paradise, HOTA and SeaWorld. Plus, you'll get to witness the local coastal lifestyle and impressive bungalows as you cruise along the stunning waterways. 
Website | Facebook | Instagram
For more information and ideas on where to go in the Gold Coast, visit the Destination Gold Coast website. 
Find more travel stories here.  
| | |
| --- | --- |
| SHARE THE STORY | |
| Explore More | |