Travel
Our complete 7-Day itinerary that will make you want to visit Western Australia
#JustAnotherDayinWA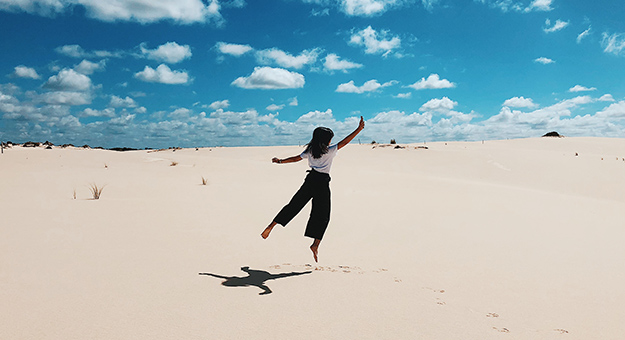 If you're like me, there's only one thing you're looking forward to for the rest of 2018: The holidays at the end of the year. One of my favourite places in the world is Australia. Despite having lived there for two years, I can't get enough of it and I haven't seen all of it either. So when the chance came to discover the lesser known parts of less popular Western Australia, I jumped at it — especially since they're known to have several one-of-a-kind experiences there.
But since it's Australia's largest state, we can't see everything in seven days so our itinerary took us to the South West and then back to Perth, with a healthy spread of sights, activities and spots for the foodie and relaxed traveller. Read on for our extensive itinerary condensed with photos to seduce your wanderlust and must-knows to help with your planning.
*You might want to bookmark this page as it's a long read.
DAY 1
We arrived in Perth a little after midnight and checked in to Pan Pacific Perth. The flight takes about five hours and 45 minutes and as the drive down south to Albany would take around five hours, it just felt better to split the two trips and start fresh in the morning that way. Up to you.
Destination: Albany
After a good night's rest, a hearty breakfast and an equally hearty lunch, we left for Albany at noon and arrived around 6pm (this includes one pit stop at the gas station for a toilet break and a quick bite). You can fly to Albany in one hour from Perth but where's the fun in that? The plan was to truly start the trip from here and drive back up to the city.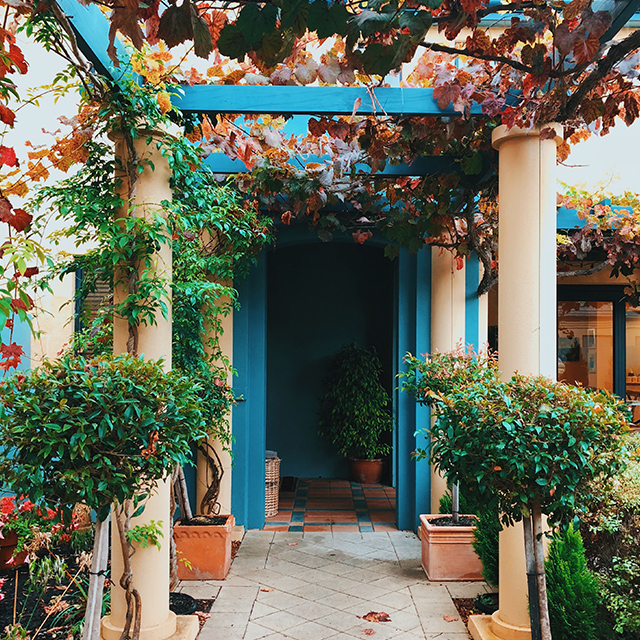 It's not hard to see why the quaint bed-and-breakfast has won awards. The owners were extremely friendly and the rooms were cosy too.
We arrived just in time for dinner and Hyla Bar & Grill, situated just opposite of Middleton Beach, was more than ready to serve. They're especially known for using their own Melt Beef and Hawthornden Lamb.
DAY 2
We had a few stops planned for the day so it was an early start at 8.10am.
Destination: Torndirrup National Park – The Gap and Natural Bridge
A solid evidence of Mother's Nature power. From the strong currents of the Southern Ocean, the Natural Bridge of coastal granites was born and in turn, created The Gap below it. It's a sight as magnificent as the strength and noise of the wind.
It's one of the largest wind farms in Australia and quite an impressive sight. Standing below the huge turbines and hearing the sounds they make was just surreal. And yes, I consider it an Instagram-worthy spot or you can learn more about wind-generated power.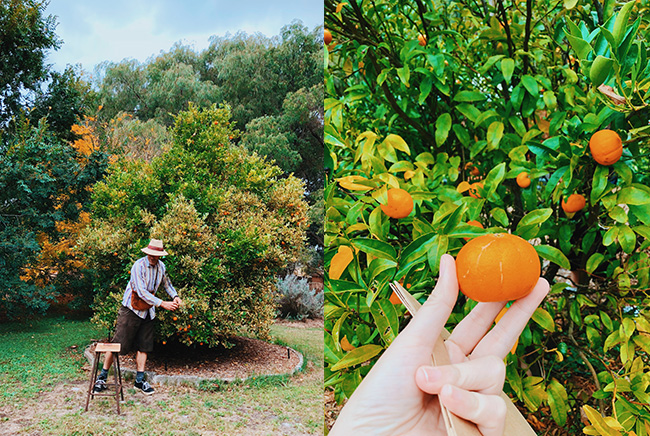 Here's a place I wished we could have spent more time at. You can join the guided tours or even have lunch here. Our foraging tour equipped us with a brown paper bag, a tour to the day's fruits that are best for picking and tasting (yes, right from the vine, plant, stalk, etc). They taught us how to pick certain fruits and tell when it's ripe enough. In the process of that, we even got to eat a slice or two. By the end of the tour, we had a bag full of apples, passionfruit, avocado and a few more. If you stop by, be sure to buy their homemade jam — one of the best souvenirs I brought back.
We've now entered the town of Denmark in Western Australia and the Lake House is beautiful. My appreciation for the establishment extends to the Vineyard Platters we had — it's up there in my top three meals during the trip. As it's also a vineyard and winery, the Lake House is another great spot to buy souvenirs — especially their wine. Very crisp on the palate, light and the packaging is cute.
Here sits Western Australia's first licensed chocolate lounge where you can follow the Chocolate Timeline in the garden, get a cup of hot chocolate or buy fine, handmade chocolates infused with liqueurs.
As if the day couldn't get any sweeter, we popped by a few minutes down the road to a family-run honey store. You'll be spoilt for choice with the variety of honey types available but my favourite is the honey and banana ice cream.
Destination: Green's Pool at William Bay National Park
Since we didn't spend too long at the last two eateries, we made a quick pitstop at this park for Green's Pool. The few people on jet skis and swimming in the turquoise waters had me green with envy since we were only there for a photo stop. If you have the time, you can even snorkel and dive here; or go on the famous 1,000 km bushwalking Bibbulmun Track.
A small exclusive boutique retreat on top of a hill, you could see much of Denmark from there. Every room is different and comes with a large bathtub.
Craft beer fans would be excited to visit Boston Brewery for their wide range of beers — order the beer tasting paddle! My favourite was the tingletop ginger beer. For everyone else, there's the hot stuff from the kitchen. Their woodfired pizzas are divine. They also stock wine and might even give you a little tour of their brewhouse.
DAY 3
Another day, another adventure. It was a longer drive ahead — 200km in total from Denmark to Pemberton, via Walpole — and thus we checked out and departed at 7.30am.
If you're a nature lover like me, the Tree Top Walk through the magnificent tingle forest here is a dream. I imagined this might be what Merry and Pippin experienced walking with Treebeard in Lord of the Rings — except they didn't have a 600m elevated walkway. It's also here where you can take photos of/with the huge fire-hollowed red tingle trees.
Best cruise/tour ever. Owner and guide Gary Muir (and his family) is well known in Walpole (and the rest of WA) but more importantly, he's a great storyteller and an even greater lover of Mother Nature's gifts in Walpole. The cruise took us through the Walpole Nornalup Inlets Marine Park to a little island where we proceeded for a hike across the wilderness track to a secluded beach on the Southern Ocean. Untouched beauty at its finest and worth my every panting note. As the boat takes you back to the mainland, morning tea is served along with the legendary "Tingle Cake", which personally reminds me of our Suji Cake.
A menu of fresh, healthy dishes with both a generous variety and portion. The farm is yet another great photo op. You can even buy their handmade soaps as souvenirs.
Destination: Gloucester Tree at the Gloucester National Park
With a full stomach, most of us in the car were delirious from food coma and grogginess, which was fine since our next stop was about two hours away. We were headed for Pemberton. The highlight of the park was Gloucester Tree where visitors could climb 58 metres up to the lookout structure for a spectacular view of the surrounding karri forest. In the old days, it was used as a fire lookout. If you're visiting during the warmer season, avoid wearing dark colours as the March flies can be quite a pest (their bites hurt!).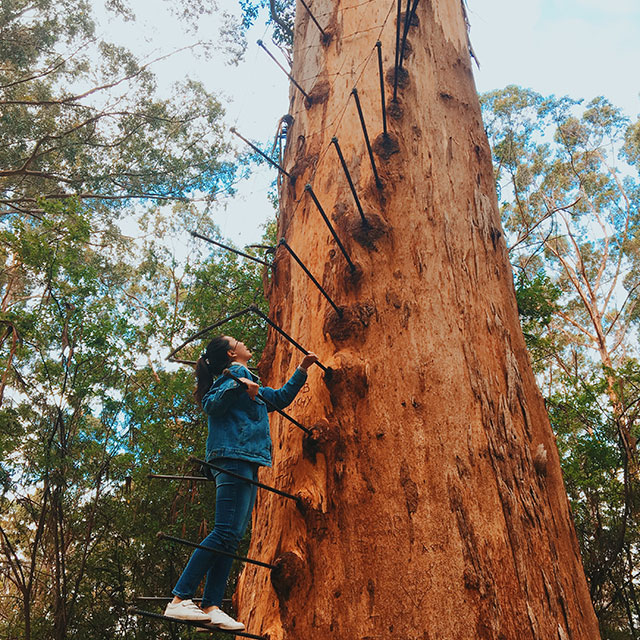 Hands down my favourite accommodation during the entire trip. With a beautifully landscaped lawn that's often visited by wild kangaroos, the property is gorgeous. It's especially perfect for families as they have a chalet with a kitchenette. At night, it's mesmerising with stars dotted across the vast dark sky.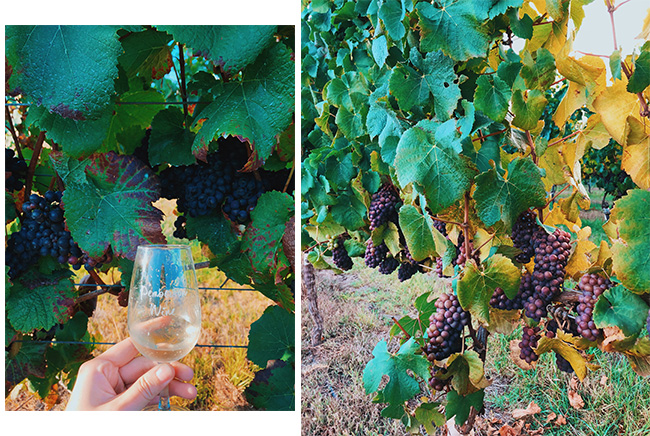 Several factors make a good wine (and that's why the vintage matters) — that includes the soil from which the grapes grow from. Pemberton is also known as a wine region as well as "Karri Country". The Karri forests can only grow in red, fertile soils and thus Pemberley Farm is sitting on some of the best grape growing land in Western Australia. The grapes are vibrant with flavours and alive with freshness. You can be sure wine made from the harvest here is more than satisfactory but our visit wasn't just to sightsee and learn more about the business. We were here for dinner too, featuring some of the farm's season offerings, BBQ-style. It holds the other spot in my top three dining experiences during this trip.
DAY 4
Take a breather. There was no need to check out so quickly as there's more to explore in Pemberton.
Destination: Beach and Forest Eco Adventure Tour with Pemberton Discovery Tours
If you get nauseous easily from bumpy car rides, take your medicine before going on this 4WD tour because, yes, it's worth it. We went off the road and into the Southern Forest's National Parks. We went from seeing Karri trees galore, standing high and mighty with a sea of burning orange-red soil beneath to a wide open space of sand dunes that is the Yeagarup Dunes to a secret beach with soft sand and crashing waves. Picnic lunch included.
Tour: Genuinely Extraordinary Southern Forest Food & Farm Experience with Southern Forest Food Council
The council, farmers and locals take pride in their produce and with this tour, we got to see exactly why is that. By now, I realise food tourism means we get to eat while we go around the farm — what's not to love?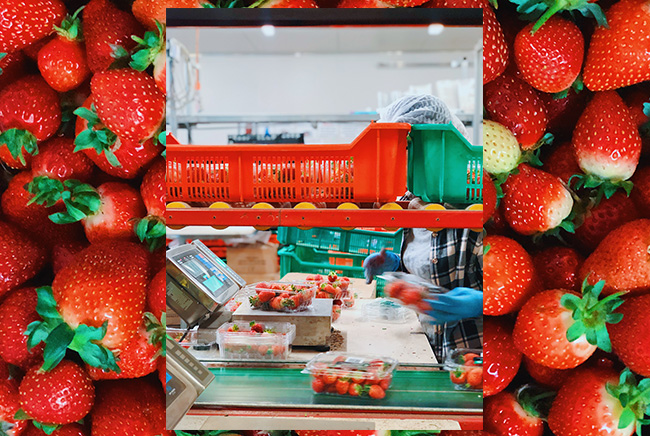 The place was huge, spreading as far as the eye can see and interestingly, the strawberries are grown above ground, using the latest horticultural methods and technologies. The result: Some of the sweetest (and biggest) strawberries I've encountered. You can't pick your own berries (they grow a variety of them) but you can buy them and it's absolutely value for money.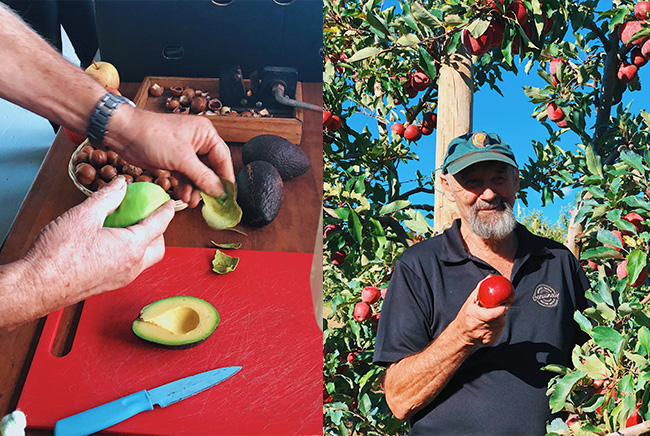 Destination: Fontanini Fruit and Nut Farm
For this spot, we went on a Fruit and Nut Orchard experience, which meant cruising around in a tractor and tasting the season's fruits right off the tree. I had the juiciest pear, the crunchiest apple, some fragrant macadamia nuts and brought home a six-pack of divine avocados.
I doubt we ever took a break from eating during the whole day but come dinnertime, we freshened up and were ready for more. While Tall Timber's all-day dining menu is enough to whet anyone's appetite, the highlight here is their wide range of wines from the local winemakers of the region. By now, a lot of us in the group was tempted to buy another bottle of wine but we were well at our limits already.
DAY 5, 6 and 7
It was time to head back to Perth where we could spend the remaining days, either eating or exploring — or both. But that doesn't mean we can't make another stop on the way. Three hours and fifteen minutes later, we arrived at Mandurah where 83 bottle-nosed dolphins call home. Head over here for part two of this itinerary.
If each of those days was #JustAnotherDayinWA, how lucky are they? Experience it for yourself too. Here's a tip: For small, private luxury tours like the one I took, look up Perth Luxury Tours (Jason was a great guide/driver).
*All photos were taken with the Apple iPhone 8 Plus.
Malindo flies direct from Kuala Lumpur to Perth twice daily.
For more info on Tourism Western Australia, visit their website or Instagram.
| | |
| --- | --- |
| SHARE THE STORY | |
| Explore More | |