On a recent business trip, I had the pleasure of revisiting the first Shangri-La Hotel in the world – my last staycation at the hotel dates back to the early 90s. With a better appreciation for the iconic brand and its rich history this time around, I discovered many interesting insider stories, which would otherwise be lost to some of us. Here are some of the highlights, which stood out during my stay:
1. The 'when and where' of the first Shangri-La Hotel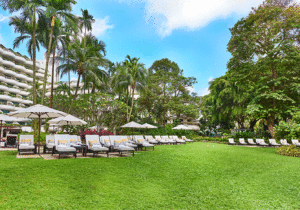 You may have guessed Hong Kong, or even China, but the flagship property opened its doors in 1971 in Singapore, a stunning hidden urban oasis just minutes away from the bustling Orchard Road – Shangri-La's Rasa Sayang Resort & Spa in Penang, Malaysia was the second to join the group! I love that privacy and serenity are not compromised in this lush, tucked-away paradise, despite its close proximity to town – I arrived at most of my destinations between 10-15 minutes by cab, peak hour traveling included.
Fun fact: Some of you may know, Shangri-La was named after a city in Tibet, made famous by James Hilton, a British novelist, in his book Lost Horizon, which was published in 1939.
2. A curated space of art and design
ICYMI, the grand Tower Wing underwent an extensive eight-month rejuvenation back in 2017 to reveal highly curated art and design elements by notable Asia Pacific artists, starting with the inclusion of the five elements in the design of the new lobby – here's what you should look out for: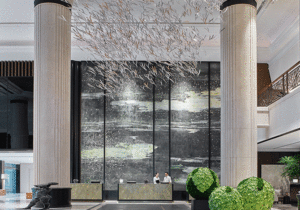 The Tower Lobby featuring The Tree Canopy installation
Wind: The Tree Canopy ceiling art installation features thousands of swirling – my initial guess was an elegant flock of birds – which turned out to be stylised three-tone metallic leaves that were painstakingly installed by hand. This artwork was commissioned by Studio Sawada Design, and was designed to 'evoke the lightness of the cloud and the flow of the wind'.
Water and Metal: Spot the six metal sculptures of Children Dabbling in the Water by Seoul-based sculptor Yi Hwan Kwon, which add a sense of childlike wonder to an otherwise contemporary look of the lobby. The artist is known for his intriguing works that thread the space between reality and an imaginary world of illusion.
Wood: You'll also notice two large root balls, which stand for rusticity and a touch of nature, which were brought in to complement the modern design of the lobby, and six potted weeping figs loom over armchairs to soften the entire look of the space.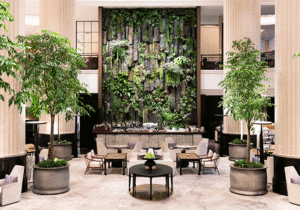 The Basalt Wall feature at The Lobby Lounge
Stone: Commissioned by Australian landscape designer, Charlie Albone, the basalt feature wall (made up of 350 kg of basalt stones) at the centre of The Lobby Lounge measures at 9 x 6 metres, was flown in from Australia and attached by a stonemason from Scotland – the entire installation was said to take 700 hours to complete!
3. The impressive stats at one glance
15 acres: Size of the lush property, surrounded by beautifully manicured and fully landscaped gardens.
15 landscapers:  A dedicated team of in-house landscapers and gardeners maintain the five-star quality of the Shangri-La's surroundings each day.
792 rooms: Across the iconic Tower, Garden and Valley Wings, including long-stay serviced apartments and residences on the side.
5,500 square metres: Function space available, across 20 function rooms for high-society events, closed-door dialogues to events and conferences.
11 restaurants and bars: From international cuisine, farm-to-fork concept dining, to premium Japanese and local fanfare. Drinks at the Origin Bar are also inspired by key districts of Singapore.
200 Japanese koi: In hues of red and gold reside in ponds filled by tumbling waterfalls.
133,000 flora: Across more than 110 lush assortment of ornamental flowering trees, aquatic plants, tropical flowers and shady fruit trees on the premises.
4. A nature-first property
Besides the abovementioned efforts in bringing greenery indoors, Shangri-La Hotel also houses two outdoor waterfalls, and sprawling green gardens around the Garden Wing, making it the true urban oasis.
If you only have 10 minutes, make time to stop by The Orchid, a striking seven-metre tall, open-air greenhouse unveiled in 2016 in celebration of the hotel's 45th anniversary. If you have some time on your hands, an easy 30-minute self-guided tour will give you a first-hand appreciation of Singapore's national flower – try spotting around 25 varietals around the hotel's grounds!
Fun fact: Shangri-La has coined the Dendrobium by Shangri-La, its very own Orchid species that is also patented.
5. Thoughtful, family-friendly accommodation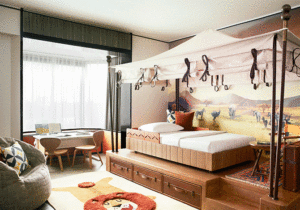 Thematic Family Suites in Safari, Space or Castle options
A luxury hotel that is as grand as it comes, the Shangri-La Hotel is also meticulous when it comes to attention to detail. Besides one of the best hospitalities and service I've experienced during my stay, I also found this to be one of the more impressive (and surprising) aspects of the Shangri-La.
For starters, despite it being a relatively busy period, I hardly noticed children and families around, until I visited Buds by Shangri-La, a 1,872 square metres of designated children's activity space, specially designed with both indoor and outdoor installations including a giant pirate ship, free-from pools, baking workshops, music studios and more, to keep the kids busy, while parents relaxed at a café nearby.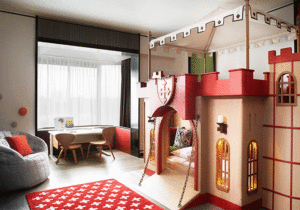 Thematic Family Suite in Castle
Separate themed family suites and rooms are also located on the 9th floor of the Tower Wing, which are dedicated to young families and comes with a shared pantry with thoughtful appliances and facilities for just about every need you can think of. This winning concept is currently executed as a pilot only at Shangri-La Hotel Singapore, and will eventually roll-out across its other properties, setting quite an example and definitely raising the benchmark for others to follow suit.
| | |
| --- | --- |
| SHARE THE STORY | |
| Explore More | |