Looking for a new hotel in KL to have a staycation? The Sheraton Imperial Kuala Lumpur may be a familiar name but what's behind its doors—not so much
2018 saw a throng of new hotels pop up in Kuala Lumpur and as exciting as that was, let's not forget about the ones that have made a name for itself over the years. One of them is the Sheraton Imperial Kuala Lumpur—once known as 'the Grand Dame' of hotels in the city—that has become a legacy on its own. Apart from the nostalgia, comfort, service and satisfaction are three guaranteed experiences that have become the reason for many returning guests.
However, Sheraton Imperial Kuala Lumpur isn't quite what it used to be. It's better, modern and more chic. The hotel had its relaunch this year after an extensive (read: multimillion-dollar) transformation, giving most people another great reason to stop by, dine or stay. If you are indeed looking for a new hotel in KL to have a staycation, consider Sheraton Imperial Kuala Lumpur; because like most older successful hotels in KL, its other winning factor is the location.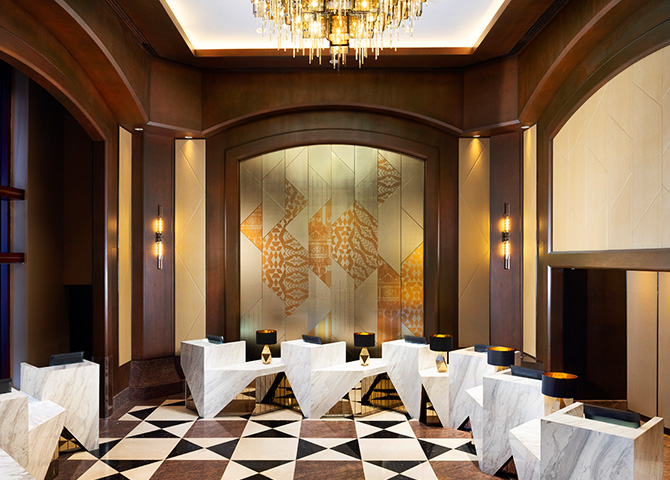 Situated along Jalan Sultan Ismail, Sheraton Imperial Kuala Lumpur faces a mall in the front (in the event emergency supplies are needed) and houses a string of unique dining options in its backyard (from the famous Yut Kee to Nyonya restaurant Limapulo to fun Caribbean-style bar and grill Joloko). Then again, within the hotel itself is a wide variety of restaurants worth staying in for. Not to mention, it's a mere three-minute walk to the nearest monorail station and a Grab away to the hot shopping spots such as Pavilion KL and KLCC. 
As if those aren't reasons enough for being a worthy weekend staycation spot, there are still the following points I have to make. 
THE ROOMS
After its extensive renovations, the Sheraton Imperial Kuala Lumpur has even more rooms now—a whopping total of 398 rooms, ranging from a collection of Deluxe Rooms to Club Rooms to Suites. The space looks evidently brighter and more modern, while retaining some of its classic features such as the orange-y marble in the bathroom. If you follow us on Instagram, you would have seen a quick tour of the Club Room I stayed in but otherwise, the fun fact is that the rooms have a new mini walk-in cupboard. They're also generally (and generously) spacious and if you're lucky (or if you request for it), you'll have an unparalleled view of the KL Tower (a refreshing sight since more recent hotels take pride in their various views of the Twin Towers). 
THE FACILITIES
For starters, any guests who stay at the Club Room automatically gets access to the Club Lounge on the 38th floor, which also has a view of the KL Tower and the city's skyline (the less congested side of it). Guests are treated to light bites in the late afternoon and it's also an alternative (albeit more private) breakfast spot (though with less options). 
There's also a spa, a gym and swimming pool (where you, again, get a clear view of the KL Tower). As for event spaces, you might already know that Sheraton Imperial Kuala Lumpur houses a Junior and Grand Ballroom, a Boardroom and 13 meeting rooms. 
THE FOOD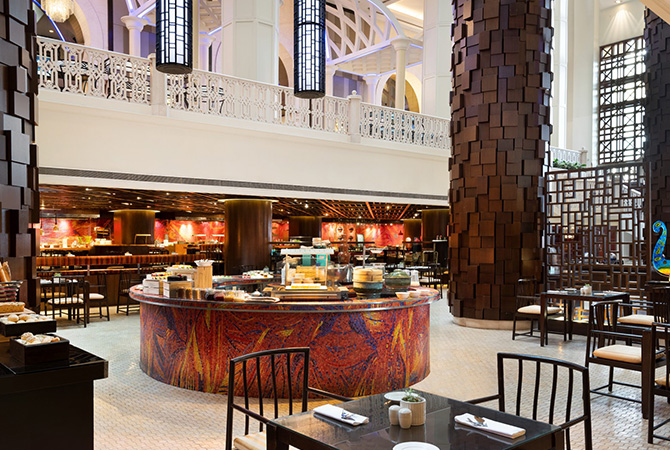 As mentioned earlier, you'll be spoilt for choices at Sheraton Imperial Kuala Lumpur. Essence is where you go to mainly for the international buffet and while the selection is almost endless, we hear they'll soon be rolling out special pass-arounds of the day. During my stay, it was these huge prawns grilled to fragrant, juicy perfection. There's also a whole section that redefines the phrase 'noodle bar'. You can place all the toppings (fishballs, squidballs, a variety of vegetables, mussels, beef balls, you name it) you want in a bowl, along with the choice of noodles, before passing it on to the staff to cook it with one of the three soup bases.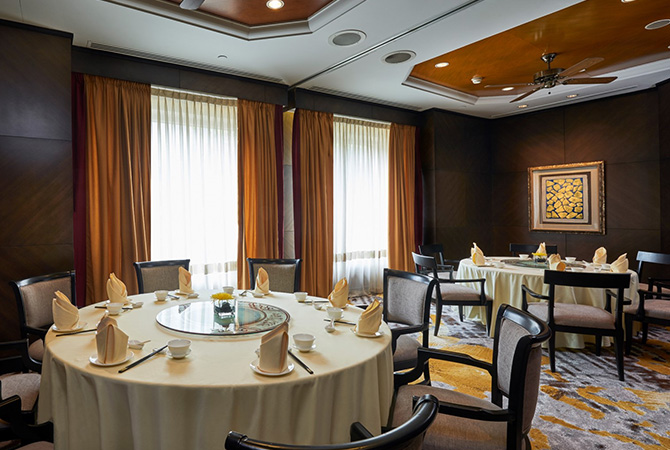 Then, there's the Cantonese restaurant Celestial Court, which also underwent a facelift. There's dim sum on the menu as well but the highlight is The Fabulous Big Feast (priced at RM148 nett per adult and RM74 nett per child of 7-12 years old). An a la carte buffet dinner featuring over 60 Chinese signatures, you can literally order and eat to your heart's content in a group. I especially recommend the Signature Roasted Duck with Condiments and Fried Soft Shell Crab with Salted Egg.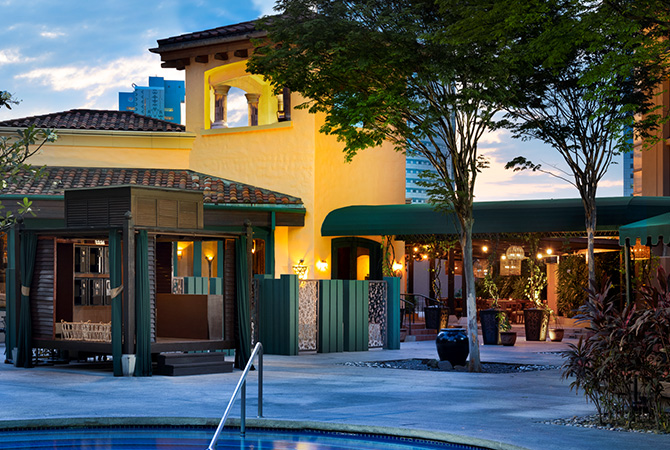 For authentic Italian cuisine, look no further than Villa Danieli. Just like its name suggests, the restaurant alone has managed to recreate that vibes similar to that of a Tuscany villa, inside and out. A popular spot for weddings, the food doesn't disappoint and every Sunday, it hosts a Mama Mia Italian Brunch (price starts from RM148 nett per adult)—a semi-buffet where mains are ordered from the menu (I recommend the Beetroot Gnocchi with Creamy Gorgonzola Cheese - divine!) while antipasto and salad can be taken from the bar, along with an assorted selection of freshly shucked oysters, clam prawns and mussels.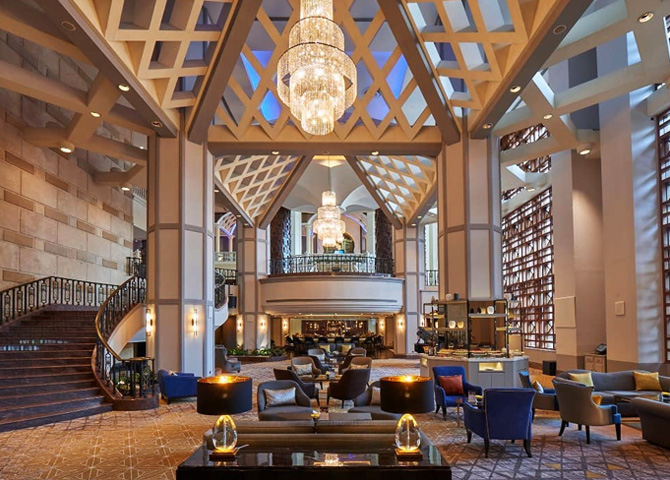 Lighter and sweeter bites are served at The Pavilions Lounge & Bar in the form of the hotel's renowned afternoon tea. The space has withstood the test of time and remains ever breathtaking (Instagram-worthy alert!). 
THE VERDICT
While there were many food establishments outside of the hotel tempting my palate, a lot of my cravings were satisfied within Sheraton Imperial Kuala Lumpur. And honestly, not leaving the hotel and truly disconnecting from the busy outside world is my idea of a staycation, through and through. And thus, Sheraton Imperial Kuala Lumpur succeeded. However, what truly amazed me was the interior and architecture of the space where Essence and The Pavilions Lounge & Bar meet: High ceilings, generous amounts of natural light from the window panels on the ceiling and windows, intricate detailing on the staircase railing, window grills and more. All these you'd only find in an older building and thankfully, well-kept. Everything was indeed satisfactory and I can see why people go back to Sheraton Imperial Kuala Lumpur, generation after generation. 
For more infomation, visit Sheraton Imperial Kuala Lumpur on their website, Facebook or Instagram. Alternatively, call them at 03 2717 9900.