Samsung Gear S3 enters the wearable tech market bolstered by a keen acumen for aesthetics and a handful of distinctive features that will make it the perfect digital companion
Fully understanding the pull of visual impact, the latest offering from Samsung is one that banks on its physical design and appeal. Launching the latest model in two variants with distinctively different appearances, the South Korean tech giant targets both seekers of elegance and thrill. The Samsung Gear 3 Classic adheres to its namesake with an ode to watchmaking tropes while the Frontier pledges to be a loyal sidekick for the hard knocks of your daily grind.
For this particular review, we were given the Frontier variant to explore. Straight out of the box, our fingers traced the beautifully notched rotating bezel and admired its commendably solid structure. The rugged silicone strap comes with a shorter double for leaner arms and a common 22mm pin attachment, which means watch bands can be swapped out for any similar sized one on the market. Despite the thoughtful consideration, we have to admit that the chunky timepiece appeared rather large on delicate wrists but it suited our male counterparts splendidly.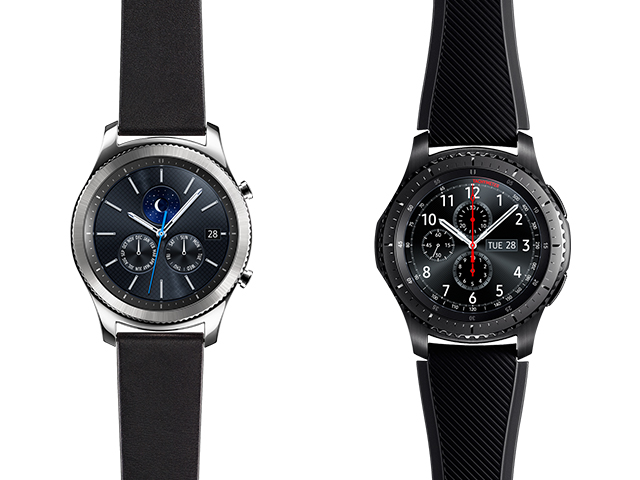 As owners of a Samsung Galaxy 7 Edge, the pairing and setup of the watch to the current flagship phone from the same maker was effortless. All that was required was a couple of downloads, a few tweaks and configurations, and everything was ready-to-go.
From the moment the 360 x 360 pixel screen lit up, the brilliance of Samsung's famed AMOLED glass shone through. Widgets and notifications are displayed with uncluttered clarity and navigation involved a simple (and satisfying) twist of the bezel. If a forced finger was asked to point, we'd isolate the bezel as the component that sets Samsung watches apart from the competition. The turns create a familiar tactility while dismissing the need for endless swipes. Being WiFi enabled, it even doubles up as a toggle to answer or reject calls.

For a small accessory, this watch does pack some serious punch when it comes to audio. Sounds were clear and bright courtesy of the newly upgraded built-in speaker. Granted that taking calls from a device on your wrist may look strange to passers-by but we reckon quick conversations while on the run (or on the road) could avert the need of rummaging through a messy purse. Similarly, incoming text and email pop-ups can be promptly responded to using a nostalgic on-screen T9 keypad—and yes, emojis are available. 
Echoing a major selling point in all wrist-worn gadgets, the digitisation and tracking of fitness data were not amiss on the Gear S3. A built-in pedometer tracks daily steps and the preloaded S Health app is a perfect kick (start) to fulfill your New Year's fitness resolution. We found the heart rate monitor and GPS tracking rather underwhelming as results occasionally appeared inconsistent. The solution however, could be but a simple software update away.
Gym rats rejoice; launch the music player with up to 4GB of onboard storage, grab a pair of Bluetooth headphones and your robust beats of choice be serenading your workout. If traversing the great outdoors is more your flavour, the scratch-resistant Gorilla glass that encases the dial will weather various terrains and still emerge unscathed.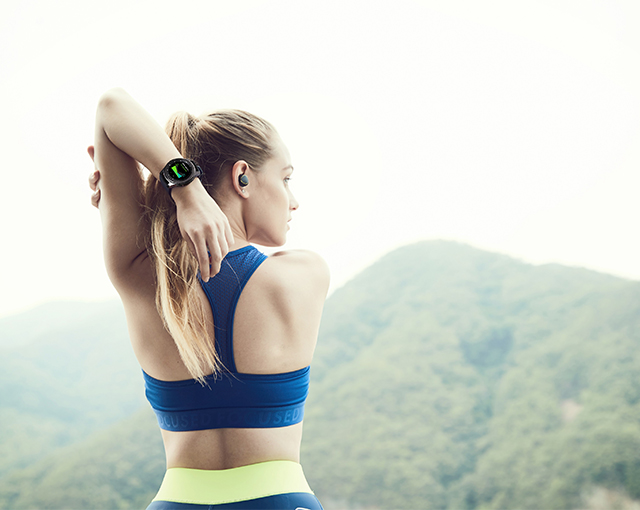 If there's one true gripe with the Gear S3, it has to be the lack of apps. A smart watch's capabilities are tightly restrained by the number of apps available, and with the limited ecosystem, we could see this being the Achilles Heel that hinders the watch from reaching it's full potential.

All in all, a smartwatch has a long way to go if a replacement device for your phone is what you pursue. Despite that, it could become an indispensable ally that you keep close to your side. Providing ease of access, convenient by virtue and guaranteed to weigh you down less than the mega phones of today, a great smartwatch could make for an excellent sidekick. This one has batteries that last three times as long a phone's does on a single charge to boot! 
After a period of developing what could only be described as a dependence synergistic partnership with the Gear S3, its post-review departure left our wrists bare and our phones pining after its companion.
There are some things you never knew you needed until you lose them.
Related stories:
Coming soon to Malaysia: Samsung Gear S3 and what's different about it
Wearable tech: 4 things we love about the Samsung Gear S2
Samsung's new app takes you on a virtual tour around Malaysia