Technology
Review: Why the Samsung Galaxy Tab S8 Ultra 5G is my personal entertainment hub
Limitless possibilities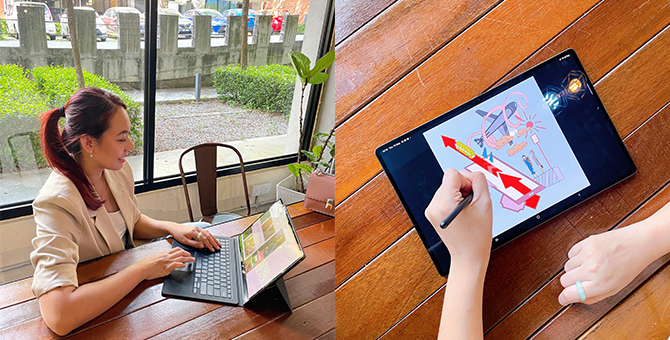 "Is it a tablet or a laptop?," was the first question on my mind upon unboxing the Samsung Galaxy Tab S8 Ultra 5G. At 14.6 inches wide and almost as heavy as my current work computer at 728 grams (5G), I was initially apprehensive about adding another gadget as big as this into my rotation, especially as I've been a loyal Apple user all the way, having used and owned several iterations of the iPhones, two Macbooks, an iPad Air and more.
The good thing going on for it, however, is that at 5.5mm, the S8 Ultra Tab is incredibly thin and stunning. Coupled with the generous display screen surface that's surrounded by a thin bezel, and delivering exceptionally clear quality and performance with the super AMOLED touchscreen display, I knew that using it was going to be interesting. Ahead, go through my review of Samsung's brand-new and biggest tablet on the market.
All-around media powerhouse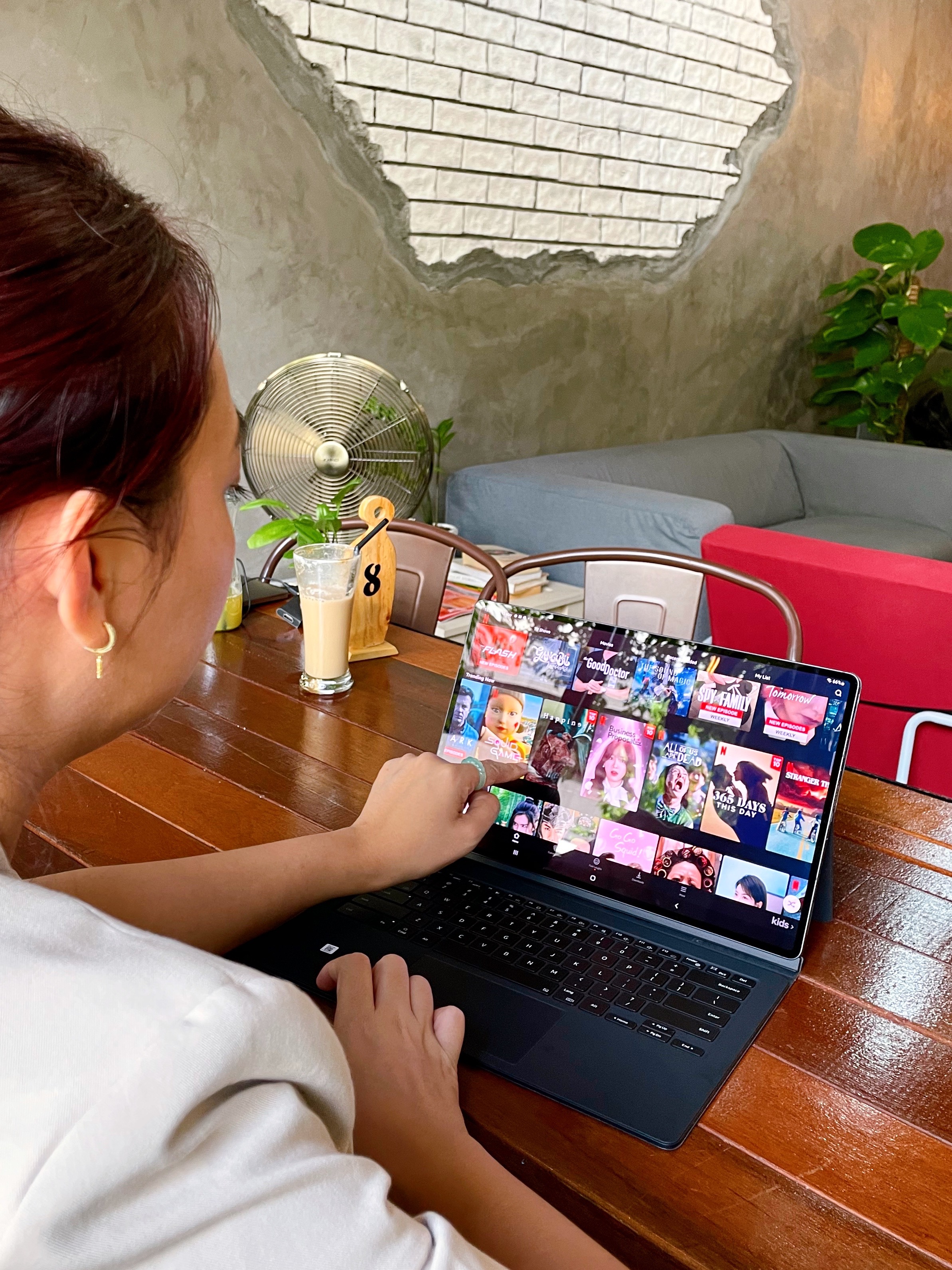 As previously mentioned, the S8 Ultra Tab offers a top-notch display with incredible colour contrast. On top of that, it incorporates the 4nm processor—the fastest chip in the world of Samsung Galaxy—ensuring that online streaming, action-packed games and editing videos run much faster on the Snapdragon 8 Gen 1 mobile platform. While I don't really play online games, I definitely feel the difference when bingeing on a Netflix show or watching YouTube videos; it's more enjoyable on the tab compared with viewing on a TV or laptop screen. Both the performance and animations are consistent at all times. The sound that emits from the tablet is loud, clear and fills in an entire space thanks to quad speakers and Dolby Atmos support.
A huge canvas for the S-Pen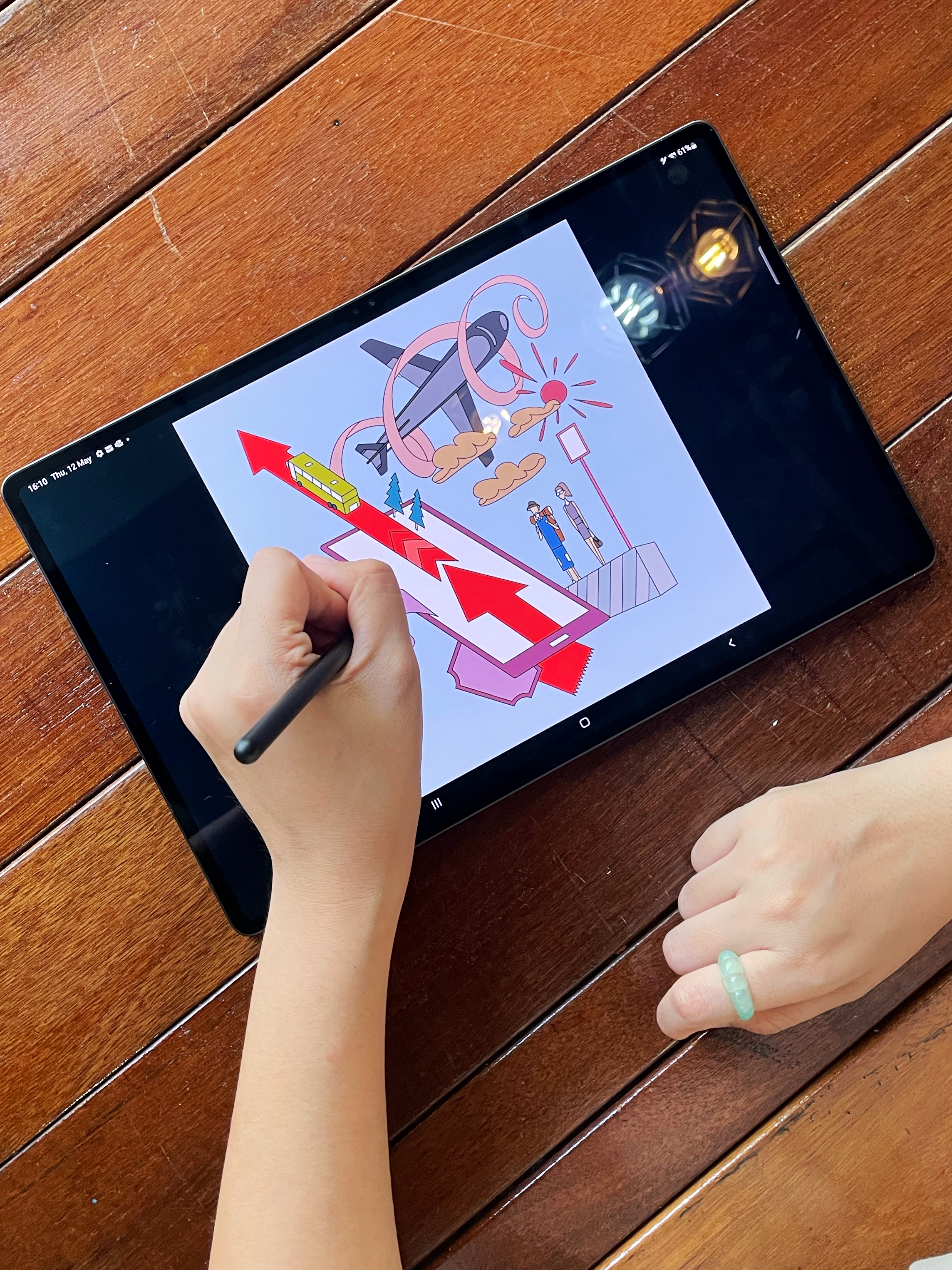 If you've read Lifestyle Editor Natalie's review of the S-Pen here, you'll know how greatly versatile this slim tool is. Thankfully, it comes together with the purchase of the S8 Ultra Tab. One app that I've taken a huge liking to is the Clip Studio Paint, which lets me draw, colour and bring my creations to life. It's very therapeutic after a long day at work. The S-Pen offers a 2.8 millisecond response time and a natural brush feel that makes it feel like I'm colouring on real paper. For utmost convenience, it can be attached magnetically on top of the tablet so you can step away without the worry of losing it. Moreover, the pen can be charged right away at the back of the tablet when you place it in its designated slot. How handy!
From play to work to play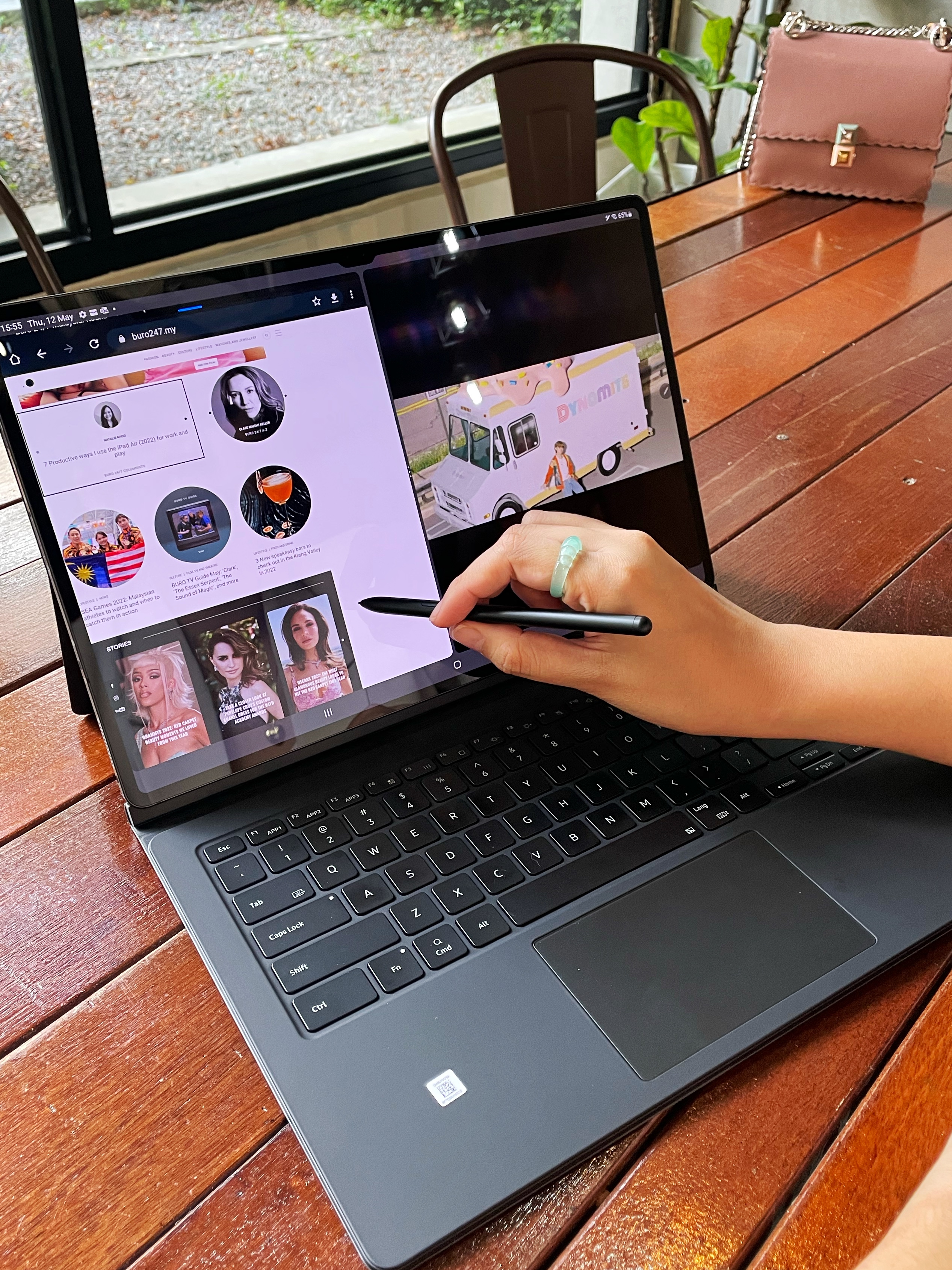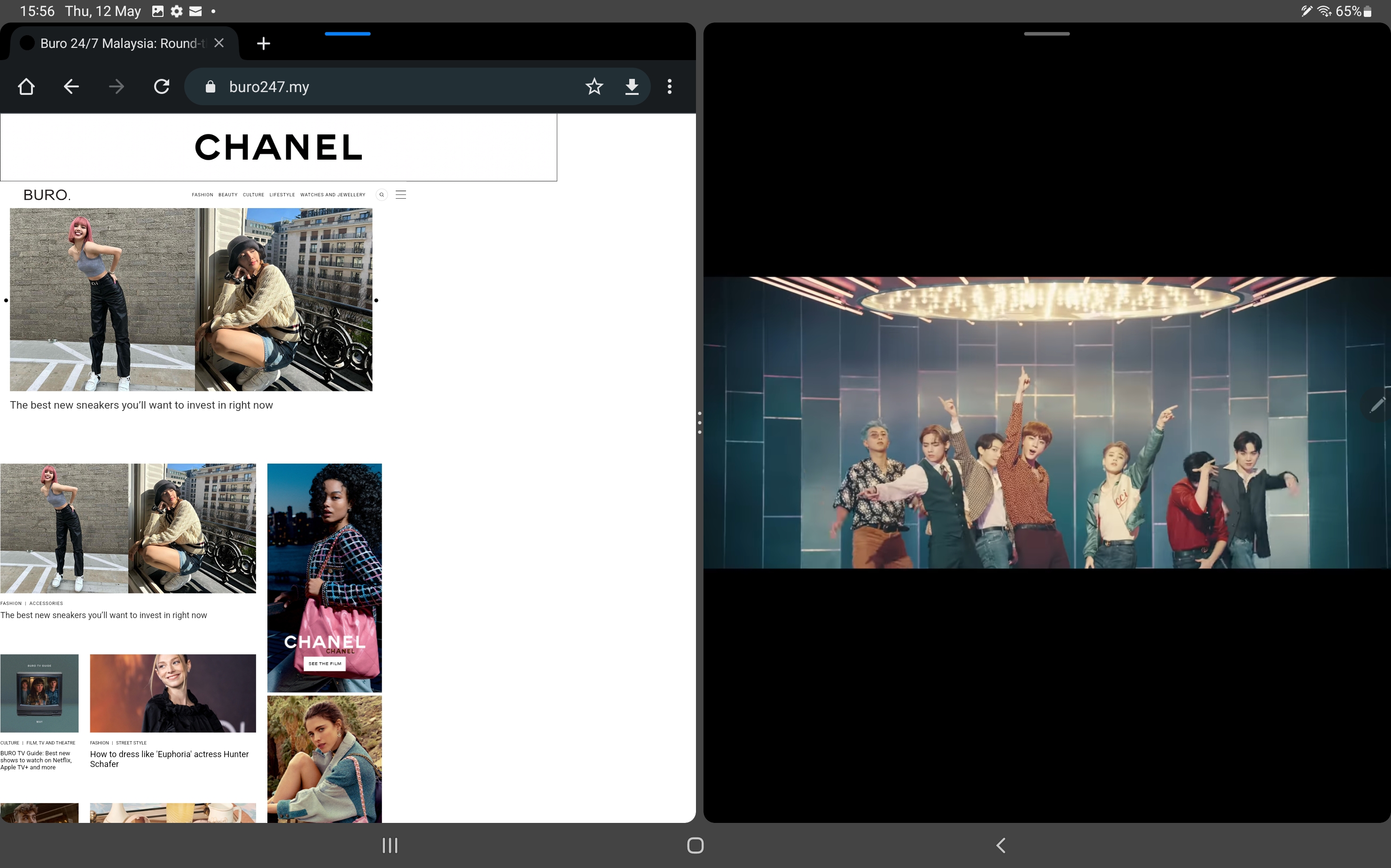 Personally, the Samsung Galaxy S8 Ultra Tab feels like a smartphone…on steroids! It works exactly like an Android phone but obviously much, much bigger. I scroll through TikTok and Instagram, listen to music, create notes, update my calendar, edit videos and more with it. However, that's not all there is to the device. Featuring Samsung Dex, Samsung's desktop UI (user interface), you can turn your tablet into a desktop and treat it more like a real computer, offering you the next level of versatility. You can also transfer files easily thanks to the micro SD card slot. If you're one who needs two screens for work so you don't have to keep opening and closing windows, you can use the tablet as a second monitor with just a click of a button. Moreover, with the split-screen feature, I can use two apps side by side and easily multi-task—work on one side and watch BTS videos on the other!
Massive battery life
Despite the device being so thin, which usually results in a smaller battery size, the S8 Ultra Tab offers an 11,200 mAH battery life. This roughly gives you eight hours of screen time before you need to charge it if you're using it heavily throughout the day. If you're playing with it sparingly like I have—to edit work and wind down for an hour or two—the Tab runs for a couple of days without having to be charged.
Superior camera performance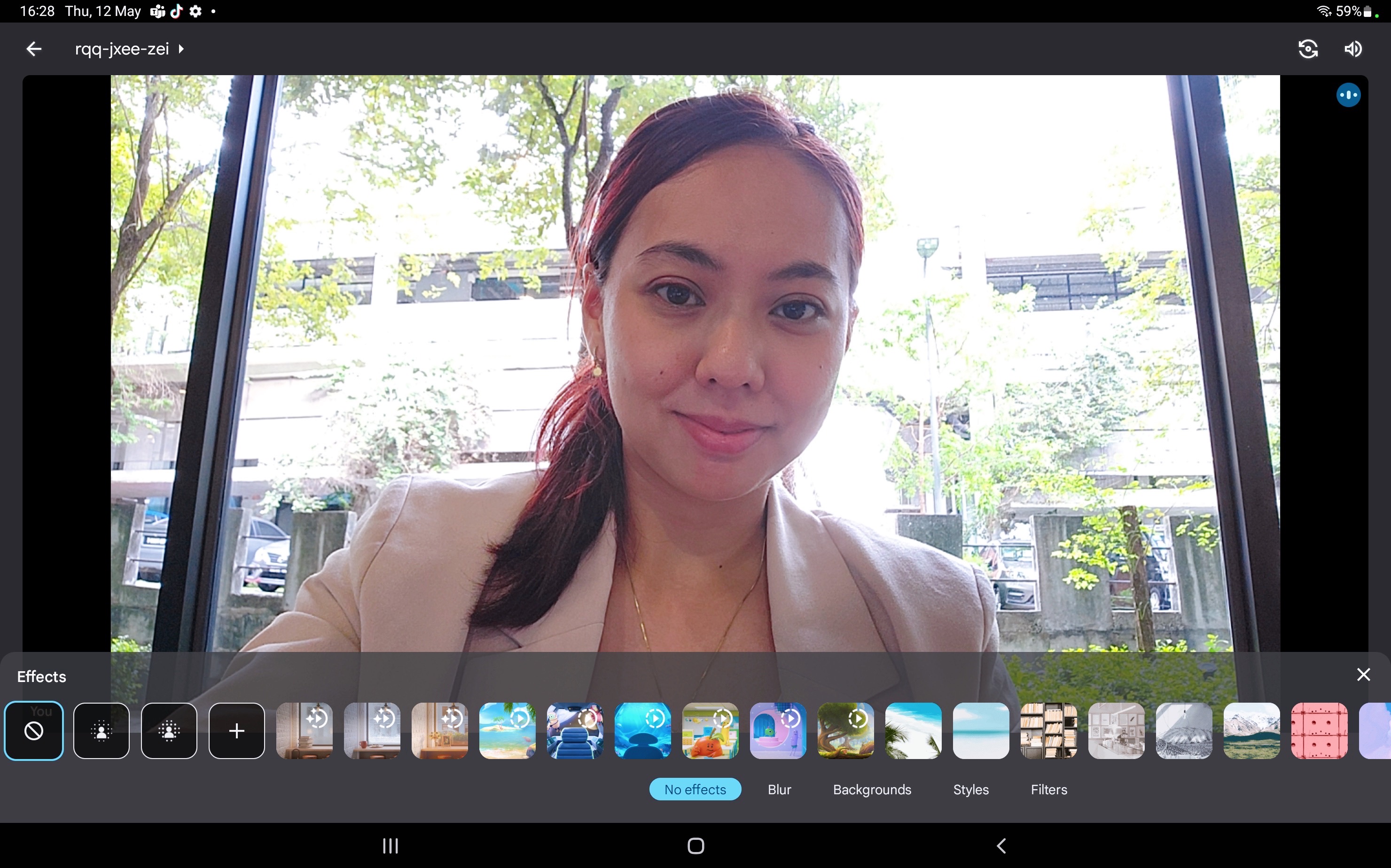 The horizontally placed camera lens in the middle of the device delivers perfectly-balanced visuals for virtual calls with work, family and friends. There are two 12MP, 4K webcams—one regular and one ultra-wide—for high-quality selfies that flatter you at any angle. Although I still prefer to take pictures with a phone, the 13MP back camera is a feature I appreciate as I can capture great images with it when and if I need to.
Is it worth the price tag?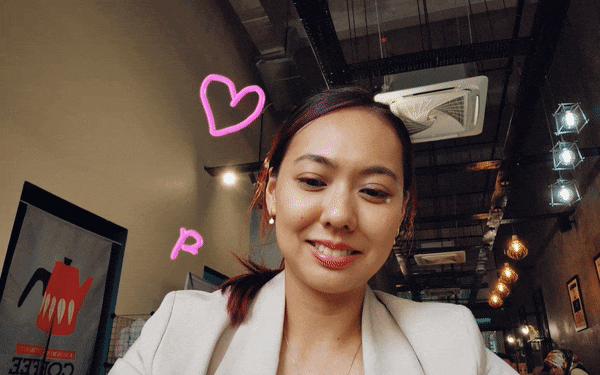 With a starting price of RM5,899 for the Wi-Fi model, it certainly is on the high side for a tablet. However, the hefty price tag is inclusive of the tablet's sleek black book cover, keyboard and the S-Pen, all of which are necessary additions that elevate the tab's luxe experience. Plus, considering all the pros mentioned above, not to mention the supersized screen, and many other features I've yet to discover, I definitely see myself using it for the long haul. So yes, worth the investment.
For more info on the Samsung Galaxy Tab S8 Ultra, click here.
For more tech reviews, click here.
| | |
| --- | --- |
| SHARE THE STORY | |
| Explore More | |