Everything you need to know about Nikon's newest DSLR in Malaysia: the Nikon D850
Come any huge milestone and you can expect a brand to drop something equally phenomenal. For Nikon, it's their 100th anniversary this year and they certainly have much to celebrate, be it multiple awards or NASA recently placing an order for 53 Nikon D5 DSLR cameras (on top of their previous purchases). For anyone starting out in photography, it might interest you that the Nikon D5600 was awarded the title of Best DSLR Entry Level. But here's another thing the successful company is celebrating: The addition of Nikon D850 to their DSLR lineup. They describe it as 'Extreme resolution meets extreme speed'. Here's everything you need to know about it and why it's such a big deal. 
Photos taken by Malaysian photographers with the Nikon D850
• The Nikon D850 succeeds the widely popular FX-format D810 (2014) with advanced features designed for both photography and videography. 
• It's silent. Whether you're snapping a photo or hitting the record button, your subjects will no longer be distracted by clicks and beeps. This might be especially beneficial for wedding photographers. 
• It's powerful for photos—high shutter speed, 45.7-megapixel CMOS sensor, EXPEED 5-image processing engine, a dynamic range of ISO 64 TO 25600 and an optical viewfinder with approximate 0.75x magnification (the highest ever in a Nikon FX-format DSLR). 
• It's powerful for videos—superior full-frame 4K UHD video capabilities, 4x and 5x slow-motion videos in Full HD, and 8K time-lapse movie production using interval timer photography. 
• It's fast. With a choice of either 9 fps (frames per second) or 7 fps continuous shooting mode, moving subjects are easy to capture but that's not all. A dedicated autofocus (AF) engine that engages the 153-point AF system and 99 cross sensors ensure all details of the photo to be captured even if it's in low-contrast situations.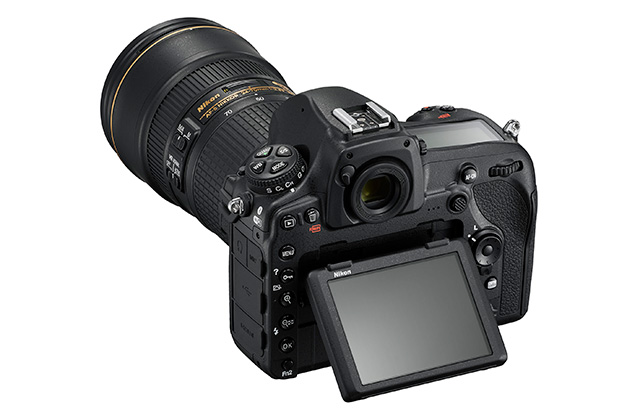 • It's easy to transfer images and movie files to a computer or FTP server thanks to the availability of WT-7/A/B/C Wireless Transmitter support (available separately).
• It's flexible. With its 3.2-inch 170-degree tilting touchscreen, a variety of angles is achievable. There's also button illumination to assist when shooting in dark situations. 
• It has improved its dust and water-drop resistance.
The Nikon D850 is now available at RM15,498 (body only) at selected dealers nationwide. For more information, visit their website.
Related stories:
Nikon's Small World 2015 photomicrography competition takes us into the miniscule universe
Review: 5 Cameras to consider for a road trip
Spark is the new mini camera drone that just launched in Malaysia