Lifestyle
Raya 2019: Malaysian photographers share some of their favourite Ramadan bazaar food stalls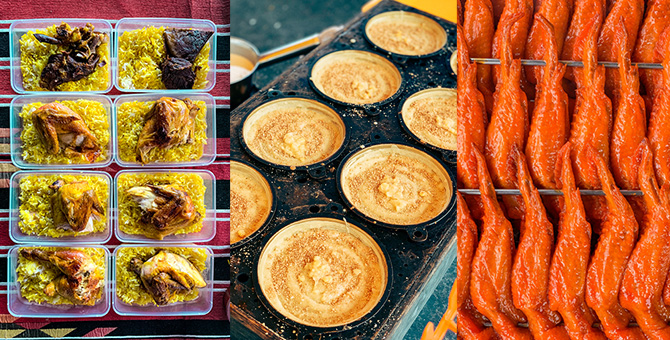 Ramadan buffets are great (and we listed 14 epic ones in KL for 2019 here) but nothing beats the vibrancy of Ramadan bazaars—the buzz and eclectic energy, as well as the mouthwatering varieties of food freshly made. If there's one thing Malaysians can all agree on, it's the food. The glorious, tantalising food. Of different cultures and of different festivities. And yet Netflix didn't think to include us in their food-docu series Street Food. But that's okay; these Malaysian photographers know better as they headed out to document one of their favourite Ramadan bazaar stalls. From crispy, fragrant apam balik to OG Taiping kuey teow with huge, fresh prawns to tasty, succulent chicken wings (with a kick!) to flavourful Shawarma Ayam—find out where are the places to check out before Ramadan is over!
In addition, these Malaysian photographers have also shared their tips to taking awesome photos and videos this Raya season—just in case you're feeling either creative or up for documenting precious moments with your loved ones.
Apam Balik Pandu, Gombak — Sufian Ghaffar, @iamod_
24-year-old Harisuddin Bin Zaherman from Sri Gombak may look young but don't let looks fool you. He started dabbing in the business by helping his father sell this very Apam Balik Padu back in 2011, and he clearly hasn't looked back since. What's interesting is that his father first received the recipe from an apam balik seller and then adjusted the recipe to enhance the taste. You can find this popular stall in Gombak.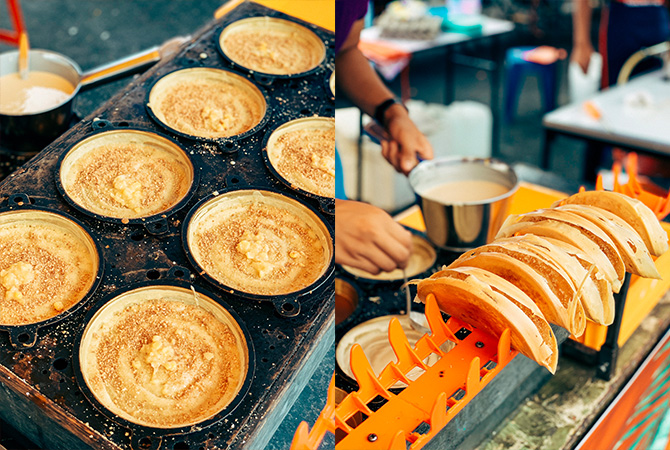 @iamod_'s iPhone photography and videography tips for Raya
1. Start your video either with a wide open to create a dramatic impact on the subject of your video.
2. For this video, I used the iPhone's Slo-Mo function to highlight the details within the action (e.g sprinkling the sugar, nuts, etc.)
3. There are a few apps I like to use when it comes to video editing:
a. iMovie: It's easier and more convenient for editing, especially when it comes to iPhone footage.
b. VUE app to crop the video into a vertical format.
c. Keynote to do effects on the opening title of the video.
For more tips on taking videos with an iPhone from @iamod_, head over here.
Honey chicken, Bazaar Seksyen 17, Petaling Jaya — Ahady Rezan (Hux), @huxsterized
Come Ramadan season, Zainal Ali's Putri Alia stall selling honey chicken wings is usually a crowd favourite, even though he only started the business about a year ago. A Sabahan who migrated to Selangor with his family to make a living, he named the stall after his daughter, Puteri Alia. There's a reason why his honey chicken—as well as other varieties such as chicken tender, gizzard, drumstick and bishop nose—has its own loyal customers. The secret is its sweet and spicy sauce. During the Ramadan season, you can find him at Bazaar Seksyen 17 but otherwise, his stall is usually at Pekan Sungai Besi.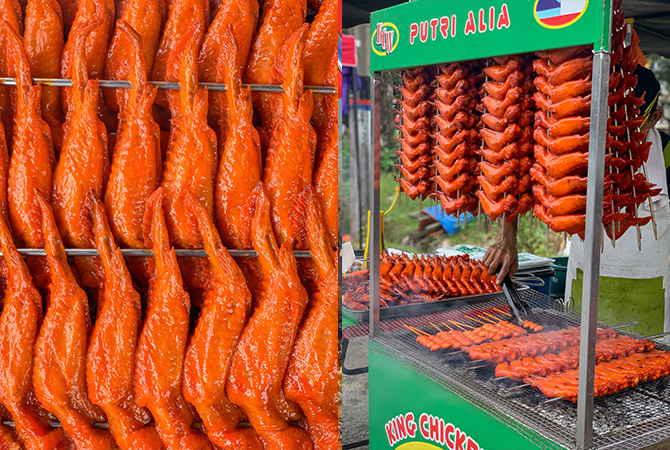 @huxsterized's iPhone photography and videography tips for Raya
1. When it comes to creating a video, first, put your ideas onto paper—come up with a brief storyboard. This will help you to plan the sequence for your video.
2. Take as many shots as possible. It will help you during the editing process.
3. For editing videos, I like to use Mojo and InShot, which you can easily find on the App Store for free!
Previously, Hux and his wife, Shaz revealed their iPhone 7 tips for taking Hari Raya pictures here.
Original Taiping Kuey Teow, Bazaar Kelana Jaya  — Shaz Sharif, @moksva
Anuar, or Chef Yob, as some affectionately call him, is proud of his Taiping origins, and it shows even with his kuey teow. From the wok used to the way the kuey teow is cooked and packed, anyone from Taiping would surely recognise its authenticity. He also doesn't use MSG and salt. What started initially as a hobby—back in 1994 when he was selling kuey teow in Pandan Indah—soon turned into a full-time business thanks to an overwhelming response. We're salivating just watching the video above. You can find his stall at Bandar Baru Sungai Buloh; or at Bazaar Kelana Jaya during Ramadan.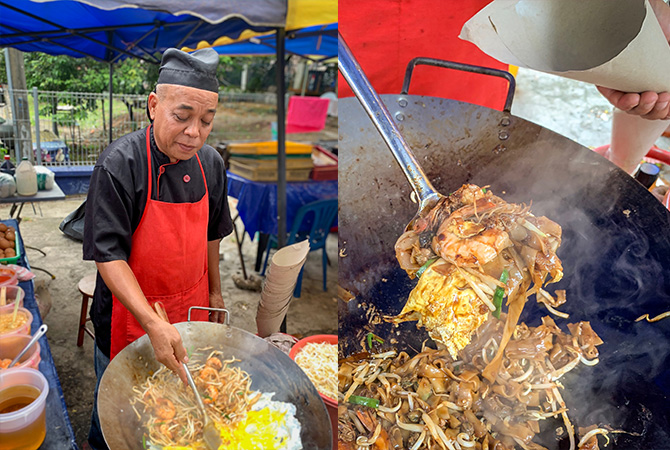 @moksva's iPhone photography and videography tips for Raya
1. To create more impact, try to capture moments/actions using the suitable camera feature. E.g Portrait, Time-Lapse, and Slo-Mo.
2. Don't forget to turn on Smart HDR to ensure you don't lose the details.
3. (Especially with the iPhone XR), it's best to get close to your subject for quality results.
Get more amazing tips for taking Instagram-worthy photos with your iPhone here.
Shawarma Ayam (dan lain-lain), Kuala Terengganu — Aazmeer Iskandar, @aazmeeriskndr
If you're ever around Bazaar Ramadhan Bukit Besar Kuala Terengganu, be sure to stop by Anas Malik Nasrullah bin Zulkepli's stall, Al Muttaqin. It sells a wide variety of hot favourites but the Shawarma Ayam is definitely a must-have. Don't worry if you miss this chance because once Ramadan is over, you can find him at the stall's usual outpost: Ajees Kurma Kuala Terengganu.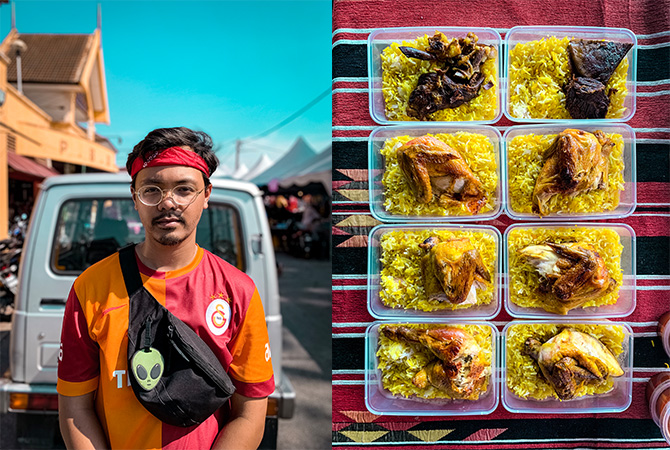 @aazmeeriskndr's iPhone photography and videography tips for Raya
1. Always think outside the box and try to shoot from different and unusual angles. Angles are really fun to play with as long as you still follow the rules of thirds. You might surprise yourself with the results!
2. There are so many apps you can use to edit your photos but be careful. The more apps you use to edit a photo, the more it reduces the quality of the said photo. Try to minimise your use to only the essential edits.
3. I always use Lightroom Mobile to edit my photos or sometimes I just use Instagram's tools (to edit or for the final touch).
For more things related to Raya 2019, head over here.
| | |
| --- | --- |
| SHARE THE STORY | |
| Explore More | |