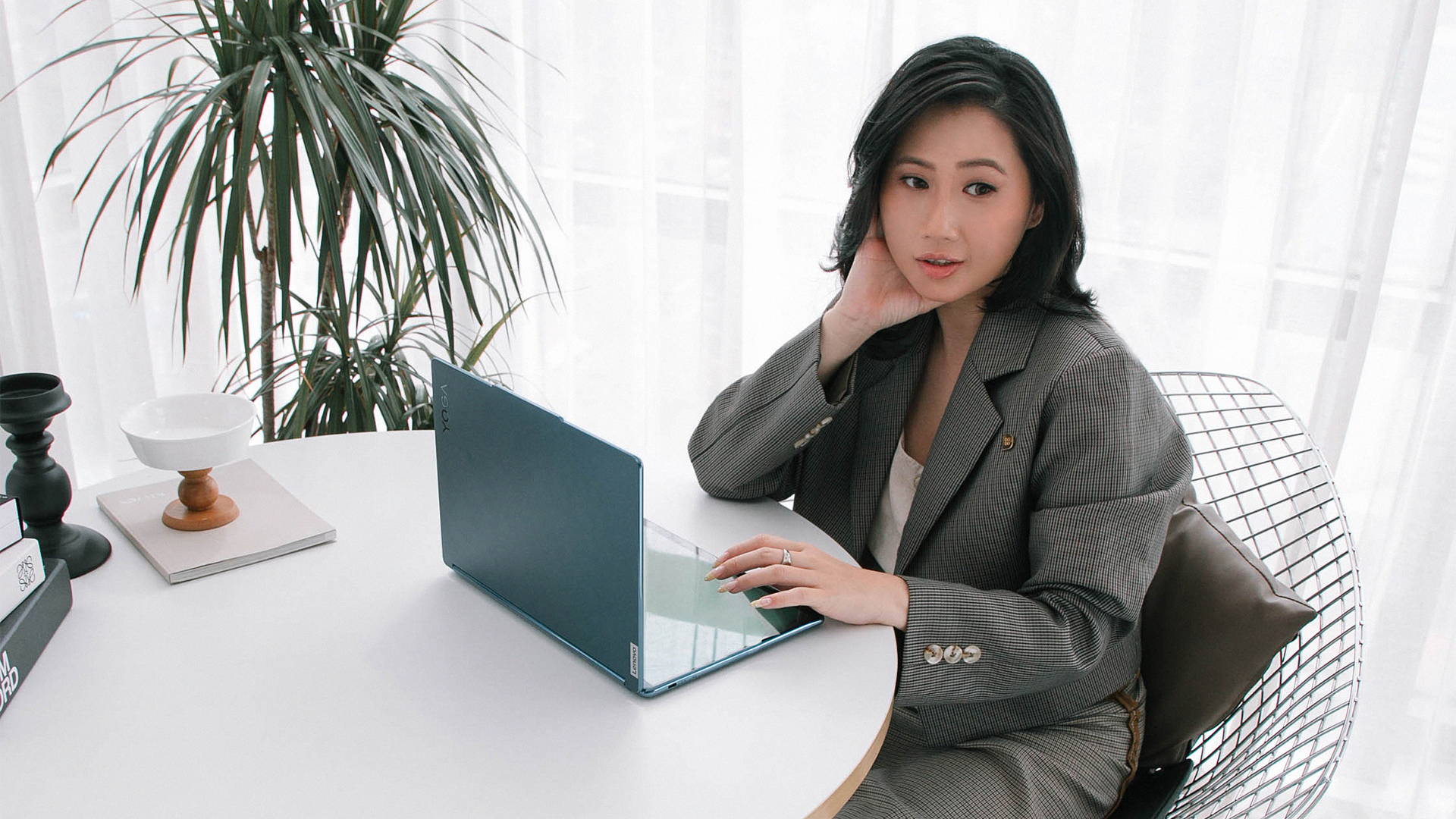 Navigating the landscape of a modern career woman can be challenging. Beyond contending with gender biases, there's the added complexity of juggling multiple roles, particularly when you're also a wife and mother. When you mix these challenges with the other responsibilities within your work scope, the big question is: Can you truly manage it all?
The short answer is, yes. To some extent. It all boils down to the support system and the tools you wield, which can significantly ease your responsibilities. We talk to three inspiring lifestyle figures—Sharifah Rose, Veen Dee Tan and Marianne Tan—each offering insights into how they seamlessly harmonise their day-to-day obligations. A common thread unites them: their reliance on the Lenovo Yoga Series.
If you didn't already know, Lenovo Yoga is a collection of stylish and innovative laptops and tablets, which gets its name from the ability to change into various forms, assisted by a hinged screen that's renowned for its adaptability. This killer combination of versatility and contemporary engineering enables its users to transition effortlessly from laptop to tablet in mere seconds. 
Ahead, we take a closer look at the current models they're using in their everyday lives.
Veen Dee Tan, Co-founder of Hanya and Harirose, and Content Creator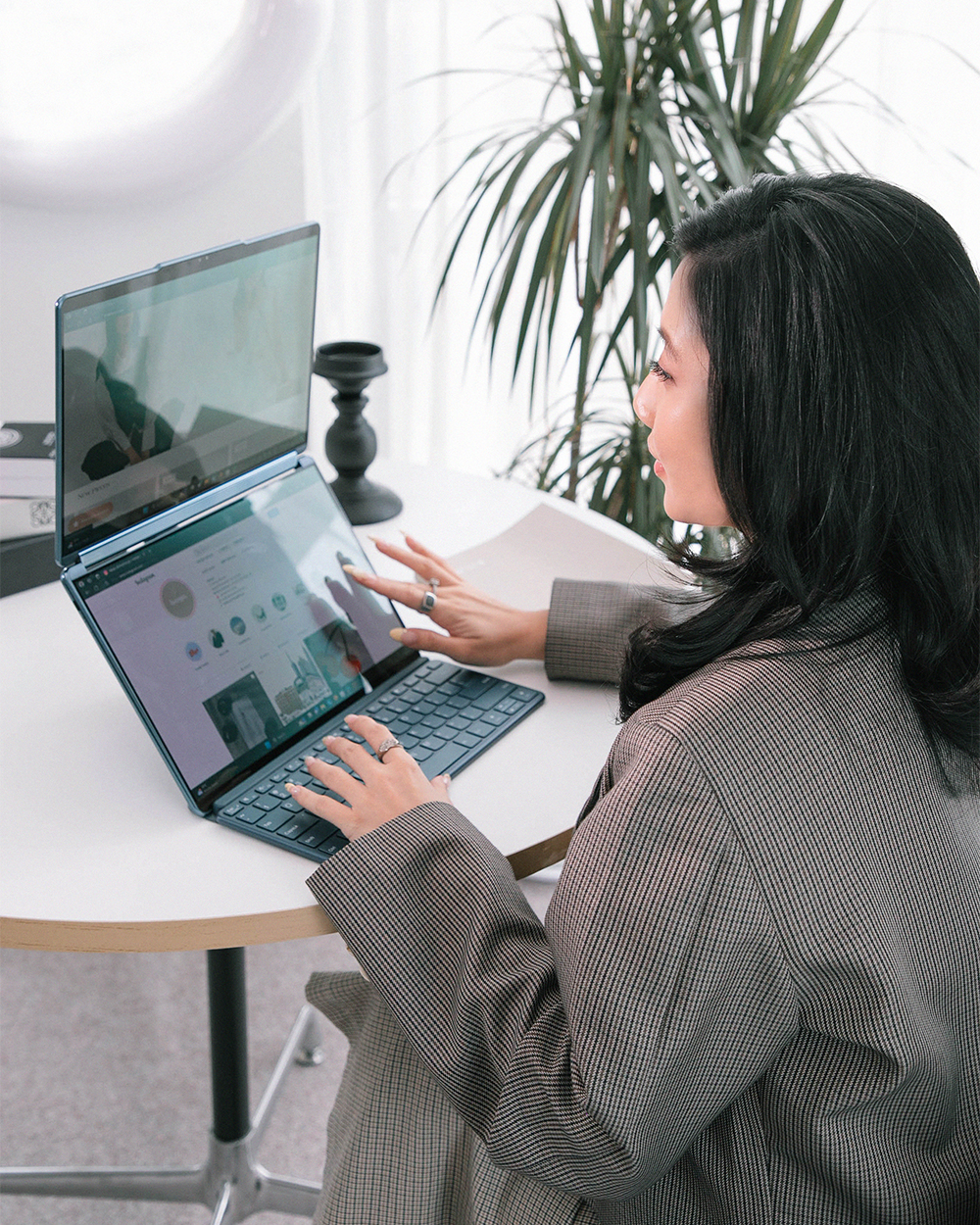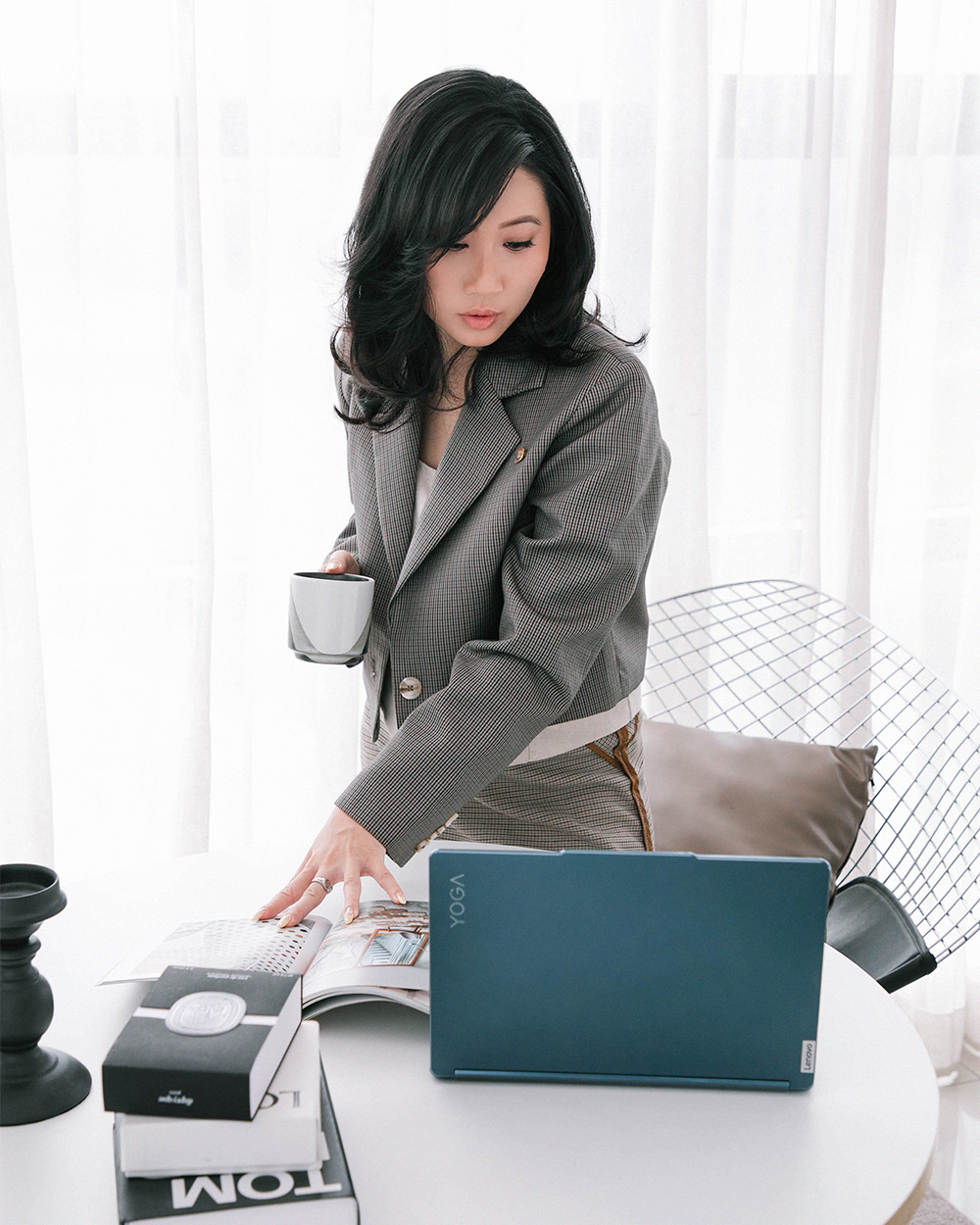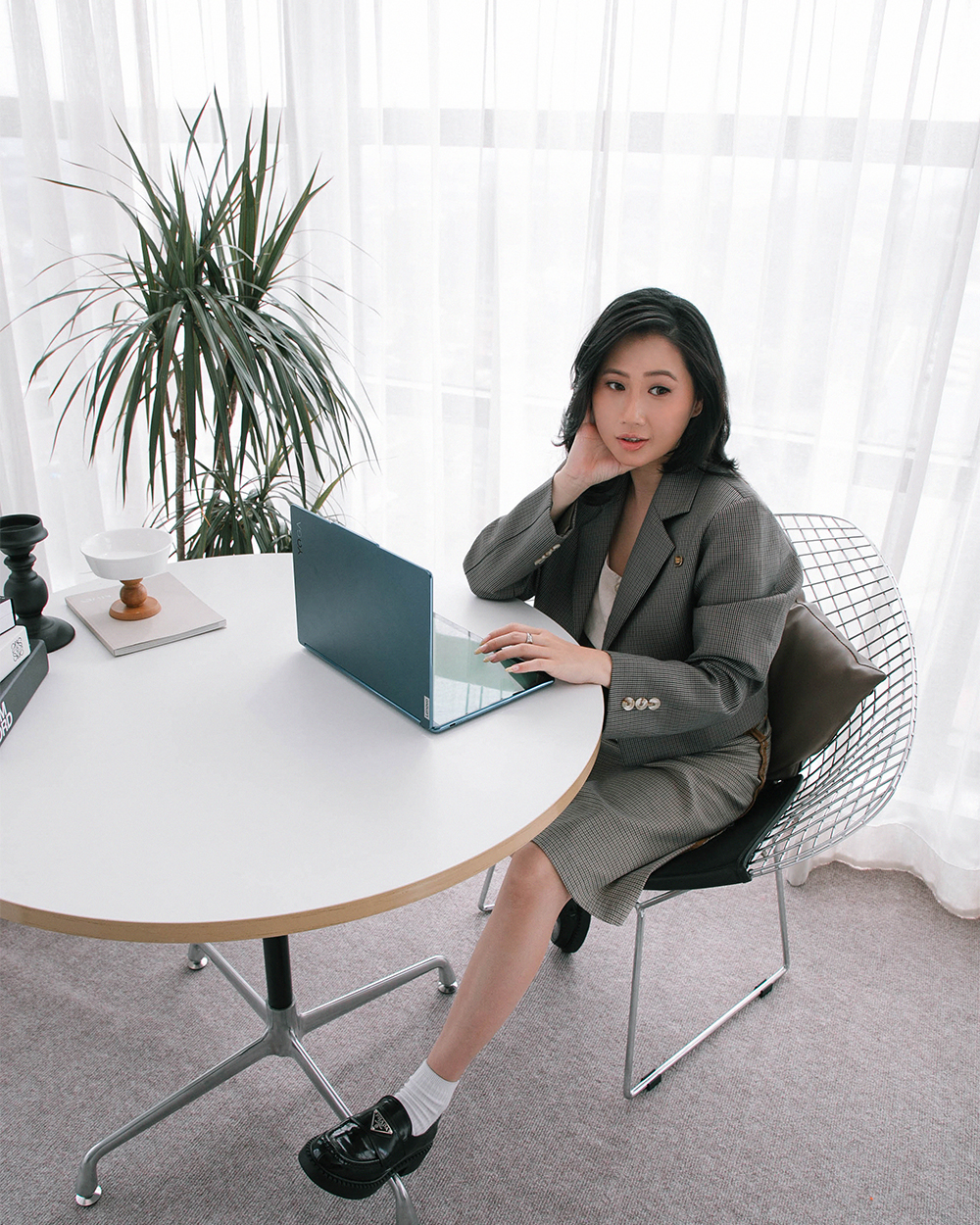 Describing the entrepreneur, content creator and mother as busy is an understatement. Leading a brand that prioritises sustainability by repurposing materials, Veen Dee consistently relies on efficient scheduling and requires a laptop that possesses both formidable power and a lightweight design for her to work from anywhere she needs to, much like the Lenovo Yoga Book 9i. Crafted to facilitate seamless multitasking and productivity on the go—be it at work, learning, or leisure—the device under Intel® Evo™ design goes well beyond being a sleek and lightweight laptop. Battery life is no longer a concern thanks to its fast charging capability, delivering a four-hour charge under 30 minutes. Additionally, the battery is designed to provide lasting performance for up to 13 hours. The first of its kind, it offers an ingenious full OLED dual-screen set-up, diverse productivity options, and exceptional entertainment features. Aside from the well-known Lenovo Yoga usage styles–tent, stand, and tablet modes–the Yoga Book 9i introduces new book and scroll modes, allowing Veen Dee more flexibility, whatever her task at hand may be. 
Sharifah Rose, Actress and Co-founder of Harirose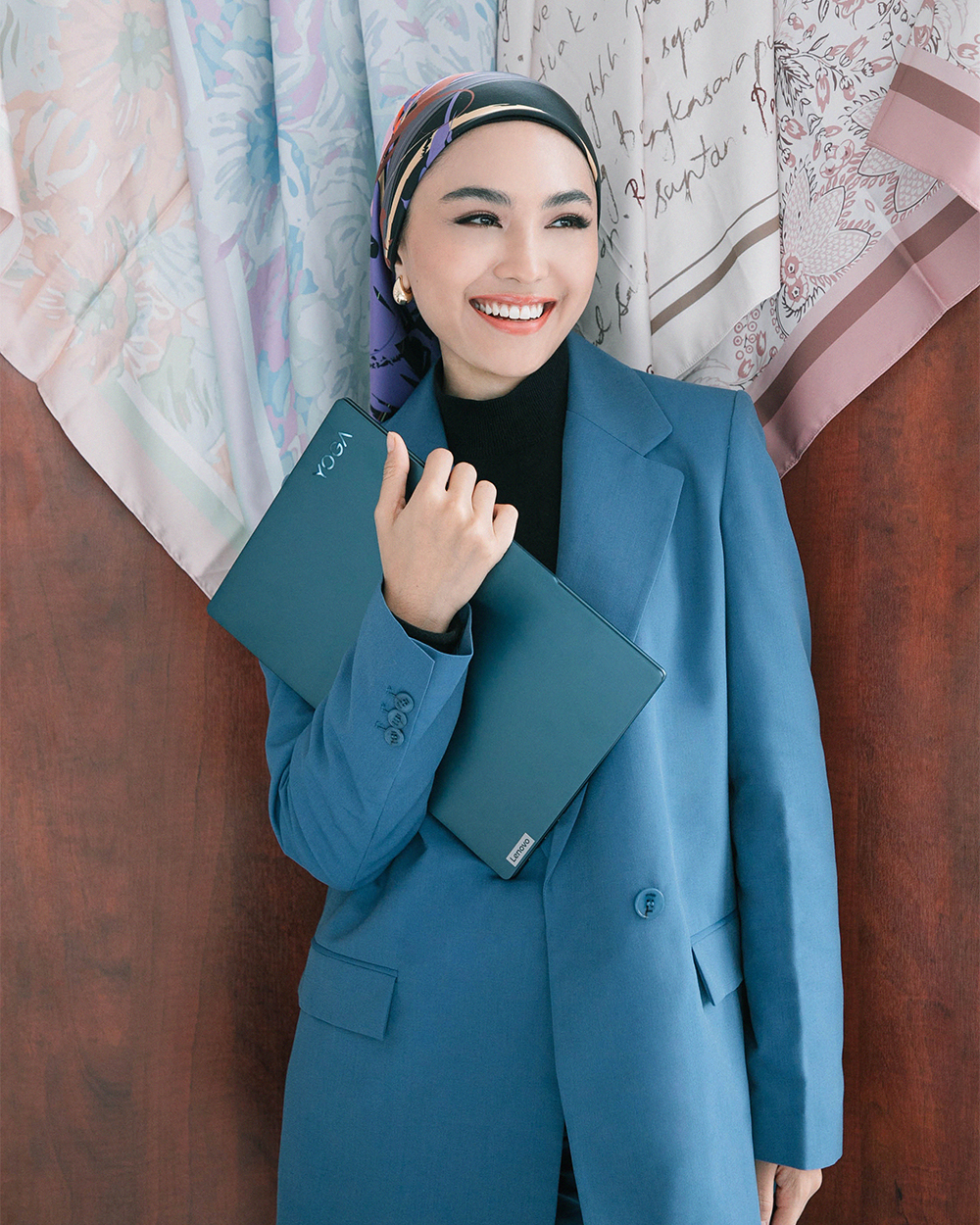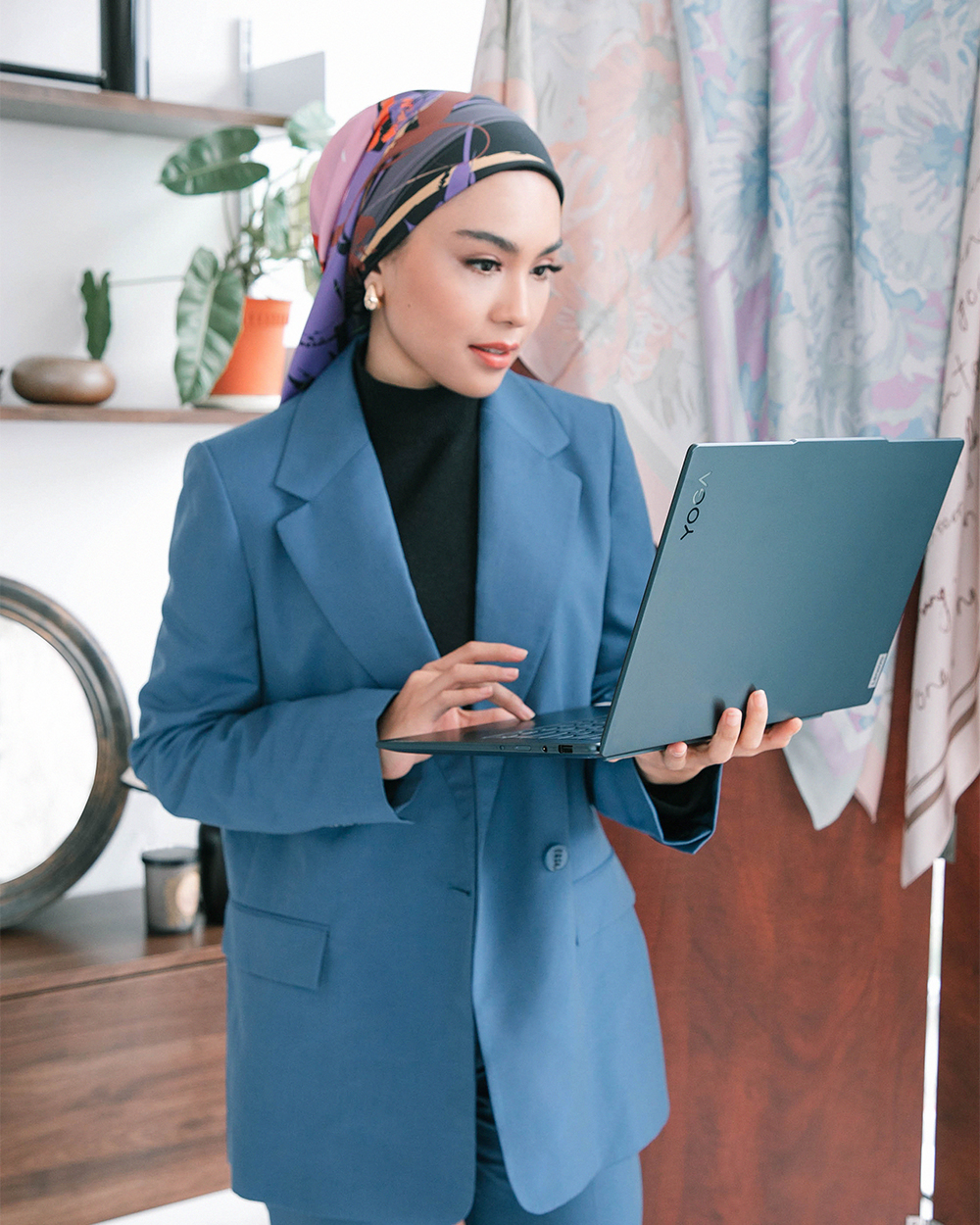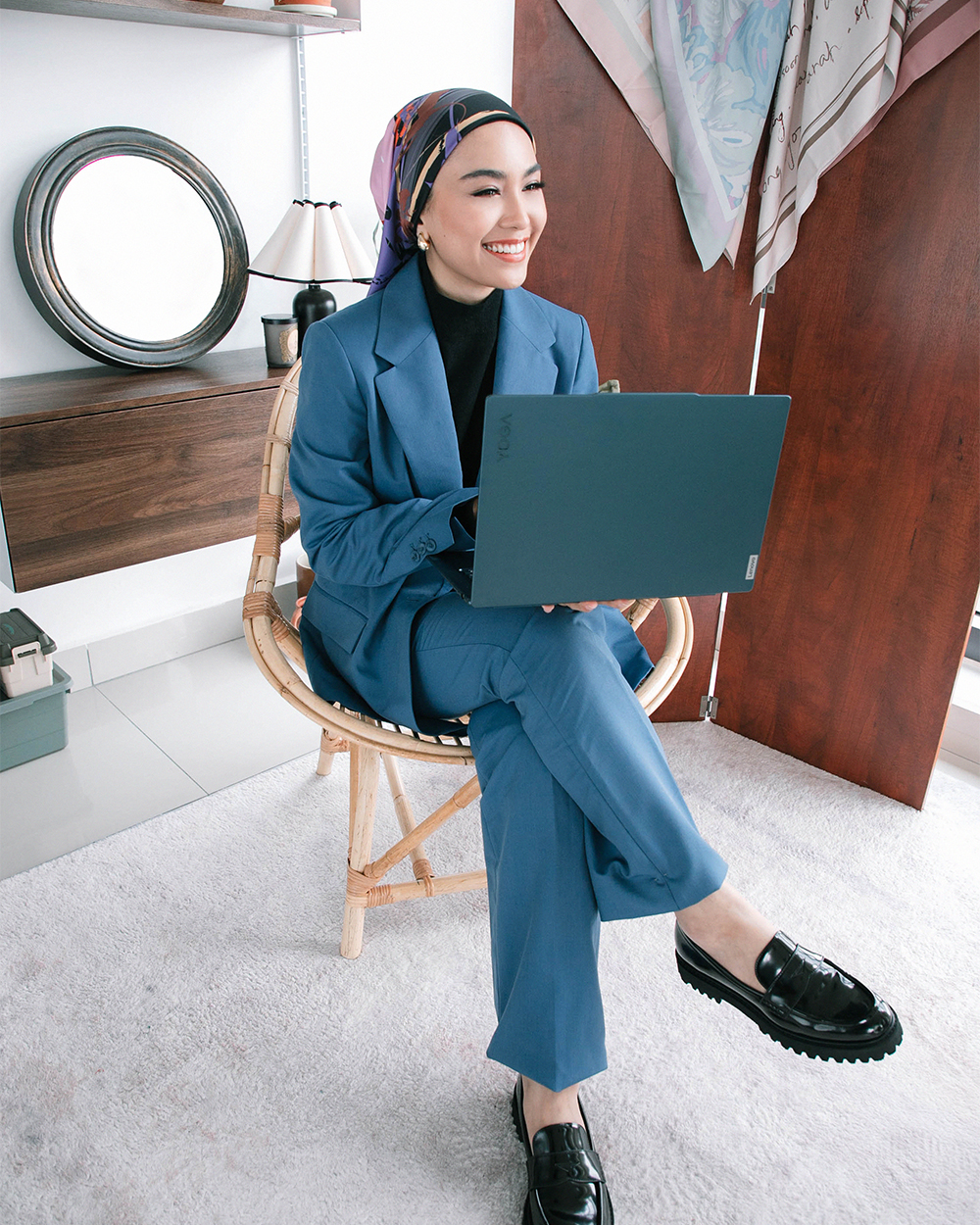 In the fast-paced world of creativity that Rose thrives in, you'll hardly find her slacking. She effortlessly manages various responsibilities—from overseeing her online hijab business to starring in campaigns and television shows—thanks to the Lenovo Yoga Pro 7i. This device, which is engineered on the Intel® Evo™ platform, is upgraded with Dolby Atmos Speakers, a quad microphone with noise cancellation, a FHD web camera, and Intelligent Collaboration, enabling more effective and seamless communication with her team over video calls. The slim 14-inch laptop encourages her to push her creative limits, featuring a stunning 3K display with optional discrete graphics. Aside from being visually appealing with its teal exterior, the Yoga Pro 7i also meets tough military durability standards, blending resilience with captivating design.
Marianne Tan, Actress and Digital Illustrator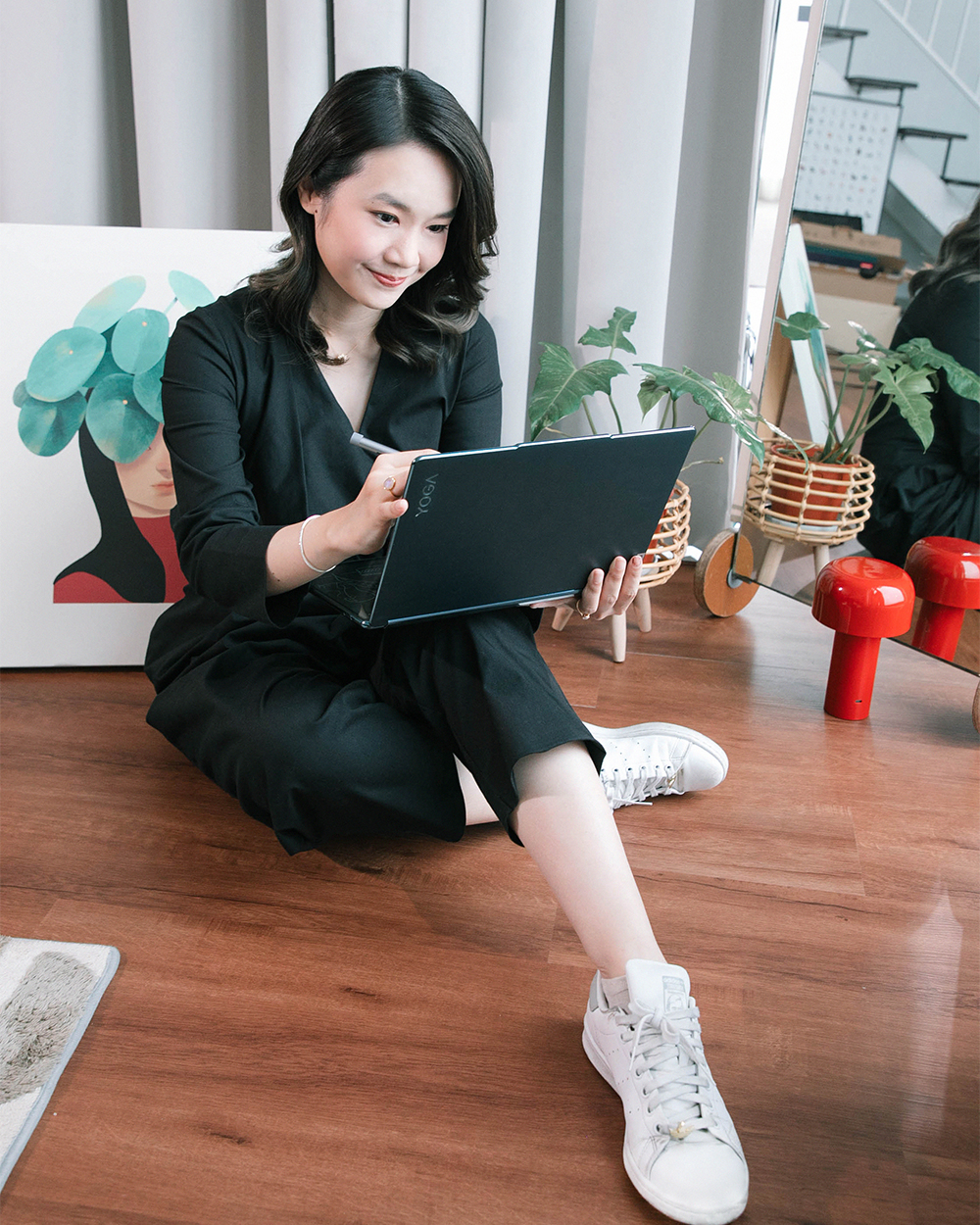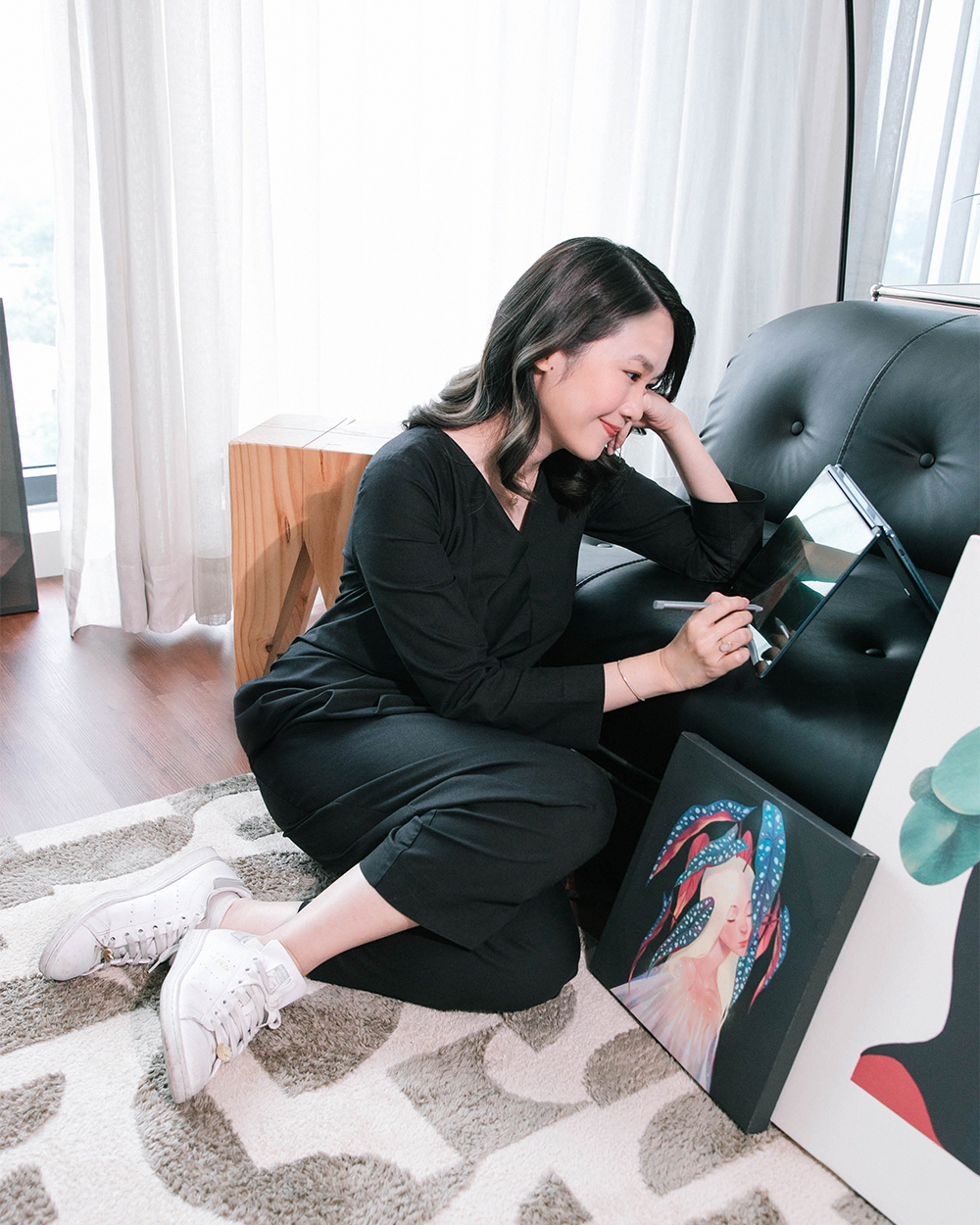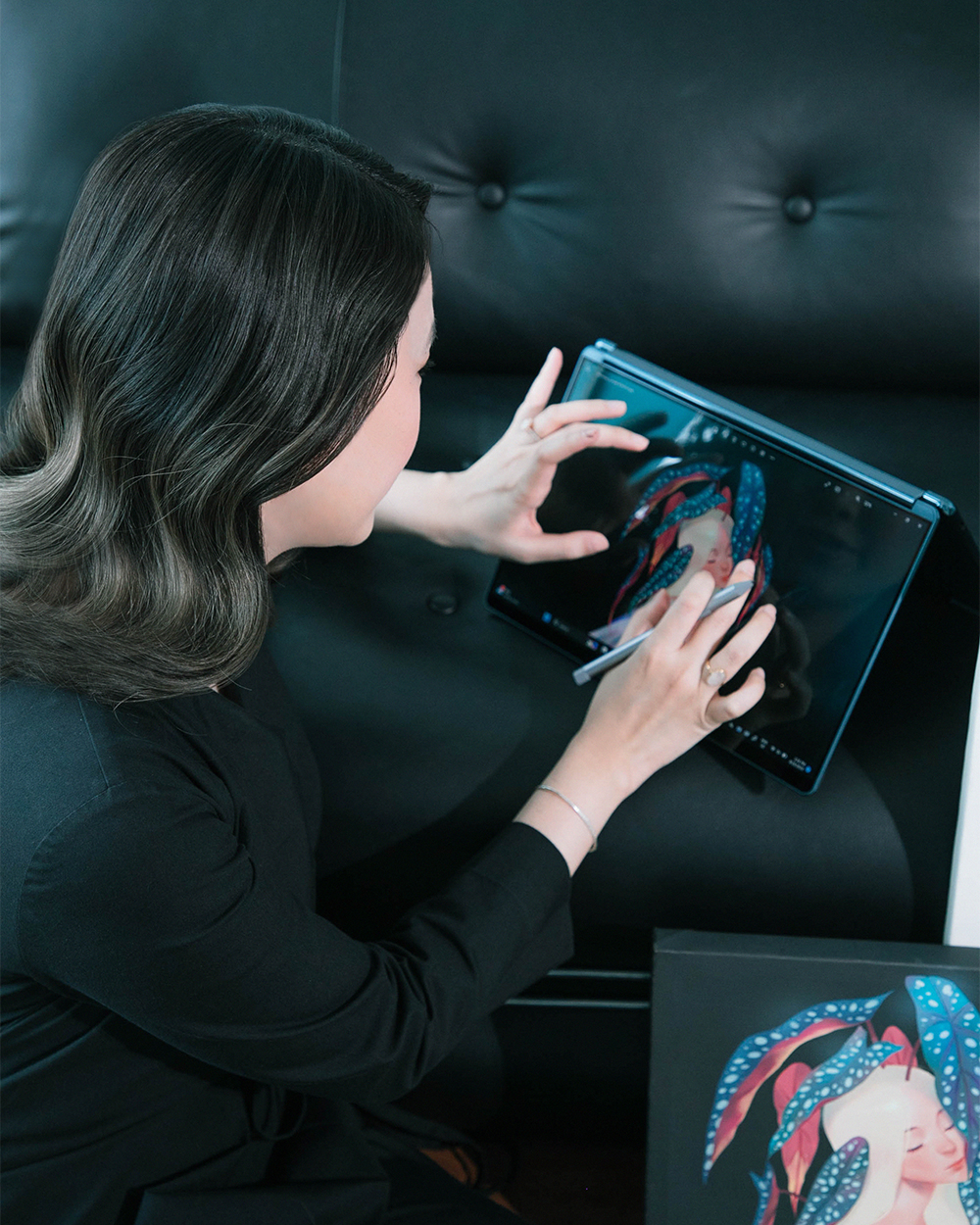 Actress and illustrator Marianne Tan's journey into digital drawing began roughly 15 years ago, when she received a tablet as a gift from her father. Over time, this artistic medium has allowed her to delve into the intricate nuances of her heritage and nurture her creative side, significantly shaping her identity today. Through digital illustration with the Lenovo Yoga Book 9i, Marianne finds stress relief, appreciating how it does not create the type of mess that conventional drawing and painting often do. Designed on the Intel® Evo™  platform, this device offers fast charging and battery life specifically designed for individuals on the go. Additionally, the Lenovo Precision Pen 3, which effortlessly establishes a Bluetooth connection with the tablet, ensures that her brush strokes are organic and fluid. The exceptional stylus is equipped with 4,096 pressure levels and tilt detection, amplifying the impact of each stroke on the screen.
View this post on Instagram
For more information on the Lenovo Yoga Series, click here.
For more tech reviews, click here.
| | |
| --- | --- |
| SHARE THE STORY | |
| Explore More | |