We could all use a little help in our lives; whether it's from someone or something. Case in point: A smartwatch like the new Apple Watch Series 4. Yes, we know smartwatches can check heart rates, calories burned during a workout and even weave in a little meditation time. But with the right apps, you could take it further. So if 2019 is the year you attempt a healthier, fitter you, try the following apps.
1. Nike Training Club: Get fit with 185+ free workouts from strength and endurance to mobility and yoga-featuring our world-class Nike Master Trainers in every drill
2. 10% Happier: A clear, simple approach to meditation with a NY Times bestselling author and some of the most respected (and cool) meditation teachers on the planet. Designed for skeptics but built to help you keep it going.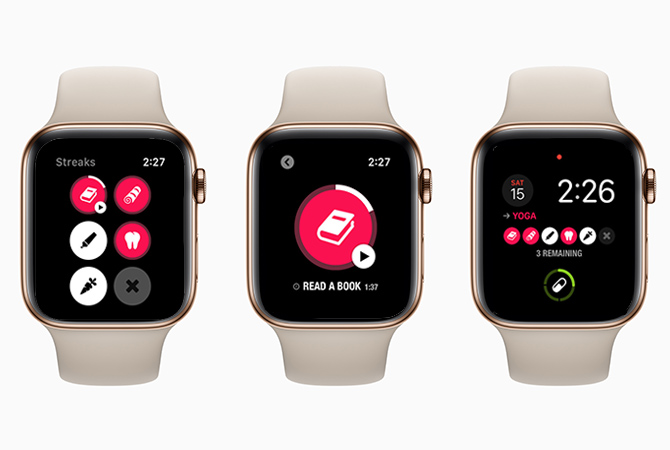 best apps to download apple watch 2019 – streaks
3. Streaks: The to-do list that helps you form good habits. Oh, it's also an Apple Design Award winner so you'll be sure to love the interface. Track up to twelve tasks you want to complete each day. Your goal is to build a streak of consecutive days.
4. Flo Period: A smart and simple female period tracker that's also a helpful pregnancy week by week app complete with accurate ovulation and fertility calendar as well as a PMS symptoms tracker for women all over the world. Phew, that was a mouthful but that's exactly how many features it has.
5. Smoke Free: Trying to quit smoking? This app will help with over 20 different, evidence-based, techniques to help you become—and stay—smoke-free.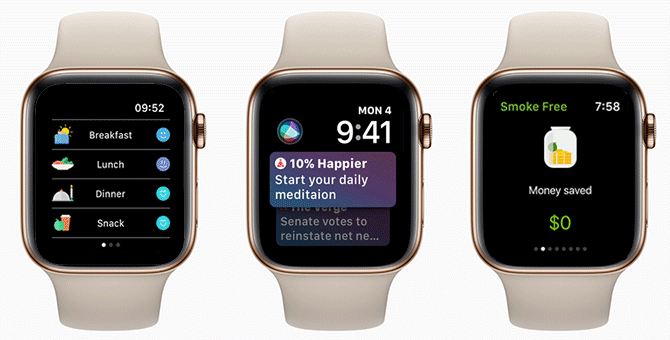 best apps to download apple watch 2019
6. Zones: Get the most out of your Apple Watch! Zones monitors your exercise intensity and visualize it in meaningful ways. Know your activities and be smart about how you work out.
7. Lifesum: "It keeps track of my food intakes, especially my protein consumption and water intake. It keeps all my goals on track, and user-friendly." — recommended by Ain Ramli, ex-national rower, Puma Ambassador and fitness coach
As an Apple Watch user herself, Ain Ramli actually has a few more tips of her own to keeping, and staying fit, during and after the holidays.
Getting back on track
"Never treat your workout like studying for exams! It's a routine — like taking shower or brushing your teeth. Actually, I would advise not to take breaks during the holiday season but instead, reduce the intensity or frequency of your workout. You have to make sure you keep moving and that the gap in between workouts should not be more than three days.
Even if you are on holiday, try making sure you keep active by walking. I always set a reminder on my Apple Watch to make sure I keep moving even when I'm on holiday mode. That is how you prep your mental readiness too."
Making time for working out 
"Can you imagine waking up in the morning and going to work without brushing your teeth? That is how I view my workouts. We are never too busy. It's about setting priorities and making it happen. If working out in the evening after work is too tight, then wake up early to do it.
If it's too early to do it in the morning, then, a decent 40-minutes exercise before bed can be just as productive. Your workout does not need to be fancy or complicated.
One of my friends simply does a combo of pushups, squats, sit-ups daily and looks great. The worst workout out there is the one that did not happen. Stop giving yourself excuses and instead give yourself reasons to sweat it out."
For more recommended apps, head over here.
| | |
| --- | --- |
| SHARE THE STORY | |
| Explore More | |