Lifestyle
Where are they now? A breakdown of the whirlwind romance between Kelantan's Sultan Muhammad V and former Russian beauty queen Rihana Oksana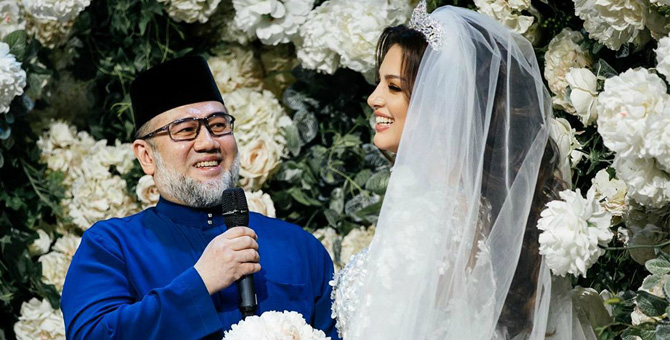 Oh what we would give to be a fly on the wall.
Earlier this week, netizens were shocked when reports surrounding the former Malaysian king's divorce surfaced online. The couple had just given birth to a baby boy after all. Turns out, there's more to the story, because not only did Rihana deny any knowledge of said divorce, Mr Koh Tien Hua, the Sultan's lawyer, also told New Straits Times that they're still questioning the paternity of Rihana's son! Insert dundundun_soundeffect.mp3…
It felt like just yesterday when we were woken up to news of an 'alleged wedding' between our former Yang di-Pertuan Agong Sultan Muhammad V and Miss Moscow 2015 Rihana Oksana Voevodina. So before we dive into the he said, she said, let's take a walk down memory lane to how it all started.
24 April 2017: Sultan Muhammad V was installed as the fifthienth Yang di-Pertuan Agong of Malaysia.
Spring 2017: Rihana Oksana Petra (formerly known as Oksana Voevodina) met the Sultan at a jewellery event in Europe.
Unknown date in 2017: Rihana moved to Kuala Lumpur, Malaysia.
16 April 2018: According to Daily Mail, Rihana converted to Islam on this day.
7 June 2018: The couple got married in a private Islamic ceremony.
23 November 2018: The 50-year-old monarch and 27-year-old former beauty queen held an extravagant wedding ceremony at the Barvikha Concert Hall in Moscow, Russia.
31 December 2018: Sultan Muhammad V's two-month leave for "medical treatment" ended.
6 January 2019: Sultan Muhammad V announced his decision to step down as king. According to Bernama, this abdication of the Sultan as Malaysia's head of state is the first in the history of the country where a monarch had quit before completing their five-year term.
9 January 2019: An anonymous source told Komsomolskaya Pravda (a daily Russian tabloid newspaper) that the couple was expecting their first child.
25 January 2019: Rumours of the couple's fairytale romance being 'on the rocks' surfaced.
21 May 2019: The couple welcomed their first son, Tengku Ismail Leon Petra Bin Tengku Muhammad V Faris Petra.
4 June 2019: Rihana posted six images on Instagram after creating an account. Her first post was a picture of her and her husband, Sultan Muhammad V.
22 June 2019: The Sultan divorced his wife in accordance with Syariah laws. Straits Times Singapore reported that Rihana was informed of the irrevocable divorce through her lawyers Alexander Dobrovinsky & Partners of Russia and a copy of the divorce certificate was given to her.
26 June 2019: Rihana attended the Beauty of Russia contest in Russia. Her friend, Tatyana Andreev, admitted to Komsomolskaya Pravda that Rihana "came to this contest as an already divorced woman".
1 July 2019: The Kelantan Syariah Court issued a Divorce Certificate on this day in accordance with the Islamic Family Law Enactment 2002.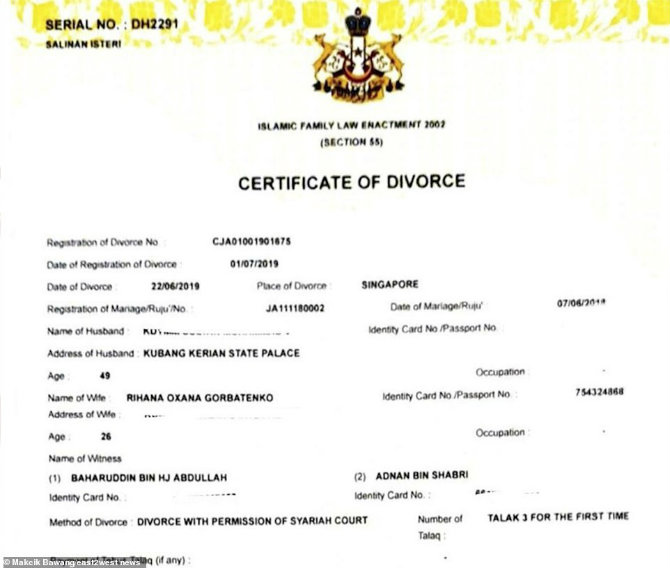 6 July 2019: Rihana shared details of her 'love story' via Instagram. It is here she recalls how the Sultan expressed interest for her to be his wife and how she thinks she made the right choice "at that time".
10 July 2019: In another post celebrating her birthday on Instagram, Rihana called her son, Leon, the "Tengku Mahkota Kelantan, dan insyallah bakal Raja Kelantan" (aka crown prince and the future ruler of Kelantan).
16 July 2019: Free Malaysia Today reported that the Kelantan palace has clarified that no one can be called 'Permaisuri Kelantan', 'Raja Perempuan Kelantan', 'Sultanah Kelantan' or the 'Queen of Kelantan' without an official announcement from the Kelantan palace.
17 July 2019: Amid divorce rumours, Rihana uploaded a sweet video of her and the Sultan on Instagram.
19 July 2019: Hype Malaysia reported that Rihana's dad (Andrey Gorbatenko) confirmed his daughter's divorce in an Instagram comment.
20 July 2019: Rihana informed news portal, Malaysiakini, that she is still married to the former King. She said, "I have never heard of any 'talak' (proclamation of divorce) against me. I was in Russia with my child and we were not in Singapore for any divorce proceedings that took place in June. This is an act of provocation, we have never been divorced.".
21 July 2019: The Sultan's Singaporean lawyer, Mr. Koh, tells Straits Times Singapore that there isn't any evidence as to who the biological father of Leon is.
22 July 2019: The former beauty queen thanked her supporters in an emotional post on Instagram. She also went on to express that she is "proud that Malaysian blood flows in the veins of my son". Probably as a response to the parentage rumours.
Did the former King really give up his throne to be with the former beauty queen / model? Are the claims of her son not being the son of Sultan Muhammad V true? Unfortunately, until the Palace makes an official announcement, we're most likely never going to know the real truth of what went down behind closed doors.
    What do you think? Let us know your thoughts via the Facebook or Twitter link below!          
| | |
| --- | --- |
| SHARE THE STORY | |
| Explore More | |