Held at The Ritz-Carlton's Lobby Lounge, Buro 24/7 Malaysia hosted an Afternoon Tea with SK-II for an intimate mother-daughter bonding session for 36 people
Amidst the plush sofas and tables set with beautiful tableware at the elegant Lobby Lounge of The Ritz-Carlton in KL were flowers adorning the room to add to the lovely ambiance, each with a single delicate butterfly origami—it was a slightly customised decoration for a special afternoon to celebrate a special occasion: The SK-II x Buro 24/7 Malaysia Mother's Day Afternoon Tea session. Although the trays of delectable treats were yet to be brought out and the cups have yet to be filled with the hotel's Signature Tea, it was already a picture-perfect scene.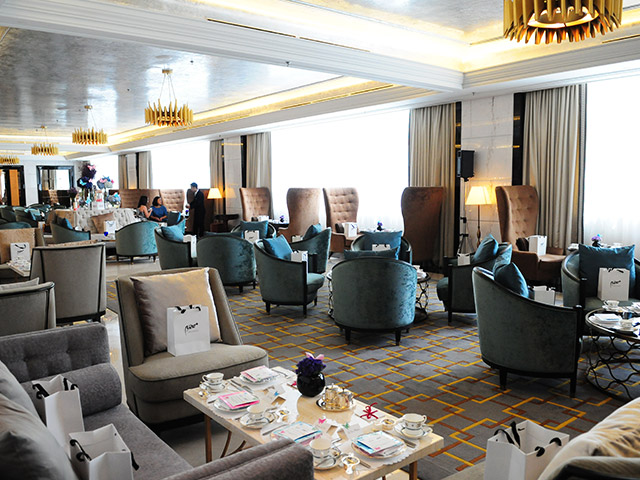 Held on 7 May, a day before Mother's Day, we invited some of our Friends of Buro—Carey Ng, Cassey Gan, Jasmine Gan, Sarah Lian, Juwei Teoh, Karen Kho and Hanie Hidayah—and loyal readers as well as guests of SK-II along with their mums to spend some quality time and bond over scones, delightful trays of afternoon tea sets, fragrant tea, heart-to-heart and random Table Talk topics and a mini origami workshop by Cherry Art Studios. 
The session started with YM Che Puan Amelia Thripura Henderson, our host for the afternoon and who also brought along her mother to join us, welcoming the guests before passing the mic to Fashion and Beauty Writer Wei Yeen Loh to give a short speech. Then, it was time for Table Talk and to get the ball rolling, Amelia asked her mum the first card on their table: Favourite or earliest memory of us? Her mother's reply was a story about a holiday with a very young and tired Amelia who refused to continue walking and only wanted her mother to carry her. Amelia's mother obliged and joked about how heavy her daughter was but it was a memory she would cherish forever. 
After that mini heartwarming demonstration, mothers and daughters were left to ask each other the questions while the waiters soon brought out the Afternoon Tea sets and scones, and filled the teacups with the guests' selected tea although most were recommended The Ritz-Carlton Signature Blend. 
The last activity of the day was an origami workshop by Cherry Art Studios. Guests were taught how to fold a butterfly origami and while the finished product looked complicated to do, the 'doing' was surprisingly easier than it looks as every table managed to complete the little challenge.
Finally, it was time to conclude the event but not before taking more selfies and wefies. Apart from leaving with a full stomach, Instagram-worthy photos and precious memories of a mother and daughter spending time together, every guest also brought home a Buro 24/7 Malaysia goodie bag and a bottle of SK-II's Spring Butterfly Limited Edition Facial Treatment Essence. 
Related stories:
Mother's Day Gift Idea: Staycation at The Ritz Carlton Kuala Lumpur
Dressed up Fridays: Mother's Day outing
Mother's Day Special: Friends of Buro and their mums share their favourite memories