1) Go on a picnic with Daily Sparks' Set Piknik-lah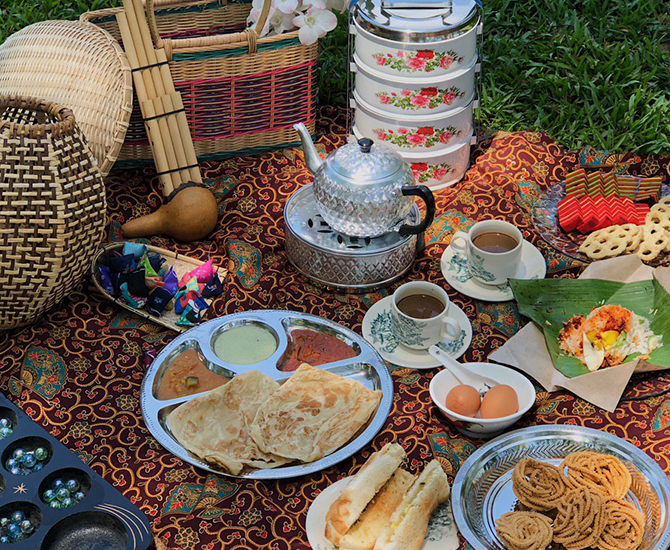 Launched in conjunction with Merdeka and Malaysia Day, Set Piknik-lah is a uniquely local Malaysian picnic set—comprising of common elements we see every day. Instead of a red chequered cloth that's synonymous with picnics, the set comes with colourful floral motives on a Batik. As for props, you will also notice utensils like Malay teko cuci tangan, Indian roti canai plate, Chinese rooster design bowl, Nyonya flower tiffin, Sabah sompoton, Sarawak craft work, congkak, and batu seremban.
There's also food, of course! Set Piknik-lah consists of breakfast staples like nasi lemak, roti canai, kopi and toast with half boiled eggs, kuih cincin, kek lapis, and muruku. To order, you can contact Daily Sparks on Instagram or at 017 538 3329.
For more information, visit this website.
2) Take part in Pavilion Kuala Lumpur's Merdeka Canvas Colouring
The shopping mall has collaborated with Malaysian artist Nicholas Choong, Art WeMe Contemporary Gallery, and Faber-Castell on a 40 feet long masterpiece. Situated at the Spanish Steps in Pavilion KL, the artwork comprises of Malaysian elements such as the hibiscus, Malayan tigers, the Penang Bridge, and Petaling Street (Chinatown). This weekend, head over to put your own flair into the masterpiece as well as visit Nicholas Choong's exhibition of curated abstract art pieces of Kuala Lumpur landscapes at Couture Precinct. The exhibition will be available until 16 September 2020.
For more information, visit this website.
3) Feast on Botanica+Co's Chop Suey Indulgence menu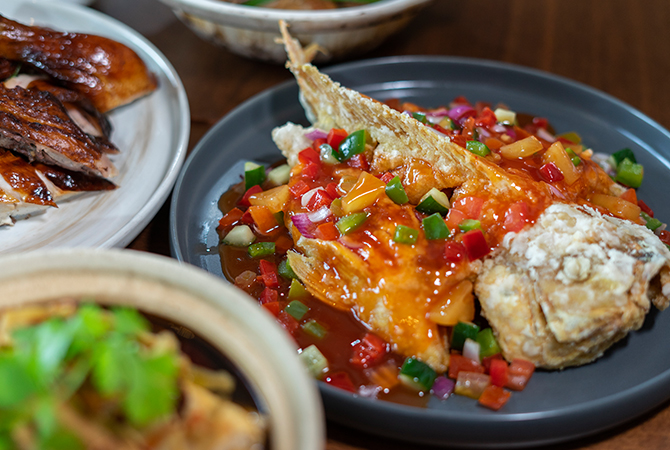 Curated by Area Executive Chef Chuan Lim, the Chop Suey Indulgence set menu is created in the spirit of Merdeka and Malaysia Day. The Bo+Co Chopsuey Indulgence menu comprises of oriental favourites such as Double-boiled Herbal Chicken Soup (double-boiled kampong chicken, cordyceps flower, and slow-cooked chicken broth); Colours of Red Snapper (whole deep-fried red snapper fish, sweet and sour sauce, diced onion, and peppers); Duck Stew (stewed duck with fermented soybean, potato, dried chilli, and edamame); as well as Homely Stir-Fry (stir-fry seasonal vegetables with goji berry, gingko nut, and lily bulb).
The set serves up to four and includes a carafe of house-infused rose pomegranate lemonade as well as dessert of the day. Priced at RM268 nett, you can get it delivered or dine in at the restaurant.
For more information, visit this website.
4) Savour the Sedap-tion buffet dinner at W Kuala Lumpur
Showcasing all the flavours Malaysans are so proud of, the hotel has curated a buffet spread filled with classics but with a W twist. Available at Flock on 28 August 2020 from 6.30pm to 9.30pm, the Sedap-tion buffer dinner is priced at RM198 nett for food and free flow selected non-alcoholic beverages. For reservations, call 012 347 9088 or email [email protected].
For more information, visit this website.
5) Visit the #MYSlangMYPride Malaysian Slang Exhibition at The Linc KL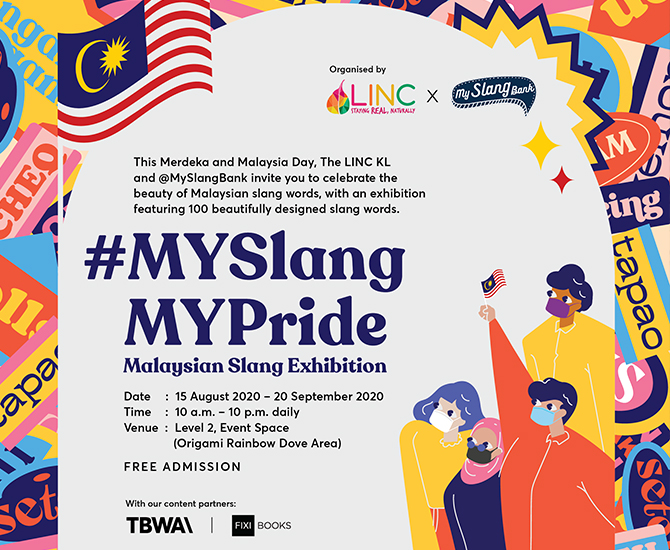 In conjunction with Merdeka and Malaysia Day, The Linc KL is collaborating with My Slang Bank on an exhibition featuring 100 curated slang words that beautifully designed with local and modern inspiration. Available from 15 August 2020 to 20 September 2020 with free admission, the exhibition can be accessed every day from 10am to 10pm at the Origami Rainbow Dove Area. From 28 August to 31 August, you can also check out the Merdeka Slang Showcase Pop Up Market that comprises of products by homegrown brands and entrepreneurs. #BUROSupportsLocal.
For more information, visit this website.
6) Check out The St. Regis Kuala Lumpur's celebration menu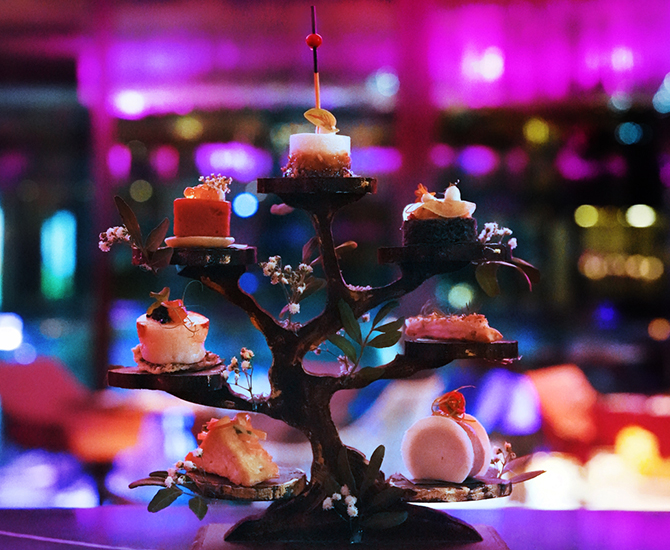 Celebrating Merdeka and Malaysia Day, the hotel has unveiled a new six-course menu inspired by Malaysia's folklore and fairytales—the return of the signature Malaysiaku: A Reimagined Malay Heritage Menu. Showcasing the gastronomic heritage of Malaysian cuisine, the menu is curated by Executive Sous Chef Norazizi bin Taslim and Pastry Sous Chef Azizul bin Bistaman.
Dishes include Malaysiaku Signature Otak-Otak; Cured and Pickled Chilean Seabass; and Roasted Beef with Spicy Coconut Gravy. In addition to dine-in, takeaway and delivery are also available. Priced at RM322+ per person, the menu is available from 7 August to 16 September 2020. For reservations, call 03 2727 6666.
For more information, visit this website. You can also check out other Merdeka-inspired menus in KL here.
7) Go on a well-deserved getaway to the best island resorts in Malaysia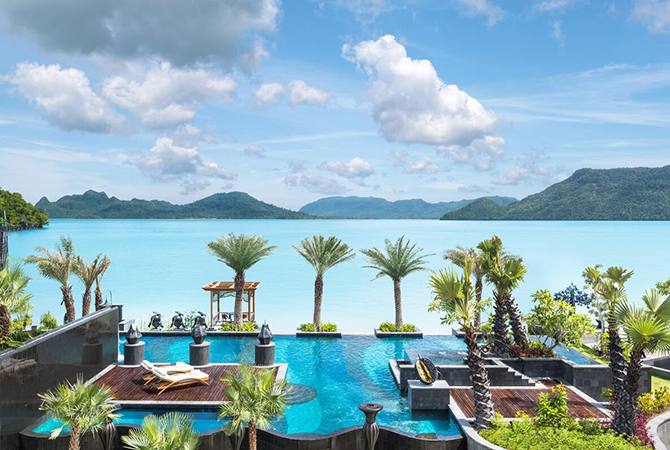 If you're planning to go for a vacation, the upcoming holiday might be the perfect time. You'll have the weekend plus an extra day off on 31 August 2020. There are a myriad of things to do in KL during the particular weekend (such as interesting Merdeka-inspired dining menus) but if you still prefer to head out, we have compiled a list of luxury resorts for you to consider. From Kedah to Sabah and Perak to Terengganu, these extraordinary island resorts are perfect for your next getaway.
For the complete roundup of resorts to visit in Malaysia, click here.
For last weekend's list of things to do, click here.
| | |
| --- | --- |
| SHARE THE STORY | |
| Explore More | |