Lifestyle
Halsey collaborates with BTS' Suga on new song, Sundance Film Festival 2020 includes Taylor Swift's documentary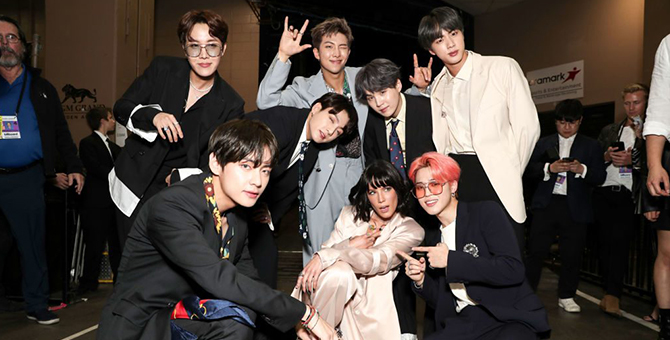 Hello pop culture junkies! Welcome back to another edition of Pop Culture Catch-Up as we discuss the biggest news of the week in the entertainment circle. This week's headlines include: Taylor Swift's documentary, Halsey's new song with BTS and the possibility of a Michael Jackson biopic. Now on to the top trending news!
Sundance Film Festival lineup revealed
The expansive 2020 list of the annual programme was announced recently. On the lineup is Morgan Neville-produced Taylor Swift: Miss Americana—a documentary on the singer. The Taylor Swift-centric film will premiere on the first day of the festival (23 January 2020). Other notable inclusions are Shirley (starring Elisabeth Moss, Michael Stuhlbarg, and Logan Lerman), Sylvie's Love (featuring Tessa Thompson, Eva Longoria, Aja Naomi King, and Wendi Mclendon-Covey), The Father (with Anthony Hopkins, Olivia Colman, and Imogen Poots), as well as The Glorias with Julianne Moore, Alicia Vikander, Bette Midler, and Janelle Monae. The 2020 Sundance Film Festival will run until 2 February 2020 with a programme of 118 films. What are you most excited for?
Halsey and BTS' Suga release new collaboration
The combo that brought us Boy With Luv back in April is now back with a new song—Suga's Interlude. The track features vocals from the Graveyard singer and the rapper from the most popular K-Pop group at the moment. In the number, Halsey sings, "I've been trying all my life to separate the time in between the having it all and giving it up". This, and Finally // beautiful stranger (another track that she dropped) are from her upcoming album slated for a 17 January 2020 release, Manic. Oh, the latter also comes with a music video that shows Halsey singing in a dusty bar. What do you think of these fresh drops?
Aurum Theatre opens in Johor Bahru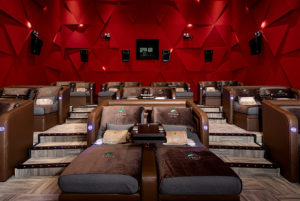 Aurum Theatre
Golden Screen Cinemas' brand-new ultra-luxe boutique cinema has finally arrived—in The Mall, Mid Valley Southkey. As the flagship brand of the cinema exhibitor, Aurum is named after the Latin word and chemical element representing gold. The new establishment features opulent halls, contemporary continental dining, bespoke service, and more. Getha Lux Suites, designed by Italian architect Marco Fumagalli, is also part of its offerings. Moreover, there is even a wireless and USB charger for devices as well as plush pillows and fleece blankets. The ticket to Aurum Theatre's Getha Lux Suites are priced at RM150 and comes in a complete package with the Aurum Pass—with food and drinks from Jin Gastrobar. Aurum Theatre will be opening in The Gardens Mall, Kuala Lumpur later this year.
De Fam releases music video for Panas
Are you feeling the heat yet? Two years after their last single, Bila Ada Kamu, the Malaysian girl group is back with a new song. Their newest record, Panas, is sung entirely in Malay and similar to their previous releases, touches on women empowerment. The lyrics are all about being free and liberated.
The music video for Panas is full of flames (duh) and the members—Sophia Liana, Cik Manggis, and Azira Shafinaz—taking over the screen with their immense presence. What are your thoughts on the song and music video? Brilliant, if you ask me. De Fam made their debut in 2015 with #Supergirls and With You.
Goo Hara has passed away
The former member of girl group, Kara, was found unconscious at her own home. After an investigation by the police, it was concluded that there is no crime—after combining on-site observations and witness accounts.
Hara has long been a popular figure in K-Pop, beginning with her 2008 debut as a member of Kara (known for songs such as Mister, Step, Pandora, and Damaged Lady). Hara herself made a solo comeback in 2015 with the release of her EP, Alohara (Can You Feel It?).
If you didn't know already, Hara was hospitalised back in May 2019 from an alleged suicide attempt. In September 2018, the singer filed a lawsuit against her ex-boyfriend because he allegedly tried to destroy Hara's career by releasing illicit images of her. If all these weren't enough, Sulli's recent death might have been a huge factor too as they were close friends.
Rest in peace, Goo Hara. If you or someone you know needs somebody to speak to, here's where you can get help.
Is a Michael Jackson biopic really happening?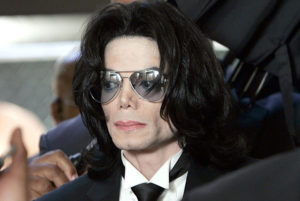 Michael Jackson
Possibly, according to Graham King who produced Bohemian Rhapsody. Apparently,  the Michael Jackson Estate has given Graham King the rights to make film about the King of Pop's life. Even better, the entire music catalogue will be accessible! While more details are not known yet, we know that John Logan (The Aviator, Gladiator, and Hugo) will be writing the film as part of GK Films, Graham's production company. Will the film sanitise parts of the singer's life or will it touch on the darker periods? Only time will tell. What do you think of this idea?
Ejen Ali The Movie earns RM13 million in its first week
This is not a drill. Released on 28 November 2019, the film holds the record the highest-grossing local animated film for opening day. While that's already celebratory, here's another news about the movie that's screening simultaneously in Malaysia, Singapore, and Brunei. It's opening week box office takings of RM13 million is largely due to positive reviews from film critics and the public. If you haven't seen the Primeworks Studios-produced Ejen Ali The Movie, you should! It's about a 12-year-old boy who was recruited as a spy—accidentally. Congratulations to everyone involved with the making of the animation.
| | |
| --- | --- |
| SHARE THE STORY | |
| Explore More | |