Lifestyle
Pop culture catch-up: Lee Min Ho finally returns to the small screen, where to watch 'One World: Together At Home' and more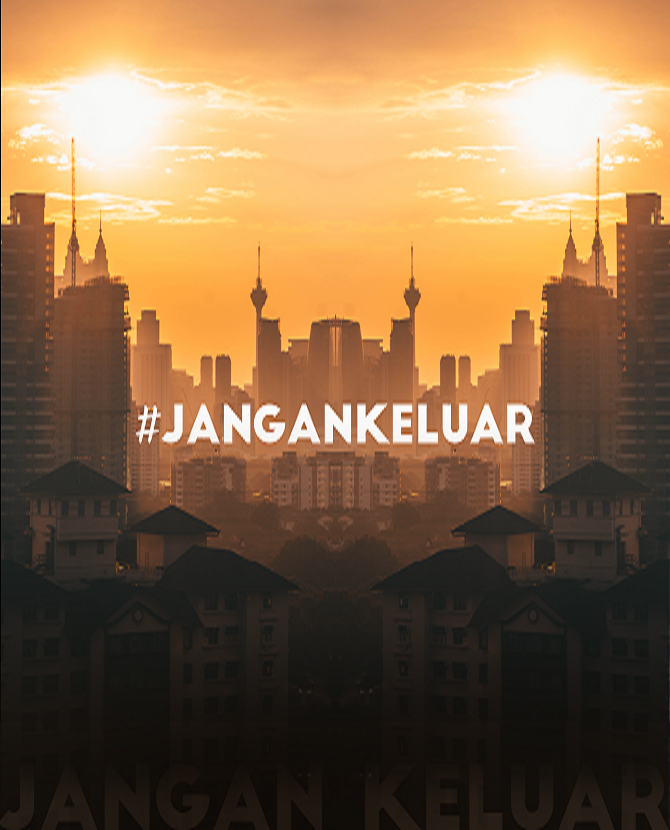 Hello pop culture vultures! Here's another round up of the latest news in the entertainment circle that you might have missed. This week's headlines include a historic global event to celebrate Covid-19 front liners, Apple TV+'s free streaming limited offer, Selena Gomez's deluxe album and more.
Now let's get to the news!
The biggest Covid-19 concert ever is happening this Sunday
It was announced on Wednesday that pop icons Taylor Swift, Oprah Winfrey, Jennifer Lopez and international K-pop sensation, SuperM will be joining the already star-studded line up for One World: Stay Together.
The global event is organized by the World Health Organization (WHO) and Global Citizen to celebrate and honour the frontliners doing life-changing and high-risk work during this pandemic.
The high-calibre line-up boasts more than 70 names including legendary entertainers Sir Elton John, Andrea Bocelli, Paul McCartney, Stevie Wonder, Celine Dion, Keith Urban, Coldplay, Usher, John Legend, Lang Lang and many more.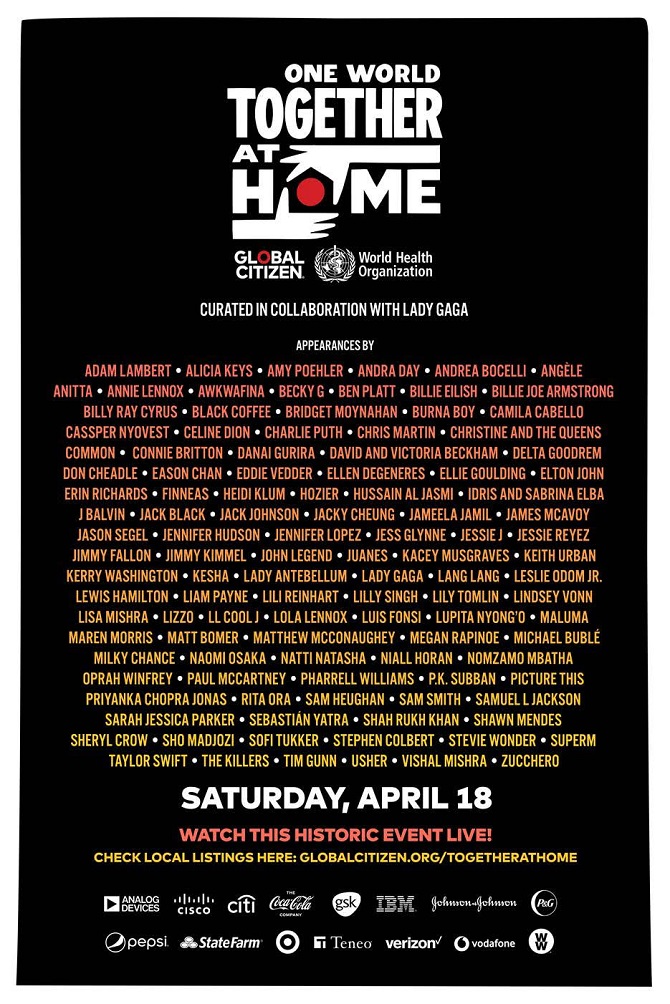 The event will be live-streamed across the globe via digital platforms such as Twitter, Instagram and Youtube. The broadcast will also feature stories from frontline workers, philanthropists, governments and corporations that have pledged support to local charities and to equip healthcare workers with vital medical equipment .
The event will take place on April 19, Sunday. You can catch the broadcast live on BeIN Sport (channel 818) starting at 8am, Stay Home Concert (channel 700) as well as music streaming app JOOX Music.
P/s: If you couldn't catch it live, BeIN Sport will also provide a rerun of the broadcast from 8pm to 10pm the same night.
Local Malaysian artists urge us to #JanganKeluar
A collaboration between Universal Music Malaysia and Def Jam Malaysia comes a special project through a catchy urban hip hop song, #JANGANKELUAR. The artists include Shila Amzah, Hafiz Hamidun, Shalma Eliana, Sophia Liana, Alvin Chong and Bella Astillah amongst many others. The song was produced by Jkei, written by Yonnyboii with additional lyrics done by Luca Sickta, Kmy Kmo and Tuju.
There will also be an online streaming event featuring the artists of this song on this Sunday, April 19 on Universal Music Malaysia's Youtube channel. The audience is encouraged to donate to the Covid-19 fund at the "Dana Peduli. Kemanusiaan. Prihatin (PKP) Dato 'Sri Siti Nurhaliza"  (Dana P.K.P Siti Nurhaliza). All proceeds from this event will go towards acquiring medical equipment and necessities for healthcare workers, supporting income-stricken families and contributing additional support in the month of Ramadan and Syawal for the less fortunate.
With a fund-raising target of RM 50,000, they have currently raised RM 28,815. To donate, head over here for more details.
A High School Musical reunion has been confirmed
Yes, you read that absolutely right. This is not a drill.
Earlier this week, Vanessa Hudgens posted a picture of her and HSM castmates Corbin Bleu, real life BFF Ashley Tisdale, Monique Coleman, Lucas Gabreel and Kenny Ortega in a Zoom call together with the caption, "Guess who's back…"
With Ortega confirming the news on Instagram two days ago, it's pretty clear that the East High gang is indeed back. He also told Deadline that Zac Efron will be a part of it despite no sign of him on the roster. He explained, "We couldn't reach Zac until late but when we did, he immediately jumped in, of course".
Along with the HSM cast are Josh Groban, Ariana Grande, Demi Lovato, Cheetah Girls, Darren Chris, Christina Aguilera and more fan-favorite Disney actors. Here is a little sneak peak of what's to come:
Apple TV+ offers free streaming for a limited time
With families all over the world staying home amidst this pandemic, Apple TV+ is offering free streaming to some of their critically acclaimed movies and series without any subscription. All you need is your Apple ID to access the list here.
The diverse list includes (but are not limited to) The Elephant Queen, a character-driven beautiful wildlife documentary, Servant, a psychological thriller directed by M. Night Shyamalan, Little America, a series full of heartwarming and humorous anecdotes from real-life immigrants in America, and Snoopy in Space, a space adventure series featuring our favourite Peanuts gang. Don't miss out on this limited time offer.
Selena Gomez drops deluxe edition of best selling album, Rare
After the success of her latest album Rare that debuted at number 1 on the Billboard 200, Selena has released a deluxe edition. The album includes her new track, Boyfriend, and two previously unreleased songs, Souvenir and She as well as fan-favourite Feel Me.
Stream what critics are calling her best album to date here.
The King: Eternal Monarch premieres this week on Netflix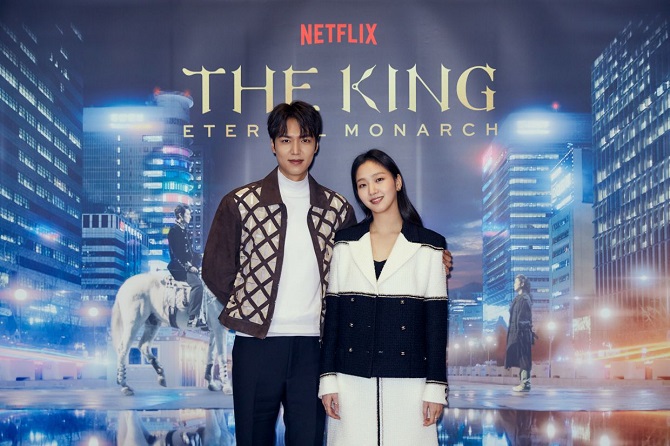 Today is an exciting day for yet another reason—Lee Min Ho, our resident king of Korean dramas is finally back on the small screen after four years (how has he not aged even a slightest bit?)
After two teasers of literal slow-mos and dramatic staring, we finally get a trailer that gives a better idea of what the drama everyone will be obsessing over the next few months is about.
Thoughts on this new drama? While we have a feeling that it may be a rehash of the highly-rated Goblin (with a different leading male actor this time), we can't wait to see what this entails. The series premieres today on Netflix so let's see how it unfolds.
Sam Smith and Demi Lovato drop Olympic-worthy single, I'm Ready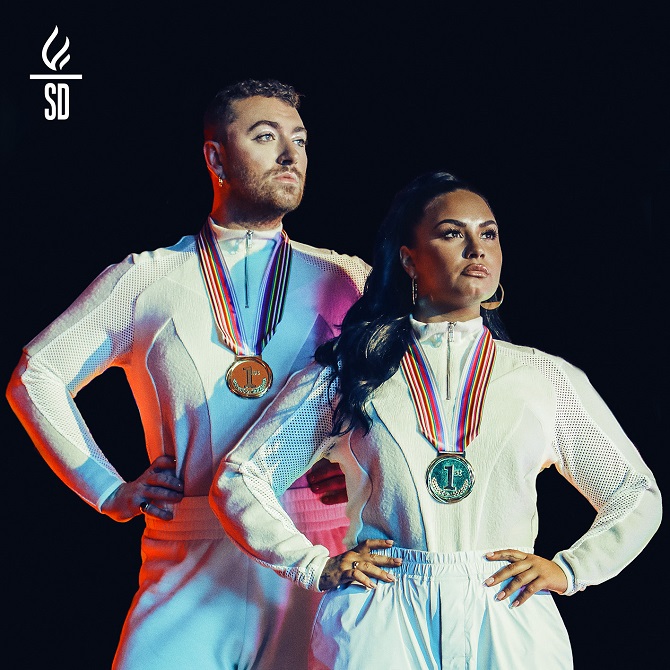 The soulful singer Sam Smith and vocal powerhouse Demi Lovato have dropped a single fresh out of the oven – and it's stunning.
With Olympics 2020 postponed to next year, the duo are giving us the Olympics we all deserved with an Olympic-inspired concept by director Jora Frantzis (Cardi B, Rosalia). It features popular Olympic sports such as diving, synchronized swimming, diving, gymnastics, diving and 100-m sprint. The twist? Demi is clad in a crisp black-and-white suit teetering of the edge of the springboard as she belts out her signature vocal riffs while Sam is sprinting in a billowy dress in 6-inch heels.
The song not only has gorgeous visuals but also lyrics that deliver a powerful message of self-love and confidence. Demi Lovato and Sam Smith are celebrities who have had their fair share of self-esteem issues and questions of identity so it's all the more inspiring when they say (belt out) they are ready to be loved for who they are.
Stream this anthem here!
| | |
| --- | --- |
| SHARE THE STORY | |
| Explore More | |