As an unforgiving fire ravaged the medieval cathedral of Notre-Dame in Paris, shock and sorrow swept across the city and the world over mourned the destruction of a monumental religious and cultural landmark. A fire that started in the attic at around 6.30 in the evening spread rapidly, destroying the roof of the cathedral and bringing down the iconic 300-fit spire. The cause of the blaze is still under investigation.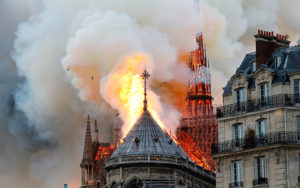 French President Emmanuel Macron has expressed his aim to rebuild the cathedral in five years. It will be a painstaking process, but tremendous support has been pouring in from around the globe—LVMH, Kering and L'Oreal have pledged a total of €500 million towards the cause.
What survived the fire?
Bear in mind that the cathedral is 856 years old—it holds a wealth of religious and cultural artefacts that date all the back to the 12th century. Fortunately, all is not lost. The main façade and two bell towers remain intact, and most of the ancient relics in the cathedral have been relocated earlier due to restoration and renovation works. It is estimated that some five to 10 percent of artwork might have been destroyed. The iconic stained-glass rose windows on the west, north and south sides have also reportedly survived the fire—they date back to the 12th and 13th centuries. However, art specialists have note that even though they have survived, the extent of the damage on the windows are yet to be seen.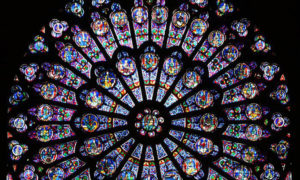 The north transept rose window of Notre-Dame. Image credit: Oliver Mitchell/Wikipedia Commons
The Crown of Thorns, which the cathedral calls its "most precious and most venerated relic", was rescued from the fire. It is said to the crown that was worn by Jesus before his cruxification, and was brought to Paris by King Louis IX in 1239. The tunic that was worn by the king when he brought the crown of thorns over was also saved. Both relics have been taken to Paris City Hall for safekeeping, among other items. Recovered artworks will be taken to storage facilities owned by the Louvre, where they will be restored and conserved. A number of these will be taken to the Louvre itself, including a series of large paintings known as the 'Mays de Notre Dame'.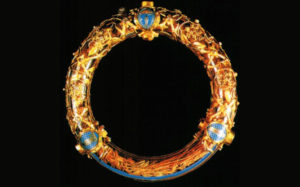 The crown is kept inside a gold and glass ring, and is only occasionally displayed
The Great Organ, the largest in France with five keyboards and nearly 8,000 pipes, also survived the blaze. It was first built around 1403 and has been renovated throughout the years, but it still contained pipes from the Middle Ages.
The fate of other artefacts is still in the dark. Our hearts go out to Paris as it recovers from this tragedy.
| | |
| --- | --- |
| SHARE THE STORY | |
| Explore More | |