Time never stops for Levy Li. The founder of The Good Co and The Good Monster lives to make everyday count and create moments that matter. While her life may revolve around her work these days, spending quality time with her family and friends is her main priority.
It is in alternating between her professional and personal life that she has found a formula in utilising her time wisely. That is to practise great time management and be disciplined in every aspect of her life.
The daily hustle
A typical day would see Levy dropping her son off at school before heading out for a quick bite at The Good Co, her café located at APW Bangsar. Her day gets busier from there as she heads out for meetings and outlet visits. Her passion in healthy eating is what drives her career.
"As a business owner, I'm constantly on the go. But thanks to the nature of my job, I have the flexibility to work anywhere, anytime. I enjoy being able to share and execute my ideas instantly," she explains.
Her trusty companion can be found in the latest HP Spectre x360. With its elegant Poseidon Blue and sleek gem cut design, the HP Spectre x360 takes her from day to night in style. Levy thrives on the freedom and flexibility that her job brings, much like how the 360-degree rotation of the laptop can do for her work.
The HP Spectre x360 also comes with a HP Command Centre to help her perform at her optimum best as she bounces off from one meeting to the other.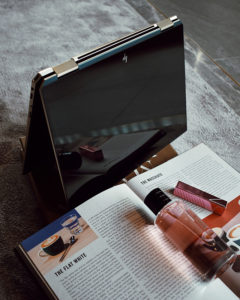 "I can't work (and live) without my laptop, and of course, a good Internet connection!" she quips.
The 13-inch laptop is equipped with ultra-fast Wi-Fi to support gigabit speed for her heavy usage. It also has leading security features that a businesswoman like her would appreciate.
The fingerprint reader, privacy camera kill switch and integrated privacy screen are especially useful for Levy as she's always working in a different environment. Plus, it is easy to log into the device and keep sensitive information safe. A boss girl should never reveal her secrets, as she says.
A balancing act
Now all work and no play would make anyone a grouch. Levy jet-sets across the continents for her dose of wanderlust when she needs a little time out. But work and play is never too far away for this go-getter. Technology and connectivity allows her to stay in touch with the important things. The best part – the HP Spectre x360 has up to 22.5 hours of battery life to power through the day. It's one less thing to worry about in her hectic lifestyle.
The HP Spectre x360 helps her to unwind after a long day. On the HP Spectre x360, she is able to enjoy an amazing visual and audio experience with its high-resolution display and Bang & Olufsen speakers. Levy spends at least an hour every day to pamper herself, whether with a good sweat session or simply watching her favourite TV series with her family. A balance in life is what she strives for.
Levy Li embodies what it means to be a woman who can have it all. And she does it with style.
HP Spectre x360 is priced from RM5,249 and now available at HP Online Store and authorised resellers. For more information, click here.
Credits:
Videography: Cinemakers
Photography: Chong Yi Suen
Hair: Juno Ko
Makeup: Cat Yong
Co-ordination: Gwen Ong
Assisted by: Alyssa Lee, Angel Yau and Valerie Liew
Location: Bon Estates Gallery
| | |
| --- | --- |
| SHARE THE STORY | |
| Explore More | |