Lifestyle
Pop Culture Catch-Up: Katy Perry's new baby girl and drop of her new album 'Smile', Carole Baskin in Dancing With The Stars, and more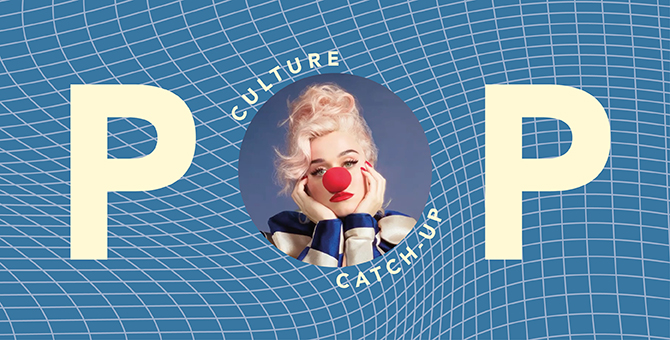 Hello, pop culture vultures! Here's another round-up of the latest news in the entertainment circle you might have missed:
Katy Perry's new baby girl and release of her album Smile
It's been an exciting week for first-time mum Katy Perry. Not only did she welcome her first child—baby Daisy Dove Bloom—with fiance Orlando Bloom, but she even released her new album Smile just a day after. There's a song on the album titled 'Daisies', which many believe to be a nod to her new little bundle of joy. The couple wrote in a statement that they are "floating with love and wonder from the safe and healthy arrival of our daughter".
Carol Baskin on Dancing With the Stars
Who's ready to watch the Tiger King star dance her way to the top? The casting announcement for Dancing With the Stars was released on September 2 and Carol Baskin is officially in. According to an interview she did on Good Morning America, Carol Baskin highlighted some of her reasons for joining the show, saying, "The biggest thing for me is that the longer my partner and I can stay in the running and in the competition, it will keep the cats forefront in the viewers' eye and to me, that was where Tiger King missed the ball. It really should have been focused on the animals. And so, I'm hoping Dancing With the Stars will do that."
Having bashed the Tiger King series before, saying that she was shown was "salacious" and denying having any ties to the disappearance of her ex-husband, Jack Don Lewis, can Dancing With the Stars save her reputation and shine a brighter light on her true mission? Guess we'll find out.
Rest in peace, Chadwick Boseman
2020 has suffered yet another loss: actor Chadwick Boseman—best known for the role of King T'Challa in Black Panther—passed away on August 28 after a four-year battle with colon cancer. He was 45. Despite his illness, Boseman never let it get in the way of his love and passion for acting. Most of his films were done between countless surgeries and chemotherapy sessions. His bravery and strength has now become an inspiration to many—to never give up, to have hope, and to pursue ambitions. May he rest in peace and power.
BTS becomes the first-ever South Korean act to make number one on the Billboard Hot 100
BTS has achieved what has never been done before—they're now the world's first-ever South Korean act to reach number one on the Billboard Hot 100! The seven-member group's latest song 'Dynamite' has taken the world by storm. Being their first-ever fully English single, the song seemed like a risk but as it turned out, they had nothing to worry about. BTS took to their Twitter to thank the BTS Army for all their love and support.
Blackpink and Selena Gomez collaborate to give us the music video for'Ice Cream'
On August 28, the Korean girl group Blackpink and singer/actress Selena Gomez teamed up to release their fun and colourful music video for the single 'Ice Cream'! The sweet candy filled music video is the perfect visualisation of the sexy bubbly song.
What does the season four premiere of The Crown have in store for us?
Fans are marking their calendars for the long-awaited season four of The Crown. Come November 15, the popular Netflix series will step into the next chapter of the Royal Family's history with the introduction of Emma Corrin as Princess Diana, the iconic 1981 royal wedding to Prince Charles, and the birth of Prince William in 1982.
In a 2019 interview, Josh O'Connor (who plays the role of the young Prince Charles) teased, "I'll say that, hopefully, people will feel sorry for Charles in season three, and then, maybe, we'll change that in season four." He added, "Certainly, it feels like there's a definite shift being told in season three. And all across four, there's definitely a different side to Charles that we're going to see."
With many more tantalising things to unfold, the new season is sure to not disappoint as it takes us deeper into the Royal Family's history from a different perspective.
Finneas drops his new music video and song 'What they will say about us'
Released on September 3, the powerful and moving music video of 'What They'll Say About Us' by six-time Grammy Award-winning musician, songwriter and producer Finneas is a song with a story. Written in June during the lockdown, the song is a homage to human strength and connection when faced with life's tribulations.
Finneas's explanation on the motivation behind the song is: "I wrote this song in June after spending the day at a protest in Downtown LA, filled with hope with the prospect that millions of people were coming together from all over the world to fight against institutionalised racism and inequality."
He continued about how the song was also influenced by the pandemic: "During that time, I'd also been following Amanda Kloots as she documented her husband Nick Cordero's time in the ICU (intensive care unit) while in a coma after being admitted for COVID-19. Imagining her sitting by his side, waiting, hopeful for him to wake up, it got me thinking about all the millions of people, all over the world, who also have loved ones, parents, children and extended family members going through the same thing. Fighting this horrific virus." He elaborated that, "Some will overcome and wake up again, while others, tragically may not. This song is dedicated to all who have had to endure this year. I hope this song can offer some sort of comfort to those who may need it."
For more pop culture news, head over here.
| | |
| --- | --- |
| SHARE THE STORY | |
| Explore More | |