Despite the uncertainties that we are still navigating, the Holy Month is upon us once again. Do not let restrictions imposed by COVID-19 break your spirit. Let's make the most of it!
In anticipation of this much-awaited celebration, we highlight the foods that scream Hari Raya.
Ketupat
What is Raya without ketupat? Wrapped with woven palm leaves, the diamond shape rice is boiled to perfection before it becomes soft compressed rice that you usually see. You can enjoy the ketupat any way that you like as it goes hand in hand with pretty much any dish.
Have it with the signature rendang, savoury lontong, serunding (floss meat) or even dip it in the peanut sauce. Mouthwatering even when you just think about it!
There is another kind of  ketupat, it is called ketupat palas. It is wrapped in triangular shape with the palas leaves and filled with glutinous rice.
Rendang
Rendang is probably the next sought-after dish after ketupat and lemang. It is a spicy, rich and creamy coconut stew concoction jam-packed with flavour. This dish goes well with ketupat, lemang, yellow glutinous rice and even nasi lemak.
Do know that rendang is not just limited to beef. There are variations of rendang such as, lamb rendang, chicken rendang and shelled cockles rendang (rendang kerang). One of the magical core ingredient to make rendang is kerisik or better known as toasted coconut. Without kerisik, you are not able to achieve the complex rendang taste.
Besides Hari Raya, it is often served at ceremonial occasions and to honour guests.
Lemang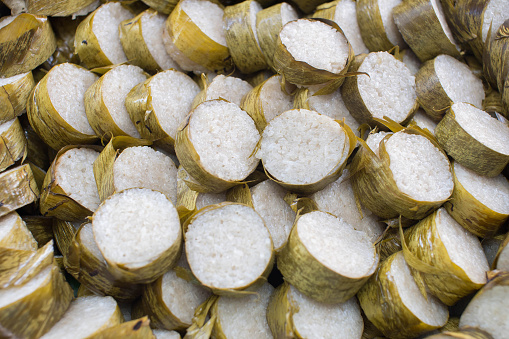 Lemang is considered as a food that symbolizes the excitement and friendship between people – no introduction needed. This is because lemang is not an easy dish to cook as it requires an intricate technique.
The traditional way of making lemang is to place the glutinous rice into bamboo then take to roast, which takes several hours to cook. Cousin to ketupat, this dish is cut in cylindrical serving slices  accompanied  with robust rendang and curry options.
Dodol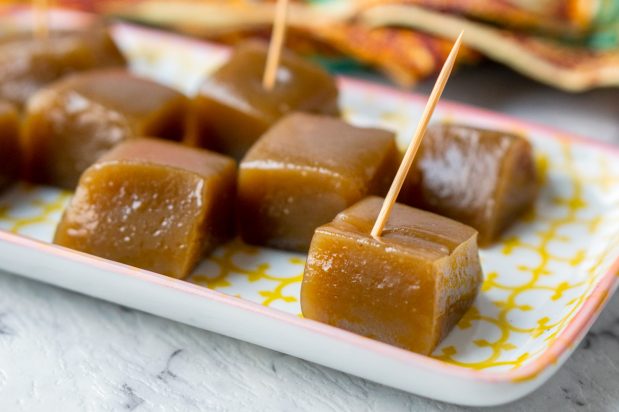 Dodol is a sticky candy-like delicacy traditionally made from coconut milk, cane sugar, and rice flour.  The presence of dodol complements the Hari Raya festivities thanks to its sweet nature.
The cooking process involves continuously stirring the sticky rich combination in a fiery wok for solid nine hours. In addition to the native flavour, dodol is also made with various flavours such as durian and banana.
Pineapple tarts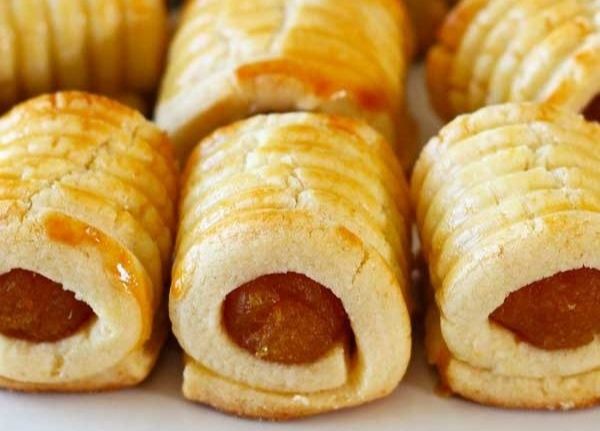 It is easy to see why people hog jars of pineapple tarts during Hari Raya. The sweet pineapple jam filling complements the outer layer so well, making it hard to stop munching on this golden fluffy layers. Pineapple tarts usually come in either in its original pineapple-shaped or in flower-cut form.
Kuih Bangkit
It is not kuih bangkit if it does not melt in your mouth — light, airy and delicate. It is usually enjoyed during the festive seasons, such as Hari Raya as well as Chinese New Year. This bite-sized creamy rich cookie is made from tapioca flour, eggs and coconut milk.
Lontong
Lontong is another dish that gets quite the attention during the festive season. It is a great combination of vegetables and tofu, served with savoury coconut milk curry together with slices of diced ketupat rice. For an extra burst of flavour, you can add in some tasty sambal sauce or even peanut sauce to the mix.
Serunding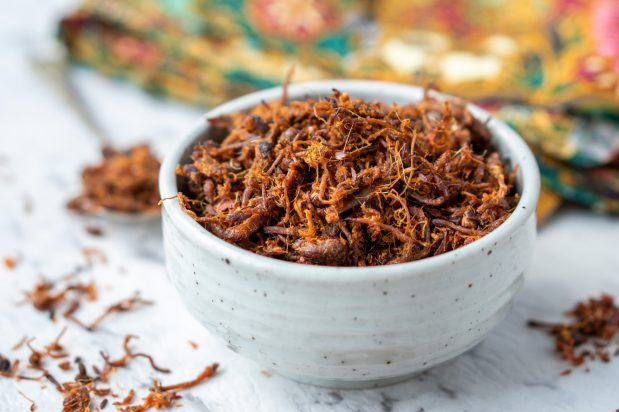 Serunding is a kind of spicy floss made from chicken or beef.  It is prepared with herbs and spices where it is cooked through a long process until it dries. A toss of serunding over your ketupat, lemang and lontong adds a crunchy savoury touch to your dishes.
| | |
| --- | --- |
| SHARE THE STORY | |
| Explore More | |