As we approach the end of yet another month, there will still be many uncertainties and fears we may have in the very near future. The road ahead can seem intimidating to some but it can also be a time to start afresh and turn a new leaf, as they say. A time to reconsider past truths, to take up new hobbies or go the path less travelled.
To help you gain strength for the coming month(s), here are seven heartfelt stories of giving, love and growth for some feel-good happy vibes, reminding us that anything is possible.
Old Taiwanese couple refashions unclaimed clothes from their laundrette
Elderly couple Hsu Hsiu-e, 84 and her husband Chang Wan-ji, 83 are probably one of the most fashionable grandparents to date. The duo started posing in clothes that were left unclaimed by customers in their laundrette—paired with a killer sense of style and likeable personalities, they quickly became Instagram sensations, racking up half a million followers since their chic debut only a month ago.
According to Reef Chang, the couple's son who started the account, to the BBC, the plan was never to turn his parents into viral social media stars. "Their business is not always busy. They would doze off in the shop and their spirits weren't high. So I thought since our family has these clothes, I can remind people to pick up their clothes, and remind my grandparents their life can still be great even in old age."
Malaysian teacher hands out free food to students from low-income homes
In a touching act of kindness that resonated with many on social media, primary school teacher Maisarah Hannan went viral on July 21 for providing food to students from low-income families. Hannan, who teaches in Sekolah Menengah Kebangsaan (SMK) Convent St Cecilia in Sandakan, Sabah started the program in 2018.
Cikgu Hannan explained her initiative to Rojak Daily, "As a counselling teacher, I like to walk about the school and meet students and I noticed that a few would just sit on the stairs when everyone else was at the canteen."
While the teacher shared that she is only providing simple dishes such as nasi lemak and plain noodles, many students have expressed their gratitude at finally being able to eat a delicious meal. Now, she includes free drinks on top as well. Her good deeds also had a ripple effect as she revealed, "The students are more excited and happy to be at school, general attendance is at the highest it has ever been and the program is also encouraging other teachers and strangers to just do some good for the community."
Mother is touched by builder's sweet reward packet for her helpful son
It pays to be kind—evident by the work of Steph Kemp's six-year-old son who has a knack for the great outdoors and lending a helping hand. Titled as a 'pay packet', the builder lists out the good work her son, Harry helped him with and rewarded the boy with a hefty £10 bill (minus the tax and national insurance).
We have just had our patio done and my 6yo has loved going out and helping the builder, so it made his day to receive this. What an example of kindness pic.twitter.com/Wq39TU4uwL

— Steph Kemp (@steph_heathcote) July 27, 2020
The tweet, posted on July 27, has since gone viral, with netizens praising both Harry and the builder's act of kindness.
Lottery winner splits his US$22 million prize money to honour a thirty-year-old pact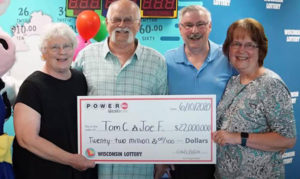 In 1992, best friends Tom Cook and Joe Feeney made a deal and sealed it with a handshake—that if either one of them won the US Powerball lottery, they would share it. The chance of winning the Powerball is one in 292 million but fast forward to 2020, Cook hit the jackpot and called up his buddy with the exciting news.
Both avid fishermen are sharing about $16.7m, leaving each with nearly $5.7m after taxes are paid. Feeney is already retired while Cook retired soon after his stroke of luck. "We can pursue what we feel comfortable with. I can't think of a better way to retire," said Tom.
Malaysian comic artist wins the coveted Eisner Award 
In another piece of rewarding local news, a Malaysian comic artist hailing from Johor by the name of Erica Eng, announced on Twitter on July 25 that she has won the Eisner Award for Best Webcomic—the equivalent to an Oscar Award in the comic world.
Won an Eisner today! small note: the correct name of my comic is Fried Rice. I didn't inform the Eisners admin quickly enough hence the error. pic.twitter.com/e1rDhKaz6J

— Erica Eng (@paprikapeprica) July 25, 2020
Her webcomic, Fried Rice, is a work of autobiographical fiction and tells the story of Min, an aspiring artist from a quaint town who visits her cousin in Kuala Lumpur, with big dreams of her own to pursue a career as an animator. Fried Rice is an entirely hand-illustrated comic and is the 21-year-old's return to pen and paper after working mostly in digital art.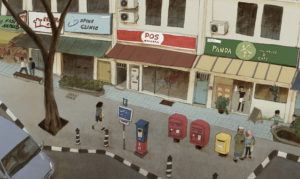 She is the youngest Malaysian to win the Eisner Award.
New blood test may detect cancer up to four years before symptoms show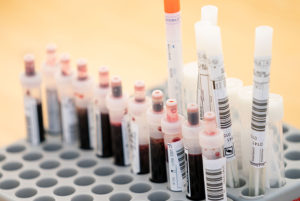 In a groundbreaking research published by Nature Communications, there is a new blood test in the works that can detect cancer before a conventional diagnosis. Early detection of cancer within patients is vital as it can drastically increase the probability of survival. Known as PanSeer, it is a non-invasive blood-based cancer-screening test based on circulating tumour DNA (ctDNA) methylation.
To carry out the research, PanSeer was performed on plasma samples from healthy subjects in the Taizhou Longitudinal Study (TZL). It was able to detect cancers in the stomach, oesophagus, colorectum, lung and liver, with a specificity of 96 per cent.
While the blood test is still in its early research phase and will need at least five years before a clinically-approved blood screening test for cancer is developed, there is no denying that this is a medical breakthrough. Professor Peter Gibbs of the Walter and Eliza Hall Institute of Medical Research states this is "promising" for the future of cancer diagnosis.
Elementary student wins US$1,000 bike and gifts it to his friend instead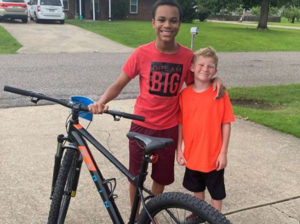 To nine-year-old Chase Fowler, it wasn't too big a deal. When he won the bike at a raffle last Thursday, he had already made the decision to gift it to his 13-year-old bike buddy, Daniel Bridges who recently broke his bike.
Fowler's grandmother, Candy Bailey, said her charitable grandson "didn't even hesitate, the guy said he could trade it in for a smaller bike his size, but he said, 'I want to give it to Daniel.'" Due to the pandemic, the two friends have not been able to go on their regular bike rides together but Fowler has seen his buddy ride around with his new bike: "I looked out the window yesterday and saw him riding it," he said. "I think he was having fun."
For more #HappyHeadlines, head over here.
| | |
| --- | --- |
| SHARE THE STORY | |
| Explore More | |