Lifestyle
7 Things to do this weekend in the Klang Valley: 26 & 27 February
So many things to do, so little time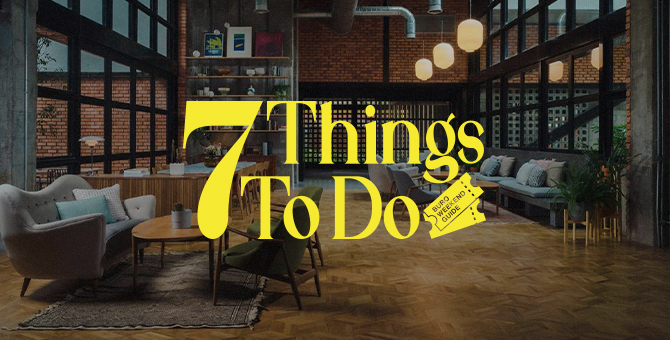 1) Shop Adidas' new re-engineered sports bra collection
Following a study revealing that 44 per cent of female respondents experienced movement-related breast pain due to a lack of breast support, Adidas set out to redefine its product offering to support the needs of active women. After extensive research and development, the brand recently unveiled its latest sports bra collection, comprising 43 styles across 18 product franchises.
The collection features Everyday bras designed for lounging and mild movement; Studio bras for yoga, Pilates, and other low-to-mid intensity activity; Train bras designed to provide enhanced support required for HIIT and more intense sports activities; and Run bras that offer the highest level of breast support in the collection.
"The moment I tried on the Coreflow Luxe Studio Medium Support Bra, I was impressed by how soft the fabric felt on my skin. It has a nice contoured fit that's lightweight and comfortable, while still providing the support I needed for my at-home workout. Thankfully, It's as easy to remove as it is to put on, which is a huge plus after the awkward experiences I have had with some sports bras. The chalky brown colour and strappy back are also quite unique, which speaks for the brand's attention to detail in designing activewear that doesn't just support performance, but also makes the wearer look and feel good. I'd definitely consider buying another piece from the range." —Natalie Khoo, Lifestyle Editor
Shop the new Adidas sports bra collection in-store or online here.
2) Appreciate good sounds with Fono and Public School at KLoé Hotel
View this post on Instagram
When: 26 February 2022, 3pm – 7pm
Where: KLoé Hotel, Bukit Bintang
Price: Free admission, but seating is limited
When it comes to curating unique and underrated earworms, Fono KL has always been at the top of the list for weekly listening sessions. This Saturday, it's pairing up with Public School KL to take over KLoé Hotel's bi-weekly music sharing and listening soiree. Expect a special selection of beats while paying homage to the seven-inch vinyl record, aka the 45. Hosted in KLoé Hotel's gorgeous and cosy Living Room, experience live DJ sets by some of the personalities behind the creation of Fono and Public School—a splendid treat for both the ears and the soul.
Guests who drop by are also welcome (and encouraged!) to grab a bite and a drink from the hotel's in-house F&B aficionados, Monroe KL and Lucky Coffee Bar. Reservations are not required; however, in observation of Covid-19 SOPs, do note that seating in the Living Room is limited and remember to stay safe while you groove.
3) Satisfy your cravings at the C&mpus x RexKL pop-up kitchen
View this post on Instagram
When: 26 and 27 February 2022, 12pm – 10pm
Where: The Back Ground at RexKL, Petaling Street
RexKL is no stranger to featuring gems from the gastronomic world and this weekend's special pop-up kitchen is sure to have the foodie in you coming back for seconds. This pop-up highlights the drool-worthy creations of the young and passionate chefs of C&MPUS, Chris and Mike, who have multiple years of experience with Japanese and Italian cuisine respectively. Drop by The Back Ground, RexKL's ground floor food court, to get a taste of their meticulously crafted menu that promises an explosion of flavour.
4) Discover the 'Something Big Something Small' exhibition at Lostgens' Artspace
View this post on Instagram
When: 19 February till 6 March 2022, 1pm – 7pm
Where: Lostgens' Artspace, Petaling Street
If you love checking out the work of indie artists, then you'll definitely want to make a visit to Lostgens' this weekend, where the latest artwork collection of Kedah-born artist Tan Piek Khie is currently housed and on display. Comprising over 60 paintings and 10 sculptures, the exhibition puts the spotlight on Tan's craft from 2017 through 2022 and is meant to bring viewers on a thoughtful journey of confusion and clarity and emptiness and abundance.
If you're planning to visit the exhibition, note that Lostgens' is closed on Mondays, and appointments are required Tuesdays till Thursdays, and walk-ins are accepted Fridays till Sundays.
For more information, click here.
5) Welcome Sitka restaurant to Tiffin for the weekend
View this post on Instagram
When: 24 to 27 February 2022, 5pm – 12am (Thursday and Friday), 10am – 12am (Saturday and Sunday)
Where: Tiffin At the Yard, Sentul Depot
Former regulars at Sitka will know that the much-beloved restaurant closed down temporarily in May of 2021. If you've missed the delectable bites and warm community, now's the time to rejoice: Sitka and Tiffin are collaborating to bring you a special takeover featuring the restaurant's greatest dishes. Hit up Tiffin to (re)discover the tastiest of what Sitka has to offer, from their ever-popular signature dumplings to steak with seaweed butter to the crowd's favourite charred cauliflower. Tiffin At The Yard also houses numerous other F&B vendors, all worth checking out at least once, so make sure to come hungry!
For more information on what's going on at Tiffin, click here.
6) Go for double the dogs at Coley Kuala Lumpur
View this post on Instagram
When: 22 February till 27 February 2022, 5pm – 12am (Saturday) and 7pm – 12am (Sunday)
Where: Coley Bar, Bangsar
Seasoned bar-goers know that nothing beats a good drink and equally good bar food to match, with a top pairing being hotdogs and beer. In collaboration with Taps Beer Bar, Wurst and BrewDog, Coley Bar is showcasing this iconic food-and-drink combination in a week-long celebration. Sample a selection of premium craft beers by Brewdog and a variety of homemade frankfurter dishes by Wurst—the perfect combo for a kicked-back but fun weekend.
To reserve a spot at Coley, call 019 2709179.
7) Immerse yourself in the works of local photographic artists through Exposure+ by Canon
View this post on Instagram
When: 26 February till 13 March 2022
Where: Kuala Lumpur and Petaling Jaya, find all locations here
The culmination of a project that started with an open call back in 2020, the Exposure+ by Canon exhibition is a multi-venue event that sees the works of 11 Malaysia-based artists and their take on the theme 'Belong', alongside the curated exhibition of five international photographers. The brainchild of internationally-published photographers, Nadhirah Zakariya and Steven Lee, this exhibition aims to encourage more people to view photography as an art form and means of expression.
Some notable exhibits to check out: 'I'm Every Woman' by Vaneesha Krishnasamy that reimagines and celebrates the everyday Dravidian women, as well as Anouchka Renaud-Eck's 'Ardhanariashvara—In Search of Union' that explores the notion of matrimony in India and how it has been ingrained in its natives at a young age (both located at Level 1, GMBB).
Click here to find out more.
Find more events and other things to do in our previous BURO Weekend Guides here.
| | |
| --- | --- |
| SHARE THE STORY | |
| Explore More | |