Whether you choose to venture outside for a treat or stay home, we've got seven awesome things you can be doing this weekend
1. Indulge in the Shiseido Afternoon Tea at The RuMa Hotel & Residences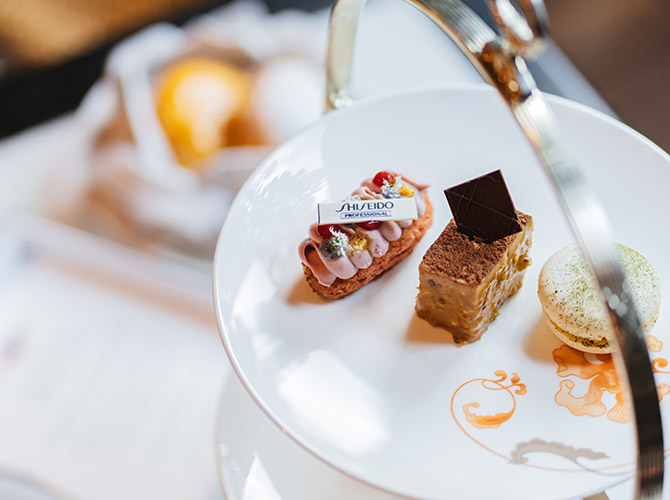 Shiseido Professional and The RuMa Hotel & Residences has come together for a unique collaboration: The 'Sublimic Aroma inspired Afternoon Tea Set' created by Executive Chef Tyson Gee. The menu was crafted especially with the scents and key ingredients of the Sublimic range in mind, resulting in a variety of green, fruity and floral flavours. The highlights of the menu include a gorgeous Single Origin Chocolate cake filled with Chocolate Mousseline and freshly crushed macadamia (reminiscent of the Macadamia Ternifolia Seed Oil in the Aqua Intensive range) and the elegant multi-layered White Peach Entremet with its layers of mint flavour and orange blossom gelee (inspired by the Airy Flow range).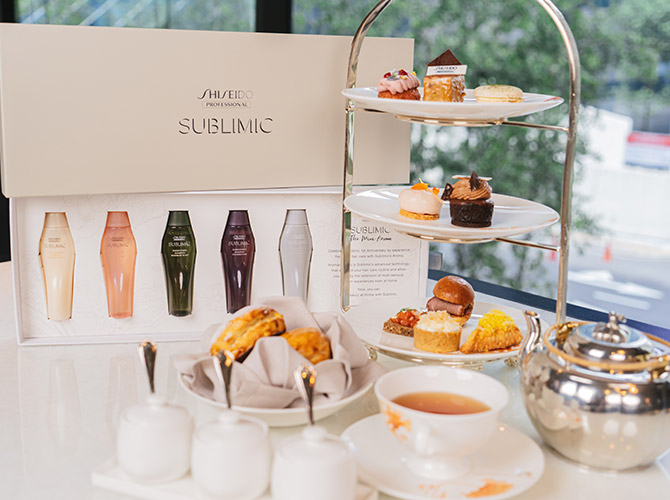 Besides giving your palate a treat, guests will also receive Sublimic The Mini-Aroma (a five-piece miniature kit) with every purchase of two Afternoon Tea Sets (RM150 each).
Initially set for January 2021 but paused due to MCO 2.0, the afternoon tea menu returns to Seven Lobby Bar and Lounge while adhering to the SOPs as placed by the government, such as limited two persons per table.
Availability: Fridays to Sundays, 3pm - 6pm
Price: RM150 per set
Reservations: Contact +603 2778 0888 or email [email protected]⠀⠀
2. Enjoy a 'Year of the Ox Afternoon Tea' at EQ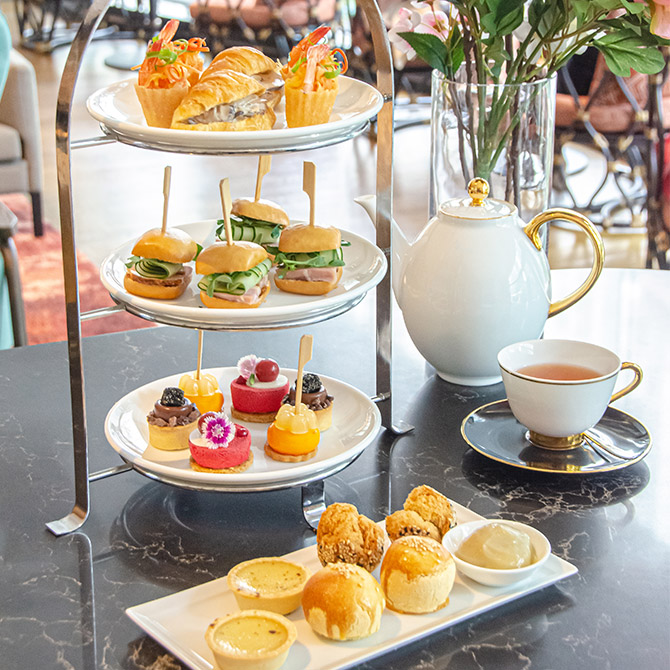 Bottega Lounge at EQ has reopened with a Chinese New Year-themed afternoon tea set, featuring three tiers of both savoury and sweet delights. Some of these mouthwatering treats include Smoked Duck Breast Mantou, Papaya Salad with Prawns Pai Tee, Salted Egg Puffs and Lychee Cheesecake.
Availability: 12pm - 5pm
Price:
RM88 per adult with coffee or tea
RM148 per adult with coffee or tea and a glass of Bottega Prosecco Gold Brut or Rosé
Reservations: Contact +603 2789 7839 or book through TableApp
3. Join online workout classes to 'Move for Hope'
If you're going to work out anyway, why not do it while supporting a cause? Move for Hope is a recent fundraiser project to raise funds for refugees in KL to get better access to online education. The recipient in question is Hope Learning Centre, a refugee school in KL for students aged between three to 16 years old. With the goal of RM100,000, the funds will supply a year's worth of internet for 54 refugee families of students enrolled at the centre. Currently, the students don't have proper internet routers or are resorting to "unreliable free data plans".
How can you help? Easy. Move for Hope has teamed up with more than 40 leading figures in the fitness industry to host various online classes throughout February and March. They post their weekly schedule on Instagram, and all it takes is a minimum donation of RM30 to join the class.
Step by Step donation / Class registration guide:
1. Head over to the Simply Giving page
2. Choose your instructor or class
3. Head over to their personal Simply Giving page
4. To sign up for a class, donate RM30 or more
5. Make sure you register with your email address (don't click 'anonymous')
6. One hour before your scheduled class begins, you will receive an email with a Zoom link
7. Join the class and have fun!
4. Check out the Moving Art Gallery at Four Points by Sheraton Kuala Lumpur, Chinatown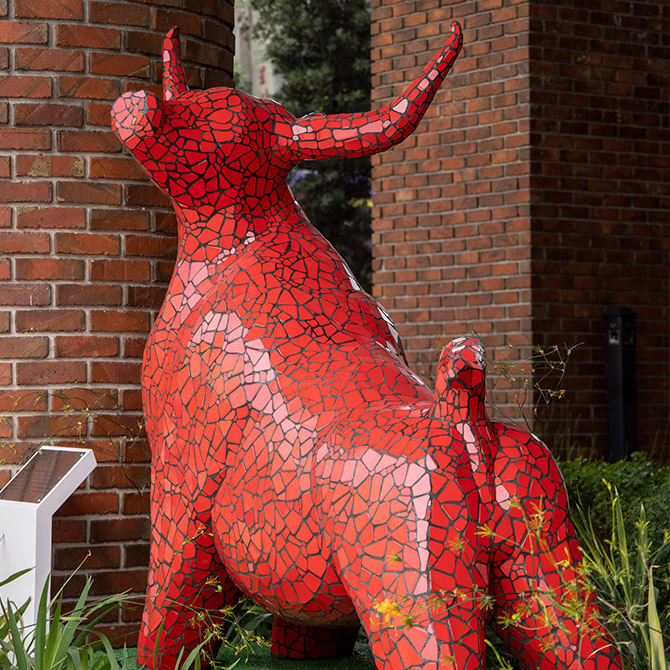 If you're in the area, why not pop by Four Points by Sheraton Kuala Lumpur, Chinatown to view its latest art installations. A collaboration between property developer Masteron Group and L2 Gallery, the Moving Art Gallery comprises a series of installations featuring mosaic sculptures that will be showcased within the hotel throughout 2021. Every few months, guests will be treated to a visual feast that not only sparks inspiration, but conversation too, as the curation is focused on the culture and heritage of the Malaysian Chinese diaspora, with undertones of resilience and hope. The series has just kickstarted with the Return of the Mythical Red Auroch, which takes the form of a life-sized red mosaic ox placed at the hotel's entrance. Alice Chang, the artist behind it, says it symbolises strength, stability, fertility and virility. "It's looking upwards as I wanted to depict its fighting spirit. I hope he can fight off the rat!" she says.
5. Challenge yourself with SedapTV Meal Kit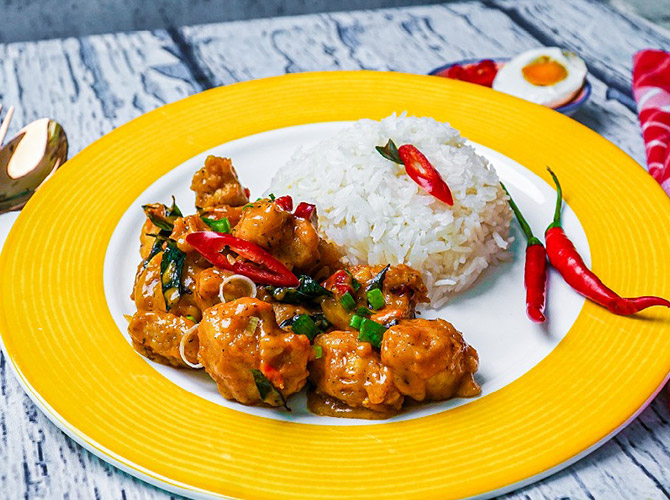 Staying home? Local food platform, SedapTV hosts a plethora of easy Malaysian recipes, a directory of food-related businesses and its latest offering, the SedapTV Meal Kit. Perfect for those looking to brush up their cooking skills or learn a new dish—but don't want the hassle of buying ingredients in bulk or full sizes—it's a box of pre-portioned ingredients for selected Malaysian dishes. You can choose from Salted Egg Butter Chicken, Eggplant Sambal, Fishball Soup, Steamed Chicken with Ginger and Pudding Batik. The best part is you can get them delivered within four hours, so there's really not much planning needed.
The kits are priced between RM19 to RM26 each and is enough for two to three pax. The menu will see new additions every month. Get them here.
6. Visit a virtual pop-up bazaar via Poptron
Remember the good ol' days of pop-up markets and bazaars? Well, we might not be able to stroll through one these days, but Poptron allows you a close enough experience from the comfort of your home. Like traversing aisles of stalls at an art bazaar, Poptron offers 100 small businesses and up-and-coming brands for all to discover. From timeless homewares to natural personal care to one-of-a-kind fashion pieces, you'll be able to find all kinds of knick-knacks and gifts for you or a loved one. The lifestyle social commerce platform was launched in September 2020 and has recently received US$ 1 million in funding, with global expansion plans. Next stop, Singapore.
Check them out at https://poptron.co.
7. Last chance to enter our Month of Love giveaway
There are beauty and jewellery prizes worth up over RM7,000, and it ends this Sunday! Find out how you can win here.