You might have heard of citizenM and if you have, it's time to rejoice as Kuala Lumpur is the hotel's third home in Asia, after Taipei and Shanghai. Known as the home of affordable luxury, the award-winning citizenM is located in Bukit Bintang—the golden triangle of KL. With Jalan Alor only 100 metres from the hotel, guests will be at the centre of a buzzing shopping, entertainment and dining destination. Having first opened in Amsterdam's Schiphol Airport in 2008, the hotel's philosophy has remained the same: offering guests all the luxuries expected from a high-end hotel in a prime location, but without the sky-high prices. Sounds good!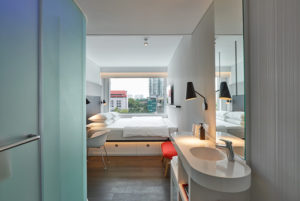 Room
Here's what we know so far. citizenM Bukit Bintang Kuala Lumpur consists of 210 smart rooms packed with efficient luxury. Unlike traditional hotels, citizenM only has one type of room—the perfect one. Hence, everyone gets the same affordable luxury experience. Every room comes with a huge XL king-size bed with a luxury mattress, duvet and pillows, as well as a powerful rain shower and towels as thick as carpets. Moreover, there will also be essentials such as a smart TV, blackout blinds, multiple plugs and Vitra furniture. That pretty much covers everything a guest would require, no? There's more: guest can use the 'MoodPad" (an iPad) to set any mood in the room, including coloured lighting, temperature and entertainment content.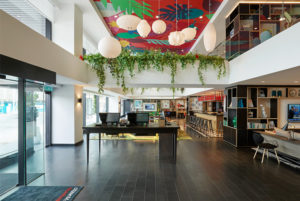 Check in/Check out
citizenM's attitude towards hospitality is daring and that is apparent with the innovative front-desk and delightfully smooth guest experience. There won't be any usual queues at reception either—the exercise of one-minute check-in/check-out kiosks is more effective instead.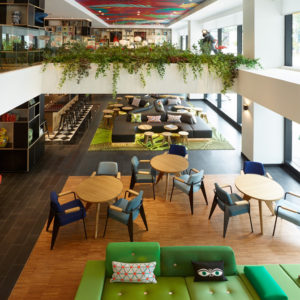 Living Room
In addition to that, there's a designer living room with ultra-comfortable Vitra furniture in place of a lobby. The living room will highlight the lush nature and colours of Malaysia through large planters with hanging greenery, as well as a painted art ceiling, and foliage carpets.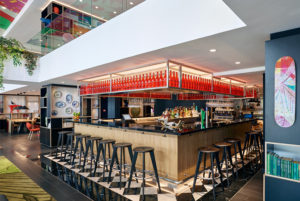 Canteen
There's also canteenM that's available for arrivals from any time zone with delicious meals, snacks, sweets, sodas and juices stocked for guests. On a business trip? citizenM Bukit Bintang Kuala Lumpur has three creative meeting spaces with the largest room available for 40 people and set up theatre-style.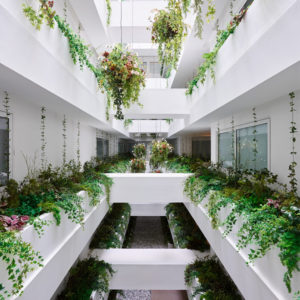 Corridor
This will be the Dutch brand's 16th destination worldwide. It recently opened its doors in Bukit Bintang Kuala Lumpur on 1 June 2019.
Stay tuned for more and in the meanwhile, visit here for more information.
| | |
| --- | --- |
| SHARE THE STORY | |
| Explore More | |