Although Malaysia is gradually relaxing its SOPs by allowing various businesses to open again, it is still recommend that Malaysians stay home as much as possible for the time being.
As Director-General of Health Tan Sri Dato' Seri Dr Noor Hisham Abdullah recently cautioned in a tweet: "A reminder to all, many places are opening because of economy & not because it is safe. Please keep that in mind; please wear a mask, double masks if possible, practice physical distancing & frequent hand washing. Avoid crowded & confined spaces."
On the other hand, prolonged periods of lockdown have proven to affect not just businesses, but also mental health and overall quality of life. To do our part to help #SupportLocal businesses and improve the well-being of our readers, BURO Malaysia has teamed up with several Malaysian brands to spread a little joy during these trying times.
Our #BUROSupportsLocal kit is specially curated to help you unwind and spark joy in your living space as you continue to stay home until it is safer to go out. Read on to find out what is in the kit so you can shop the products—or stand to win them for yourself and/or your loved ones.
An Therapy—Gift Set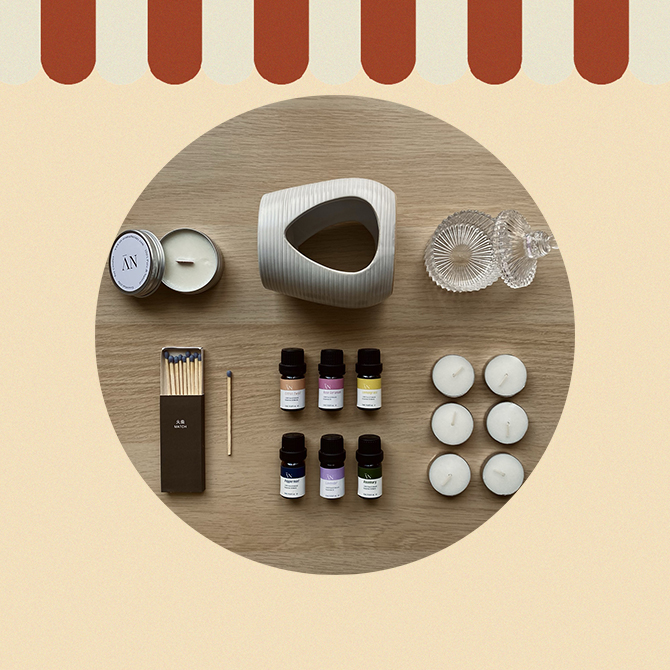 An Therapy specialises in 100 per cent pure and natural aromatherapy products, spanning GCMS-tested essential oils, artisanal soy candles, and scented bars. All of their products are made from quality materials and sustainable practices to protect the environment, with no parabens, chemicals, or additives. Since spas are still a no-go, begin your aromatherapy journey at home with our special collaboration bundle that includes a Nordic-design oil burner, six An Essential Oils, an artisanal scented soy wax candle, a Nordic Crystal Glass Jar, six Tealight Candles, and a cute matchbox.
Candle Lab + Co—Gift Set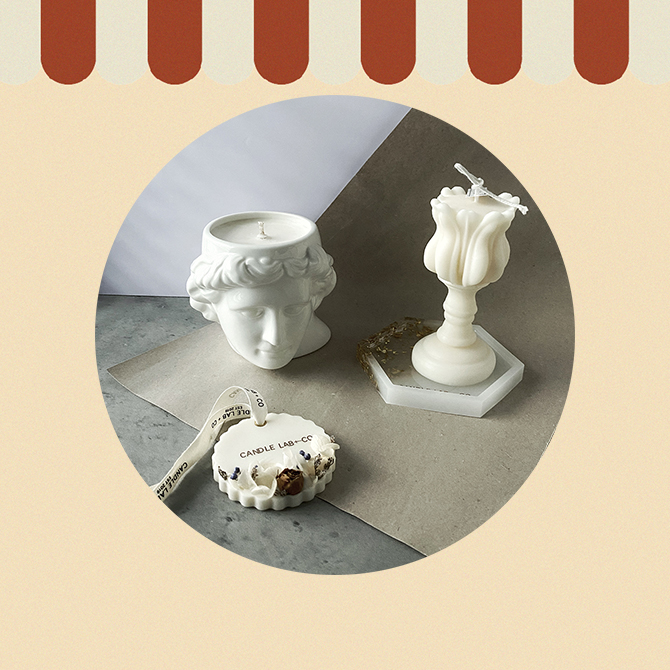 Founded in 2019, Candle Lab + Co is the brainchild of self-made candle artist Gwen Jacquelyn Tan. She uses 100 per cent natural soy wax to craft her scented candles, including themed collections for different festivities. Among her latest creations is the David-Inspired Candle, which references the Renaissance sculpture created by Italian artist Michelangelo. The jar comes in three muted colours—white, grey and black—and can also be repurposed as a mug or decoration piece once the candle is burnt out. The Baroque Tulip Candlestick is another gorgeous pick, shaped like both a tulip and candlestick—perfect for setting a romantic ambience. There are even mooncake-inspired candles that come in different "flavours" to celebrate the upcoming Mid-Autumn Festival!
Kintry—Fazarizan Mukhtar x Kintry Gift Set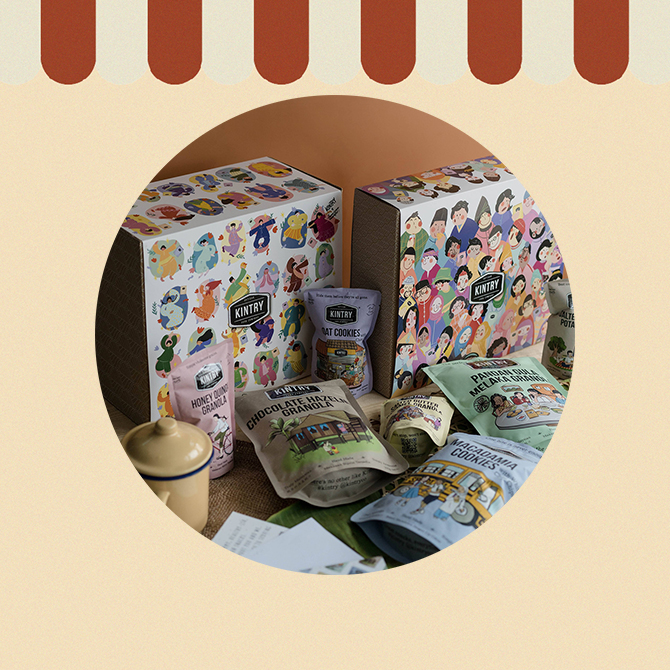 Kintry is a homegrown Malaysian snack brand that was started by Michelle Chai, a mother of one who enjoys creating treats for her little girl. With support from her friends, she decided to take a leap of faith to start a business from her side hustle, resulting in the range of artisanal healthy snacks Kintry offers today. As a proud Malaysian, she recently partnered with local artist Fazarizan Mukhtar to design a range of snacks with locally-themed artworks. Together, they created two Malaysian sets dubbed Anak Malaysia and Bangkit Malaysia, featuring creative illustrations of local experiences on the packaging of Kintry's well-loved snacks. Flavours include Pandan Gula Melaka Granola, Salted Egg Yolk Potato Crisps, and Macadamia Cookies, to name a few.
Tanamera—Aromatherapy Roll-on Gift Hamper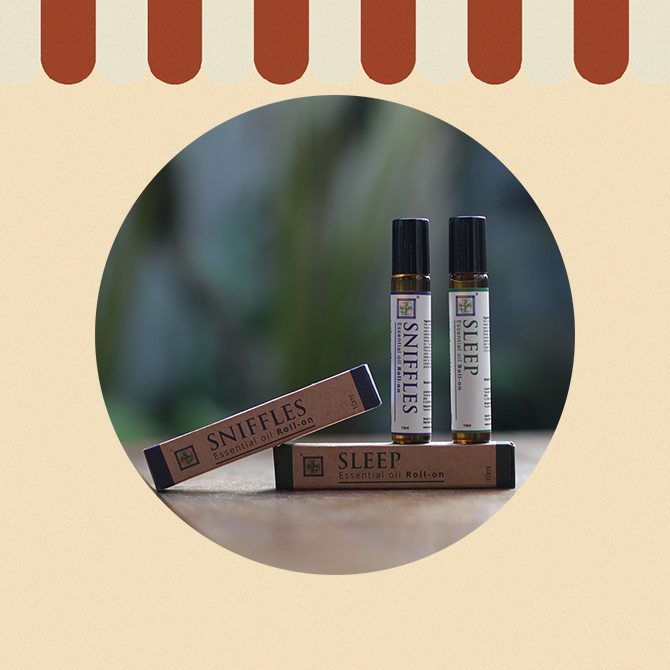 This local personal care brand needs no introduction to Malaysians who are well-versed in the industry. Established in 2007, Tanamera boasts an extensive product range inspired by Asian tropical spa treatments, which are available for the home, travelling, and even professional spas. Its latest roll-on aromatherapy range is a made with a blend of essential oils diluted with cold pressed plant oils that can be applied directly to skin, providing a range of health benefits. The Sleep Roll-on helps to improve sleep and help alleviate mild insomnia and restlessness, whereas the Sniffles Roll-on is designed to ease cough and cold, as well as nose and chest congestion.
Website | Facebook | Instagram
The Good Fat Company—Assorted Nut & Seed Butters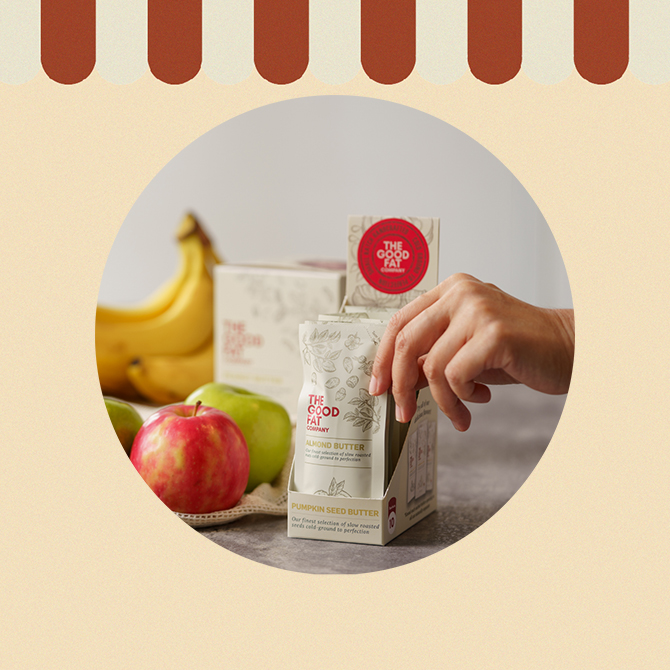 Launched in 2020, The Good Fat Company is a health-conscious brand that is redefining nut butters, from how they are made to how they are consumed. The current product range consists of 14 types of nut and seed butters, with flavours such as Cinnamon Walnut Butter, Cashew Butter, and Pecan Butter. This month, the brand has added single-serve sachets that are versatile and portable—great as a pre/post-workout snack or a nutritious treat for the kids. These sachets come in three best-selling flavours, namely Peanut, Almond, and Pumpkin Seed Butter and are available in boxes of 10.
Website | Facebook | Instagram
Kraft.Lab—Soy Wax Candle Gift Sets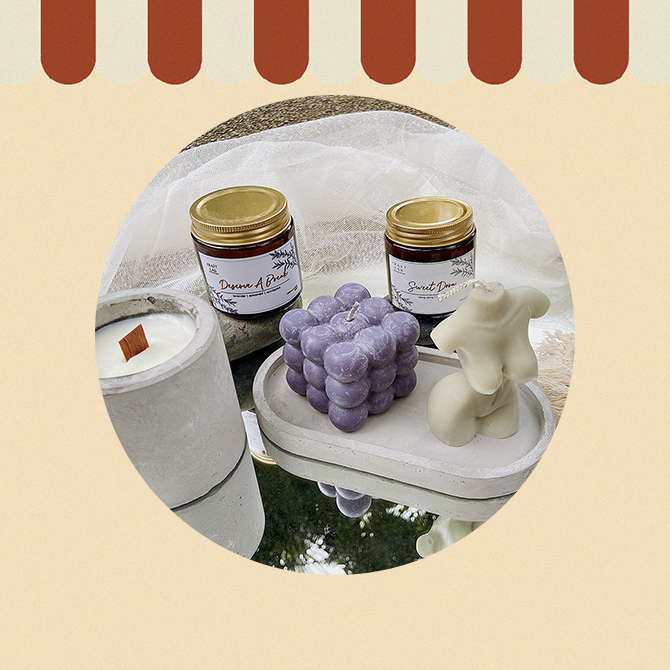 Another brand that has emerged in 2020 is Kraft.Lab, initiated by two friends who came from the hospitality industry. After suffering pay cuts due to the pandemic, they started to pursue an interest in handmade products from their "labs" (read: home). Thus, Kraft.Lab was born, offering an assortment of soy wax candles, torso candles, concrete trays, jars and coasters, cold process soaps, and macrame coasters. The brand also offers customisable gift boxes and corporate gifts upon request.
For more #BUROSupportsLocal stories, head over here.
---
GIVEAWAY: 15 Lucky winners will stand to win our curated #BUROSupportsLocal kits!
View this post on Instagram
We're giving away:
5 x CandleLab + Co Gift Set
5 x The Good Fat Company Gift Set
All you have to do is:
1. Follow BURO Malaysia on Instagram
2. 'Like' the #BUROSupportsLocal Instagram post above
3. Tag 3 of your favourite local brands in the comment section
4. Share the post on Instagram Story for a bonus entry (make sure your account is public).
The giveaway is now closed. Congratulations to the following winners, kindly check your email!
1. Alice Yap
2. Ee Suen
3. Stephen Yong
4. Chin Yi King
5. Pui Kar Mun
6. Lynette
7. Nisha Anggun
8. Megan Ooi
9. Joelle Chew
10. Koh Shien Yean
11. Yin Jia Mun
12. Nessie Tu
13. Wei Wern
14. Alison Tan
15. Nicholas Dong
The Giveaway runs from Friday, 27 August 2021 till Sunday, 12 September 2021. Winners will be announced on Wednesday, 15 September 2021, and will be contacted via email. Other terms and conditions apply*.
1. Employees of BURO Malaysia and its related corporations ("Indochine Media Ventures") or BURO Malaysia partners and/or sponsors for the giveaway (if applicable), and their immediate family members (including spouses, children, parents, brothers and sisters) are not eligible to participate in the giveaway.
2. The winners of this giveaway are chosen at random.
3. This giveaway is organised by BURO Malaysia (hereinafter referred to as the 'Organiser').
4. The prizes for this giveaway are neither exchangeable for cash nor transferable.
5. All persons ('Participants') taking part in this giveaway agree that these rules shall be binding on them, and that the entries in this giveaway, including their name and likeness, may be used without restriction in any future publicity material by the Organiser.
6. The Organiser reserves the right to amend these rules or terminate the giveaway at any time at its sole and absolute discretion. All decisions made by the Organiser under these rules shall be final and no discussion or correspondence will be entertained. The Organiser may, but is not required to, justify any decisions relating to this giveaway.
7. The Participant acknowledges that the interest and good reputation of the Organiser are of paramount importance. The Organiser reserves the right to disqualify a Participant from the giveaway, or to withdraw the prize if it is believed the Participant is in breach of its obligations under the rules. The Participants shall not by act or omission, directly or indirectly bring the Organiser into disrepute.
8. All entries are sent at the risk of the Participants and in the event that there are technical difficulties experienced arising out of the internet or from any associated equipment or internet security is compromised, the Organiser may at its sole and absolute discretion disqualify the entire entry and shall not accept any liability doing so.
9. Giveaway entries may only be submitted via the stated medium of communication.
10. This giveaway is open to anyone above 18 years old and within Klang Valley only.
11. Each entry must be completed in full. The Organiser reserves the right to disqualify any incomplete entries in its sole and absolute discretion.
12. Incomplete entries will be deemed void.
13. Winners will be notified via email.
14. Uses of 'aliases' shall be considered a form of deception and are prohibited.
15. The winner must produce their original IC / passport with legible IC / passport number in order to claim the prize. The winner may also be required to produce additional original proof of identity at the discretion of the Organiser.
16. All Prizes are accepted entirely at the risk of the winner, and the Organiser excludes all warranties in connection with the prize to the extent permitted by law.
17. All Participants release from, and indemnify the Organiser, its agencies, sponsors and representatives against, all liability, cost, loss or expense arising out of acceptance of any prize or participation in the giveaway including (but not limited to) personal injury and damage to property and whether direct or consequential, foreseeable, due to some negligent act or omission or otherwise.
18. All personal particulars furnished are meant for identification purposes and will not be sold or given to any third parties. In the case of giveaways, our partn
| | |
| --- | --- |
| SHARE THE STORY | |
| Explore More | |