With the pandemic closing zoos everywhere and social distancing being practised far and wide, zoos, sanctuaries and farms have taken a creative approach to staying afloat. Webcam sessions and livestreams of zoo enclosures, cat and dog sanctuaries and aquariums are a most worthwhile way to pass the time. So, without further ado, here are 11 of the best animal livestreams for you to watch, plus how you can support your local zoos in this trying time.
Goat Milk Stuff
Aptly named, Goat Milk Stuff sells, well, stuff made from goat's milk (body soaps, cheese, fudge—the works!). Business endeavours aside, the company has blessed us with one of the cutest things known to man: baby goats. Yes, there are two live cameras showing their baby goat pens, which contains 200 Alpine and Nigerian Dwarf dairy goats.
Smithsonian National Zoo
It doesn't get much cuter than this: The main virtual attraction at this zoo are two precious pals—giant pandas Tian Tian and Mei Xiang. There are two camera angles at your disposal for the ultimate panda experience. Find the streams here.
The Monterey Bay Aquarium
Marine fans alike gather round: The Monterey Bay Aquarium has bestowed us with views of marine life galore. We're talking sharks, penguins, sea otters and much more—all from the comfort of your home! Want to relax and unwind after a long day of procrastinating? Get ready for the jelly cam—these bad boys aren't so kind to the touch but they sure are a treat to watch (from afar) for hours on end.
Zoos Victoria
The Australian zoo and conservation organisation has livestreams galore showcasing their giraffes, penguins, lions and baby snow leopards (this is not a drill). Seriously: the baby snow leopards are a whole another level of adorable. 10/10 would recommend.
The Nature Conservancy of Australia
If you've ever wondered what's going on around the reefs of Port Phillip Bay, now is your chance to find out! For views that seem like they're taken directly from Finding Nemo (or Finding Dory, you decide) the organisation has set up Reef Cam, a live camera for your viewing pleasure.
Tembe Elephant Park
If you ever wondered what an elephant's day-to-day routine looks like, the answer is in Tembe Elephant Park's 24-hour live-stream. The park is one of the most revered elephant facilities in the world, and home to a few of the largest elephants in Africa. Watch these gentle giants drink, bathe, and do a very bad job of social distancing as they interact with other animals in the reserve.
Memphis Zoo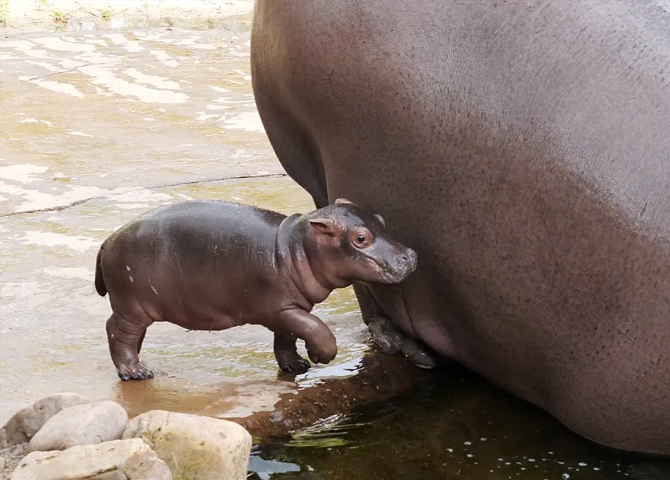 Two words: Hippo cam. The Memphis Zoo has made local stars out of its two female hippopotamuses, Binti and Splish. Adorable names aside, this is your opportunity to fully understand the life of a hippo—tune in!
San Diego Zoo
The San Diego Zoo houses over 3,500 species of animals, and although you won't be able to see the full lineup (webcams are not equipped for that kind of thing), there are a few different virtual exhibitions set up featuring their condors, owls, pandas, tigers, penguins, polar bears and much more! Find out more through this directory on their website. Most importantly, keep up with their orphaned koala Joey, named Omeo for your cuteness fix for today.
Kitten Rescue Sanctuary
Kitten cam alert! The LA based sanctuary is home to many kittens and cats, of course, but also to a dog named Birdie, who makes occasional appearances from time to time. Bonus: If you're an ardent fan of Downton Abbey, you'll love their names.
Old Friends Senior Dog Sanctuary
The sanctuary has broadcasted their gathering room on the web, and it is the pinnacle of cinematic excellence. Watch many of their senior (read: very old) dogs laze around, have a potter and generally ignore one another. Incredible—an 11/10 experience.
Mogo Wildlife Park
View this post on Instagram
The New South Wales-based sanctuary's baby lion cub, Phoenix, was born amidst the devastating bushfires of January. It's only fitting that the cub's name symbolises the recovery of the natural wildlife and communities since. Important facts about Phoenix include that his favourite toy is a football and his birthday is in January–watch him play here or via the park's virtual zoo experience.
Taronga Western Plains Zoo
View this post on Instagram
Baby otters alert! Yep–there are 5 new Oriental Small-clawed Otter pups at this Zoo that are ready to steal your heart. Check them out here.
Ulusaba Private Game Reserve
| | |
| --- | --- |
| SHARE THE STORY | |
| Explore More | |