Lifestyle
Anderson Cooper, John Oliver and more dedicate powerful tributes to Orlando shooting
Preaching love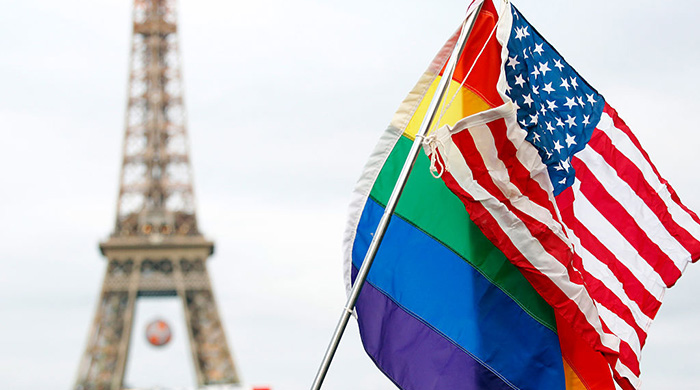 As the deadliest mass shooting in American history leaves its ugly, permanent scar behind, thousands gather in cities across the globe for vigils to remember those who lost their lives, and rainbow filters are shared across social media in solidarity as the world unites in tribute to victims of the massacre. Media personalities and celebrities, too delivered powerful messages on the senseless act of violence.
The Tony Awards created special ribbons for the ceremony on Sunday, in remembrance for Orlando.
In the opening, host James Corden dedicated the show to all the victims impacted by the shooting.
Preaching love in the aftermath of the senseless tragedy, Hamilton creator and star Lin-Manuel Miranda delivered a soulful sonnet as he accepted his Tony Award for Best Score:
"My wife's the reason anything gets done
She nudges me towards promise by degrees
She is a perfect symphony of one
Our son is her most beautiful reprise.
We chase the melodies that seem to find us
Until they're finished songs and start to play
When senseless acts of tragedy remind us
That nothing here is promised, not one day.
This show is proof that history remembers
We lived through times when hate and fear seemed stronger;
We rise and fall and light from dying embers, remembrances that hope and love last longer
And love is love is love is love is love is love is love is love cannot be killed or swept aside.
I sing Vanessa's symphony, Eliza tells her story
Now fill the world with music, love, and pride."
On Monday evening, CNN anchor Anderson Cooper began his prime time programme with an emotional tribute to the 49 lives lost, citing the names and age of each and everyone of them. "They are more than a list of names. They are people who loved and who were loved," said Cooper.
Among the victims was 22-year-old Luis Vielma, who worked at the Harry Potter and the Forbidden Journey ride at Universal Studios. J.K. Rowling paid tribute to him on twitter:
Luis Vielma worked on the Harry Potter ride at Universal. He was 22 years old. I can't stop crying. #Orlando pic.twitter.com/Nz2ZCWxNsS

— J.K. Rowling (@jk_rowling) June 13, 2016
"This song is dedicated to those who lost their lives last night in Orlando, Florida, and anyone who has been a victim of senseless violence or hatred," Adam Lambert said on the Isle of Wight stage, before he and Queen went on to play a strong and heartfelt rendition of 'Who Wants to Live Forever'.
And John Oliver's powerful choice of words in his Last Week Tonight opening struck a chord with hearts far and wide, as he gave a compelling statement on the violent tragedy.
| | |
| --- | --- |
| SHARE THE STORY | |
| Explore More | |