The new mobile game is a joint effort of Warner Bros. Games and Niantic, the developer behind Pokémon Go.
It is set after the seventh and final book in the main Harry Potter series.
Like the wildly popular Pokémon Go, it is a location-based augmented reality game that involves walking around based on a map that corresponds to the real world to collect magical artefacts and save Muggles as well as witches and wizards from rogue magical creatures. You could be helping Harry himself out of a tight spot with a dementor!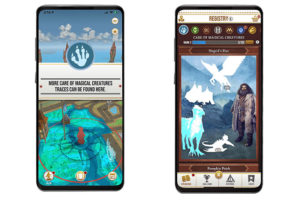 According to the game developers, the player's main objective in the game is to keep the non-magical world from discovering the magical one. Other in-game activities include leveling up your character, picking a profession to learn new abilities, and teaming up with up to five other players to compete in a fortress—like a gym battle, but with magic. Expelliarmus!
Some people in Australia and New Zealand already had a taste of the game, as the beta version was launched in the region back in May. Worldwide launch will begin tomorrow, 21 June in the US and UK. No news on when it'll be coming to Malaysia yet, but stay tuned for more updates! [Update: The app is now available in Malaysia!]
| | |
| --- | --- |
| SHARE THE STORY | |
| Explore More | |