Rolls-Royce has most certainly not "given up the ghost". Launched at the Frankfurt Motor Show in 2009, the first Ghost went on to become the most successful model in the marque's 116-year history. It's proved popular with the younger, jet setting crowd, which is also the trend in Malaysia says Anas Zawawi Khalid, director of Rolls-Royce Motor Cars Kuala Lumpur.
Its discontinuation dismayed connoisseurs, but not for long—a new Ghost was soon announced. The most technologically advanced Rolls-Royce yet, the next-generation Ghost debuted globally last September. Following its recent official launch in Malaysia by Rolls-Royce Motor Cars Kuala Lumpur, Malaysians now have the chance to commission it (or glimpse it on local streets).
Refreshed Design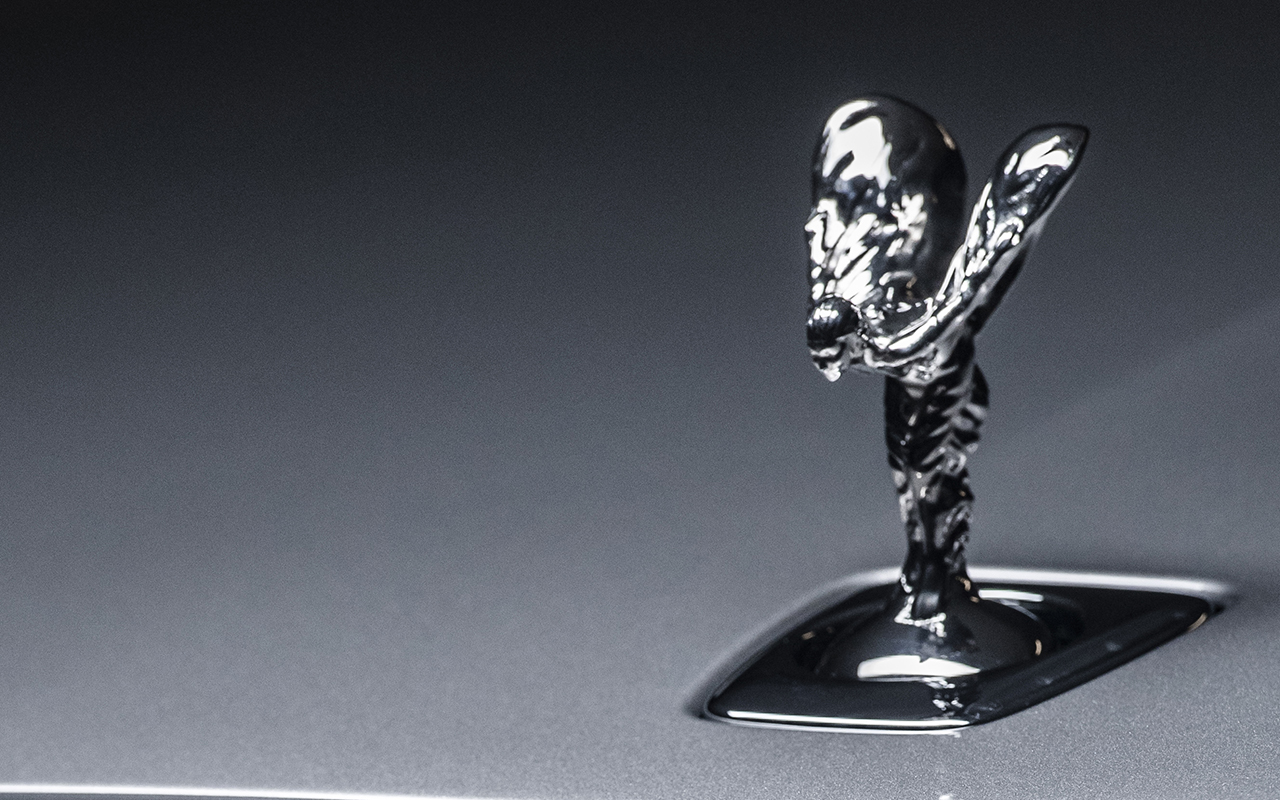 The new Ghost appeals to refined sensibilities with its minimalist, post-opulence design philosophy which rejects superficial expressions of wealth. For the first time, the Spirit of Ecstasy's position of honour on the bonnet isn't surrounded by panel lines, but a "lake" of her own.
This treatment can also be seen in the single strokes and overall lack of shut lines, creating a contemporary aesthetic with an uncomplicated sense of motion. The new Ghost is also Rolls-Royce's first to sport a unique, lighted front-end. 20 LEDs beneath the radiator grille subtly illuminate the metal vanes, creating a restrained glow.
The Architecture of Luxury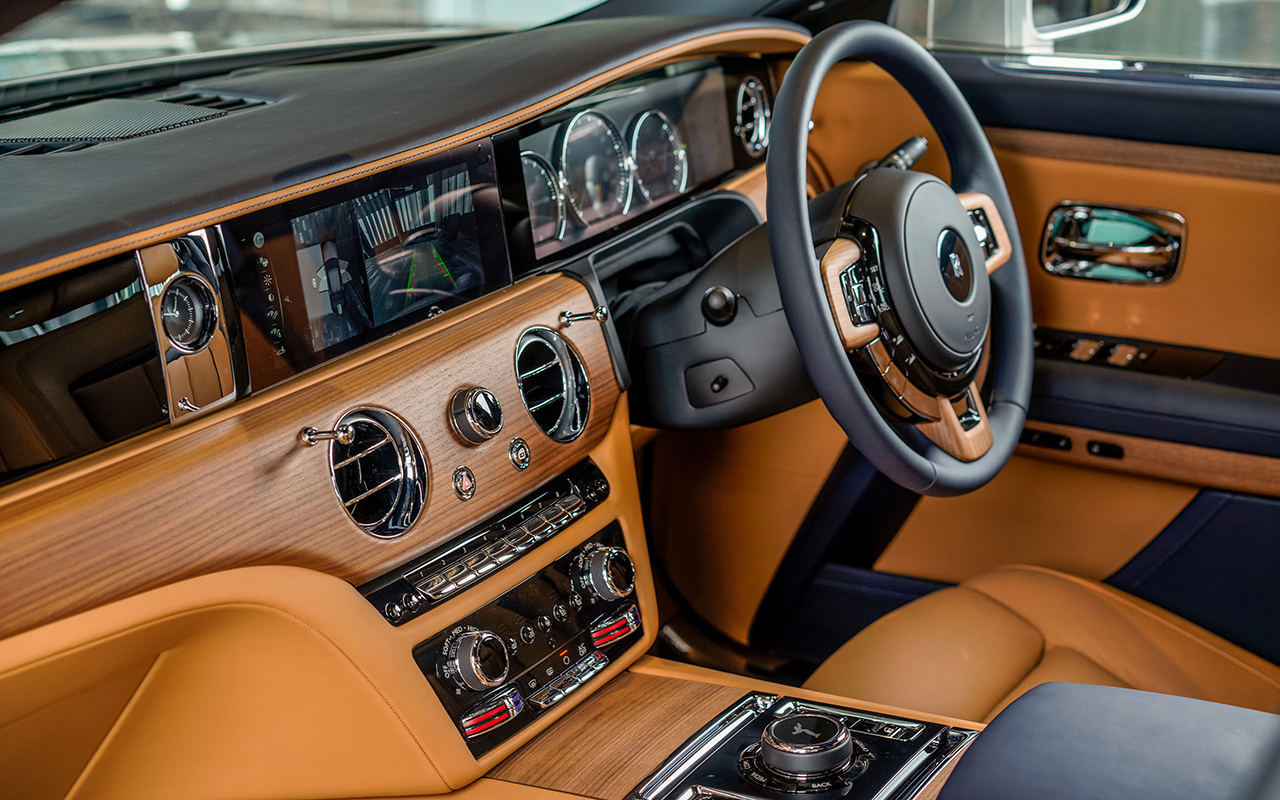 The reduction in design elements is, by no means, a lack in breadth of capability. Cutting-edge engineering and manufacturing techniques lead the way of the new Ghost. It's built on proprietary aluminium spaceframe architecture—providing strength, rigidity and acoustics to enable Rolls-Royce's famed "magic carpet ride" experience.
With all-wheel drive and all-wheel steering, it's agile to "take you wonder by wonder; over, sideways (we'll take that to mean side lanes) and under." Speaking of new heights, Rolls-Royce's world-first Planar Suspension System creates an unparalleled sense on flight on land, never before achieved by a motor car.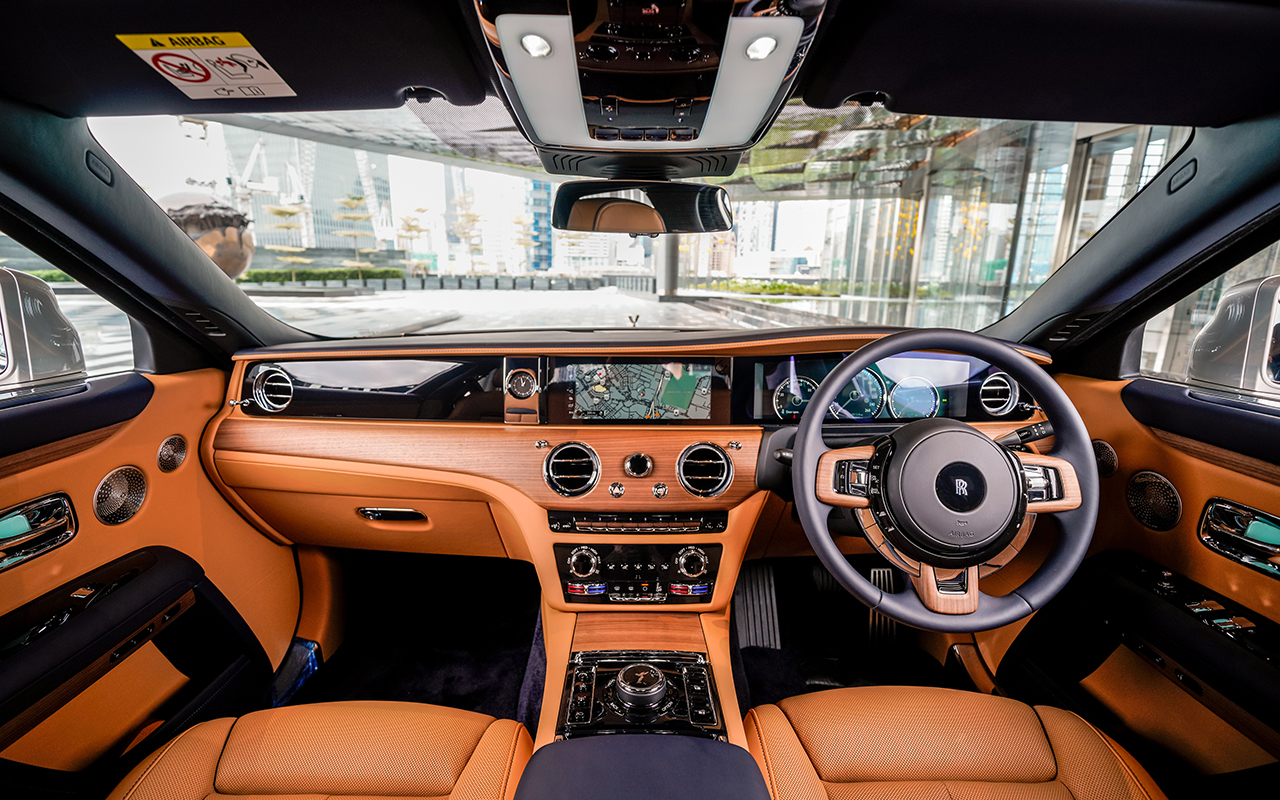 Under the bonnet is a 6.75-litre twin-turbo V12 engine, delivering 571PS and 850nm. Simply put, the new Ghost gets from 0-100km/h in a mere 4.8 seconds. Built for both business and leisure, for chauffeuring and driving pleasure, driveability is enhanced with:
LED and laser headlights providing more than 600m of illumination range
Vision assist (including day- and night-time wildlife and pedestrian warning)
A four-camera system with panoramic view
All-round visibility and helicopter view
Lane departure and lane change warning
An industry-leading 7×3 high-resolution head-up display
The very latest navigation and entertainment systems
< class="stk-reset ce-element–empty stk-element_no-text">
Serene and Effortless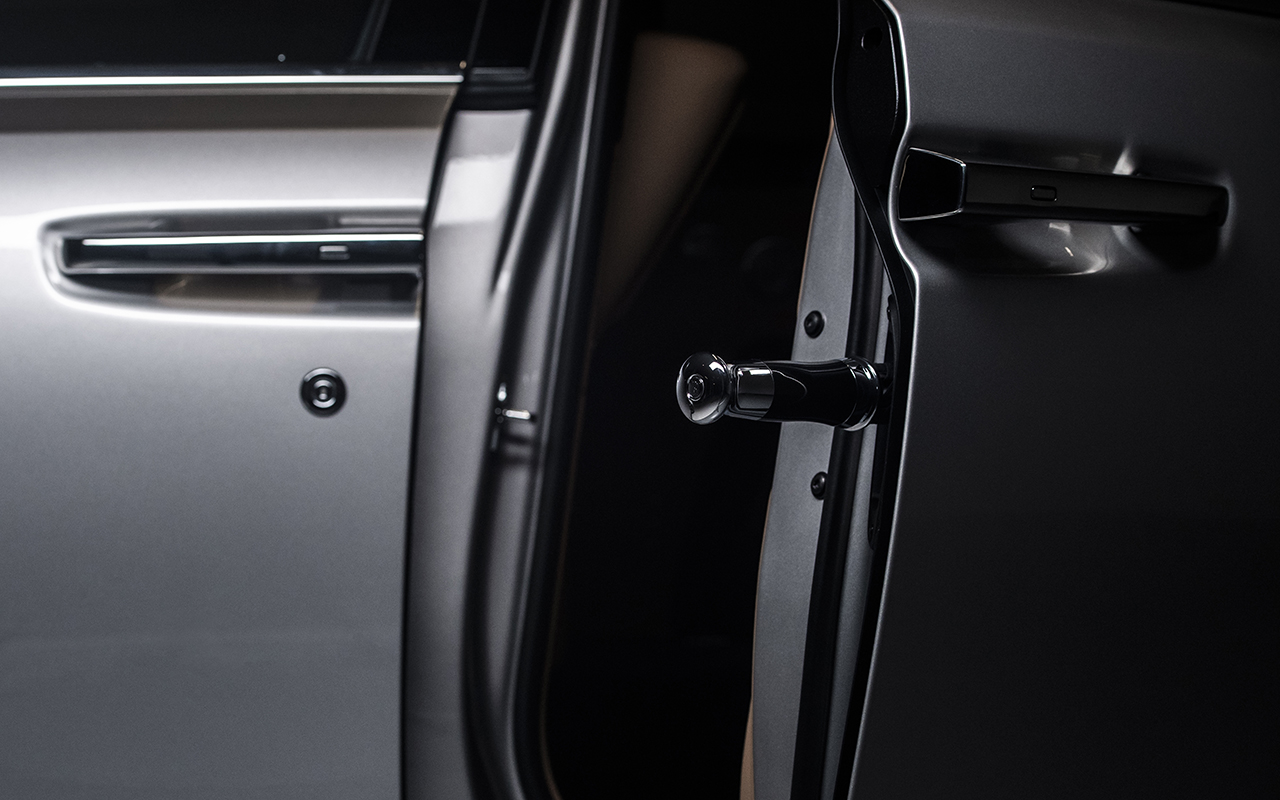 To get you from destination to destination with effortless grace, the doors of the new Ghost electrically open as well as close. On-board and door sensors enable the same speed of door operation regardless of hill or driveway angles. Handy, when you live up a hill or have a driveway designed based on feng shui principles.
Rolls-Royce's acoustic engineers have also innovated a Formula for Serenity to harmonise the new Ghost's overall acoustics. Interior components are tuned to a specific resonant frequency, creating a sense of serenity. In bespoke audio form, the cabin's peerless sound studio is an 18 channel, 18 speaker, 1300W audiophile grade system. The fabled Starlight Headliner, now equipped with an enthereal shooting star feature, serves two purposes: illumination and sound.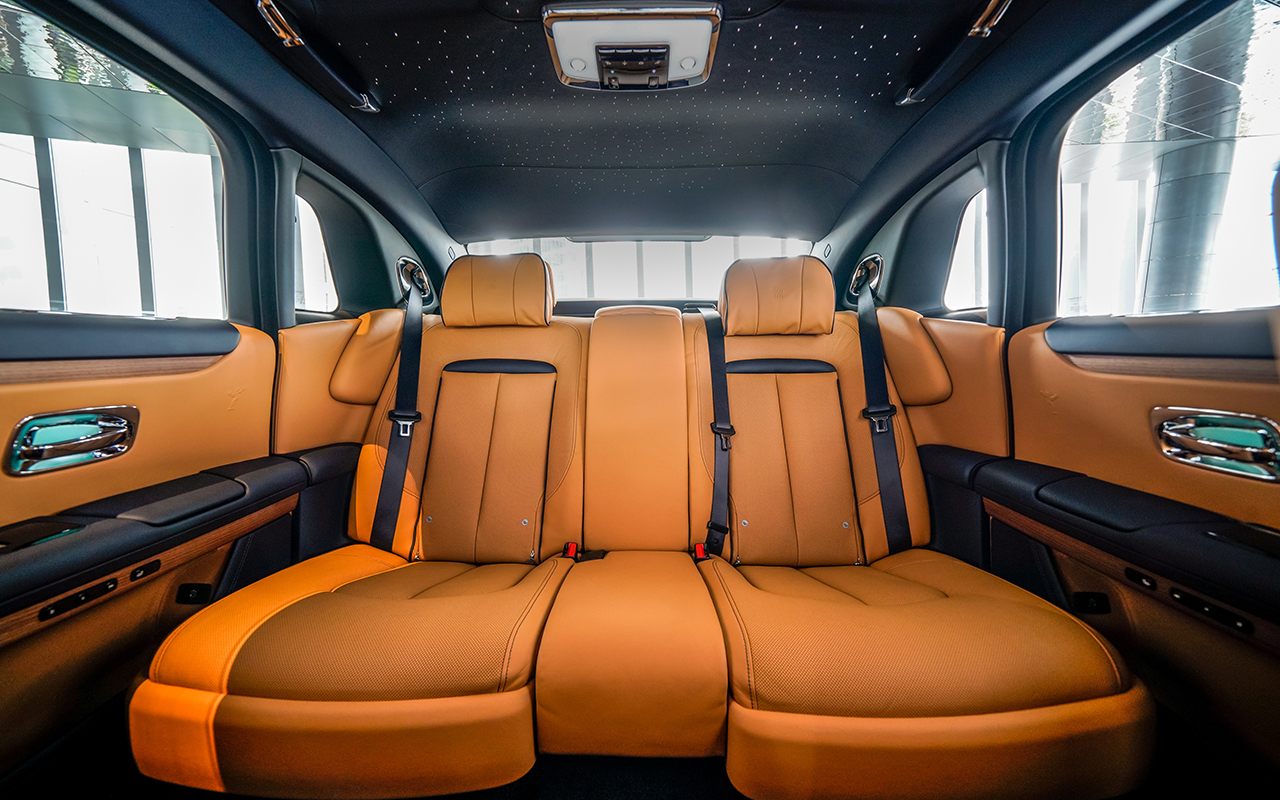 With air quality given increased importance in these times, a new Micro Environment Purification System (MEPS) creates the cleanest micro-environment available within the cabin of any motor car in less than two minutes. Sit back and sink into only the very best quality half hides, comprising 338 interior panels stitched together with incredibly long and perfectly straight lines.
A new illuminated fascia highlights the Ghost nameplate, surrounded by more than 850 stars to echo the Starlight Headliner's subtle sparkle. You may also opt to equip the vehicle with a champagne fridge between the rear seats. Developed with the assistance of a Master Sommelier, it has two cooling modes, chilling champagne to six degrees (non-vintage) and 11 degrees (vintage).
Ghost, Extended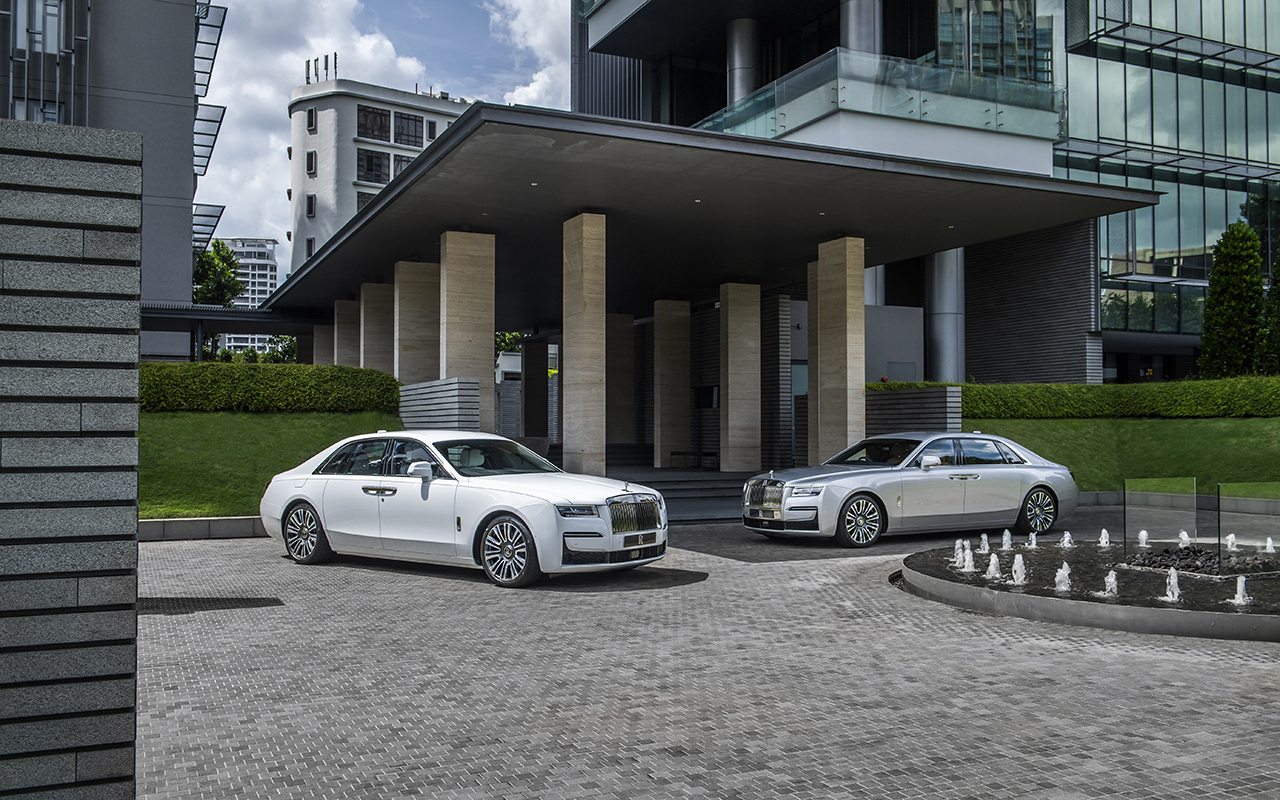 A longer version of the new Ghost, the Ghost Extended offers 170mm more space—the most legroom than any four-seat sedan in its segment. Despite being longer, it retains the standard Ghost's minimalist design and sleek lines.
Rolls-Royce's new Ghost and Ghost Extended is now available for commission in Malaysia. The Ghost is priced from RM1.45 million, while the Ghost Extended starts at RM1.65 million. Actual pricing depends on customer specifications. Visit this website for more information.
| | |
| --- | --- |
| SHARE THE STORY | |
| Explore More | |