If a sexy car with a beast of an engine is what drives you, the Mercedes-AMG E 63 S 4MATIC+ will probably turn you on. As the latest member of the Mercedes-AMG generation, it has been equipped with several new developments that redefine it as a performance limousine. The launch is a timely one.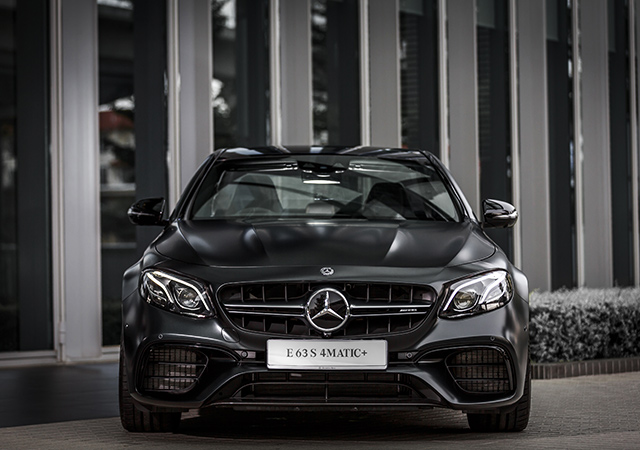 "In conjunction with Mercedes-AMG 50 year's anniversary celebration and the last Formula 1 race in Sepang, Mercedes-Benz Malaysia proudly presents the Mercedes-AMG E 63 S 4MATIC+, the most powerful V8 model in its segment. As the latest addition to the Mercedes-Benz Dream Car Collection, the E 63 S takes driving performance into a new level, offering our customers a striking design with an undisputed and refined power delivery of a V8 twin-turbo engine from Affalterbach," says Mark Raine, Vice President, Sales & Marketing, Passenger Cars, Mercedes-Benz Malaysia.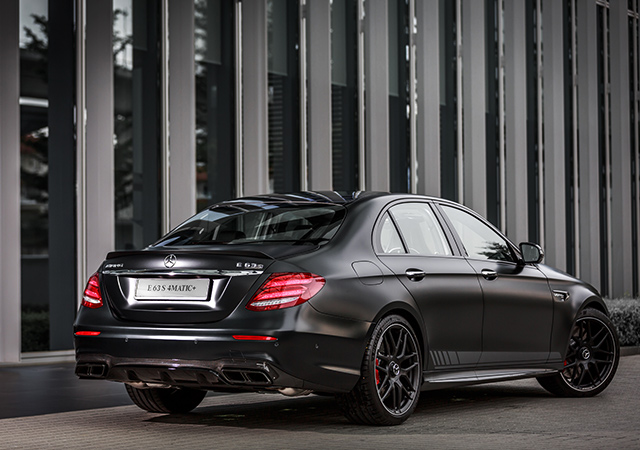 Raine's description is eloquent. The revelation of the numbers is far more mind-blowing. The versatile AMG 4.0-litre twin-turbo V8 engine is capable of peaking to a new level at 450 kW (612 hp) with a maximum torque of 850 Nm and sprints from 0-100km/h in 3.4 seconds. Together with twin-scroll turbochargers—deployed for the first time—the E 63 S 4MATIC+ responds better (if not almost immediately) and delivers more torque at low revs, low gas emissions and low fuel consumption. Did we mention the thrill of acceleration comes with the satisfaction of wind noise at low levels? That one has something to do with its aerodynamic design.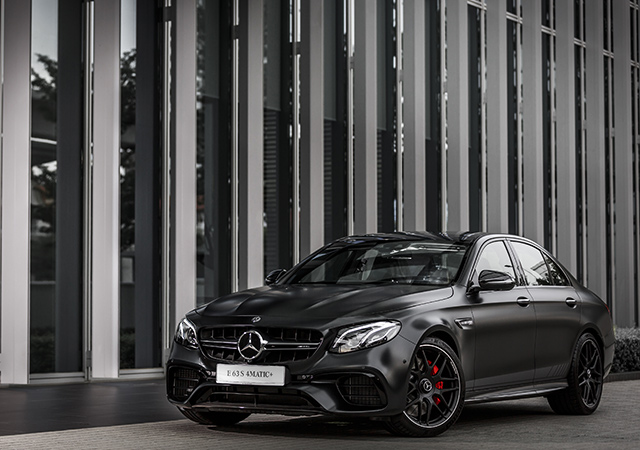 Fun fact: The official record (and it's a new one by comparison with Mercedes-Benz's competitors) for the E 63 S 4MATIC+ is a combined fuel consumption of 8.8 litres and CO2 emissions of 199 grams per kilometre (combined).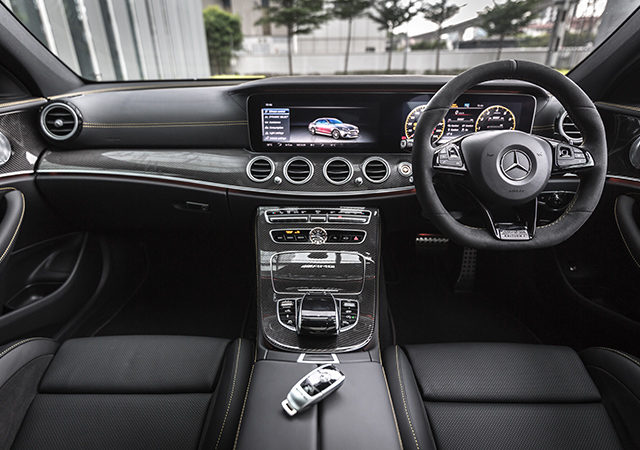 On that note, Mercedes-Benz designed every detail of the exterior and interior with the driver in mind that he or she will be able to experience the AMG Driving Performance first hand. Yes, as we said, it's sexy. Maybe like Chris Evans Captain America sexy (well, that's our taste, you can imagine someone else of your preference) with sinuous edges and defined muscles. For the first time on an AMG saloon, the bonnet is inset between the wings and bumper like on a coupé. It's also 27 millimetres wider and the wheel arches can accommodate greater track width and larger wheels on the front axle.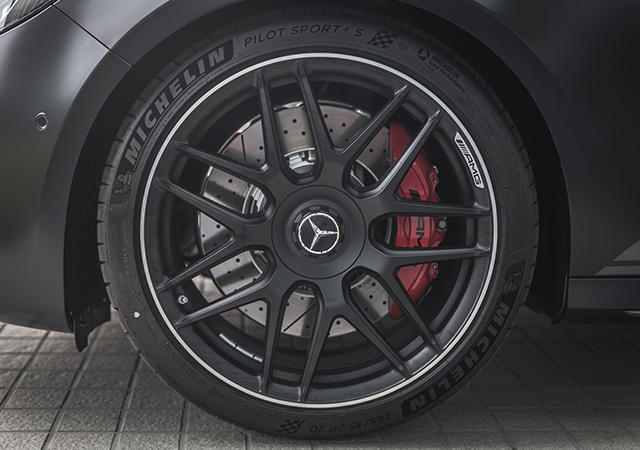 In case you're interested: The E 63 S 4MATIC+ runs on tyres of sizes 265/35 ZR 20 (front) and 295/30 ZR 20 (rear) mounted on 9.5 J x 20 (front) and 10 J x 20 (rear) and 20-inch AMG cross-spoke forged wheels.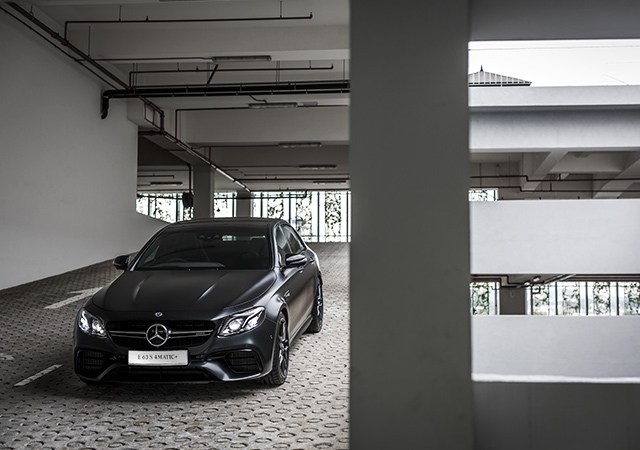 The larger wheels particularly come to play with the innovative AMG Performance 4MATIC+ all-wheel-drive system. It's exclusively available on the E 63 S 4MATIC+ where torque distribution on the front and rear axles is fully variable for the first time, ensuring optimum traction under all conditions. The transition from rear-wheel to all-wheel drive and back again is seamless, promising it to be a joy to utilise. The system also allows an even more powerful acceleration as well as the possibility to drift (activate drift mode in the "Race" drive program using the shift paddles).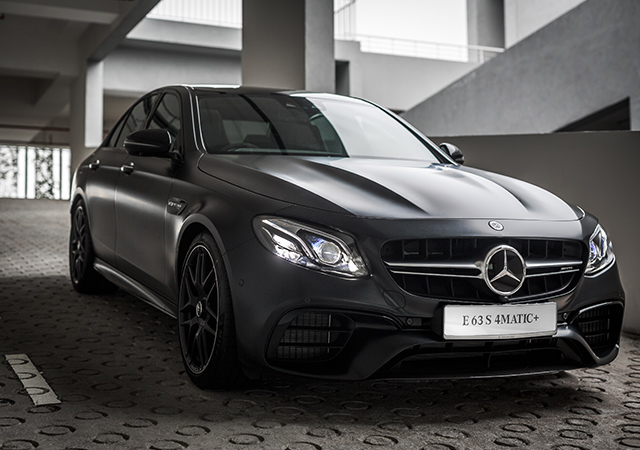 All that speed and power come with a high level of comfort with the completely re-engineered AMG sports suspension. Based on the AIR BODY CONTROL that fully supports multi-chamber air suspension, it brings with it improved vehicle dynamics and steering precision—everything to match the new performance saloon's increased vehicle dynamics. Whether it's sudden load changes, fast cornering, heavy acceleration or hard braking, the vehicle is able to automatically adapt to the situation and effectively stabilise accordingly. That is achieved in part thanks to the large-sized high-performance braking system.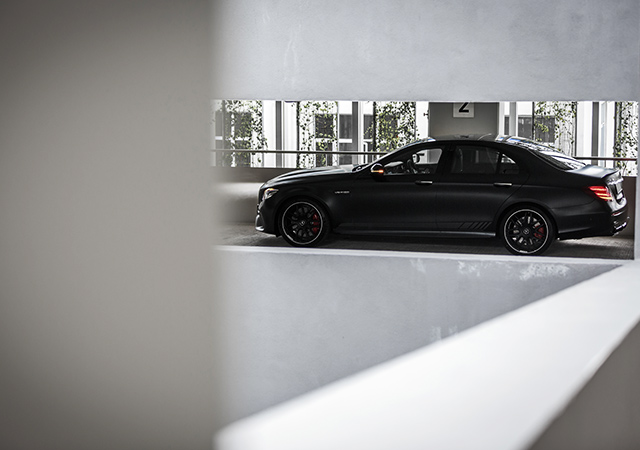 Of course, at the end of the day, the E 63 S 4MATIC+ is made for the tracks. Hence you'll find several features exclusively to be used on the circuits: RACESTART, RACETIMER (to record lap times on closed-off tracks) and the AMG TRACK PACE app (to analyse and improve the driver's track driving style with data such as speed, gear, steering angle and temperature transmitted from the vehicle's COMAND Online infotainment system). Drivers can also have the option of personalising the E 63 S 4MATIC+ with numerous options from the AMG Performance Studio or, for more exclusivity, opt for the "Edition 1". So, anyone here in great need for speed?
The Mercedes-AMG 63 S 4MATIC+ is priced from RM998,888 (OTR without insurance, inclusive of GST).
Related stories:
Mercedes-Benz Malaysia launches GLC Coupé, GLS and the iconic G-Class
Mercedes-Benz Malaysia launches the all-new E-Class Coupe
Mercedes-Benz Malaysia launches the exclusive GLC 200 and AMG GLE 43 OrangeArt Edition
| | |
| --- | --- |
| SHARE THE STORY | |
| Explore More | |