Buro 24/7 caught up with Gabrielle Tan-Helfman, Director of Marketing of The Gardens Mall, following the unveiling of newly revamped Rooftop at the shopping mall
Spearheading the marketing department at The Gardens Mall, Gabrielle Tan-Helfman plays a crucial role in ensuring the mall stays ahead of the game—especially in a time where shopping malls are sprouting like mushrooms across Klang Valley—and her efforts are plain to see: constantly buzzing with a steady stream of shoppers and visitors, the premium 6-level shopping haven is home to an impressive lineup of leading international brands and highly-regarded anchor tenants.
With the recent unveiling of the newly revamped rooftop, The Gardens Mall adds a unique mall experience to its name (more on the Rooftop here). Here, Gabrielle Tan-Helfman shares her thoughts on the mall's latest additions, as well as the local arts and fashion scene:
Tell us about the concept behind the newly revamped rooftop.
The initial concept of the rooftop was to have a place where shoppers/visitors could relax, have something to eat or maybe sit down with a cup of coffee. As the idea evolved, the rooftop transformed into a place of arts, fashion and culture with Wei-Ling Contemporary and The Gardens Theatre, along with Les Suites and The Studio.
What makes it different from the other levels in the mall?
Everything here is opened and operated by Malaysian businesses, and what you get on this level, you can't get anywhere else. The mix of tenants on this floor was carefully thought out and very well curated. That is why it brings a different experience for shoppers—it's a hidden gem.
Personal favourite area of the rooftop?
I think all the stores on the rooftop bring something different to the table and that is what I love about this place. I can walk into an art gallery, with amazing artpieces and then find myself wandering into a whimsical wedding and event space at Les Suites. If I'm looking for a place a bit more edgy, with clothes or lifestlye products from local businesses I just look for The Studio, or if I want to take in a performance I head over to the theatre.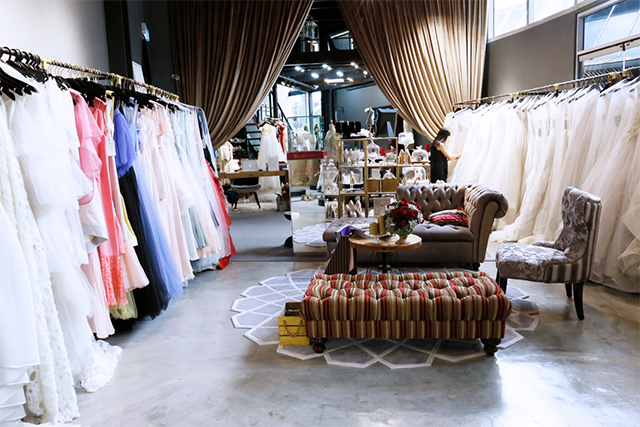 Tell us more about The Studio, and how the brands were curated.
All the brands at The Studio were chosen to complement each other, and this space is meant to promote as well as support local businesses.
The Studio has been a dream of mine for a few years now. I've been very fortunate to meet talented, creative people in Kuala Lumpur since I started working at The Gardens Mall. I've admired their work for a long time, and I thought a space to gather all these designers and artisans together would be amazing. I already had a few brands that I wanted ie. Khoon Hooi and Cassey Gan, so they were the first people I approached. After that, I met Bremen and White through my friend and business partner, Raymond Choon. Nerd Unit was the last brand I approached but they had an interesting take on streetwear which was what The Studio needed.
The Artisanal Corner was fun to curate because it was something new for me. I knew Rozie from Asian Potions and was also a big fan of the fragrances, so I had to try and get her in. Sanctuary by Jasmine Gan was a great find as well. #thesewingproject by KSK was a last minute addition as I wanted to support this cause by KSK to get homeless families back on their feet.
What are your thoughts on the current local arts and fashion scene?
I think it's evolved and developed, but there's still room to grow.... and that's not a bad thing. Malaysia is a fairly young country, already with a diverse society so we already have that foundation of being different from the rest of the world. We have so many gifted artists, designers and artisans that we should support.
Who is your favourite local designer at the moment?
I don't have a favourite just because the designers all have their own signature looks which are different, but that I can admire. All the brands in The Studio, I love, but there are others that I hope will also be part of the family in years to come.
Is there a local creative talent or movement you are keeping an eye on?
I'm looking at a few movements actually, especially young designers as well as college students, but not anyone in particular yet.
A current trend you can't get enough of is...
Gaucho pants. You can wear them with heels or flats and you'll still look good.
What are five things that you'll always have with you on your travels?
Wet wipes, a pair of sweat pants, a book, my own shampoo and a pair of headphones.
What is one city you'll never get tired of visiting?
That's a hard one... I'm going to say New York City.
And last but not least, what is next for The Gardens Mall?
Well, The Gardens Mall is turning 10 this year and so we'll have quite a few activities leading up to the anniversary. We are also planning a slight facelift of the Mall, but nothing too drastic. Just a few improvements, but still keeping true to the Mall's core architecture and elements.
Find out more about the new Rooftop at The Gardens Mall here.