Fay Khoo reminisces about Sonny San, a visionary trailblazer, a fellow foodie and above all, a dear friend
This past week has been very difficult, not just for me, but for the many, many people who have had the privilege and sheer good fortune to know Sonny San, a visionary trailblazer whose designs made women look and feel millions of dollars, and whose untimely passing has left a hole the size of the universe in my heart. 
Our decades-long friendship revolved unabashedly around food. When we weren't planning our next culinary foray, we would be talking about what we had just eaten, and wanted to eat next, just like the true Malaysians we were, you could reasonably say. Each time I was in KL, Sonny would have an extravagant plan to show me the Next Big Thing, and vice versa. But our relationship was never about one-upmanship, and all about wanting to share something delicious that we had discovered with someone we loved. Even my cargo for him was invariably food-centric. Sonny adored—inexplicably to me at least, and he promised one day to cook and show me its full potential, but sadly that will now never come to pass—Sharwood tandoori paste, so my luggage would be the unwitting courier of said products, even as I silently thanked Rimowa for their aluminium cases which meant I was in no danger of smashing one of those jars and smelling like Indian curry for the duration of my stay in KL.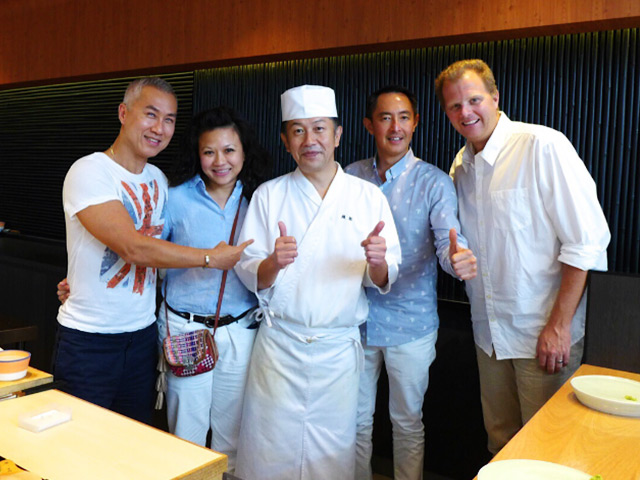 In recent years, we've had breathtakingly good meals, of which chef Oribe-San's eponymous omakase restaurant at Vipod Residences is a noteworthy standout. I had apprised Sonny about the prodigious genius of the ex-Sushi Hinata chef, and while I was away, Sonny and his partner Walter had wasted no time in 'discovering' him. They were so enthusiastic about Oribe that the minute I got back to town, they whisked me there and made sure we had counter seats so that Sonny and I could grill the inexhaustibly patient and gregarious Oribe-San, who not only shared details of his suppliers with us but also sportingly brought out a mammoth tuna head in a playful show-and-tell moment. The chopped tuna magoro, salmon roe, white prawn and uni bowl may still linger in my memory as one of the best Japanese dishes I've eaten, but what's seared indelibly into my mind's eye is the care that Sonny and Walter took to ensure I had an unforgettable meal there.
And so we have romped through numerous restaurants together through the years, like a band of hungry bandits with as rapacious an appetite for noise making as we had for food. Some-but not many, for we did our homework meticulously, so fearful were we of wasting stomach room on a less than meritorious meal-were less than memorable, but most of them now jostle for reminiscence in my head, from the delicious Spanish food at Coquo and tapas at Mercat, to the exquisitely prepared tasting menu at Babe. Once in a blue moon, I was able to sneak in a treat, but it was not easy unless Sonny and Walter were in Sydney, then I could—and did—lay down the iron fist and tell them to stash their wallets. Sonny's largesse was legendary and absolutely unparalleled, and on the rare occasion that I succeeded, I danced on clouds for days knowing I had given him and Walter a good meal, such as the carnivorous feast we enjoyed at Stoked.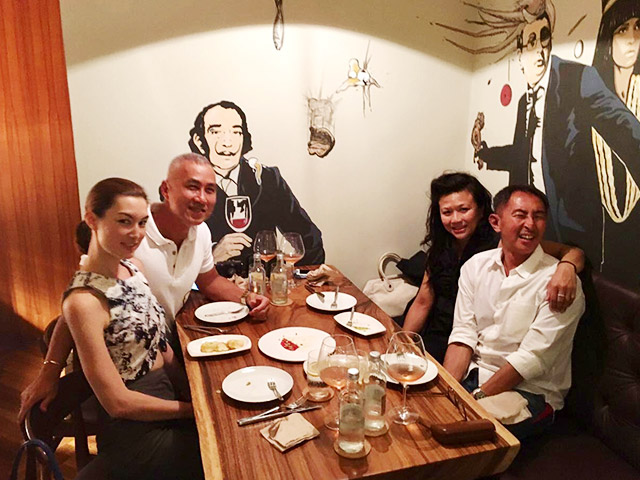 Now, as I prepare for another trip back to KL, it's all I can do to stop myself from excitedly texting Sonny and asking where we would be eating when I arrive, and how many jars of Sharwood he wanted me to bring. He is gone, he is gone, I keep telling myself, but somehow I cannot quite bring myself to believe it.  
Follow Fay on Twitter and Instagram at @misskhoo.
More stories from Fay:

Source:http://www.buro247.my/lifestyle/food-and-drink/all-hail-the-mighty-lard.html
As good at cooking as she is good looking