The Mid-Autumn Festival is approaching again. Just a little refresher—the festival is held on the 15th day of the eighth month of the lunar calendar. While you scratch your head in dilemma wondering where and what mooncakes to get, we have compiled a thorough list. Consider this the only list you need for the celebrations in 2019.
Original: https://www.buro247.my/lifestyle/food-and-drink/which-mooncakes-should-you-get-this-year.html
THE ONE THAT GLISTENS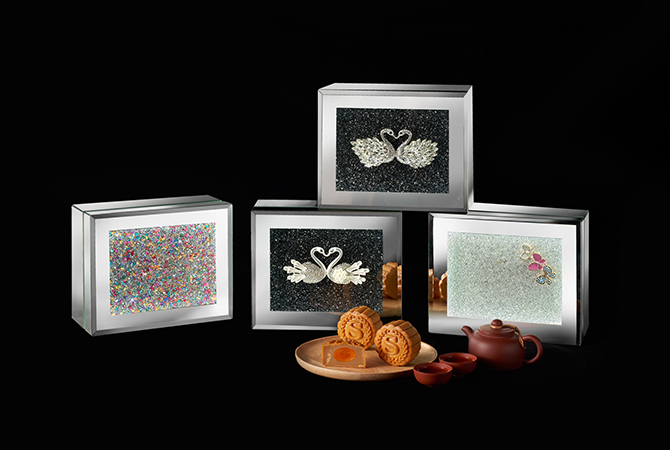 Sheraton Petaling Jaya Hotel's Cantonese restaurant, Yue, is showcasing exclusive and glistening boxes with four flavours of traditionally baked mooncakes. Designed beautifully with individual elements of Swan Crystal, Swan Pearl, Butterfly and Rainbow Stones, the boxes are the perfect way to store your mooncakes, especially as gifts. Flavours include white lotus with single yolk and red bean with melon seed. Marie Kondo wouldn't make you throw the sophisticated trunks away because they will always spark joy.
Available till: 13 September 2019
Price range: RM26 nett per mooncake and RM168 nett for gift box of four mooncakes
Contact: 03 7622 8888 or email [email protected]
PAINT THE TOWN RED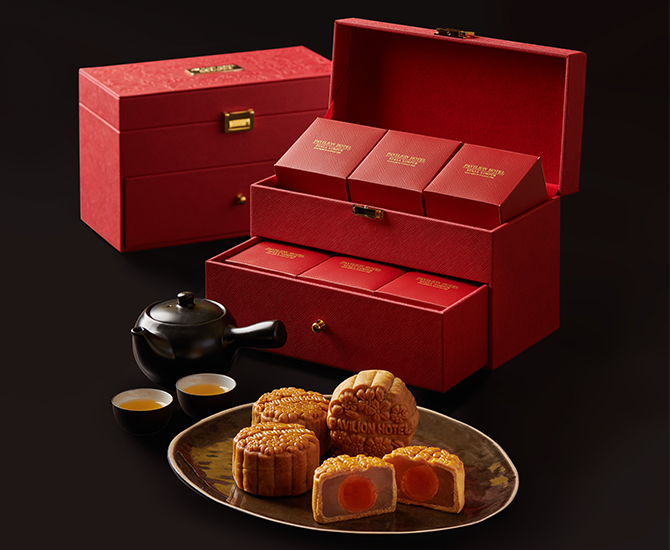 This is the very first traditionally baked mooncake series by Pavilion Hotel Kuala Lumpur. The series feature signature flavours blending with seasonal produces. All mooncakes are individually sealed and encased in a premium designed box, making it a perfect gift. What can you get? Durian Lotus Paste, Yam Lotus Paste as well as Assorted Nuts and Sun Dried Fruits are some of the options to select from. There is also a low sugar option for the usual Lotus Paste if you're into one that's less taxing on your health (and weight).
Available till: 13 September 2019
Price range: RM198 nett for box of six mooncakes
Contact: 03 2117 2888 or email [email protected]
THE ONE WITH FANTASY AND LIGHTS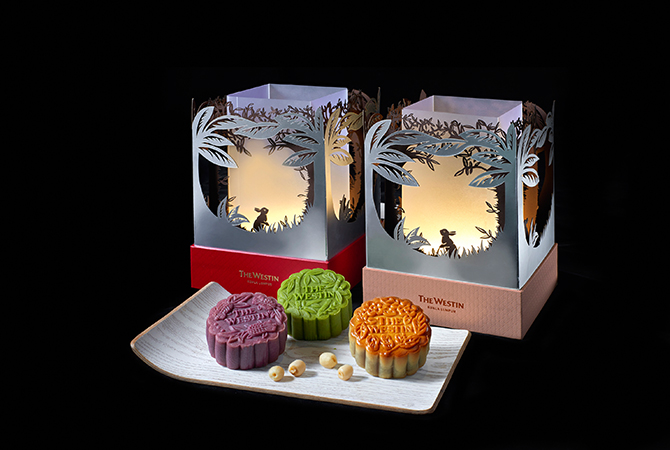 The Westin Kuala Lumpur's Five Sen5es presents Yue Fantasy, a selection of mooncake flavours that pay homage to the old-world charm of lunar worship. You can choose from eight types such as Black Sesame, Pandan Mung Bean, Low Sugar White Lotus Paste as well as new flavours like Taro Sensation and Purple Sweet Potato. Gift boxes come with personalised Yue Fantasy or Premium LED Light Box. The gift boxes comes incorporated with a set of Bluetooth speaker, allowing you to play your preferred tracks while relishing on mooncakes. You can open the box easily and remove the speaker light box from the inside and use it as a desk decorative light at home, room, or office.
Available till: 18 September 2019
Price range: RM138 nett/RM178 nett for a set of four in Premium LED Light Box/Yue Fantasy Box
Contact: 03 2773 8495 or email [email protected]
THE UNIQUELY ELEGANT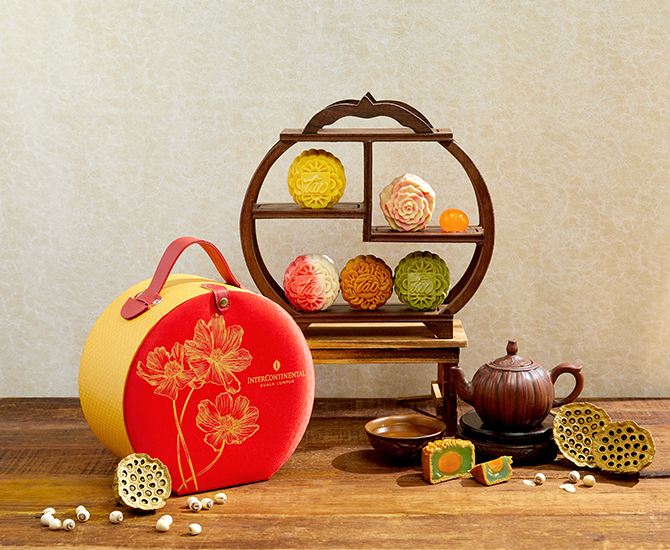 Themed Orient Lustre, InterContinental KL's set is curated by Chef Lo Tian Sion, Tao's Master Dim Sum Chef, and his team. Varieties include baked mooncakes and delicately crafted snow skin mooncakes. Designed in a flower shape is the chef's signature—Almond Baked Skin, Pandan, Cream Cheese Salted Yolk and Chestnut Mooncake. What's new? Almond bulbs are used as its skin because they are healthier options. That's not all as the Durian Snow Skin Mooncake with Salted Caramel Chocoate is also back by popular demand. In addition to that, you can also go for Green Tea Paste with Tiramisu, and Pomegranate Snow Skin with Teo Chew Yam Paste, which are new flavours of the year.
Available till: 13 September 2019
Price range: RM30 nett per piece for baked skin, RM32 nett per piece for snow skin
Contact: 03 2782 6128 or email [email protected]
THE ONE WITH THE SEXY GLASS BOX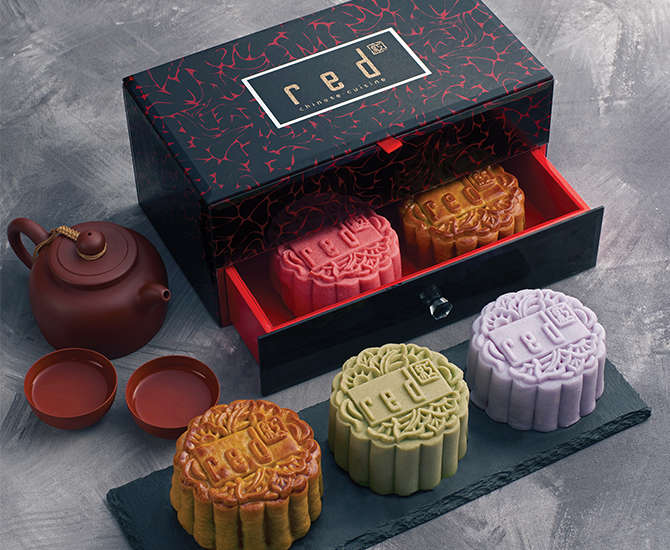 Say yes to reusable boxes. Red Chinese Cuisine at Pullman Kuala Lumpur City Centre Hotel & Residences has curated indulgent mooncakes encased in limited edition boxes featuring a flora pattern inspired by motifs that grace the restaurant's interior. You can try the White Lotus Paste, Bamboo Charcoal Paste with Macadamia Nut and Raisin as well as the brand new, Five-variety Nuts with Dried Longan and Osmanthus. If you think that's all, there are also the Snow Skin with Roselle and Strawberry Paste and Snow Skin with Matcha Green Tea and Red Bean Omochi among many others.
Available till: 13 September 2019
Price range: Mooncakes start from RM32 per piece
Contact: 03 2170 3259 or email [email protected]
THE CREA-INVEN-TIVE ONE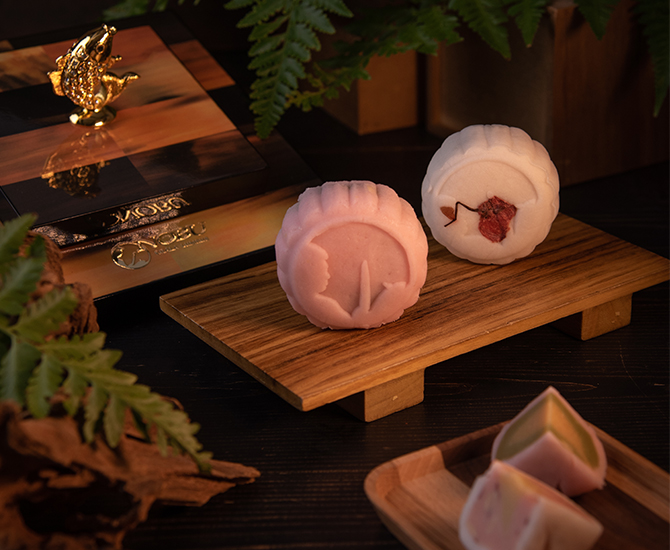 Celebrate Mid-Autumn Festival with Nobu KL this year. Lunar Fortune is an assortment of uniquely flavoured Nobu-style mooncakes. Amongst this year's fillings include Miso yolk, Wasabi yolk, Green Tea and Black Sesame—all set within a traditional, Shanghai or snow skin mooncake. The pastries are presented within a reusable lacquered box, adroned with a variety of distinctive wooden finishes and completed with commemorative 3D replica of a traditional koi carp, available in Gold and Silver. You will be able to select from two sets—Signature and Premium. The former comes with Charcoal Hojicha, Green Tea Pure Lotus, Shanghai Red Bean, and Shanghai Black Sesame with Wasabi. As for the latter, you will get Sakura Mochi, Pandan Paste with Miso Yolk Mochi, Shanghai Red Bean Paste, and Green Tea Pure Lotus.
Available till: 13 September 2019
Price range: Signature set is priced at RM148 nett and Premium set is priced at RM168 nett
Contact: 03 2164 5084
THE OPALESCENT ONE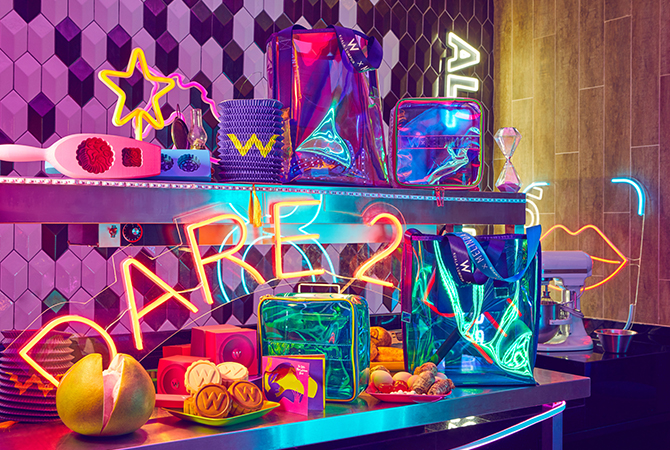 This year, W Hotel KL's mooncake set is designed in collaboration with notable designer, Melinda Looi. A set includes four mooncakes packaged in W's vinyl DJ disc mooncake box and placed in a translucent square pouch—also with a packet of candles, a paper lantern and a little booklet with stories of the Mid-Autumn traditions. In addition to these goodies, you will also be receiving a Melinda Looi x W Kuala Lumpur tote bag. As for the mooncakes, the hotel has decided to keep them classic this year. Opt for old school favourites like white lotus seed paste with single yolk, red bean paste with aged mandarin skin, and yellow lotus seed paste with double yolk.
Available till: 12 September 2019
Price range: RM198 nett for a box of four including a Melinda Looi x W Kuala Lumpur tote bag
Contact: 012 347 9088 or email [email protected]
THE ONE WITH MALAYSIAN PRIDE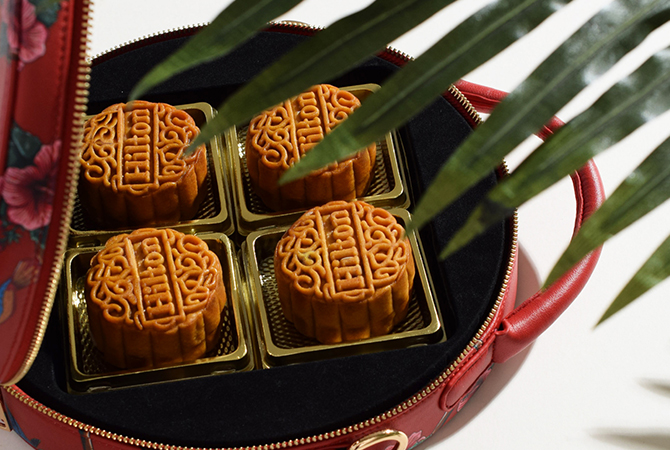 Malaysian fashion designer, Christy Ng is collaborating with Hilton KL for this year's mooncake gift boxes-with the hibiscus as the inspiration. The rounded faux leather creation features prints of the national flower of Malaysia as well as gilded zippers and trimmings. Make your choice between Crimson Red and Royal Purple. Why not try the signature snow skin mooncake, Chynna Rose (with ginseng, tart hibiscus jam and crispy almond nibs, all encased within a subtle lavender-hued snow skin). Oh, and do you know what's returning? Snow Skin with Pure Premium Musang King Durian, if you're into that.
Available till: 13 September 2019
Price range: Starts from RM168 for baked mooncakes, and RM178 for snow skin mooncakes, RM148 for the gift box only
Contact: 03 2264 2006 or email [email protected]
THE ONE WITH THE SOPHISTICATED WINE BOX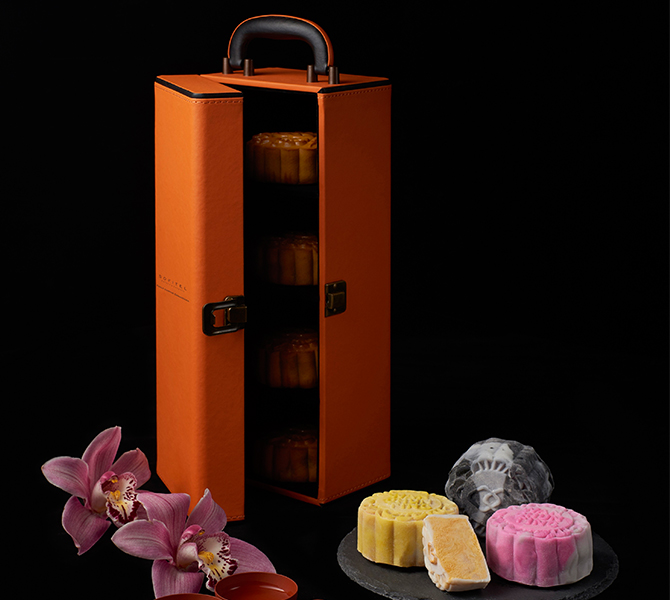 A mooncake box that doubles as a wine container? Yes, please! The bold orange leather case is specially designed to exude sensible sophistication. Highlights for mooncakes by Sofitel Kuala Lumpur Damansara include the newly introduced Dragon Fruit with Blueberry Truffle, the limited edition Musang King, the Black Charcoal with Cheese, and Coffee Paste with Butter Cream.
Available till: 13 September 2019
Price range: RM198 nett for premium gift box with four mooncakes
Contact: 03 2720 6688 or email [email protected]
A CRYSTALISED MID-AUTUMN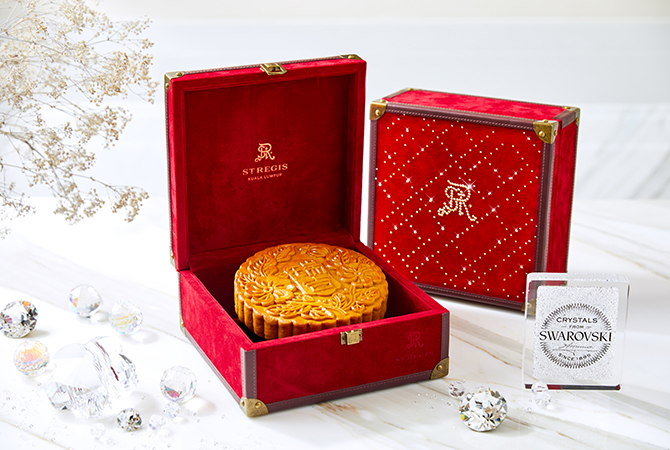 This year, Swarovski and The St. Regis Kuala Lumpur have united to bring the Super Mooncake Trunk to life. Embellished with 307 Golden Shadow crystals, this is a first-of-its-kind in Southeast Asia. Traditional mooncakes include white lotus seed paste and their signature 6.5-inch super mooncake with eight yolks. As for the trunks, you have the choice to decide from a Classic trunk of four, Super Mooncake trunk and the Swarovski Super Mooncake trunk. Reuse the trunk to store your favourite jewellery, stationery and toiletries.
Price range: Classic trunk (RM180+), Super Mooncake trunk (RM200+), Swarovski Super Mooncake (RM380+)
Contact: 03 2727 6696 or email [email protected]
THE TIMELESS BITE-SIZE GOODIES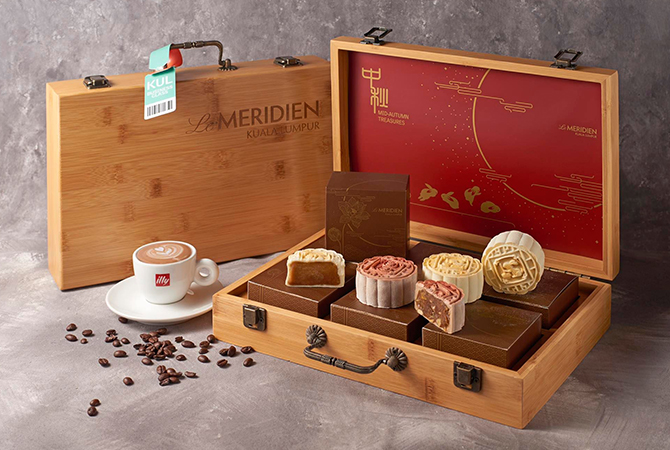 Le Méridien Kuala Lumpur's mooncakes are available in a myriad of flavours that include baked lotus paste, baked white lotus paste with black sesame as well as pandan infused paste. There's also the baked durian paste if you're into the King of Fruits. Apart from that, you can also indulge in the illy Coffee Snow Skin and the illy Coffee Snow Skin with Pumpkin Seeds.
Available till: 13 September 2019
Price range: RM158 for a gift box with six mooncakes
Contact: 03 2263 7434 or email [email protected]