Food + Drink
Wakuda at Marina Bay Sands: Modern Japanese food with a celebrity chef flair
Meet Waku Ghin's younger and more approachable sibling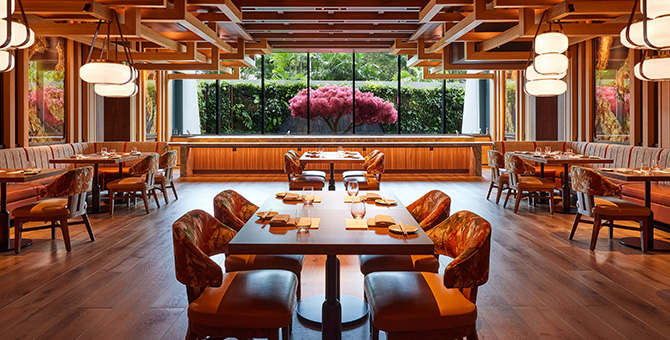 Celebrity chefs love Marina Bay Sands, and the feeling is clearly mutual. However, for the diners, it was a chance to experience the culinary vision behind two Michelin-starred Waku Ghin (awarded in 2017, 2018, 2019 and 2021) and Sydney's critically-acclaimed Tetsuya's Restaurant—but in a cosier, more "accessible" setting.
A unique partnership between chef Tetsuya Wakuda and award-winning restaurateur John Kunkel of 50 Eggs (Yardbird), Wakuda officially made its debut in mid-April 2022 to a much-celebrated fanfare.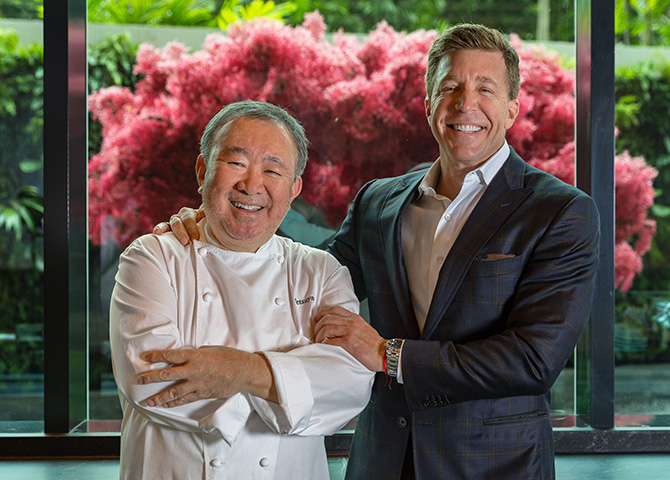 Thus, expectations were high. Prior to my visit, I knew of Waku Ghin's star-studded reputation and had the impression that Wakuda served an izakaya-inspired menu. With its natural stone walls surrounded by kumiki wooden flourishes, the restaurant sat unassumingly in the grand lobby of the Marina Bay Sands Hotel. There were no windows for passersby to peek into either. But past the front desk and through the single piece of noren (traditional Japanese curtain dividers), the sight before me was enthralling.
The first image that caught my eye was the expansive Main Dining Room that stretched to a marble counter with the backdrop of an outdoor garden anchored by a lone Japanese maple tree in full pink bloom. On the other end of the room was The Bar, which houses nearly 100 different sake labels in addition to a seemingly endless beverage menu of Old World vintages, New World wines, refreshing handcrafted cocktails and chef Tetsuya's bespoke brews.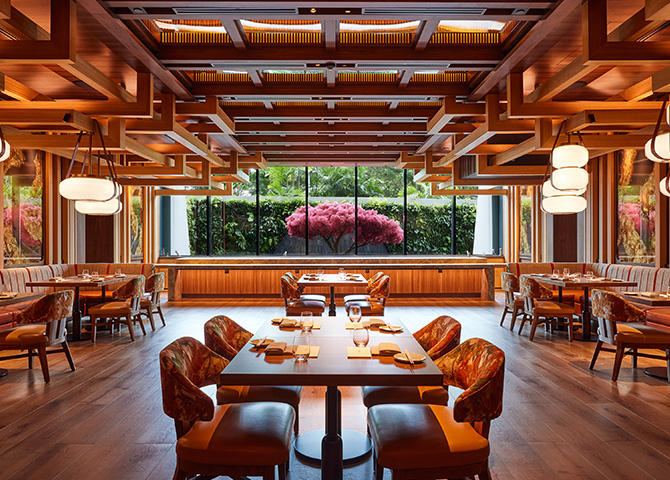 The restaurant was buzzing, the energy eclectic, and the ambience inviting. Further setting the mood was the atmospheric lighting and Japanese funk-pop playlist in the background. All of these loudly hinted at how different Wakuda is from its older siblings: youthful, fun, vibrant and incredibly friendly to all. This was especially showcased in the food.
Like an izakaya, diners have a vast selection, be it appetisers, sushi, chirashi, rice and noodles or grilled items. But, unlike a typical izakaya that you stumble into—while there are classics—Wakuda is chef Tetsuya's opportunity to have fun with his creations. Everything was familiar yet new, different and unimagined before.
For example, Yuba (SGD$38) came in a tall martini glass where one could immediately recognise the golden-orange Hokkaido sea urchin topped with glistening mountain caviar and pink edible flowers. But beneath this layer was fresh, silky bean curd skin directly imported from Kyoto. In one mouthful (or a sip for the cautious), it was a vibrant burst of flavours and texture, punched slightly by the teensy wad of wasabi.
To play with flavours well is to have fresh ingredients with exquisite taste profiles to mix and match, and Wakuda takes pride in sourcing only the best ingredients from Australia, Europe, Japan and New Zealand. Take the roasted Carabineros Prawns (SGD$43) paired with miso risotto—a Wakuda signature—for example. Elegantly plated with a striking ruby-red colour, the jumbo prawn was meaty and flavourful, complementing the umami from the miso.
Then, there's also the Charcoal Grilled Kagoshima Wagyu (SGD$108) with its savoury, fragrant and slightly crisp coating. But a bite through its pinkish centre will immediately fill your palate with the A4 wagyu's sweetness and velvety tenderness. The dish is accompanied by a shiro-negi-based(Japanese long onion) sauce dip to help cut through the beef's fattiness though I was fine without it too.
For a lighter option, the Cold Soba (SGD$72) served with Botan shrimp, thinly sliced summer truffles and fresh Oscietra caviar is another Wakuda must-have. The combination results in a reinterpretation of an Asian-style pasta with rich creaminess in every mouthful.
In terms of sushi (from SGD$14 per piece), the trio that the chef selected for our dinner party—otoro, chutoro and salmon—left us all in quiet satisfaction. The vinegared rice was soft and warm, while the generous cuts of fish atop it were lightly brushed with yuzu for a modest tangy boost.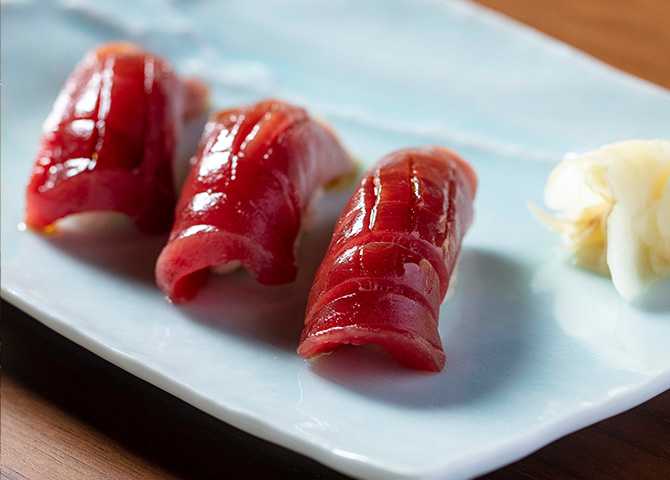 Moving on to the dessert menu, the Japanese musk melon from Shizuoka (SGD$28) topped with a scoop of Fromage Blanc Sorbet and Cointreau granita served as a great palate cleanser. Matcha fans would find delight in the bittersweet Green Tea and Azuki Bean Terrine (SGD$25), but the real winner in my books was the Wakuda's House Special (SGD$13) and a chef Tetsuya's fave: miso soft serve in a glass cup. Simple, slightly savoury and not too sweet, it's the perfect conclusion to a decadent order of small plates, proteins and carbs.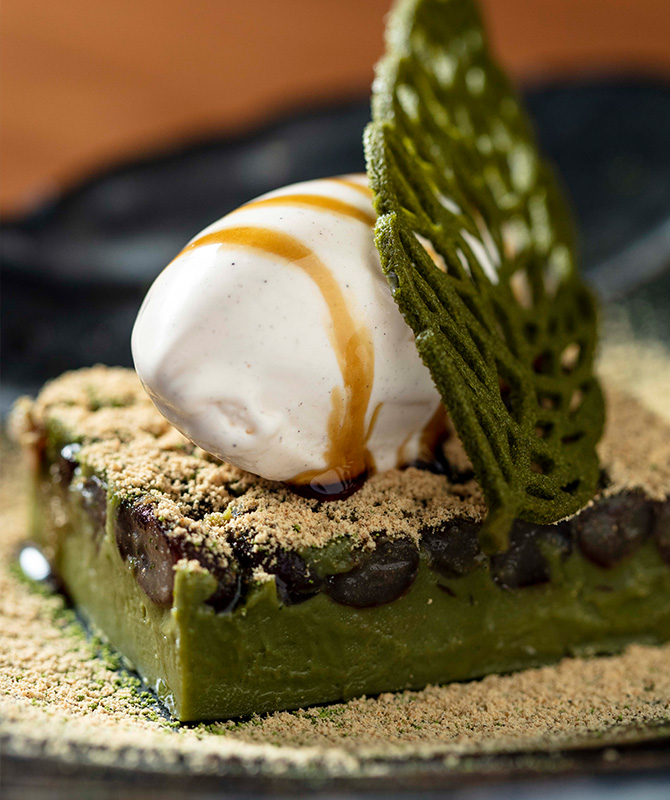 By the end of the night, our hearts and stomachs were full. Wakuda served its purpose as a hotspot in Marina Bay Sands for meetings and conversations with delicious yet innovative food and drinks, be it for casual business talks or intimate catch-ups with loved ones. And Wakuda Singapore is just the beginning. Next up: Wakuda Las Vegas.
For more information or to make a reservation, visit Wakuda Singapore's website, call +65 6688 9992 or email [email protected].
| | |
| --- | --- |
| SHARE THE STORY | |
| Explore More | |