Food + Drink
The Glenfiddich Grand Series: Whiskies made for occasions to remember
True maverick spirit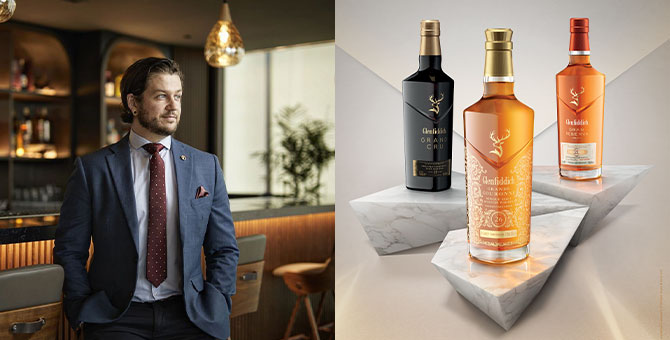 Every grand occasion deserves a toast to mark the occasion (can we get some cheers to that?). With celebrations and events back in business, Glenfiddich—which prides itself as the World's Most Awarded Single Malt Scotch Whisky brand—recently unveiled its newest range in Malaysia: the Glenfiddich Grand Series.
Created to elevate ordinary celebrations to extraordinary moments in the brand's true maverick spirit, the series consists of three indulgent whiskies, namely the Gran Reserva, Grand Cru, and Grande Couronne. These are top-tier expressions that marry luxury and tradition, far more precious than your average 12- and 18-year-old drams on a casual Wednesday night.
BURO talks to Brett Bayly, Southeast Asia Brand Ambassador for Glenfiddich, to learn more about the series and what makes it perfect to celebrate grand occasions.
Hi Brett! Tell us how did the idea behind the Glenfiddich Grand Series come about.
"The Grand Series was launched with a singular purpose in mind, and that is to elevate occasions. Our Malt Master Brian Kinsman, along with our global brand team, saw that there was an abundance of choices for whiskies—all with really fantastic traditional personalities—but none seemed to really focus on a purpose for occasion.
"The Grand Cru was what I daresay kicked the whole format off, building a whisky that was an immediate 'no-brainer' when it came to reaching for a bottle in order to celebrate the occasion. The cask finish, flavour profile, and packaging all speak so true to this, and it leads to the opportunity to highlight occasions across the range."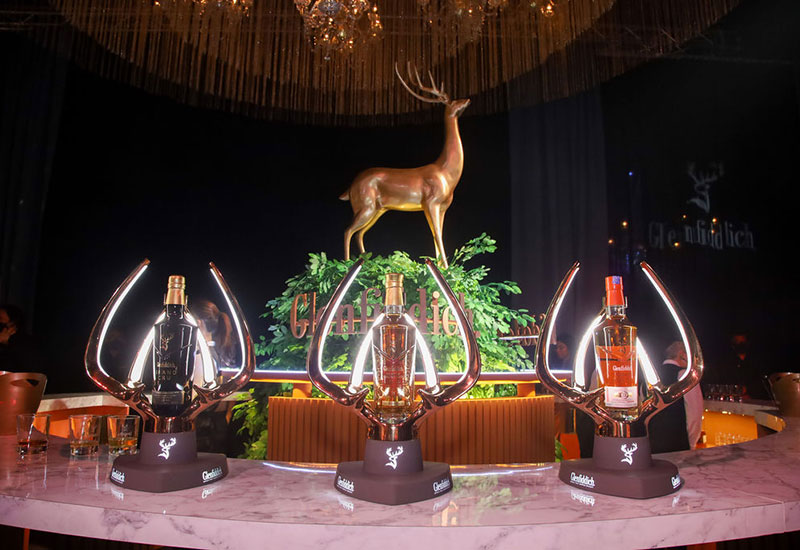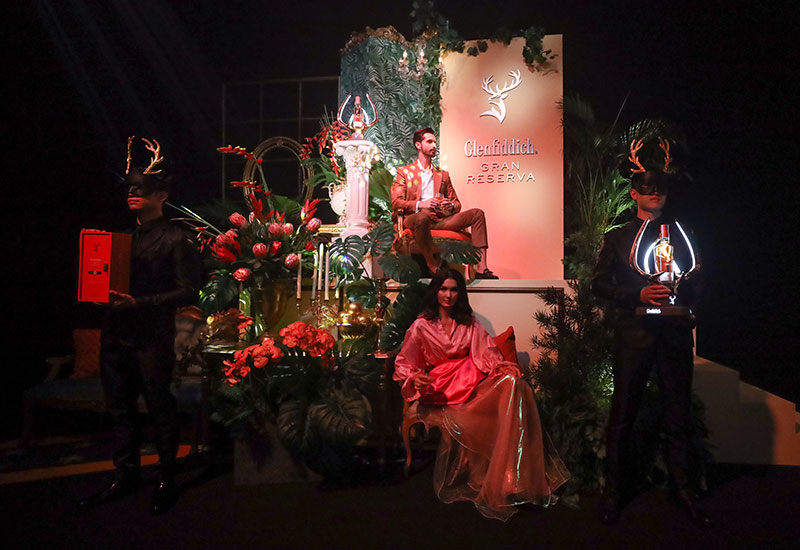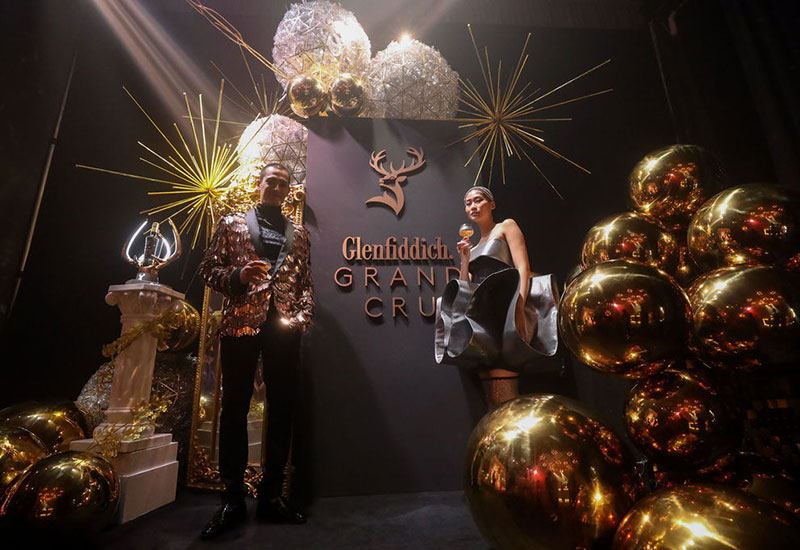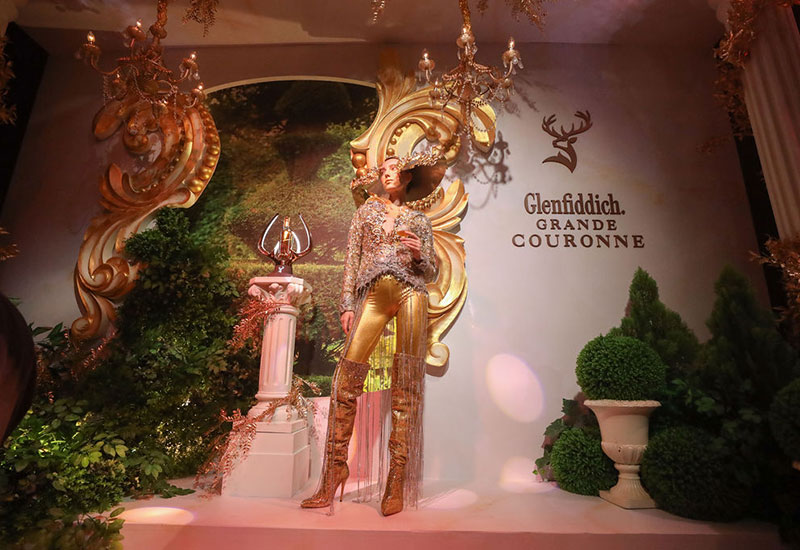 What sets the new series apart from other Glenfiddich whiskies?
"Each of these drams is really based on how an occasion can be the reason for selecting which whisky you go for. I always try to talk to people about why I drink what I do and when I do, being governed by what the occasion is.
"If you think about who, what, where, and why you're reaching for a whisky, you'll end up realising that your favourite whisky may not be the most appropriate! [For example,] if I was sitting on a beach somewhere in South East Asia, and my favourite whisky was heavily peated, and my friends are not heavy whisky enthusiasts, then it's probably the wrong whisky to reach for—and that I think is where this range is going. Consider what the purpose of sharing a drink is, and yes, there should always be a purpose!
"Further to the point, the actual liquids inside the bottles also are phenomenal. Each brings a new personality to life that is thoughtfully aligned with the occasion it's meant for, be it big and bold with spice, or delicate and playfully sweet."
Why is the Grand Series perfect to celebrate occasions?
"I think of brands as personalities, and in each brand, an SKU can have its own personality as well. This series is such an exciting extension of the Glenfiddich universe, as it brings these archetypes to life in such a fantastic showcase of what each bottle represents.
Gran Reserva: Raised in Scotland. Roused by the Caribbean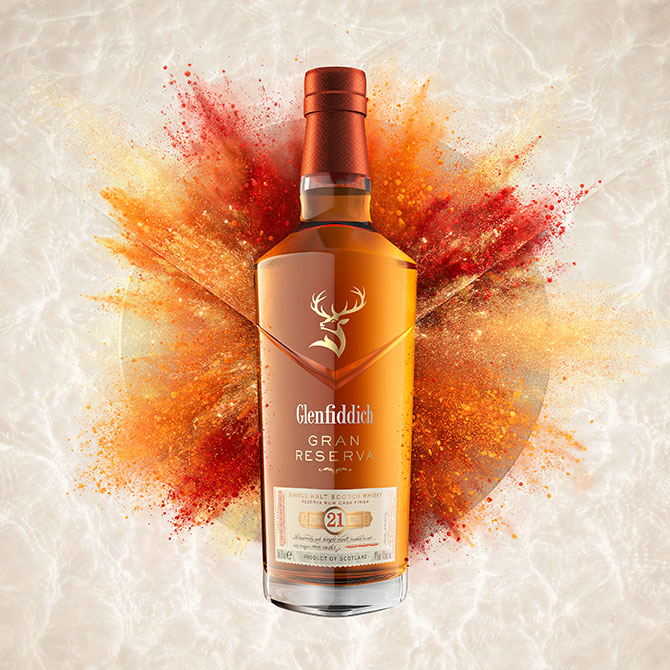 Mellowed for 21 years in carefully selected American and European oak casks and finished for six months in Caribbean Rum casks, the Gran Reserva builds to a crescendo of sweet toffee and spicy exotic warmth. Embodying a blend of tradition and rebellion, the liquid is housed in vibrant, deep amber packaging and reminiscent of the warm hues of beach sunsets complete with Caribbean-inspired illustrations.
Grand Cru: The finest flavours from Scotland and France fused through the art of experimentation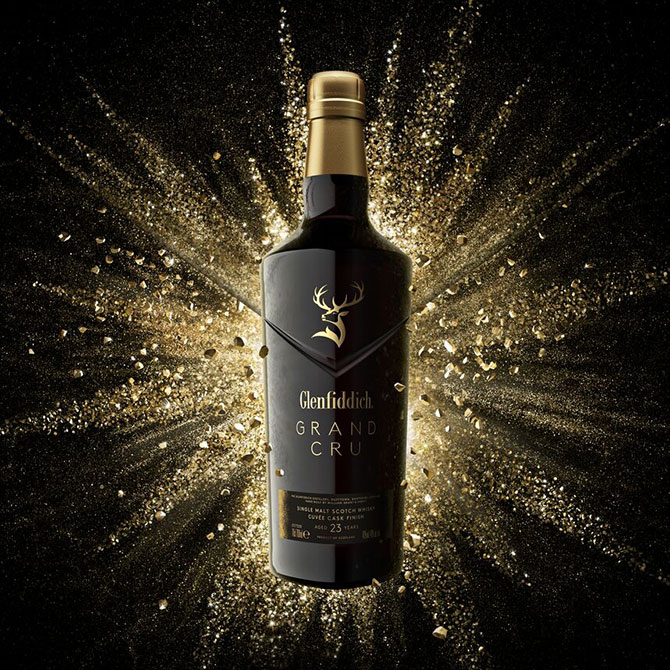 The Grand Cru is matured for 23 years in hand-selected oak casks, before it is finished in rare French cuvée casks for six months—the first and only Glenfiddich expression with this finishing. It arrives corked in a bottle of black glass embellished with gold foil, reflecting a true testament of craftsmanship. This masterpiece of whisky-making brings sophisticated richness to the palate, making it an impeccable accessory for any social event of the season.
Grande Couronne: The crowning glory to your celebrations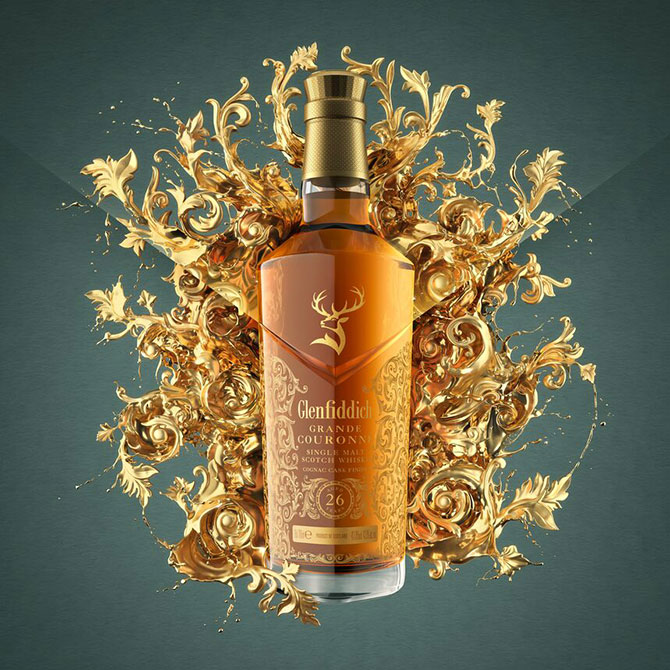 Taking pride of place as the piece de resistance of the Glenfiddich Grand Series, the Grande Couronne is the epitome of true opulence. Even its name means crown in French, befitting a rich and regal expression that is aged for 26 years before receiving an extended finish of up to two years in rare French cognac casks that are painstakingly sourced in limited quantities. Presenting exquisite layers of sweet toasted oak and velvety aromas, the whisky is secured with a 26-sided gold closure and adorned with gold filigree. Designed to impress on the most important of occasions, the Grande Couronne is single malt ascended.
Tell us more about the packaging. What's the story behind the opulent designs?
"When creating packaging, brands always want to stand out with consistency to align their brand. The Grand Series packaging absolutely nails this, but also really highlights through small details on each bottle what it is that we're pushing. Personality is critical, as it allows us to cue the consumer for what to expect, without them having to really deep dive into the technical side of the liquids."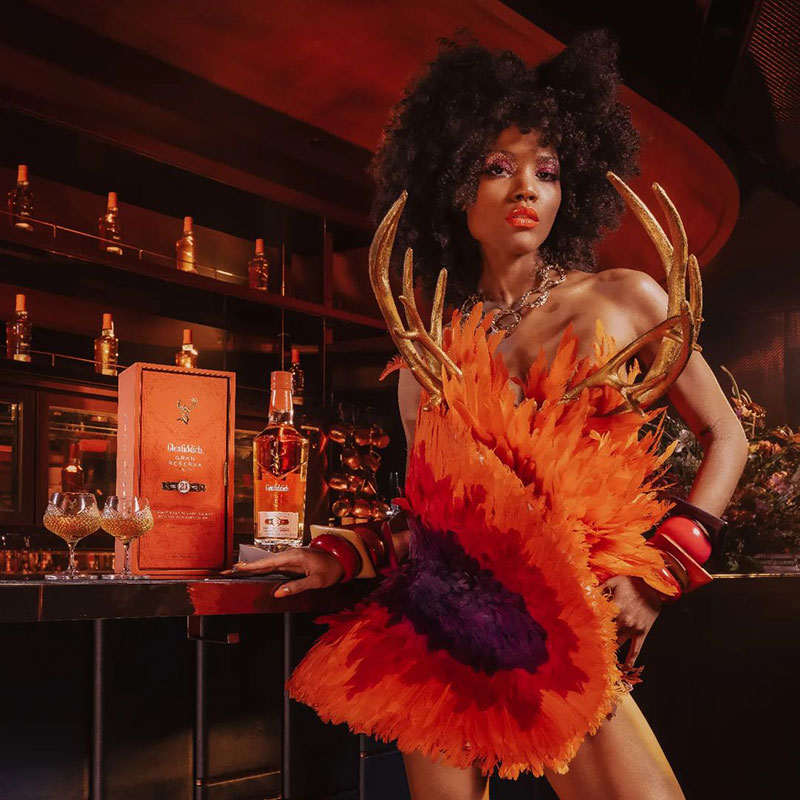 "The Grand Reserva has fantastic nods to the Caribbean, bringing that rum culture to life with small details like the ribbon label having a cigar ring around the 21-year age statement."
"If we look at the Grand Cru, the stopper on top of the bottle shows indentations, marking the cage lines on the cork of a bottle of sparkling wine, which is traditionally opened for celebration."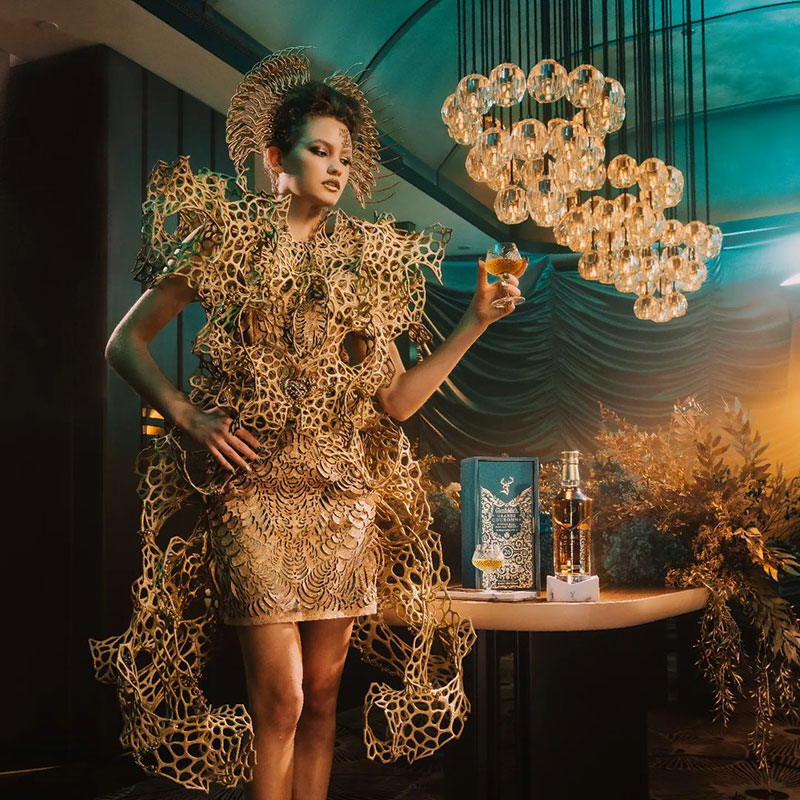 "Finally, if we look at the gold detailing on the bottle, and gorgeous artwork inside the box of the Grande Couronne, we see that French opulence of the cognac world is brought to life, while still staying true to our liquid style."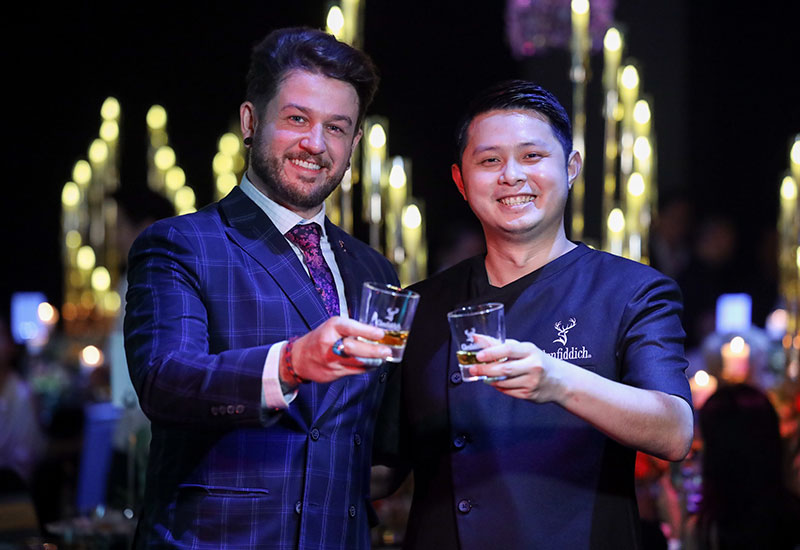 How does the Glenfiddich Grand Series embody the brand's values and heritage?
"When it comes to the world of whisky, people will tell you there are rules and traditions to adhere to. Glenfiddich didn't believe that 133 years ago and they don't believe it now. Like our founder, we've never stood still. Never rested on our laurels. Being a maverick is in our DNA.
"The Glenfiddich Grand Series is a beautifully disruptive series of single malt that promises pleasure, celebrates milestones, and oozes opulence. Each of the expressions has been crafted to elevate a traditional celebratory occasion in a new, relevant, and compelling way, bringing forth a crescendo to every occasion."
The Glenfiddich Gran Reserva, Grand Cru, and Grande Couronne will be available for purchase at Wholly Spirits Retail, WW Warehouse, WL Wine Warehouse, and The Chamber from 1 July 2022 onwards. For more details, follow @GlenfiddichSEA on Instagram.
Read more whisky stories here.
| | |
| --- | --- |
| SHARE THE STORY | |
| Explore More | |