Dining at Sushi Babe was a revelation of sorts. There was nary a piglet nor Japanese lass in sight but our preview of the 17-course Sushi Babe omakase menu served as an epicurean epiphany into modern Japanese dining.
Now, before this is brushed off as yet another reach into the molecular bag of foams and froths to disguise unsatisfying portion sizes, here's the concept at Sushi Babe: respect and reinvention. On his new pop-up to take over the private enclave of The Apartment at KLCC from 17 November to 14 December 2016, Chef Jeff Ramsey, the Michelin-starred culinary maestro says, "We aim to serve you well-crafted fish and seafood dishes that are a homage to my roots as a trained sushi chef. I believe in that the pureness and integrity of well-sourced ingredients must be respected."
From a chef who may or may not have likened sushi of the "jumbled" variety to "sushi-Subway", diners should expect nothing short of clarity, and reverence towards traditional sushi-making techniques. This makes it particularly interesting since the new dining concept stays true to their progressive philosophy of 'fun' replacing the 'fine' in haute cuisine as established at the original restaurant, Babe.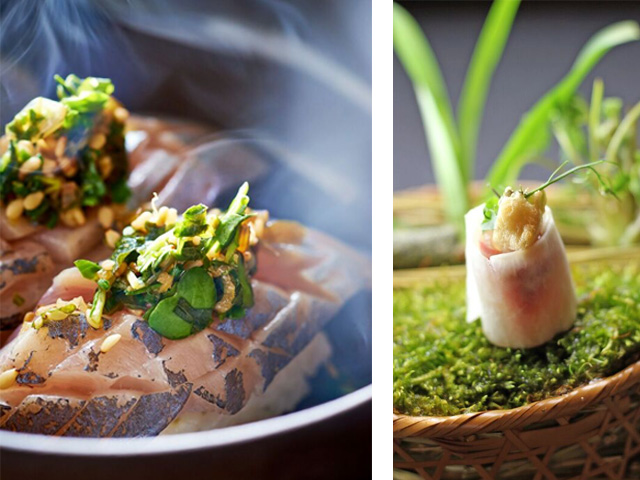 Remember that talk about revelations? We could consider our palates enlightened after the extensive preview tasting. There was bottarga—cured fish roe typically of grey mullet or Bluefin tuna—made with local mackerel, packing a briny punch that was surprisingly moreish; a refreshing glaze or nikiri made of yuzukoshō (a fermented paste of chili, yuzu peel and salt) that offset the buttery quality of buri (Yellowtail belly); and a sanma (Pacific saury) nigiri served with a dash of a special umami soy, which turned out to be soy sauce cooked down with koji, mirin, and sake resulting in a wonderfully savoury umami sans the saltiness that would come with a generous drizzle of your standard soy condiment.
So, there can't really be fun in dining without a smidgen of theatrics. That bit of fun came packaged in a bamboo steamer that unveiled gently burning incense of 1000-year-old cedar trees that had imbued the jack fish nigiri with a delicate smokiness, which then went on to briefly permeate the air with a meditational aura.
Needless to say, the seafood on the menu was all of top quality, having been imported directly from Japan. Beyond the decadent servings of uni and wagyu, however, it was the casual conversation with Chef Ramsey over dinner—who was personally preparing his creations from the other side of the counter—that provided insight into the various dishes and made for a really dynamic dining experience. That is precisely what is in store with a reservation at the sushi bar for omakase at Sushi Babe. Alternatively, the Sushi Babe experience also comes a la carte and in set menus for both lunch and dinner.
Up to six guests will be accommodated per seating for the omakase menu, with a total of three seatings throughout the night (7pm, 8pm, and 8.30pm). The omakase menu is priced at RM 398++ per pax.
Over the course of the pop-up venture, the original home of Babe, Work @ Clearwater, Damansara Heights will be undergoing renovations and is due to reveal a brand new interior by year end.
For further information, send in your queries here.
Related stories:
Babe: Malaysia's Japas fun dining restaurant
Babe: Malaysia's first restaurant by a Michelin-starred chef
| | |
| --- | --- |
| SHARE THE STORY | |
| Explore More | |