Food + Drink
Review: Chef Jeff Okada Ramsey plays on progressive kaiseki at Kintsugi Kuala Lumpur
Finding beauty in imperfection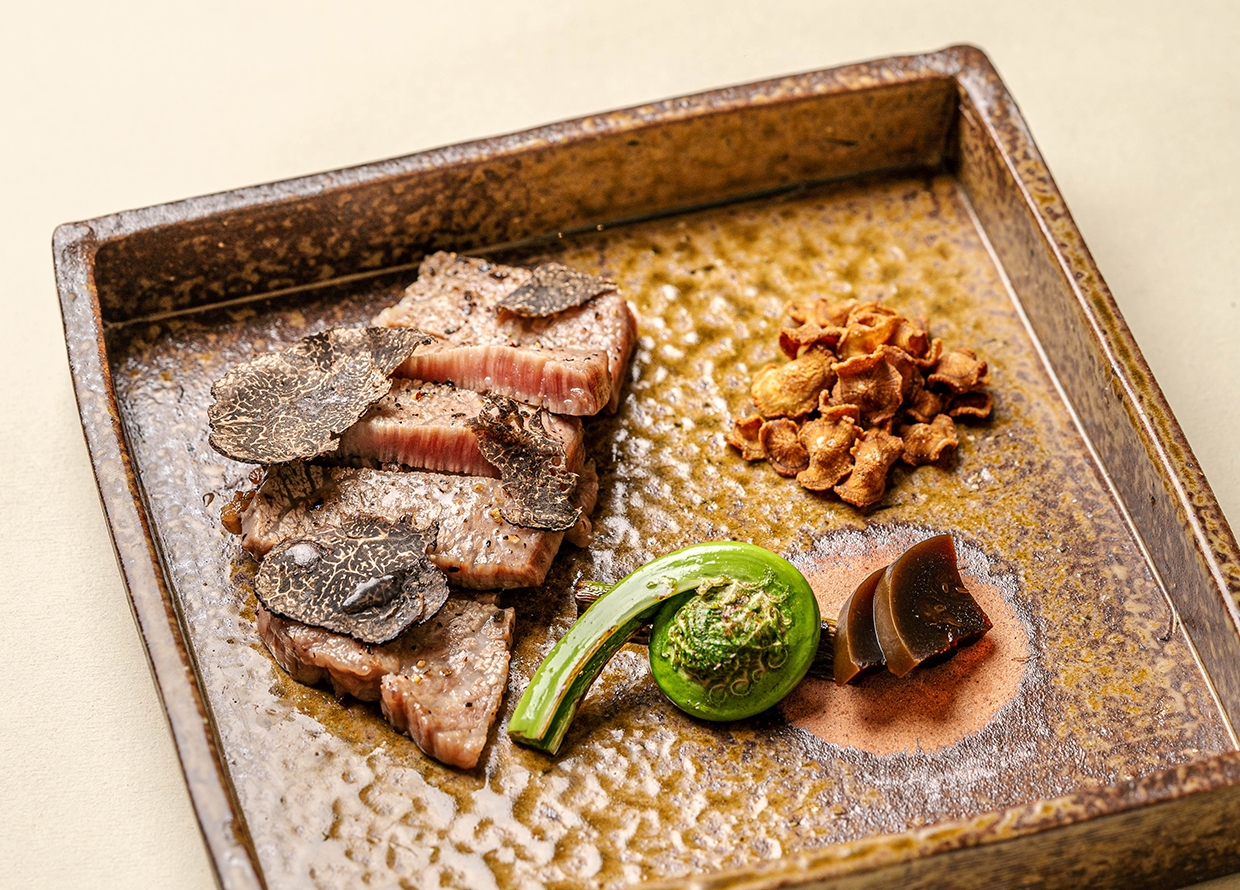 Chef Jeff Okada Ramsey's newest restaurant, Kintsugi Kuala Lumpur, demonstrates his culinary finesse in elevating the traditional Japanese fine dining experience with contemporary elements and techniques. Melding his knowledge with the interesting stories that go behind the creation of these dishes, Chef Ramsey manages to display the flavours and nuances gathered on his culinary journey so effortlessly.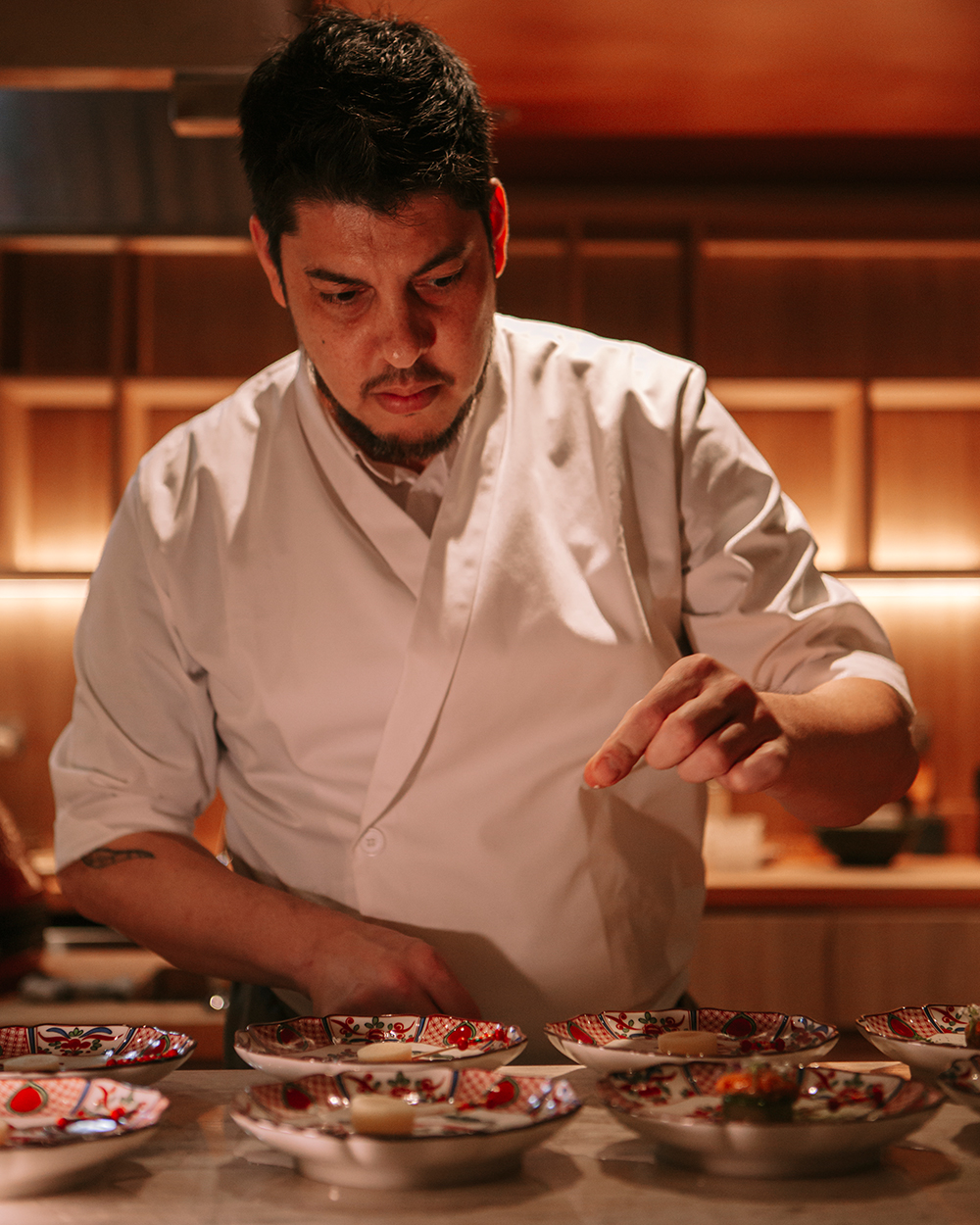 The name of the restaurant, Kintsugi—which is the centuries-old practice of "golden joinery", the Japanese art of repairing broken ceramics with gold lacquer—presents plenty of inspiration to the chef. The menu reflects his take on kaiseki cuisine with a spread of sushi kaiseki and courses that push boundaries while remaining authentic to its origins. The restaurant sources many of its ingredients from Western Japan—where Chef Ramsey's maternal family and wife hail from—while combining them with high-quality local produce, giving the dishes a meaningful perspective.
The Venue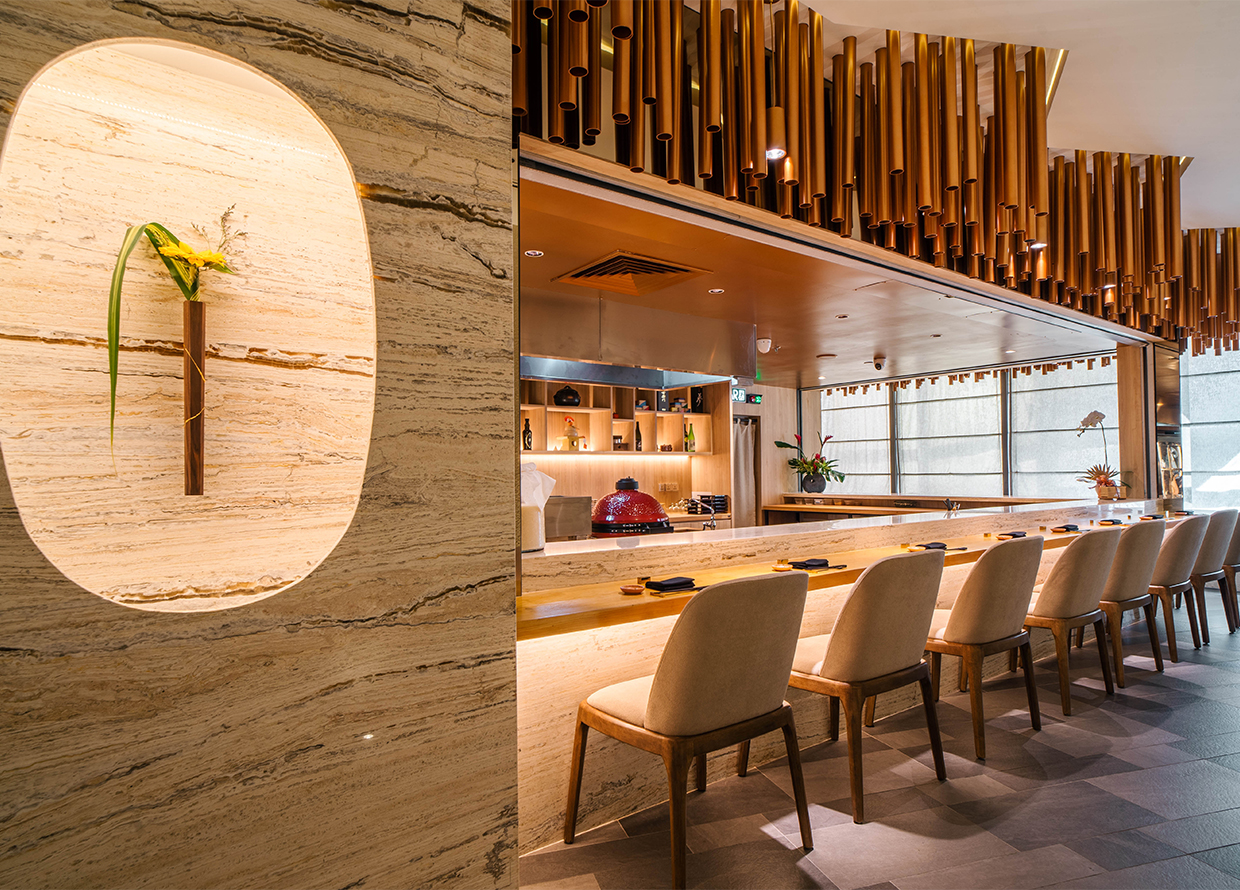 The delicate, elegant, and welcoming space is designed by renowned architect Sim Boon Yang, the founding partner of eco.id architects. As a highlight, he decorated the ceiling with gingko leaves to represent endurance and history in homage to the four gingko trees that survived the atomic bomb blast in Hiroshima, and are still growing today. Kintsugi Kuala Lumpur features a 12-seat kaiseki counter, an 18-seat dining hall, and three private rooms spanning across two sections of the restaurant.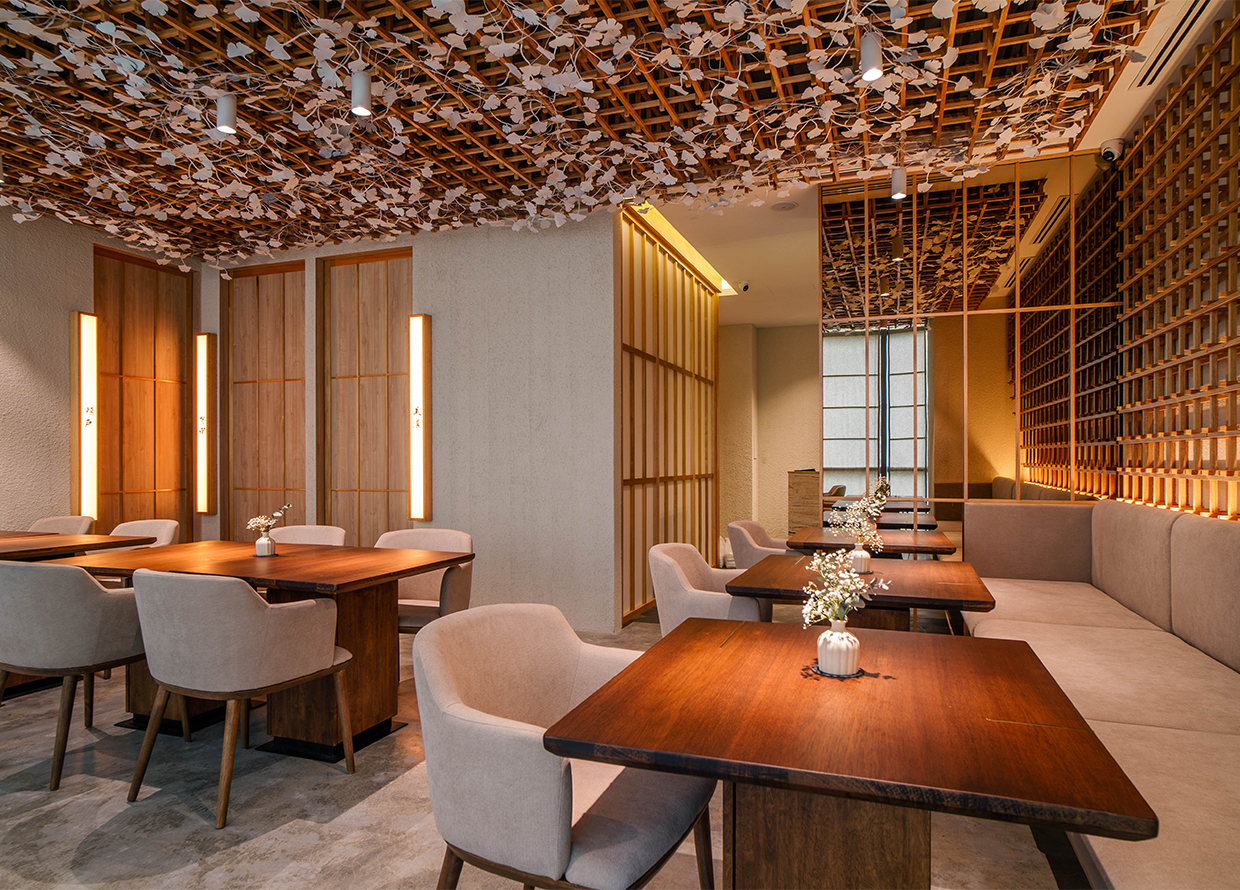 The Omakase Course
Sakizuke (Appetiser): House brewed doburoku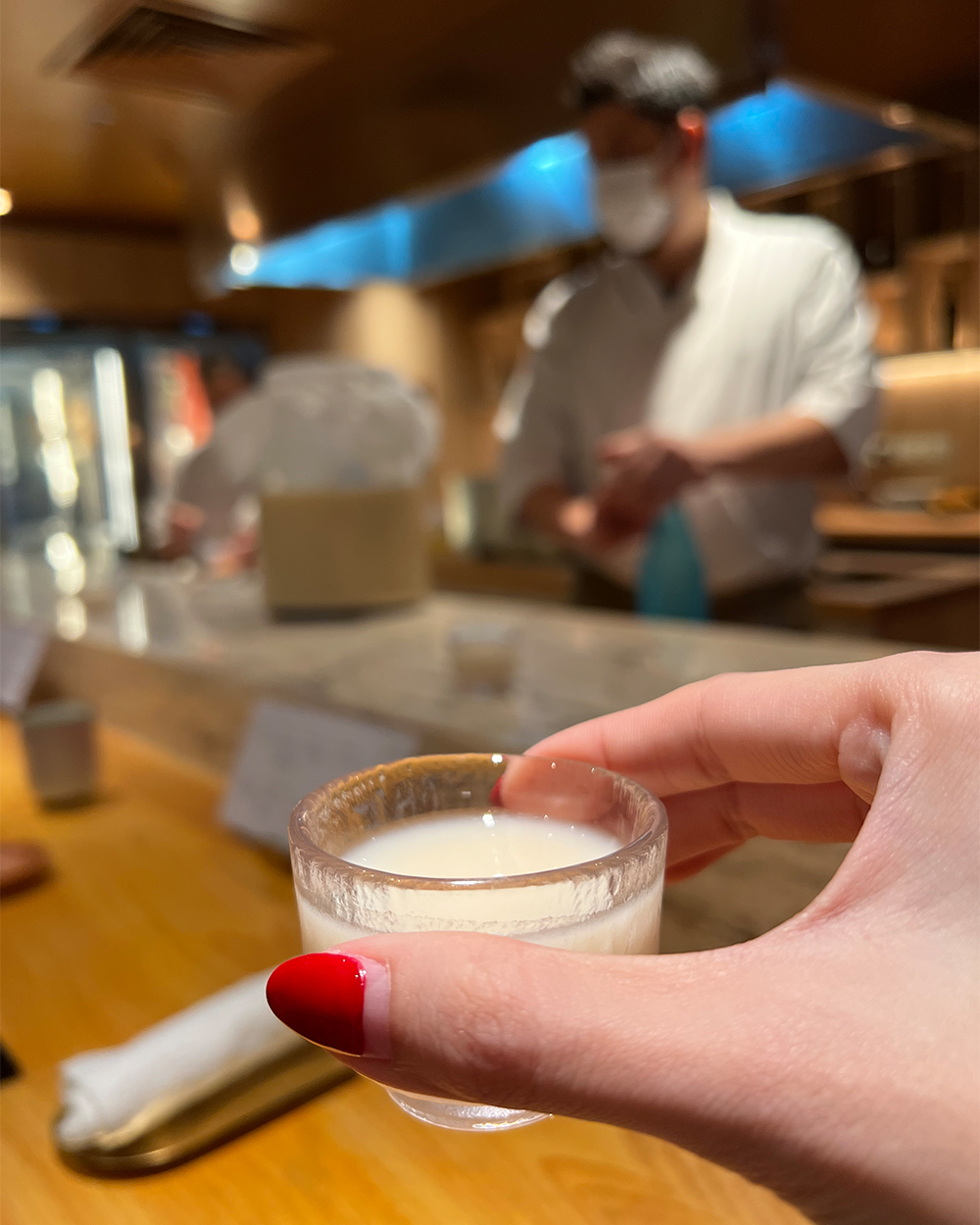 Before we began, the chef introduced us to doburoku, a house-brewed, unrefined sake made with koji rice. The sweet, fragrant flavour reminded me of makgeolli, but much bolder, and it filled me with warmth. If you're looking for something with less alcohol, Chef Ramsey also offers his own version of a sweet sake called amazake that's made from fermented rice, which I would love to try on my next visit.
Hassun (Second course)
Kinmedai nanbanzuke with black pepper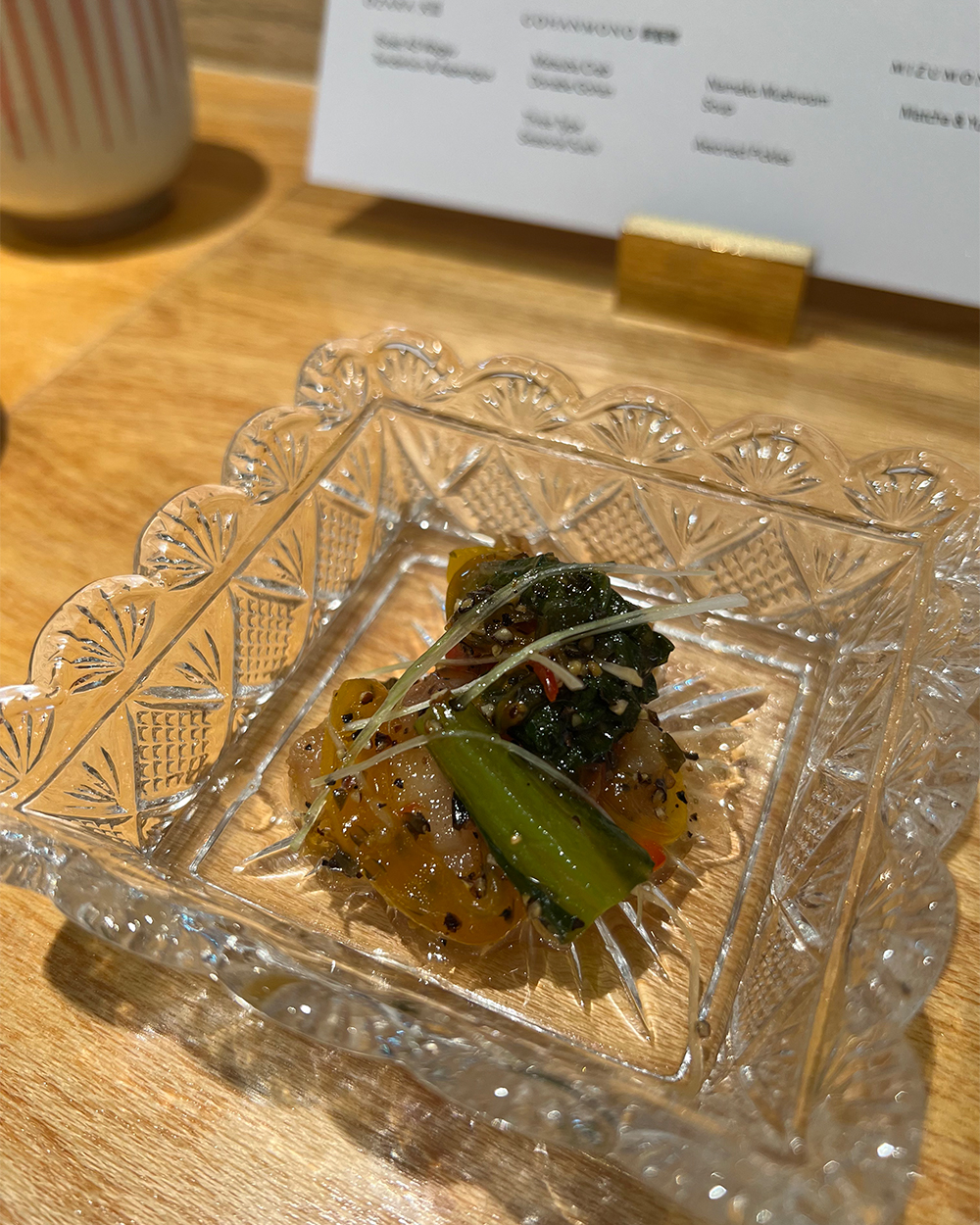 For the second course, we were served two dishes. The first was the restaurant's home-cured Kinmedai, aka golden eye snapper, that's cooked in the traditional Japanese style called nanbanzuke, where the fish is fried and then marinated in a vinegar-based sauce. Kintsugi Kuala Lumpur's take on the black pepper was unique as it's slightly spiced, yet the fish's texture remains tender and not overly soft, which could be due to the curing process done beforehand.
Soy braised ankimo with salmon and pickled plum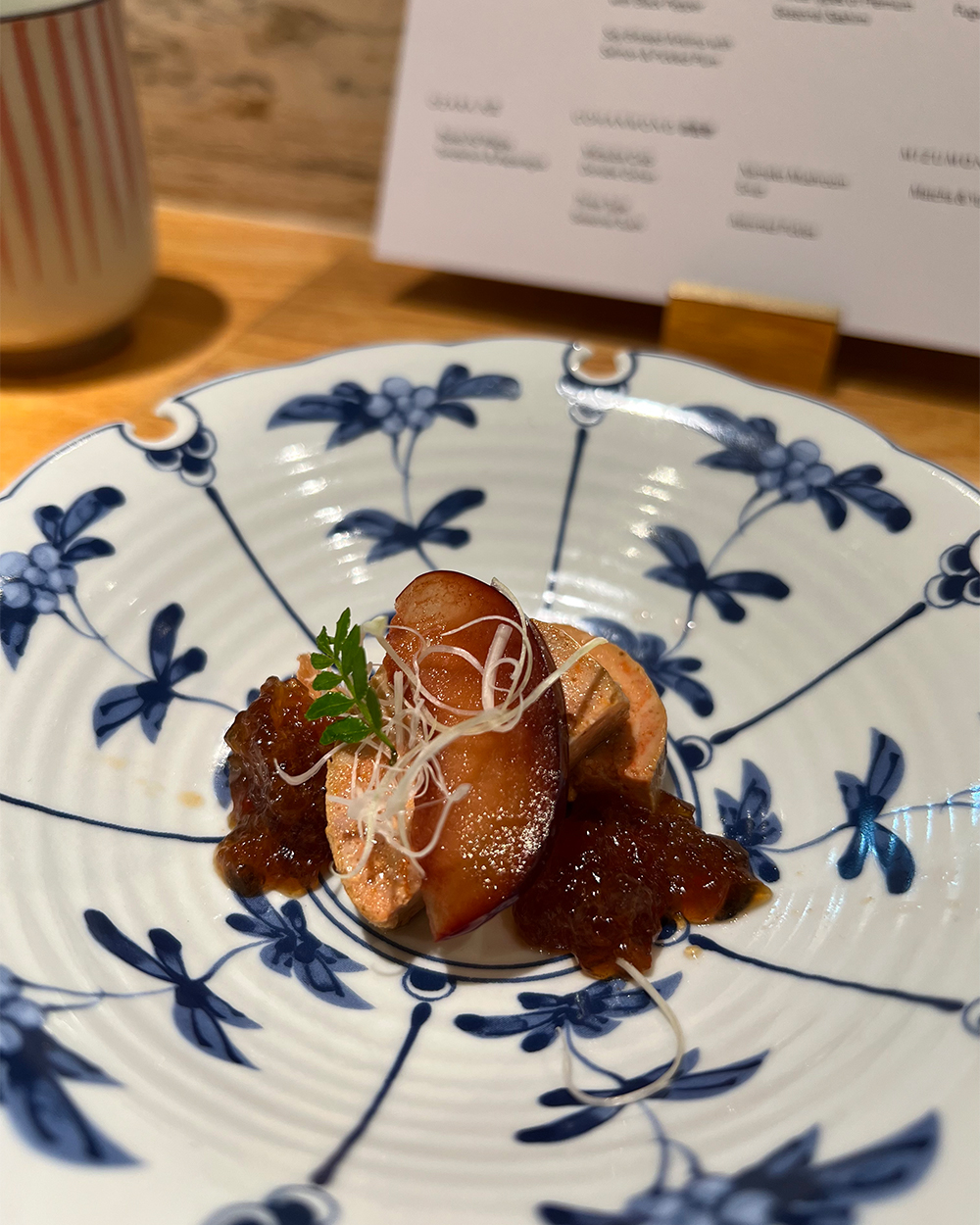 For the second dish, we were presented with ankimo (monkfish liver), which is also known as the foie gras of the sea. The liver was braised in soy sauce, which elevated the umami notes and paired well with the pickled plum's slight acidity. 
Mukozuke (A sliced dish with seasonal sashimi)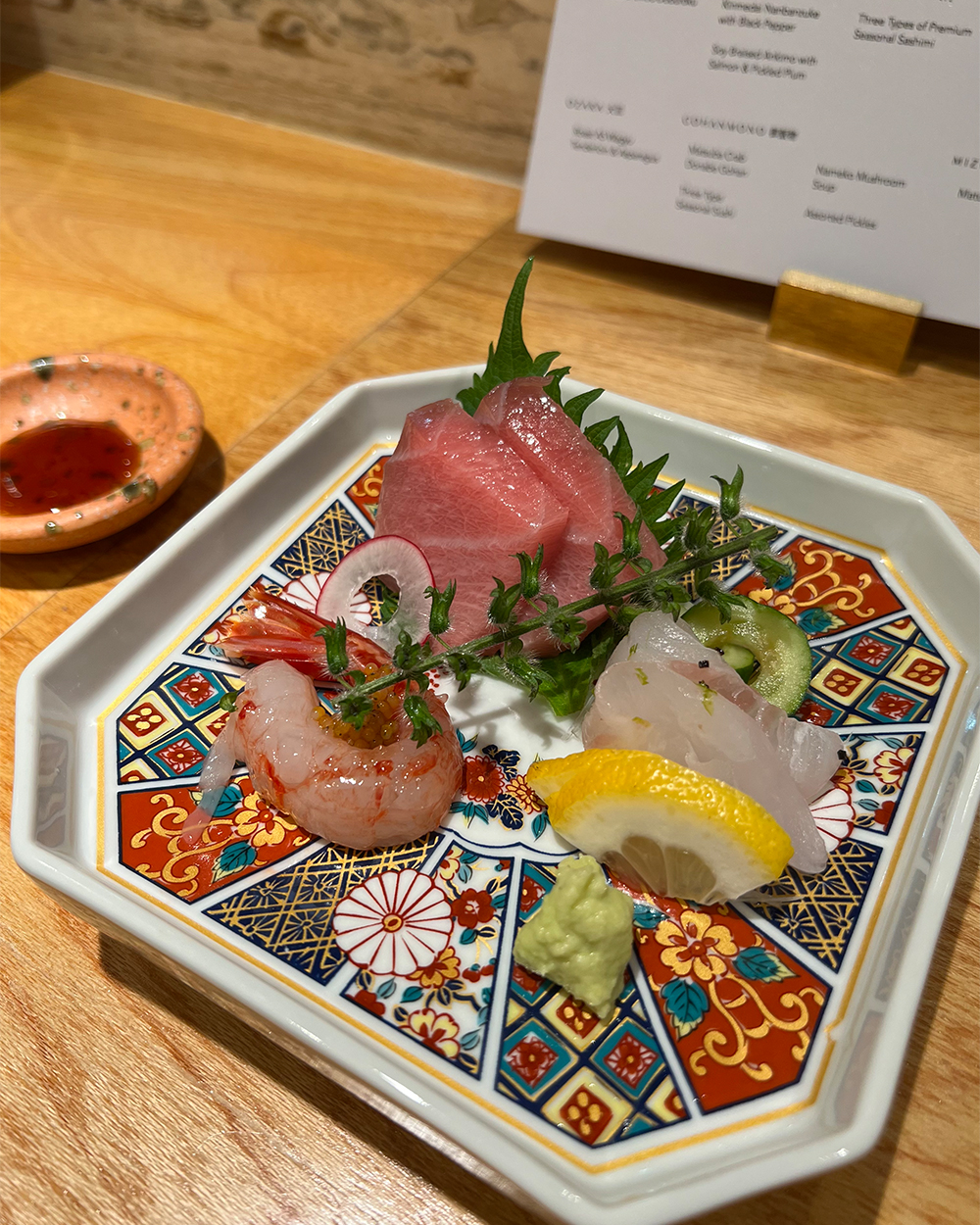 Usually, the third course of an omakase meal is the sashimi and we had a taste of three of this season's premium offerings made up of Chutoro from Nagasaki, a Japanese seasonal grouper and Shima ebi from Hokkaido. I was taught to pluck some of the shiso leaf buds that were sitting on top of the sashimi slices a dip them in the soy sauce to elevate its taste. The leaf buds produced a light minty note that made the fresh cuts taste even more unique. It's a tip that I will remember to use if I ever see shiso leaf buds.
Agemono (Fried item): Fugu Shirako Agedashi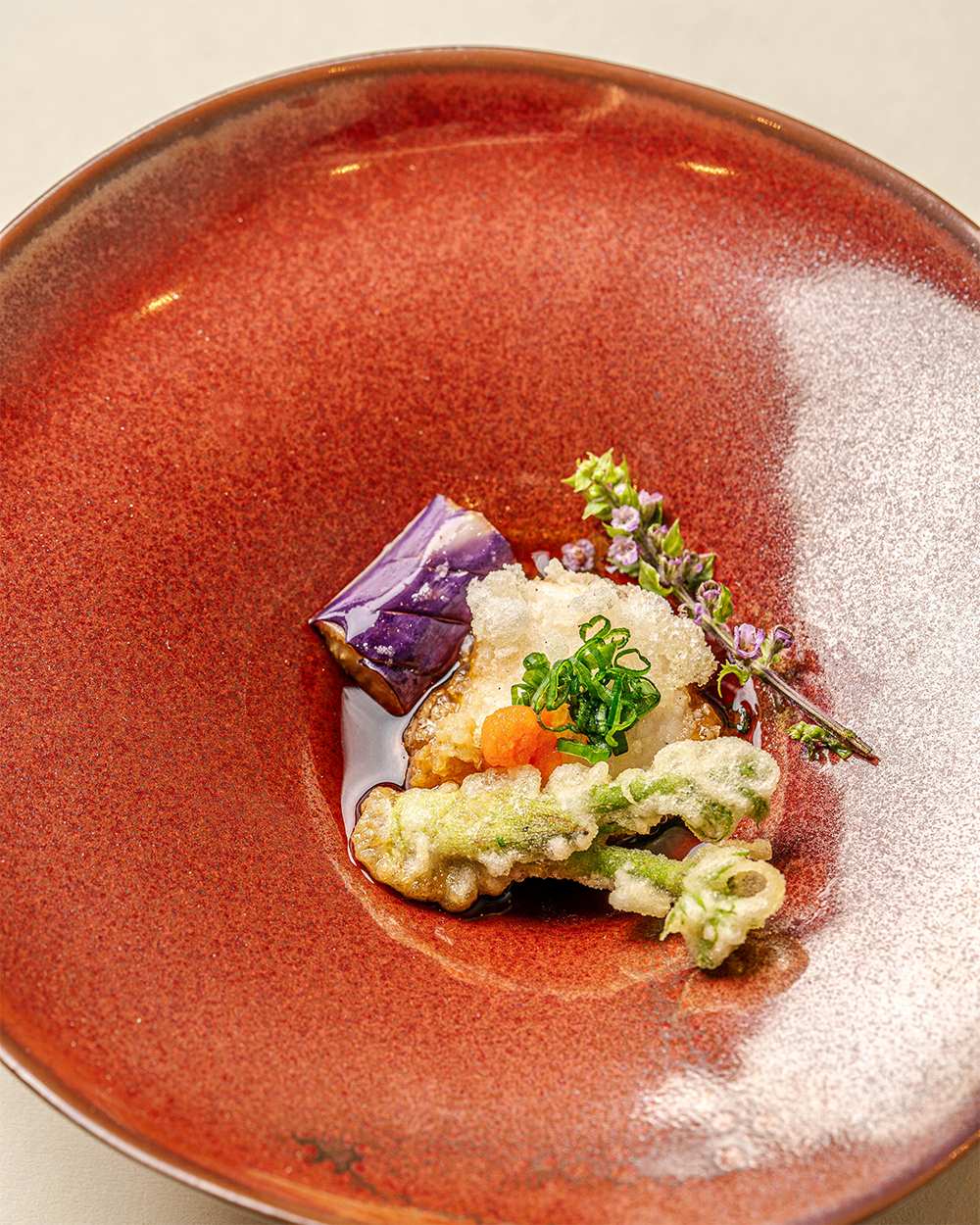 As someone who has never had fugu (puffer fish), I had no idea what to expect in terms of taste or whether I would have to sign an indemnity form beforehand (fun fact: most restaurants in Japan will make you do that because you eat at your own risk!). It was a relief that I didn't have to do so at Kintsugi. At first glance, fugu looked just like an agedashi tofu, and it's even as soft as one. I then found out that it was actually the shirako (sperm milt) of the fugu. After my first puffer fish experience, all I can say is that it was delicious and tender, and having it together with the savoury dashi was a match made in heaven.
Ozara (Meat course): Roast A5 wagyu tenderloin and asparagus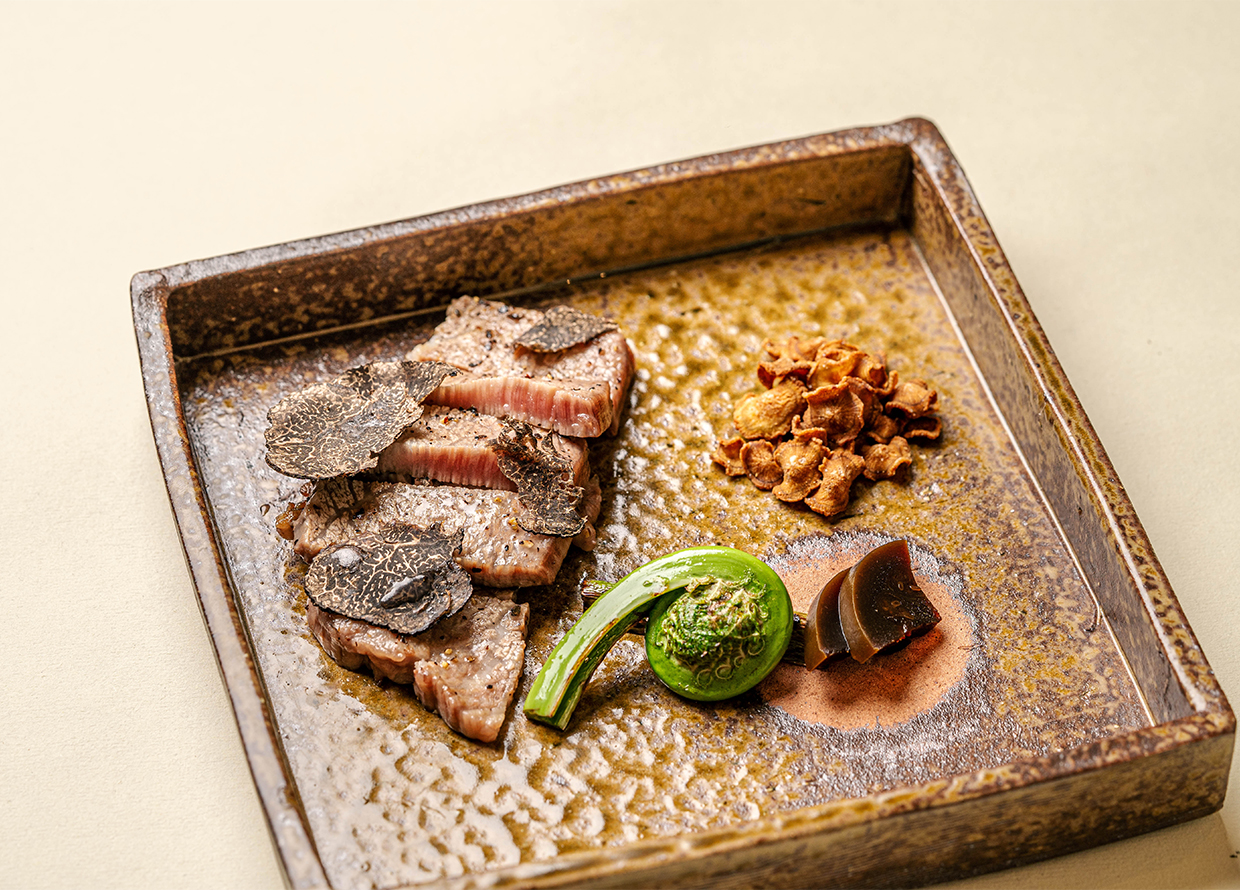 The omakase's meat course was a tantalising platter of A5 wagyu slices from Miyazaki, fried gobo (burdock root) chips, watermelon squash marinated in sake for six months, first harvest asparagus, and not forgetting the dipping sauce of a raw egg yolk slightly cooked with truffle oil. The melt-in-your-mouth beef slices with shavings of truffle on top were balanced just right. 
Gohanmono (Rice course)
Matsuba crab donabe gohan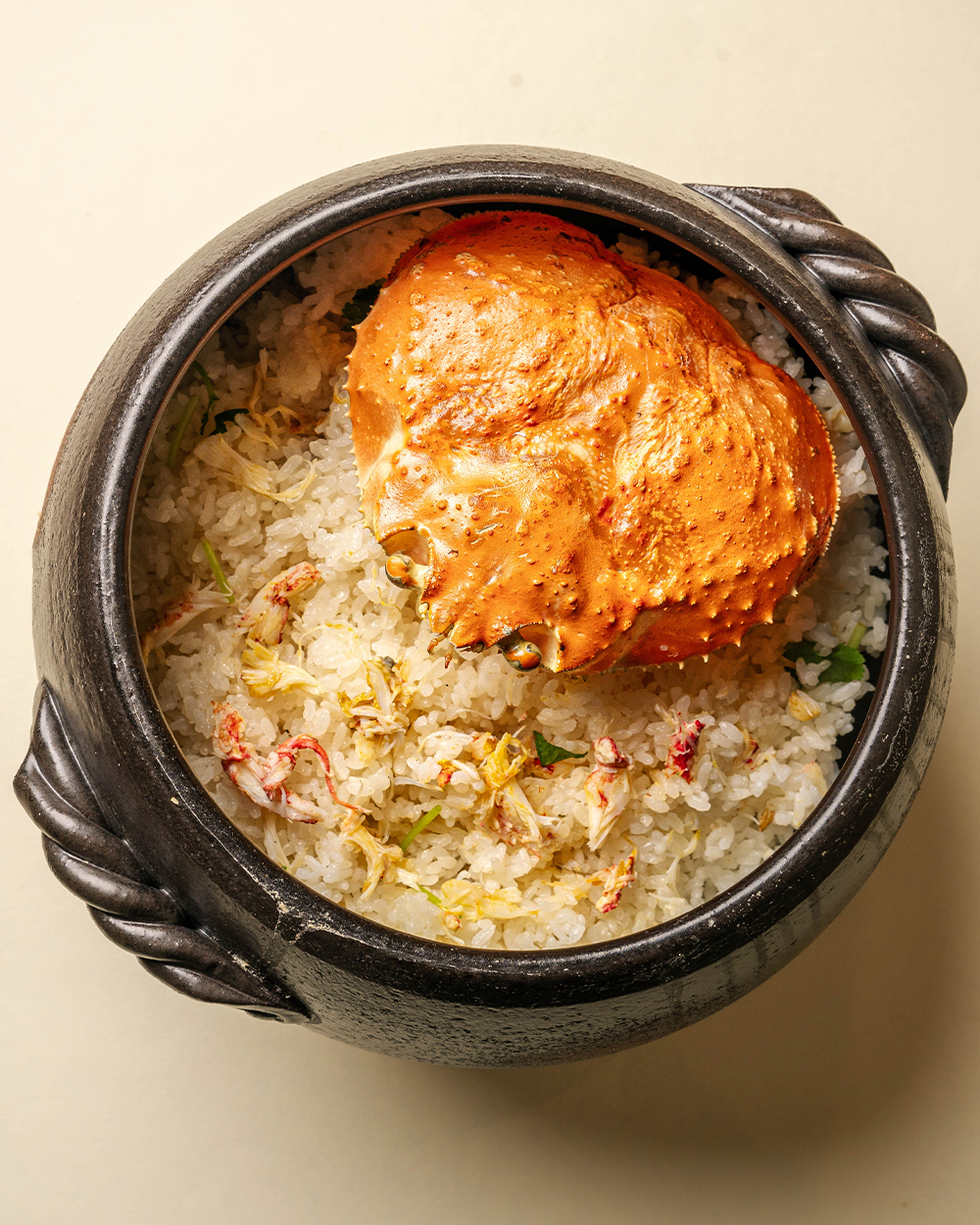 I was almost feeling satiated as the rice dishes were brought out, which indicated that we were almost at the end of our omakase meal. The course started with the Matsuba crab, aka snow crab rice cooked inside an earthen pot. This seasonal dish is a winter special made using male Matsuba crabs for their sweeter flesh, and is then served with a side of pickles and an akamiso (red miso) soup made with shima ebi (prawn) shells and honey cap mushrooms.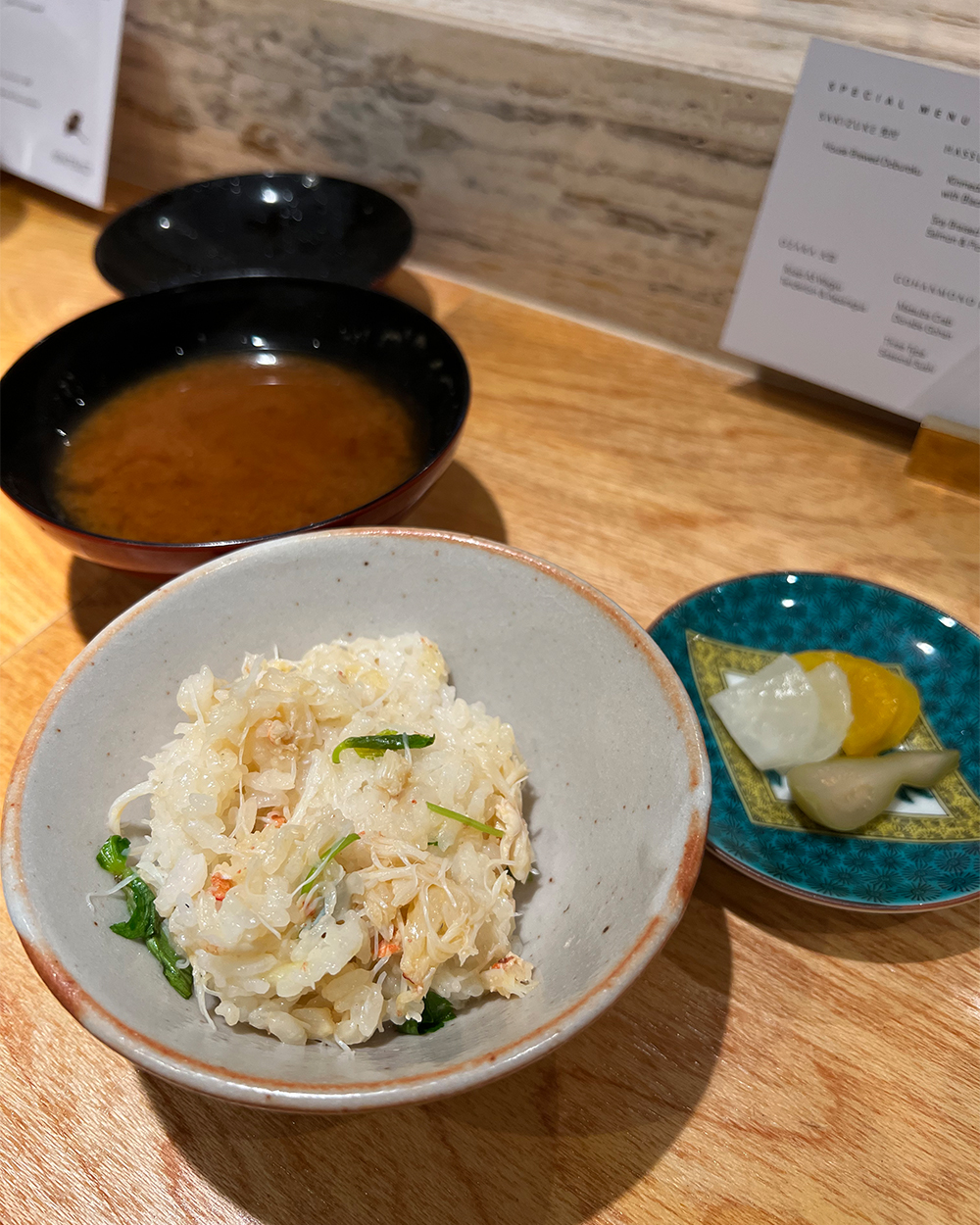 I would have taken the chef's offer for a second bowl if my stomach had the capacity, as the crab meat was fresh and sweet. Together with the sticky Japanese rice, it was a comforting dish overall. 
Three Premium Seasonal Sushi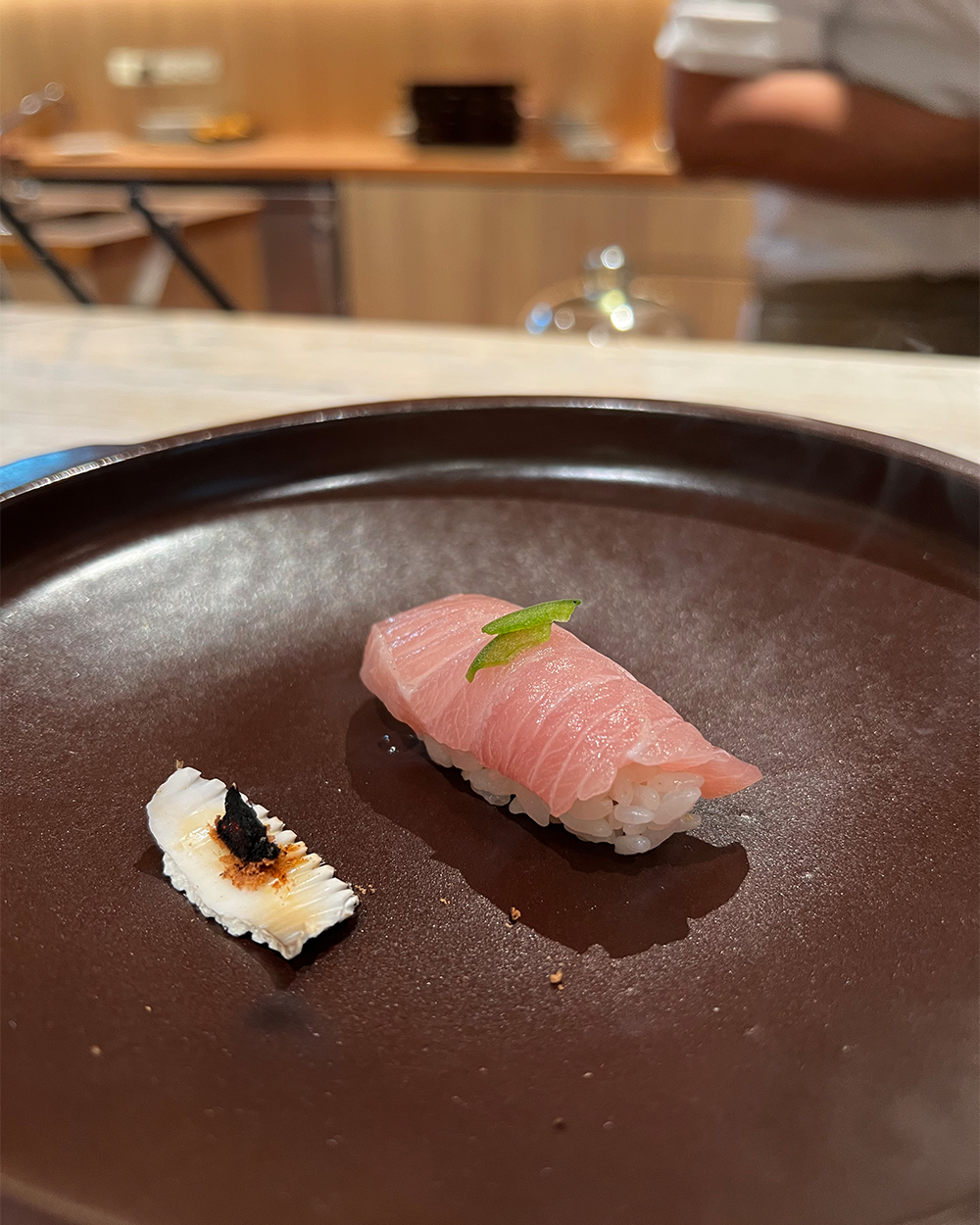 Next on the rich course is three different seasonal sushis. The first option was the kanburi (winter yellowtail) fish smoked with a yakusugi wood chip, a 1000-year-old cedarwood. It smelled amazing and elevated the experience as I was eating the sushi.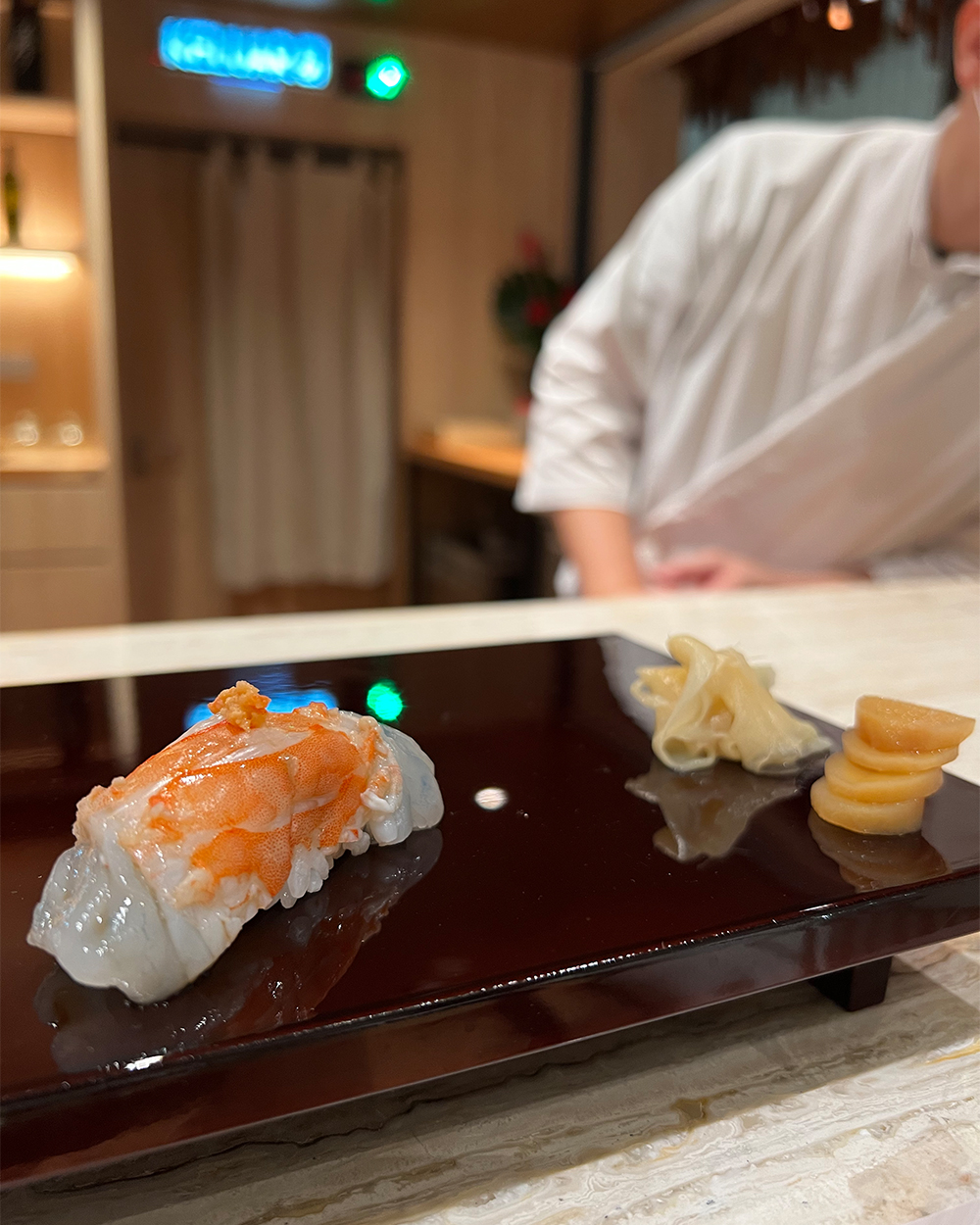 The second sushi was made with a half-raw blue angel prawn from New Zealand with bits of charcoal-roasted prawn head that had been chopped and inserted inside. To clear my palate, I had some pickled ginger that come in sliced and tubed varieties. I prefer the latter for a spicier kick.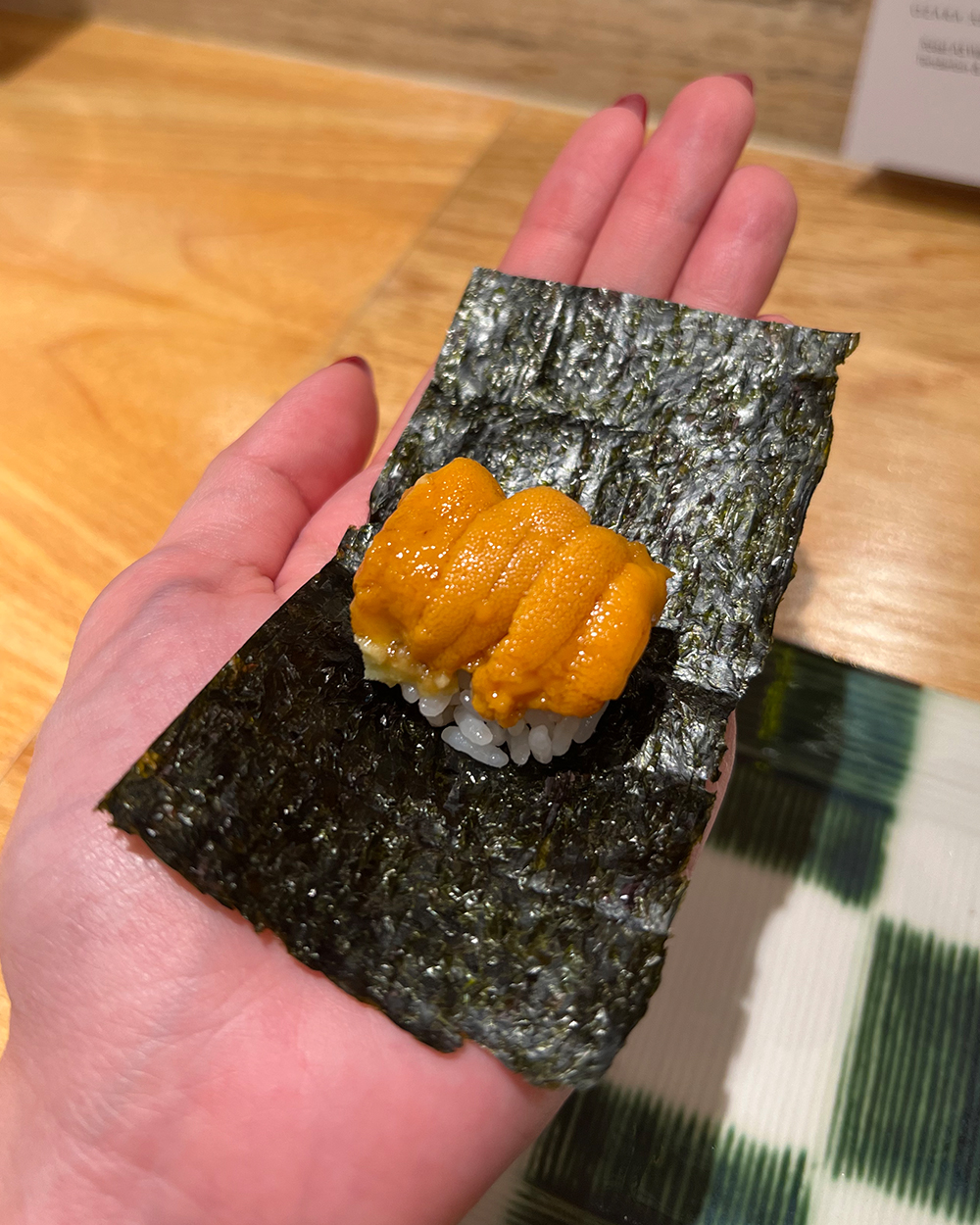 To cap off the rice course, Chef Ramsey made me DIY my uni (sea urchin) sushi roll by placing a premium seaweed sheet with rice on my hand and delicately placing the uni pieces from the Ogawa brand from Hokkaido on top. It was a fun interactive experience that made this omakase experience different from the ones I've been to.
Mizumono (Seasonal dessert): Matcha and yuzu entremet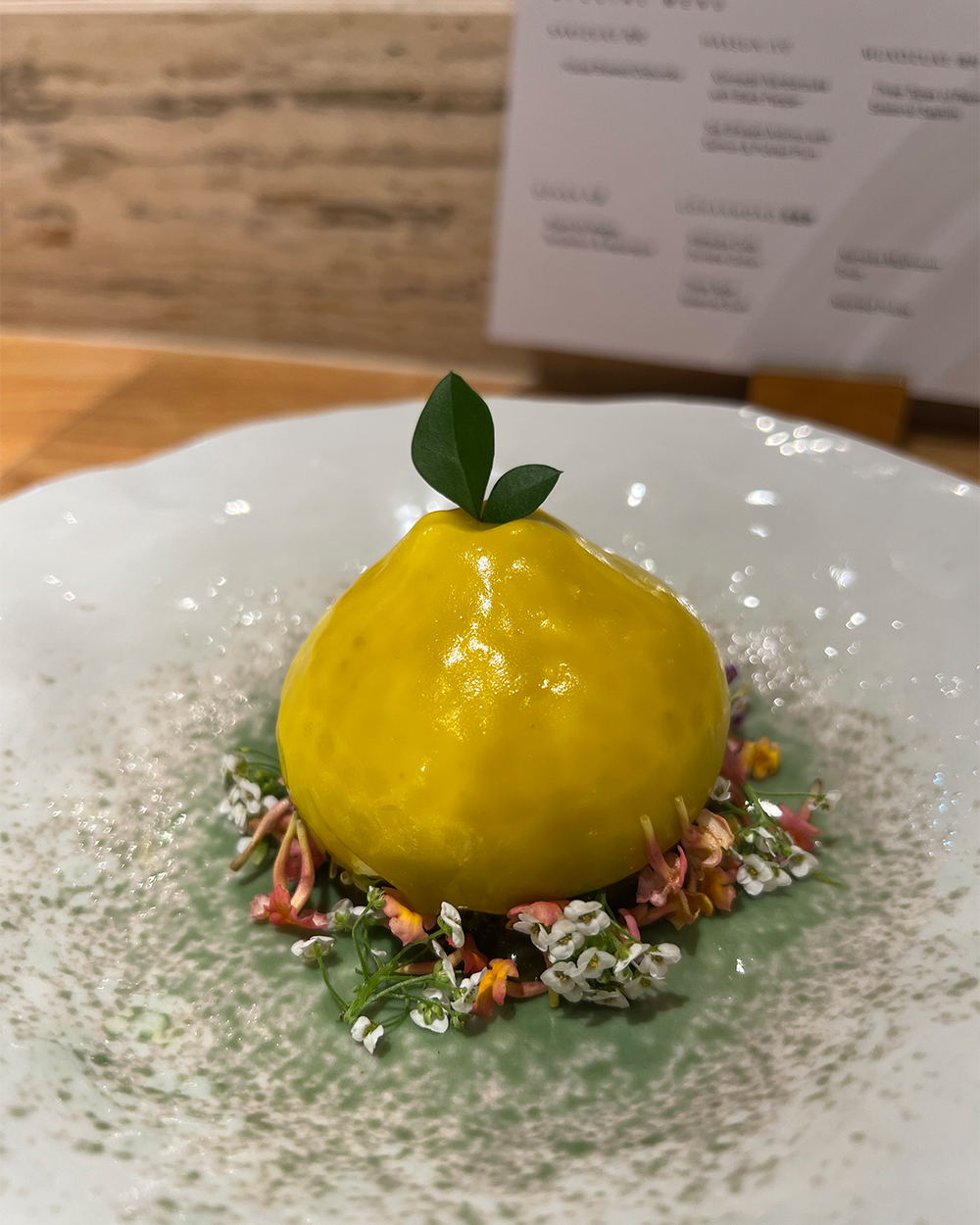 When the dessert was brought out, I immediately smiled from ear to ear. It looked just like the yuzu fruit and the added touches of dainty edible flowers were aesthetically pleasing. With the chef's advice to consume the intricate dessert with the flowers, I was blown away by how its taste came together beautifully with the tangy yuzu with the earthy matcha.
---
Kintsugi
Address: The Table, Isetan, The Gardens Mall, 3F, Lingkaran Syed Putra, Mid Valley City, 59200 Kuala Lumpur
Contact: 010 381 1330
Email: [email protected] 
Opening Hours:
Tuesday – Sunday
Lunch: 11:00 AM – 3:00 PM
Dinner: 5:30 PM – 11:00 PM
(Closed on Mondays and selected public holidays.)
Website | Facebook | Instagram
Find more food and drink stories here.
| | |
| --- | --- |
| SHARE THE STORY | |
| Explore More | |