Hello, it's me, your newest foodie writer. Let me tell you about one of my favourite days since I joined the Buro team. Oh, it was such an adventure—a culinary one. On most Mondays, I wake up, head to work, and get through the day with my infamous tenacity (at least I think its infamous). Not this specific day, however. Monday blues did not apply. In fact, that particular Monday ruled! What am I going on about? Well, I had the opportunity to try the food from Pasta Bella a day before its soft launch and let me just say that there were more hits than misses. Hey, I mean that in a good way! Read on as I take you on a journey through the Pasta Bella culinary track.
If you aren't familiar with Bangsar's Lorong Kurau, you're missing out on all things delicious. The spot where Pasta Bella now stands was once Bella, a classic Italian joint also by The Big Group. Revamped, the restaurant now comes with a new menu, ambience, concept, and a bar on the second floor. Step foot into the restaurant and you will be welcomed by a cosy space with just the right amount of greenery to lush up the decor. Despite the open kitchen, the space is still very intimate. Plus point: You get to watch your food prepared. Who doesn't love transparency these days?
Put aside any connotations you have about Italian food in KL. Pasta Bella isn't here to be basic; but instead offers thorough emphasis on home-styled Italian cuisine with a nod to Asia. Anyone who knows me (or has read my articles here) knows my love for food a la Italy. On that food-tastic day, I went to Pasta Bella with extremely high expectations. Paired with (multiple glasses of) Temple Two Pinot Gris, I had the pleasure to indulge on eight dishes from the menu. Here's a tip: Any Monday-related sorrows can be defeated with wine. Really.
Chorizo with Figs and Parmesan Custard (RM30)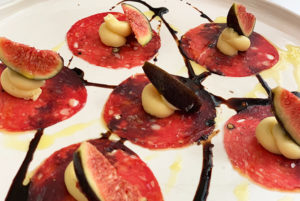 Pasta Bella Chorizo with figs
It's always important to start things off on the right note, and this starter did just that. The chorizo, dense and adequately fatty, was bold in its flavour. While I don't think the figs added much to the dish as a whole, they did look amazing (#aesthetic). My favourite element, though, was the Parmesan custard, which catapulted the dish from good to amazing. There was a rush of gustatory emotions with every taste of it—sharp with a strong savoury flavour. While true Parmesan cheese might be gritty in texture, mix it with the consistency of the custard, and you'll be presented with this thick yet delicate companion to the chorizo. We're off to great start, people!
Crisp School of Shrimp with Curry Leaf Mayo (RM30)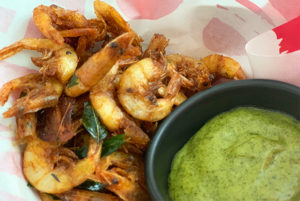 Pasta Bella shrimps with mayo
How do you even follow a brilliant starter? Pasta Bella sure knows how. Are you thinking that this is perfect as a bar snack? It is! These crispy shrimps were just too addictive and I enjoyed them both with and without the dressing. The curry leaf mayo highlights the Asian influence in the cuisine. After all, curry leaf is one of the great flavours of Indian food and actually works perfectly with mayonnaise. Served chilled, the curry leaf mayo really complemented the warmer shrimps. I like that the dish is enjoyable whichever way it's tackled. The only problem is that you might not be able to stop munching on these goodies.
Spicy Rigatoni Vodka (RM28)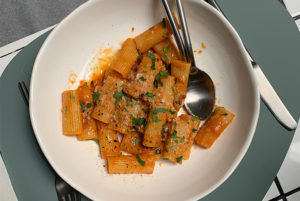 Pasta Bella Rigatoni with vodka
Ah, pasta! Yes, it's the dish you think of when Italian food comes to mind, and there's more to pasta than just spaghetti. When this dish was placed right in front of me, my first impression was that it was really pretty. The orange/reddish hues gave it a very Mediterranean vibe and reminded me of my experience in both Venice and Bellagio. This made perfect sense—Italian food is Mediterranean after all. Malaysians, in general, probably aren't familiar with rigatoni but Southern Italians adore this particular pasta shape because they make better adhesive surfaces for sauces. The decision to use this ridge-like pasta here is a genius one. Combined with the (also genius) addition of vodka, you get toothsome and palatable bites. The sauce was light in texture but provided the sufficient value necessary to give the tomato rigatoni dish one extra push towards glory. One small step for rigatoni, one giant leap for Pasta Bella. It also has black pepper but fret not, the spiciness was slight and above all, the dish was exquisitely prepared through and through.
XO Clams on Rice (RM46)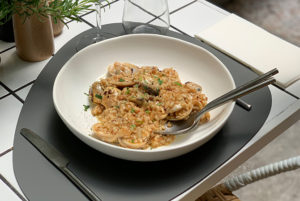 Pasta Bella risotto with clams
Arborio rice, to be exact. I thoroughly enjoyed the rigatoni but I'd have to say that the risotto was definitely among my favourites. Yes, it's also alcohol-infused (this time with XO). No, that isn't the only reason I love this dish. Risotto—at least the ones I have seen and tasted—tend to be thicker and creamier. However, Pasta Bella's risotto stood out because of its lighter consistency. In my opinion, risotto should involve grain that maintains a bite when fully cooked and this dish delivered. The richness of the XO blended perfectly with the risotto without overpowering the very essence of the risotto dish. I also caught a slight hint of dried fruit and warm spices that probably helped elevate the flavours. Last but not least, the clams. While clams aren't everyone's favourite type of seafood, I revel in my affection for them. Fresh clams can be naturally briny and piquant. When it comes to clams, it's easy to notice the size presented before you. I know I say size doesn't matter (too) frequently, but in this context, it definitely does! When it's all said and done, the XO clams on risotto dish was a clear stand out and a personal favourite. Just heavenly.
Crispy Brick Chicken with Creamy Mash, Fried Sprouts and Salsa Verde (RM48)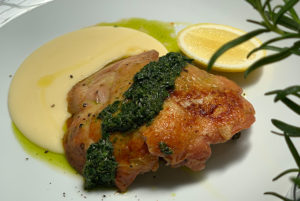 Pasta Bella Brick Chicken
We have now arrived at the first entrée. Let me just start with the plating—the brick chicken was presented so exquisitely and beautifully. The colours just pop and gets you in a dilemma. To eat or not to eat? I certainly did! Fried chicken is universally adored and therefore, it can be really difficult to be distinct with any chicken dishes. With that said, the brick chicken might be a tad too dry for my liking, but the skin was adequately crispy. It was also unfortunate that I had the risotto before the chicken because the former explicitly overpowered the subtle flavours of the chicken. However, I have great things to say about the potato cream, salsa verde, and Brussel sprouts (massive love for them). Honestly, these can even come without the chicken and I would have had one of the best meals of my life. Really, they were that good. The smoothness of the potato cream and the freshness of the salsa verde turned out to make a divine combination. I never knew that, and I'm glad Pasta Bella gave me the opportunity to test them. All in all, this is a good dish.
Braised Lamb Shoulder with Wilted Raddichio and Jus (RM68)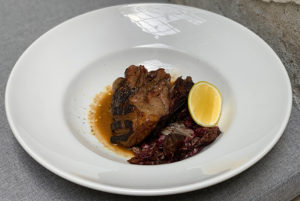 Pasta Bella Lamb shoulder
If you're a fan of lamb, you will love this dish. Compared with the brick chicken, the lamb was cooked to perfection—tender and seasoned well. I'll be honest. I'm not always on cloud nine when it comes to lamb. It's just not a favourite of mine but with this, I've been converted. If only all braised lamb dishes taste the same! The meat was lush and succulent, while the jus acted as a catalyst, heightening the flavours of the lamb. Looking for a proper main? The braised lamb shoulder is the one for you. Worth the wait, worth the buck.
Macadamia Milk Panna Cotta (RM20)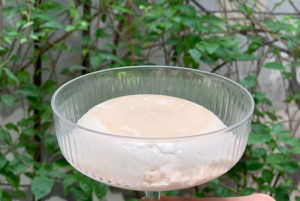 Pasta Bella panna cotta
There's always room for dessert, right? Certainly. The panna cotta was the first of two desserts that I had the pleasure of tasting that day. The consensus: This was well-loved. Aromatised with macadamia, the panna cotta was clearly a favourite among the Buro team. It wasn't too sweet (and that matters) and it was exceptionally light. Personally, I love desserts that aren't heavy but are just right and the panna cotta, without a doubt, delivers. Macadamia, usually slightly sweet and salty, seemed to be the ideal addition to the classic panna cotta offering. We live in a zeitgeist in which constant innovation is necessary and Pasta Bella certainly succeeds once again with this (not too) sweet treat.
Sourdough-started Infused Ice Cream (RM20)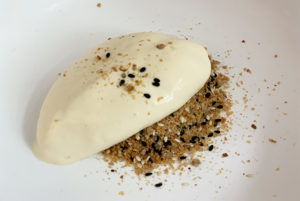 Pasta Bella Sourdough ice cream
Who doesn't love ice cream? I know I do. Hence, when I was told that I will be served ice cream at the end of my meal, I was elated. The bad news: I was at the end of the culinary journey. All good things come to an end, right? The inclusion of bread in ice cream is nothing new but what Pasta Bella did with their version of the sourdough ice cream is less familiar. I like that the sourdough isn't, well, too sour. Honestly, I did get hints of coffee but maybe I'm just used to the addition of espresso with my sourdough ice cream servings. The good news is that the ice cream turned out really smooth and fairly thick in consistency. The crumbs (a little saccharine) provided crunch and added dimension. This is cool for the summer, or really, just any time of the year. Would I opt for the sourdough ice cream again? Count me in.
It's clear, isn't it? Pasta Bella is not your average Italian food joint. You come here expecting a twist or a tweak in classic dishes. Among its bountiful small plates and platters, there are (obviously) some dishes that slay deliver while a few that can be better. We also had the pleasure of trying the Charcoal Chicken from Ben's Charcoal Chicken (on the same row as Pasta Bella)—stay tuned for my thoughts on that experience. What else can I say about Pasta Bella? We thoroughly enjoyed the dishes and personally, I would definitely go back again.
{insert gallery tpl="slide-freesize.tpl" id="[Стандартная] Pasta Bella Menu" rid="7355″ order="a_tstamp"}
Price range: RM15 – RM68
Opening hours: 12pm – 11pm (Tuesday – Sunday)
Address: 15, Lorong Kurau, Taman Weng Lock, Bangsar
| | |
| --- | --- |
| SHARE THE STORY | |
| Explore More | |