Food + Drink
No Bar Here in Penang transports guests into a time capsule from the '80s
"Loud cocktails, delicious music"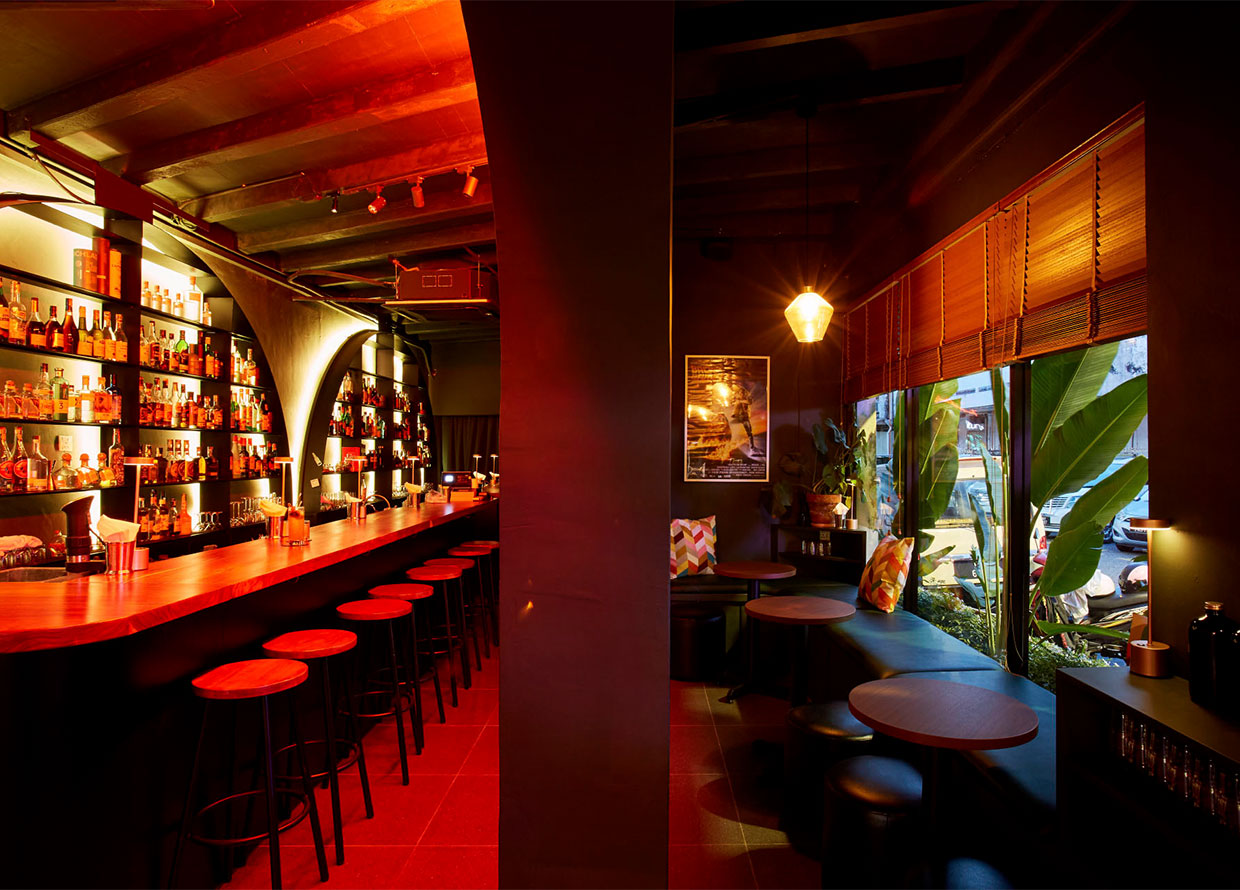 Penang's bar scene is burgeoning right now, with the first ever Penang Cocktail Week underway even as we write this. The weekend before the inaugural event, we dropped by No Bar Here, one of the participating cocktail bars in the event, for a glimpse (and taste) of the bar landscape in the northern state.
Coincidentally, the owner of No Bar Here is also the founder of the aforementioned cocktail festival—Koh Yung Shen. The serial entrepreneur is no stranger to the industry, having started Backdoor Bodega in 2016 from the (literal) backdoor of his clothing shop, which went on to earn the No. 97 spot on the extended 51-100 list of Asia's 50 Best Bars 2022. 
With No Bar Here being his second bar venture that opened in April this year, we sat down with Shen and his team to learn more about the bar's unique concept, menu and the story behind its name. 
THERE'S A BAR HERE, ALRIGHT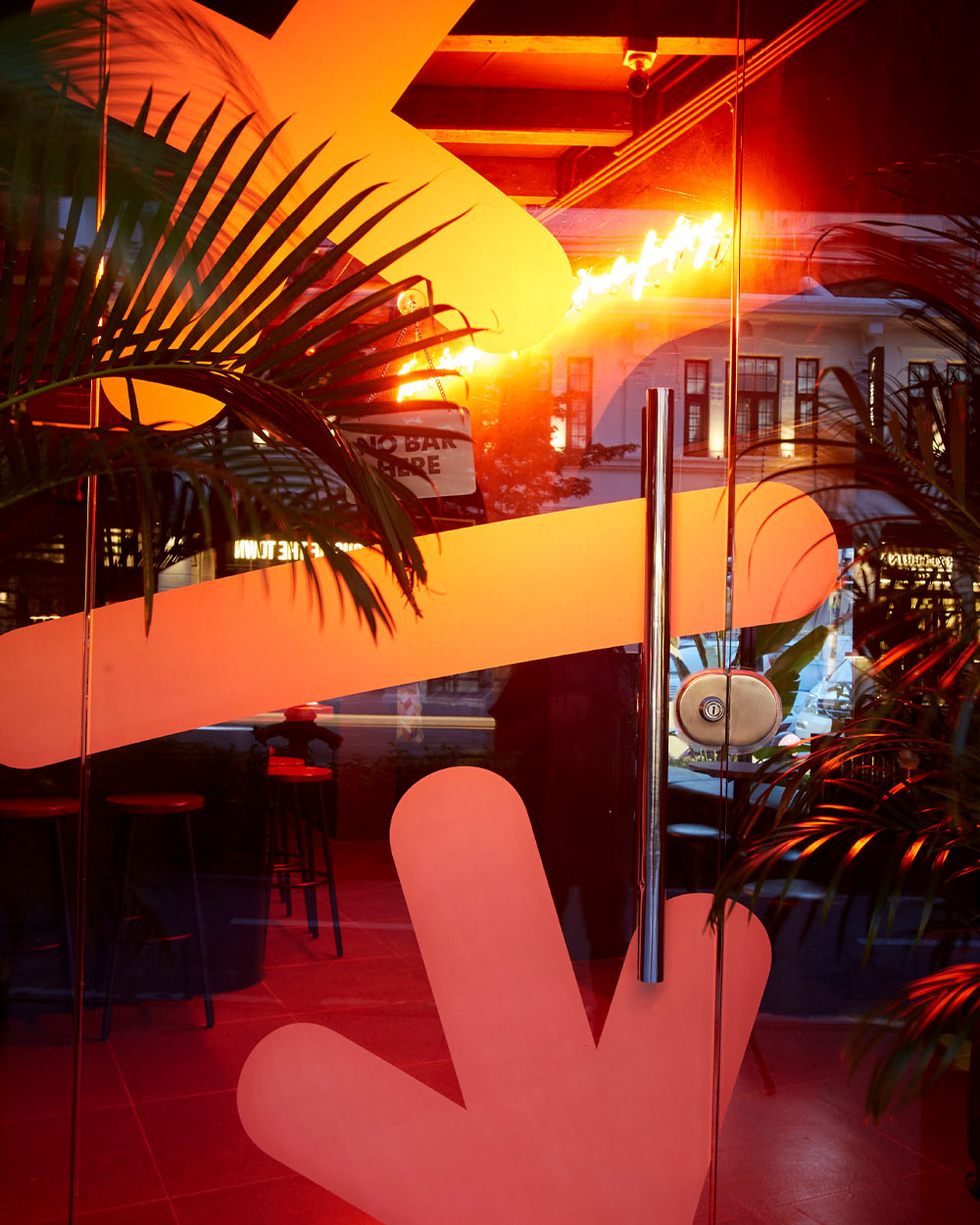 Lush foliage surrounds the corner lot of shophouses near Hin Bus Depot—not the usual exterior of bars we're used to. But we know we're in the right place when we spot the small namesake sign hanging over the front door. The witty logo of an 'x' above a horizontal bar and downward-facing arrow plastered over the entrance is another giveaway for first-time visitors. 
"Because this unit is so exposed, obviously, we couldn't make it a speakeasy. But I thought it would be ironic if we hung up a sign that said 'No Bar Here'. It so happened that the Instagram handle and website URL was available so I just rolled with it," Shen revealed candidly, when asked about the name.
What brought on the idea for another bar? "It was really random," he admitted, "One day when I saw my landlord, I asked if the mini market which formerly occupied this unit had closed down, and he said, 'Yeah, you want to take over?'" With his first bar being just a few doors down the road, he thought it might be beneficial to open another one in the area. "About 80 per cent of guests at Backdoor Bodega are tourists. Because of the demographic there, it makes sense for us to open a bar nearby so guests can just hop over," he deduced.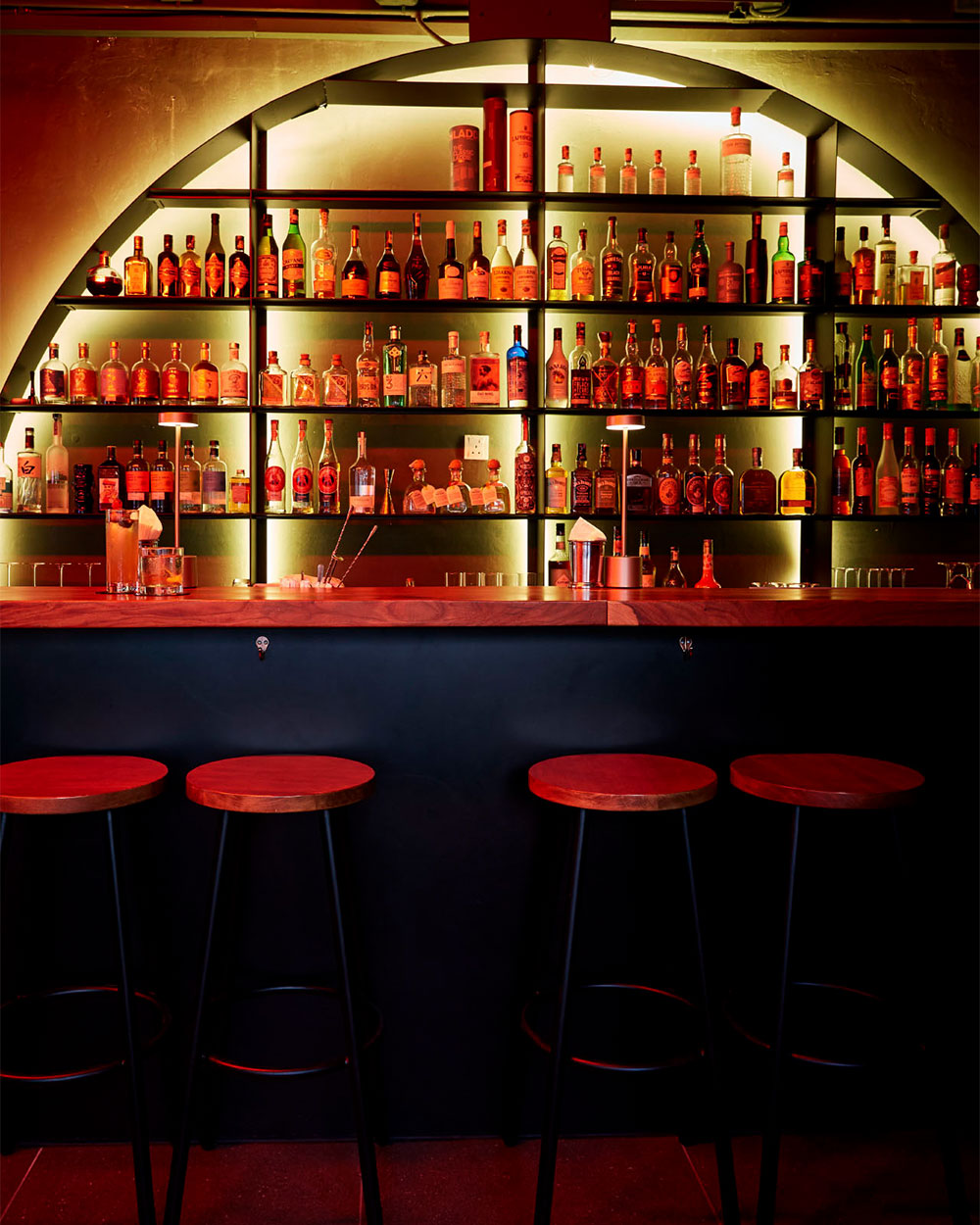 With that said, the real challenge was developing a bar concept that offered a different, unique drinking experience. Since Backdoor Bodega is known for its use of local ingredients and inspirations, the team decided to not go down the same route. After bouncing off several different ideas, they finally settled on an '80s concept. 
"I felt like there aren't a lot of disco-era cocktails here because now the trend is all about clear, clarified and distilled cocktails. I thought, let's just take a step back and see what's on the other spectrum, which are dirty drinks—ice-blended,  colourful drinks," Shen divulges. 
A TIME CAPSULE OF THE 1980S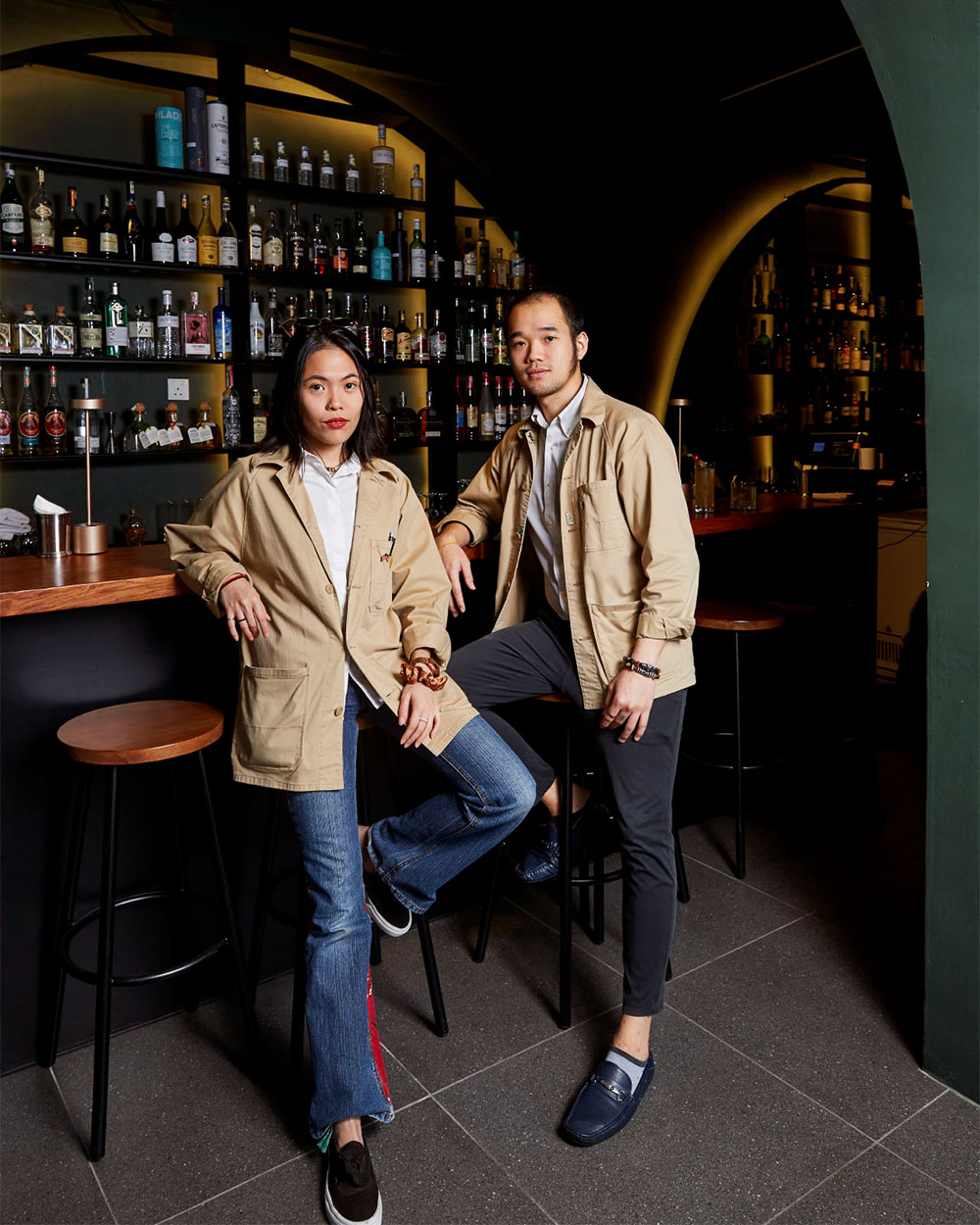 And so, the Eighties informs No Bar Here's atmosphere, from the vintage posters that adorn its walls to the classic hits on its playlist (including the likes of Everybody Wants to Rule the World by Tears For Fears, Another Day in Paradise by Phil Collins, and Take On Me by A-ha). Likewise, you'll find popular cocktails from that decade on the menu, such as Megumi Highball (the bar's take on a Porn Star Martini), Pink Hawaiian (a twist on the Blue Hawaiian), and Like A Prayer (a modern version of Cosmopolitan). 
Besides Shen, Hanna Razali and Jay Ng—the two friendly bartenders at No Bar Here—are also responsible for curating the menu and playlist. Originally from Kuala Lumpur, Hanna had dabbled in various F&B stints before moving to Penang and into bartending. Meanwhile, Jay started out as a barista to earn some side income during his university days prior to landing his current role. (Side note: there's also a coffee machine at the bar in case you need a caffeine break—Jay's your guy.)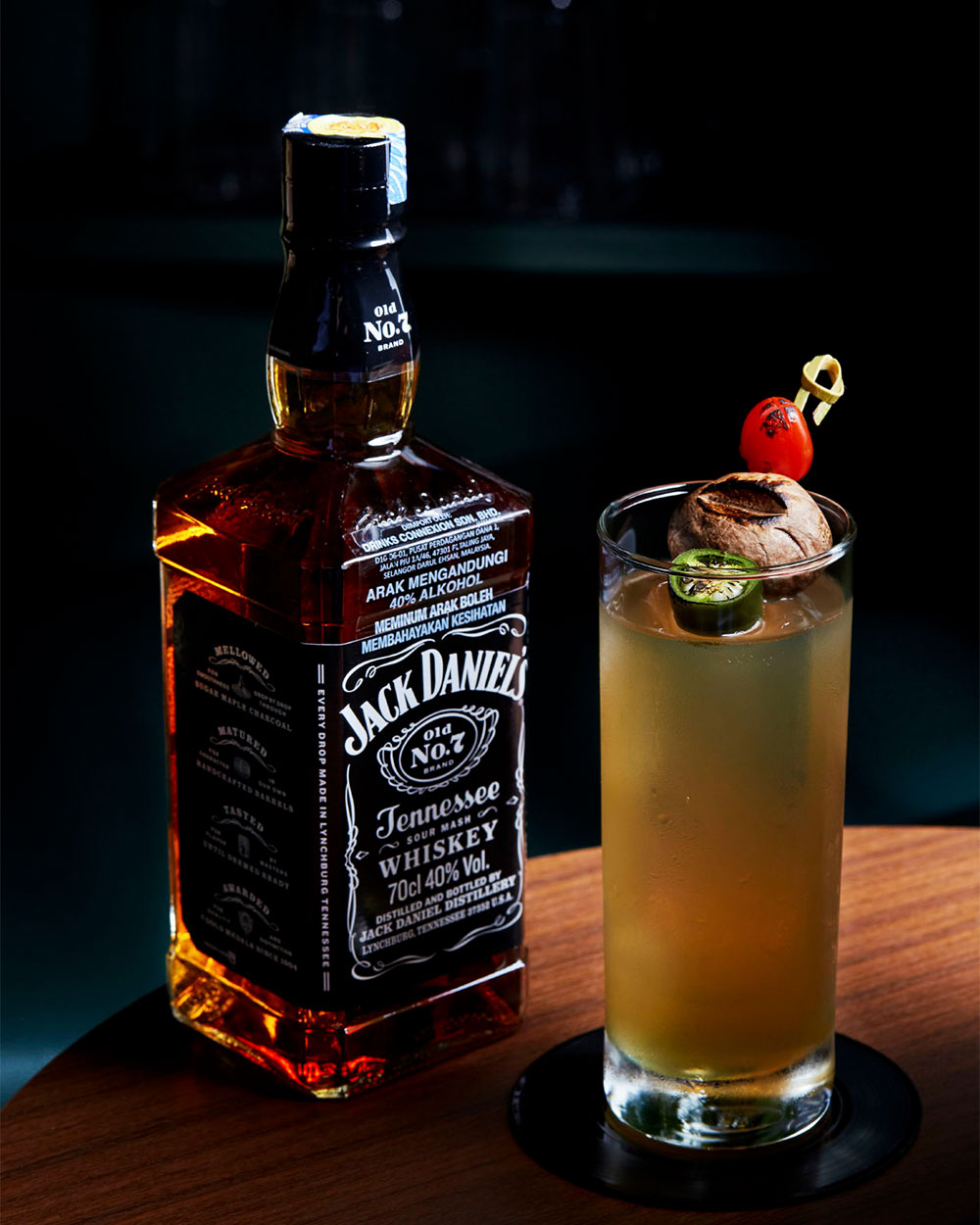 "My personal favourite cocktail would definitely be the Steakhouse Shenanigans. It's the only drink on the menu that's not inspired by a cocktail but an '80s American steakhouse," Hanna explains. "It's almost the opposite of a Bloody Mary, which is very flavourful and heavy. This is just as flavourful, but it's layered very nicely and is light-bodied so it's easy-going on the palate." Having tried the Jack Daniel whiskey-based concoction after our chat, we couldn't have described it better. And yes, we can confirm that it's truly delicious, especially if you enjoy savoury, smoky cocktails.
On the other hand, Jay recommends the Midori Sour No. 2, a cocktail based on a fond memory from his childhood. "When I was younger, I used to go to this hokkien mee stall near my house in Bukit Mertajam. I would always order an apple and kiwi drink there, and this inspired me to recreate the classic Midori Sour with these green fruits instead of using melon liqueur," he shares.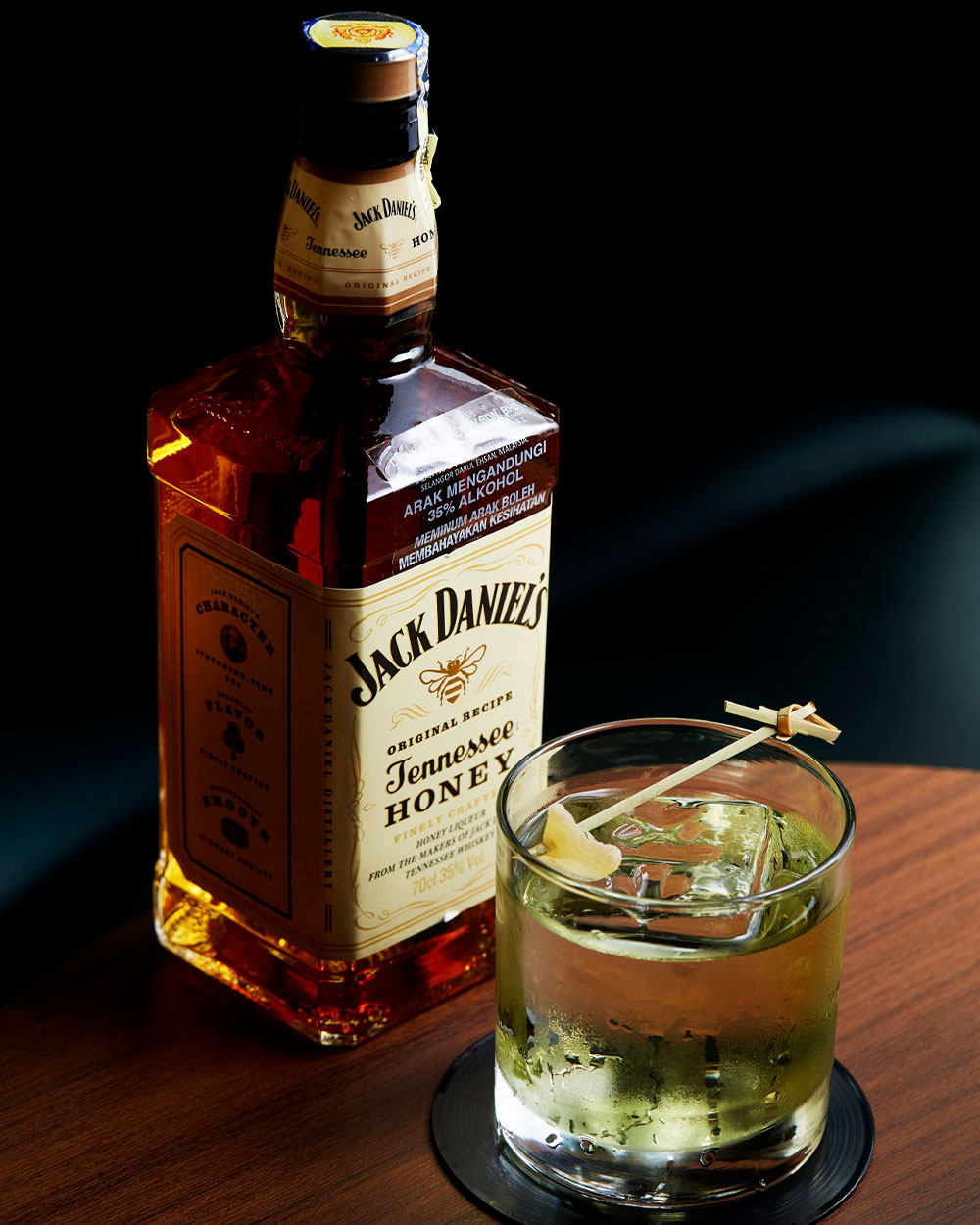 Whatever your preference of boozy libations, No Bar Here has something to offer with a lighthearted spin. If it's not on the menu, they'll whip up a bespoke creation for you. At the end of the day though, it's not just the cocktails that make a good bar, according to Shen: "For me, I think it boils down to hospitality. If you are a hospitable host, you can make a bad drink taste better. But if you're a terrible host, even an amazing drink might not taste that great anymore." Judging by that same benchmark, we're happy to report that No Bar Here gets it right. 
Come for the fun disco-inspired drinks, stay for the warm hospitality and great vibes.
No Bar Here accepts walk-ins only, no reservations required. 
---
No Bar Here
Address: 25, Jalan Gurdwara, George Town, 10300 George Town, Penang
Opening hours: 8pm to 1am, Tuesdays to Saturdays (closed on Sundays and Mondays)
Find more stories about Penang here or read more food and drink content here. 
| | |
| --- | --- |
| SHARE THE STORY | |
| Explore More | |