It's a delicate task, balancing traditional flavours with experimental techniques, but it is one that Nadodi has taken on with gusto and finesse since it came onto the KL dining scene just over a year ago. In this nomadic South Indian cuisine enclave where familiar flavours and modern ideas come together seamlessly, one can expect to embark on a gastronomic odyssey to remember—we're not kidding when we say our recent visit to the establishment for their anniversary menu still lingers fresh in our minds.
If not careful, fanciful presentation can come across as gimmicky—but Nadodi expertly navigates the tricky waters to wow diners with food that truly lives up to its artful presentation. Take our starting cocktail for example: a gin-based cocktail that has been steeped in truffle fat for 48 hours, with basil, lime and egg white making up a concoction served in an egg shell that is as delectable as it is intriguing. Then there's the Bloody Mary, a deconstructed version featuring a dehydrated Bloody Mary granite of tomato, lime, tabasco, Worchester sauce and vodka, served with vodka caviar pearls and "soil" made of blended and dehydrated tomatoes and flat rice. These are just a couple of creations from the 10-cocktail menu dreamt up by house mixologist Akshar Chalwadi.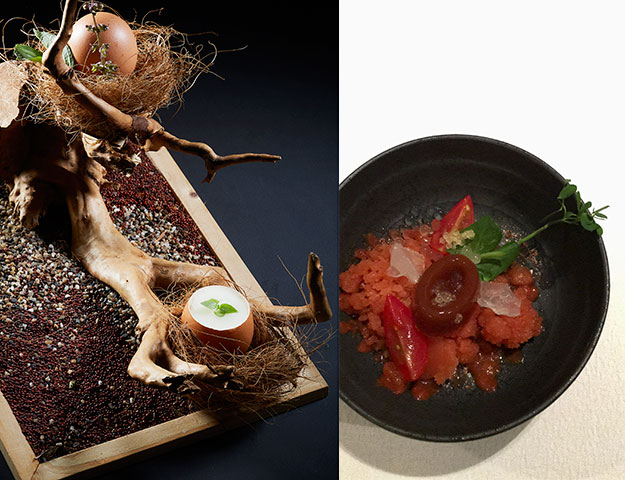 On the food front, our introduction to the 11-Mile journey began with three light but mighty bites, a fantastic starter of a Vada reimagined and filled with lentil and coconut chutney, Kiri Bath, made with rice and anchovy sambar rolled into a crispy pastry and last but not least, the Banana Leaf, where Nadodi skillfully fashioned the traditional dish into a single bite, with tiny portions of sides on top of a chlorophyll-based false meringue made to resemble a banana leaf.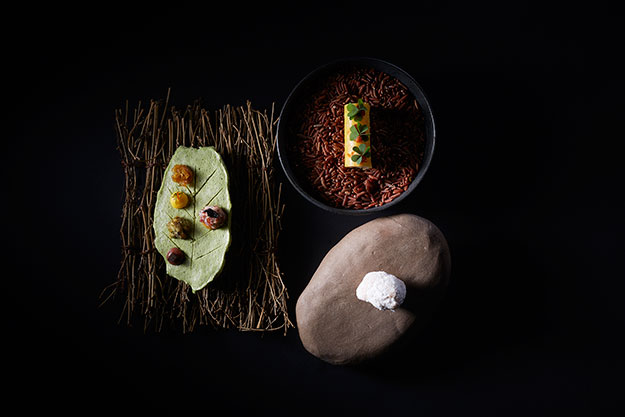 Next came the hearty flavours of the Surprising Duo, comprising of smoked prawn (sourced from Tsukiji market) skewers inspired by the Malaysian sate and served with a tangy homemade tomato pickle sauce that deftly balances out the rich flavours of the seasoning, and a sumptuous rabbit dish—the pulled meat is cooked in Nadodi's signature 18-spice blend until tender before it is shredded by hand then encased in a crispy samosa tart. The playful textures continued with Beet Three Ways, reinventing red curry as we know it with beetroot curry, sorbet and "glass" accompanied by coconut milk, peanut espuma and pickled beets. A sprinkle of beetroot dust completes the dish—who'd knew there were so many ways you could have beetroot?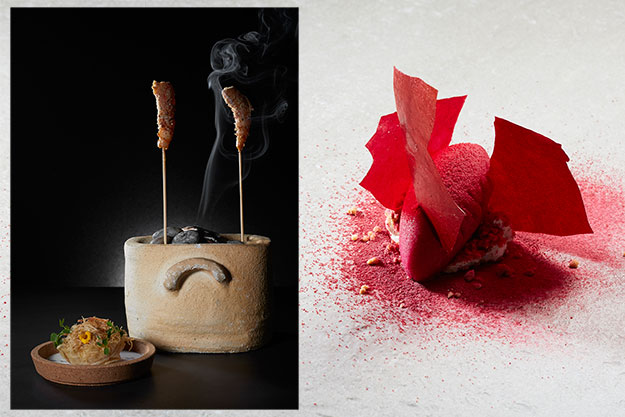 The Hokkaido scallop is seared beautifully in Shell Shock and sits on top a salad mix of Centella, ginger flowers and grated coconut. A mildly sweet mango curry ties the dish together, one of my favourites of the night. Another dish that really hit the ball out of the park for me was Heads Up. This is Nadodi's take on the fish head curry served in a mug, where we're invited to dig into complex yet comforting layers of steamed local trout, crispy lemon flat rice and curry—every bite left me wanting more. It's a tough act to follow, or perhaps their rendition of rasam from my last visit here is simple hard to beat, but the next dish, a coconut water cold soup inspired by Vasam Venneer was just a little underwhelming for me.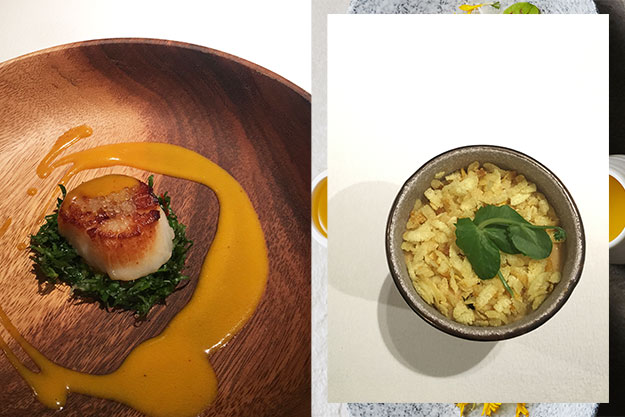 Things quickly picked up again with two impactful meat dishes. It's Smoking!! first lures the diner with aromatic wisps of coconut smoke, an enticing visual that is reflected in the grilled spring sporting a lightly smokey relish, paired with a miso-caramelised pearl onion to complete a medley of flavours. In Sour Billy, a pleasant surprise comes in the form of a crispy tempura-style Rosella leaf (eat this first), awakening your palate for the main star of the dish—an Australian lamb chop cooked sous-vide to juicy perfection and served on a bed of tart tamarind chutney.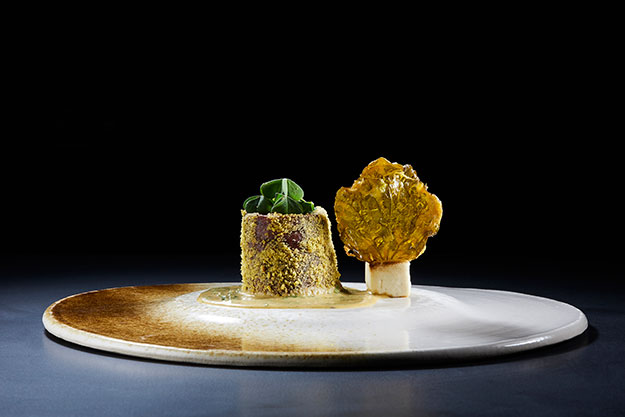 The final main course of the menu is rightly a Nadodi signature—behold the Nomads Globe. On the top container sits the light but flavourful salad of shredded Alaskan crab and turmeric, onions, ginger and garlic; in the middle, a traditional biryani cooked with apricot, raisins, prawns, saffron, crispy shallots and cashews; and on the bottom, a beautiful lobster Chettinad curry. Warm, hearty and delicious.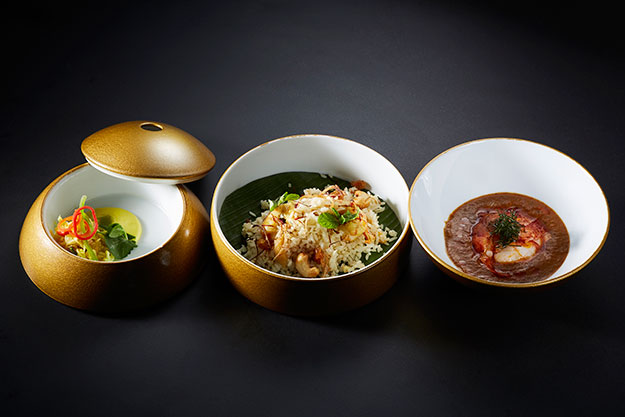 There was no way a full stomach will deter us from the desserts that followed. Nadodi reinterprets the classic Putu Mayam in Pol Hoppers with Sodhi ice cream, sweet-coconut based sambar crumble and red rice Idiyappam, topped with an edible gold sheet for a decadent finishing touch. We can't imagine a better end to the meal than Textures of Milk, where they demonstrated how a modest, ordinary ingredient that is milk can be made extraordinary with a variety of creative techniques. On the plate is whey meringue, Palkova, and a mountain of buttermilk snow—which are all excellent on its own, but even better together.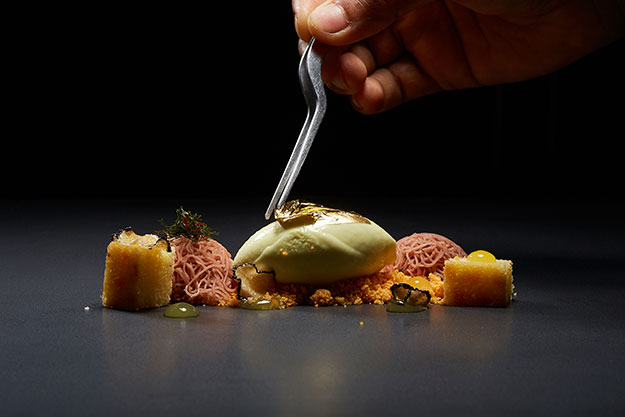 "You guys are very lucky to have Nadodi here," a Singaporean media commented at the end of the meal, and we couldn't agree more. At a time where traditions are oft challenged or left behind, Nadodi elevates the comforting and unique flavours of South Indian fare with a bold, thoughtful flair. Here's to one splendid year down, and many more exciting ones ahead, Nadodi.
Nadodi
Lot 183, 1st Floor,
Jalan Mayang,
Off Jalan Yap Kwan Seng
50450 Kuala Lumpur
Opens for dinner from 6-11pm, Monday to Saturday
Phone: +6017 367 0200
Email: [email protected]
| | |
| --- | --- |
| SHARE THE STORY | |
| Explore More | |