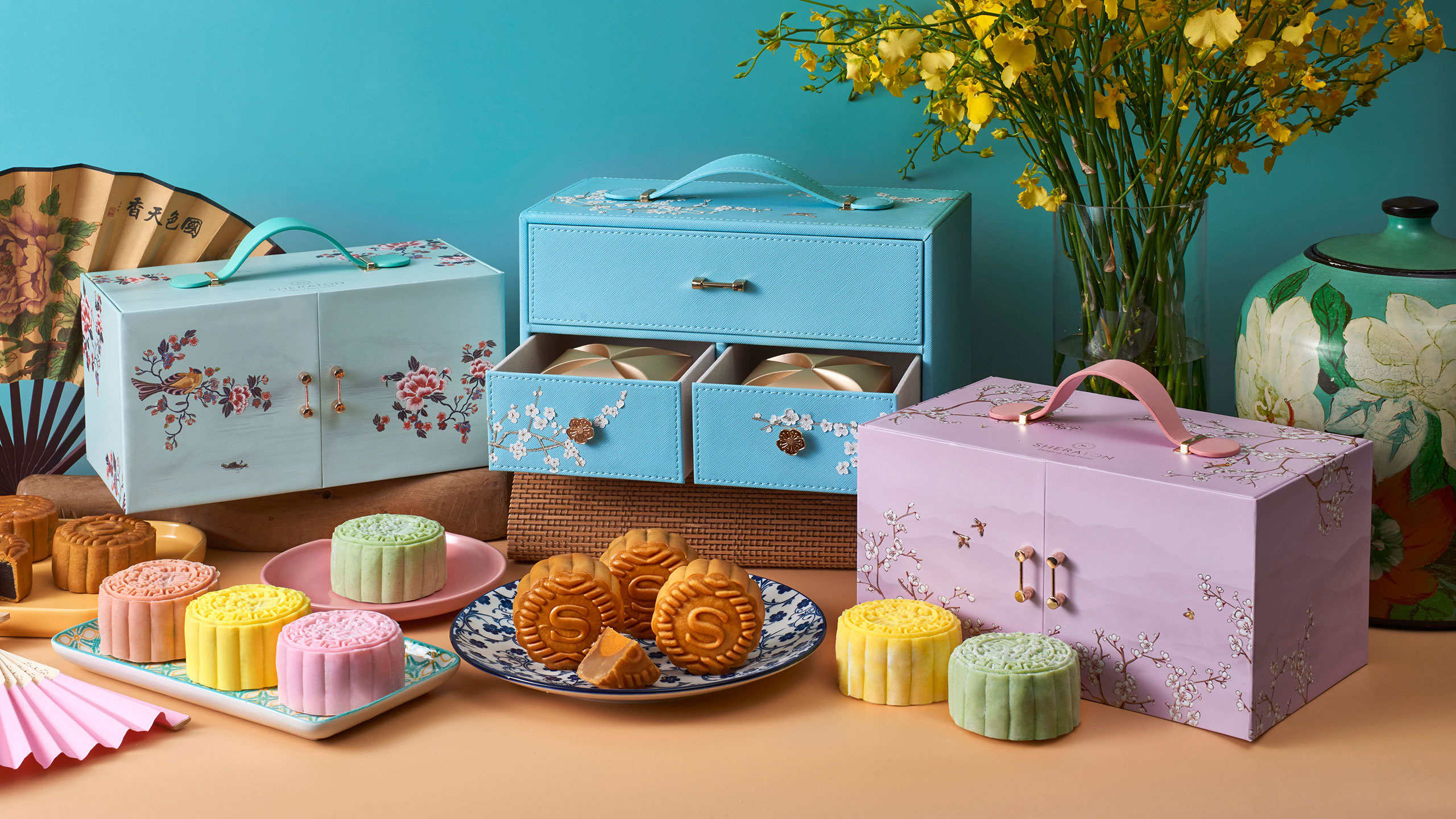 It's almost that time of the year again to give and receive mooncakes as a symbol of harmony and togetherness in conjunction with the Mid-Autumn Festival. While some prefer traditional baked mooncakes housed in thoughtfully designed packaging, others may prefer trying more contemporary flavours for a change. With that said, here are the most unique mooncake flavours we've come across so far to tickle your fancy.
Oh Cha Matcha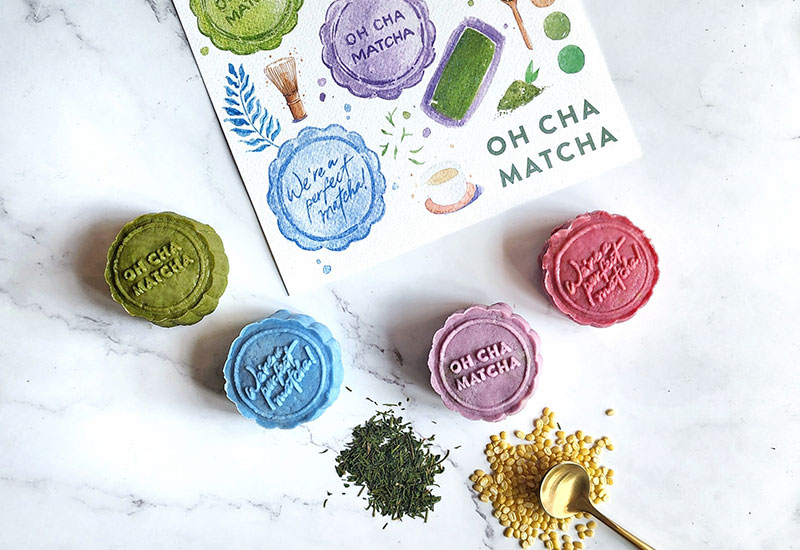 Matcha fans, Oh Cha Matcha is back with its signature snow skin mooncake set this year, featuring an all-new flavour: Gyokuro Mung Bean. Known as the rarest and priciest Japanese green tea available, gyokuro is prized for its fragrant aromas and umami profile. Each set comes in a box of four mooncakes, which are all handmade with natural, plant-based stevia without any artificial colouring or syrup for a dairy-free, sugar-free, and guilt-free indulgence.
Flavours:
Matcha Mung Bean (Matcha Snow Skin)
Hojicha Mung Bean (Purple Sweet Potato Snow Skin)
Genmaicha Mung Bean (Blue Spirulina Snow Skin)
Gyokuro Mung Bean (Beetroot Snow Skin)
Price: RM69.90
Available for self-pickup and delivery (selected locations only) exclusively at the Oh Cha Matcha TTDI store. To make an order, visit this website.
Website | Facebook | Instagram
Johnnie Walker X The Ice Cream Bar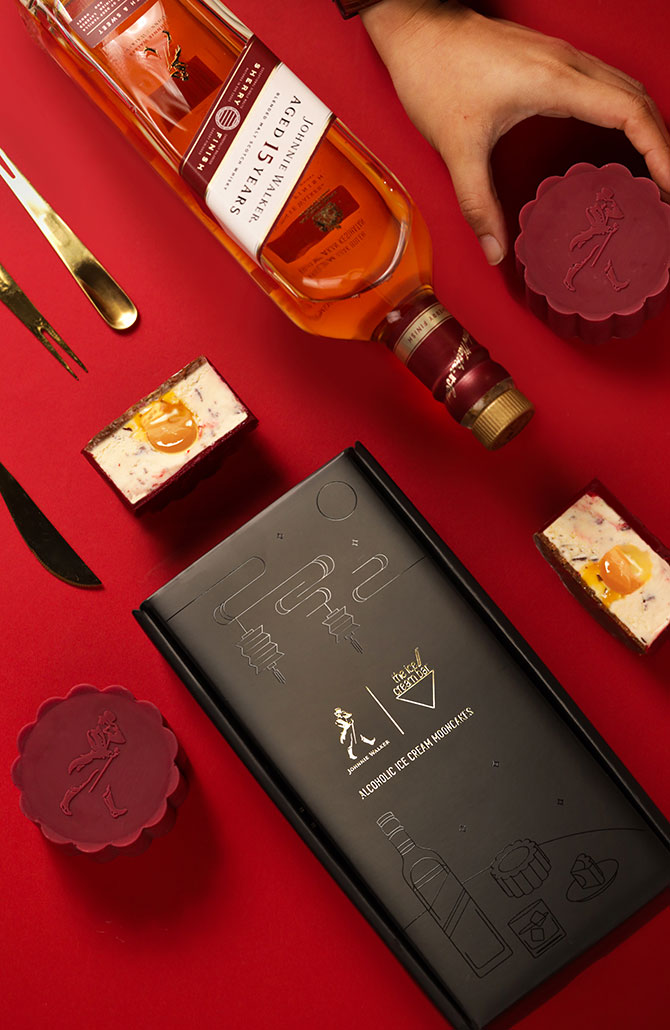 If a boozy mooncake sounds like something up your alley, check out The Ice Cream Bar's mooncake, created in partnership with Johnnie Walker. The special edition mooncake consists of full-bodied creamy ice cream made with a generous pouring of the premium Johnnie Walker Aged 15 Years Sherry Finish and topped off with fine chocolate chips. It is then coated in a layer of chocolate and comes with an orange truffle yolk. The Johnnie Walker Whisky Cream Mooncake set comes in a box with two pieces, accompanied by a reusable bag and a set of premium cutlery that's perfect for gifting!
Price: RM99
The Johnnie Walker Whisky Cream Mooncake is available for purchase via The Ice Cream Bar's website or through GrabFood, while stocks last.
Website | Facebook | Instagram
Oversea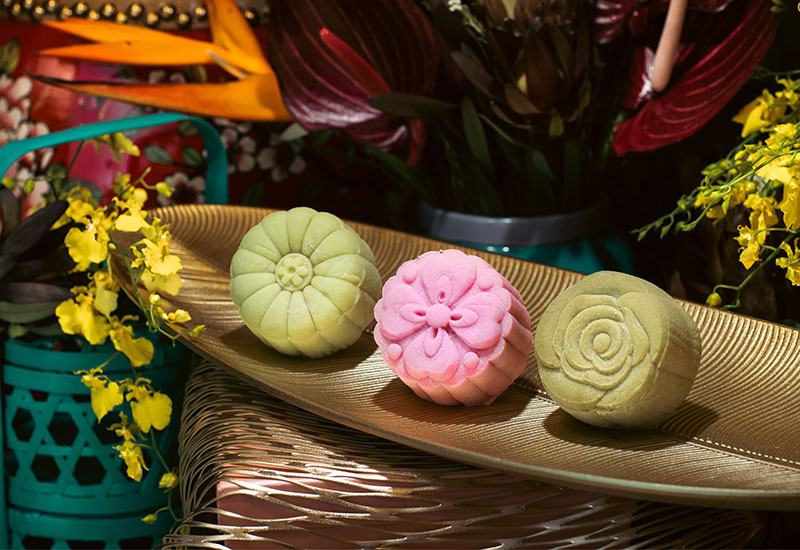 Inspired by the 2018 film Crazy Rich Asians, Oversea presents a mooncake collection dubbed Crazy Rich Flavours, offering a wide selection of mooncakes to satisfy everyone's preferences. There are three series in the collection, namely the Baked Series, Lava Series, and Snowy Series. For the adventurous palates, the Lava Series offers highlights such as Matcha Lava Mooncake, Custard Lava Mooncake, and Durian Lava Mooncake that ooze with rich, creamy fillings.
Flavours:
Matcha Lava Mooncake
Custard Lava Mooncake
Durian Lava Mooncake
Price: RM98 for a box of six pieces
The Oversea Crazy Rich Flavours 2022 Mooncake Collection will be available for purchase at Oversea Restaurants in Imbi, Sri Petaling, Ipoh, and Genting outlets, as well as via the website from now till 10th September 2022.
Website | Facebook | Instagram
Yun House, Four Seasons Kuala Lumpur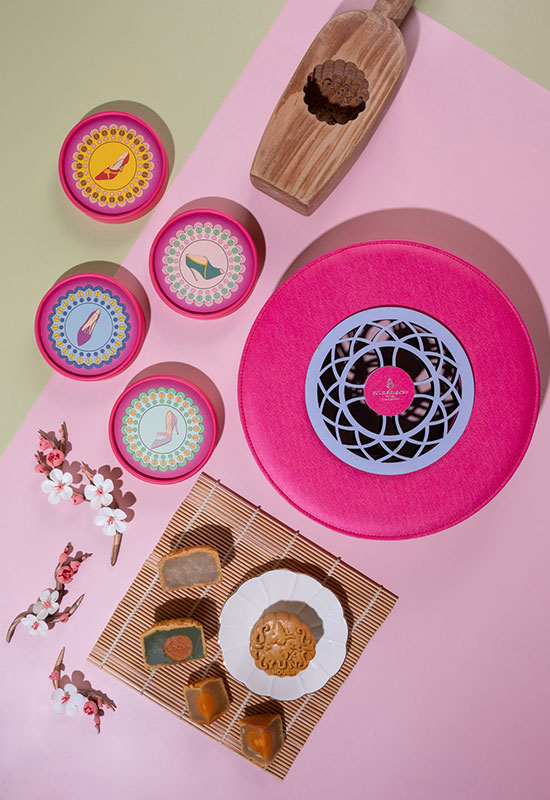 Yun House's Chef Jimmy Wong has created a decadent assortment of mooncakes this year, including innovative snow skin editions made with Musang King Durian and Valrhona Chocolate with Himalayan Salt. There's also a rum-infused mooncake crafted in collaboration with the hotel's famed Bar Trigona, designed for fans to raise an (edible) toast to the festive season!
Flavours:
Durian Musang King
White Lotus Paste with Seaweed and Macadamia Nuts
Valrhona Chocolate with Himalayan Salt and Single Yolk
Trigona Rum Ki Tikki (in collaboration with Bar Trigona)
Price: RM588 for a box of four (inclusive of Jimmy Choo-designed box)
To place orders, visit the Shopify page here.
Website | Facebook | Instagram
The KARLS Group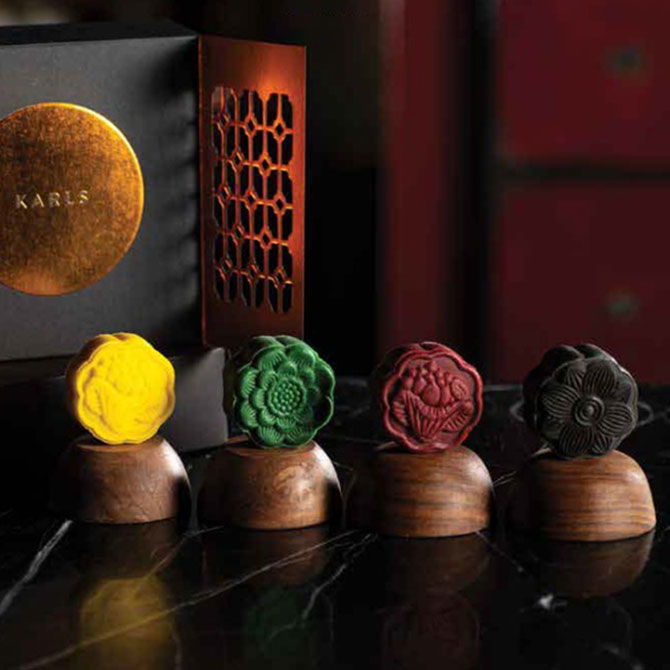 The team behind Skillet and Beta have once again curated a special collection of mooncakes for the Mid-Autumn Festival this year. There are four different series in the collection, each arriving in a black box with reflective gold details that look like ornamental windows.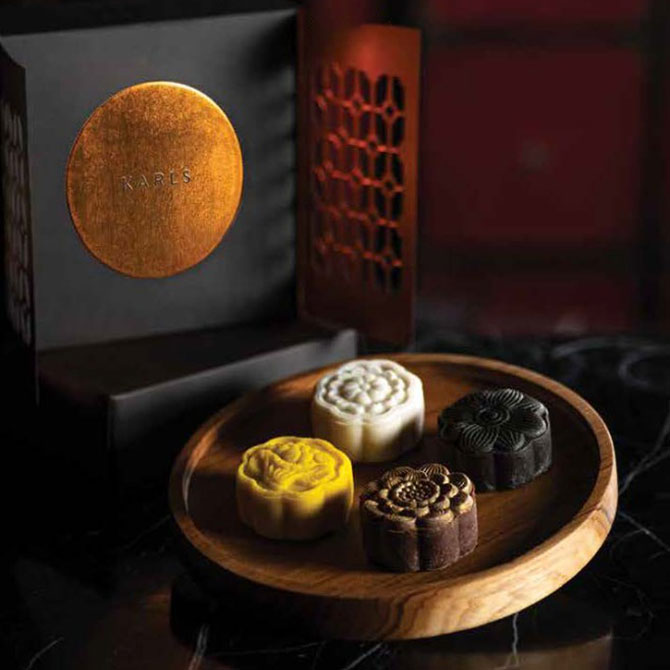 Flavours:
Snowy Lotus Paste with Goji Berry (red)
Snowy Salted and Sweet Paste with Chicken Floss (yellow)
Snowy Black Sesame Paste with White Pearl (black)
Snowy Matcha Paste with Single Yolk (green)
Snowy St. Domingue Single Origin Chocolate Brownies with Cognac Ganache (golden)
Snowy Tiramisu Paste with Dark Pearl (white)
Available for pickup and delivery on selected dates from now until 9 September. For more information or to order, visit www.karlslifestyle.com.
Website | Facebook | Instagram
Remy Cointreau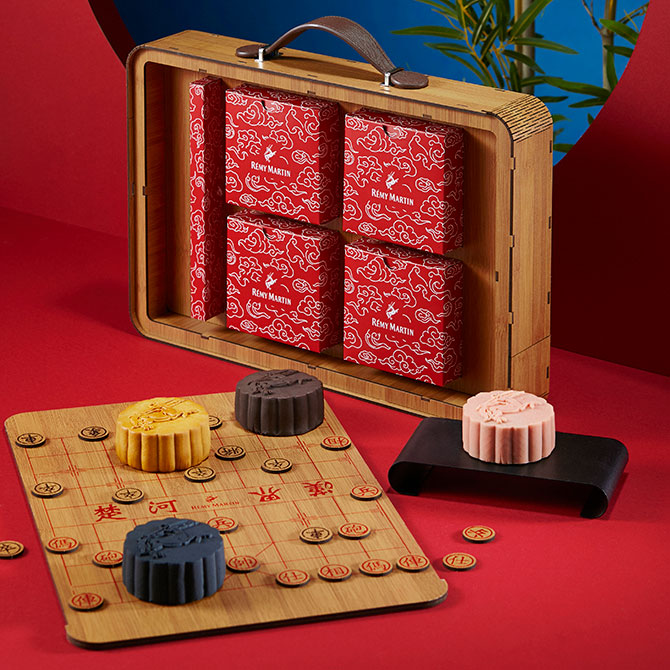 To commemorate this season of reunion, Remy Cointreau has introduced a limited-edition seasonal mooncake gift set designed to bring families together for a time of feasting and fun. The set comprises four unique flavours of mooncakes, housed in a special wooden case along with an exclusive chess board.
Flavours:
Lava Chocolate
Red Bean with Mochi
Charcoal White Lotus with Crushed Yolk
Classic Jade Pandan with Single Yolk & Custard
The mooncake gift set is available at selected wholesalers around the Klang Valley, Melaka, Johor, Ipoh and Penang. 
Mandarin Oriental Kuala Lumpur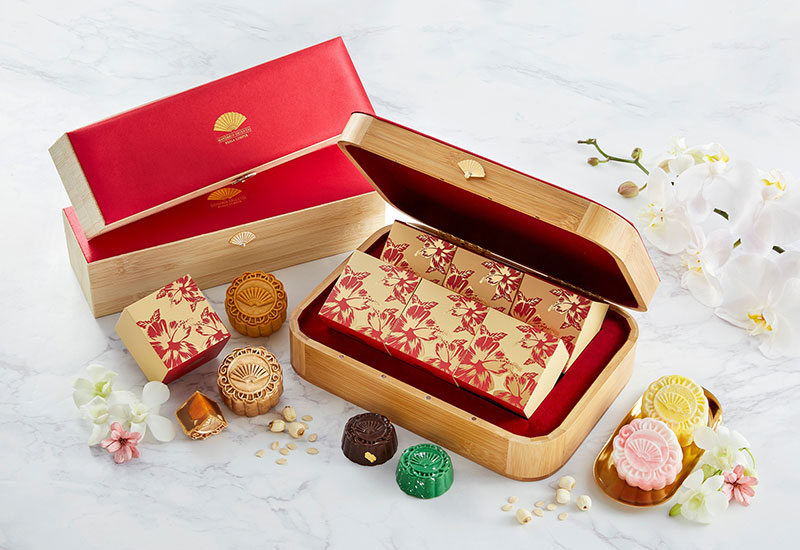 Aside from classic mooncakes, the Mandarin Cake Shop at Mandarin Oriental Kuala Lumpur offers an array of alternative flavours, including durian, cheese, and chocolate options. What's more, every purchase of six mooncakes will come with a Premium Bamboo Box that can be reused to store personal items.
Flavours:
Snowskin Musang King Durian Mooncake
Snowskin Cheese with Strawberry & White Lotus Paste Mooncake
Malaysian Milk Chocolate Jasmine Sesame Ganache Mooncake
Malaysian Single Origin Dark Chocolate Mooncake
Snowskin Salted Egg Custard with Pistachio nuts and Red Bean Paste
Price: From RM38 to RM68 per mooncake
Available for takeaway and delivery from The Mandarin Cake Shop at the hotel lobby. To place your order, visit this website.
Website | Facebook | Instagram
Yue, Sheraton Petaling Jaya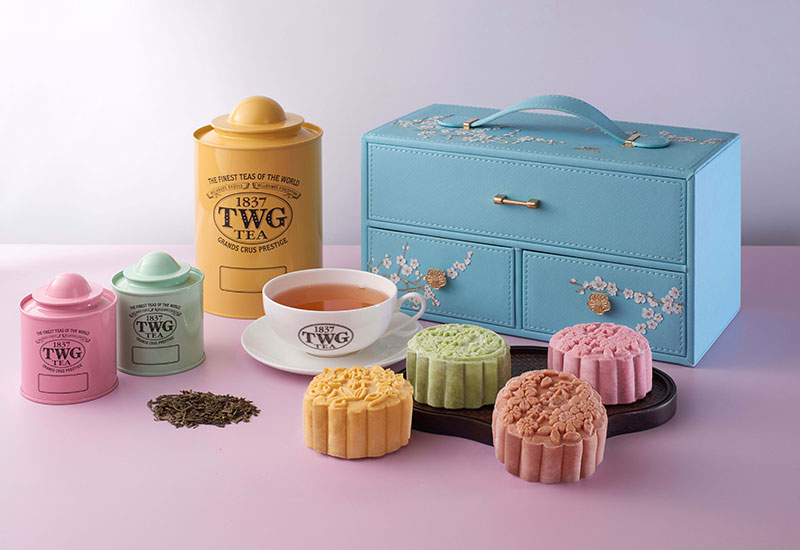 To make this year's mooncake festival extra special, Yue has teamed up with TWG Tea to create a collection of mooncakes infused with the tea brand's unique blends. There are four snow skin options to choose from, including black and green teas. The TWG Caravan Tea-infused mooncake offers hints of sweet mints and citrus fruits, whilst the TWG Red Chai Tea-infused version has subtle notes of aromatic Indian spices to warm the soul. On the other hand, the TWG Pomme Prestige Tea mooncake features delicate notes of fragrant apples, whereas the TWG Pink Flamingo Tea edition offers a refreshing blend of green tea and crimson hibiscus.
Flavours:
Snow Skin Mooncake infused with TWG Caravan Tea
Snow Skin Mooncake infused with TWG Red Chai Tea
Snow Skin Mooncake infused with TWG Pomme Prestige Tea
Snow Skin Mooncake infused with TWG Pink Flamingo Tea
Price: RM36 per piece
To make a purchase, visit www.sheratonpjstore.com. For enquiries, contact 03 7622 8888, 017 228 6098 or email [email protected].
Website | Facebook | Instagram
Li Yen, The Ritz Carlton Kuala Lumpur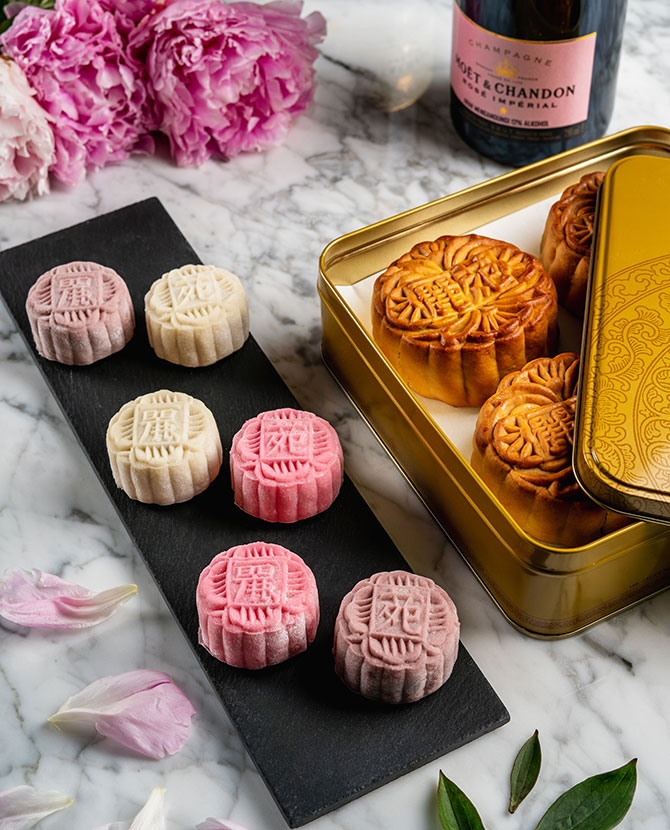 The Ritz-Carlton KL's signature champagne-infused mooncakes make a return this year for a tantalising treat. Like previous seasons, the Moët & Chandon Champagne mooncake series includes two flavours, with the exclusive Rosé Imperial Champagne selection being the fan- favourite.
Flavours:
Moët & Chandon Champagne Mini Ping Pei
Moët & Chandon Rosé Imperial Mini Ping Pei
Cream Cheese with Port Wine Mini Ping Pei
Price: From RM20 to RM424 per mooncake
Available for takeaway and delivery from the hotel. To place your order, WhatsApp or call +6018 646 8033. For dining enquiries, email [email protected].
Website | Facebook | Instagram
Crème De La Crème
View this post on Instagram
This year, Creme de la Creme is marking the Mid-Autumn Festival with four petit gateux mooncakes that pay tribute to the festival's mythical origins. Each mooncake takes CDLC artisans at least eight hours to individually handcraft using the finest selection of 100 per cent natural ice cream flavours.
Flavours:
Moon Rabbit:

 

Japanese genmai ice cream, nori cracker, white chocolate dip | Black sesame ice cream, and matcha ganache as yolk
Hamtaro:

 

Pu'er chrysanthemum ice cream, dark chocolate ice cream, yuzu sorbet, chocolate cookies, and white chocolate dip
Chang E's Fan:

 

Oolong tea ice cream, white chocolate dip, and longan sorbet as yolk
Chang E's elixir:

 

Houjicha ice cream, sesame crunch and white chocolate dip | Sakura ice cream and lychee rosemary compote as yolk
Price: RM135 for a box of four (inclusive of a metallic cooler bag)
To order, visit your nearest Crème De La Crème outlet.
Website | Facebook | Instagram
Sofitel Kuala Lumpur Damansara
Sofitel KL Damansara's Wan Chun Ting presents a unique selection of snow skin mooncakes prepared by Chef Low Kin Fung for the mid-autumn season, featuring flavours like osmanthus blueberry and coffee with cream cheese. These mooncakes are available for purchase individually or in a set of four as part of the restaurant's carefully packaged gift-ready boxes, the Classic Copper Treasure and the Galaxy Series.
Flavours:
Signature Osmanthus blueberry
Green tea with red bean
Yam with dark chocolate
Coffee with cream cheese
Price: RM42 nett per mooncake
For orders, please call 03 2720 6608 or email [email protected].
Website | Facebook | Instagram
Shanghai, JW Marriott Kuala Lumpur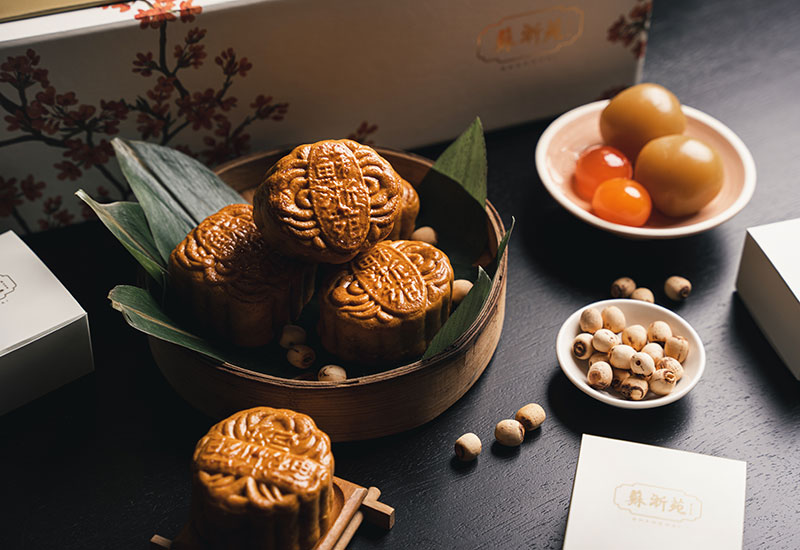 As you'd expect from the restaurant's name, Shanghai is paying tribute to the Shanghainese tradition of celebrating the Mid-Autumn Festival with a traditional crispy mooncake. Aside from returning classics, those with a sweet tooth can try the tiramisu mooncake with salted egg yolk or the snow skin pandan paste with pineapple, to name a few.
Flavours:
Shanghainese Crispy White Lotus Paste
Baked Tiramisu Paste with Salted Egg Yolk
Snow skin pandan paste with pineapple
Snow skin date and plum with green tea paste
Price: RM22 for snow skin mooncakes | RM37 for traditional baked mooncakes
To place an order, WhatsApp/call +6018 591 8537 or email [email protected].
Website | Facebook | Instagram
Licky Chan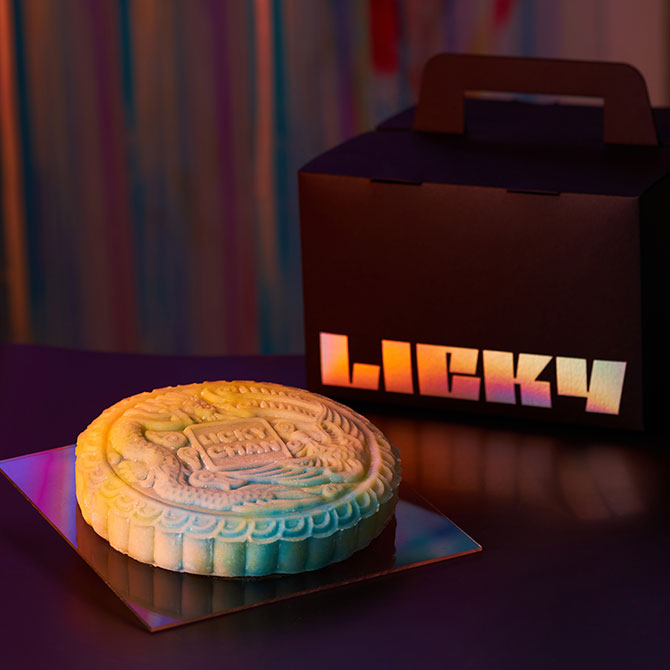 For another ice cream mooncake option, check out Licky Chan's specially crafted six-inch version that's made with silky snow skin, tonka bean ice cream, cacao nibs, and a durian cream center. The pastel rainbow-coloured seasonal creation is adorned with a dragon encircling its logo, symbolising power and good luck for the season. Each mooncake feeds up to six people—making it ideal for sharing!
Price: RM118
Pre-orders start from 12 August 2022 via WhatsApp at 011 6410 3677 and will be available for purchase in-store and on Beepit from 20 August to 11 September 2022. 
Website | Facebook | Instagram
The Line Kitchen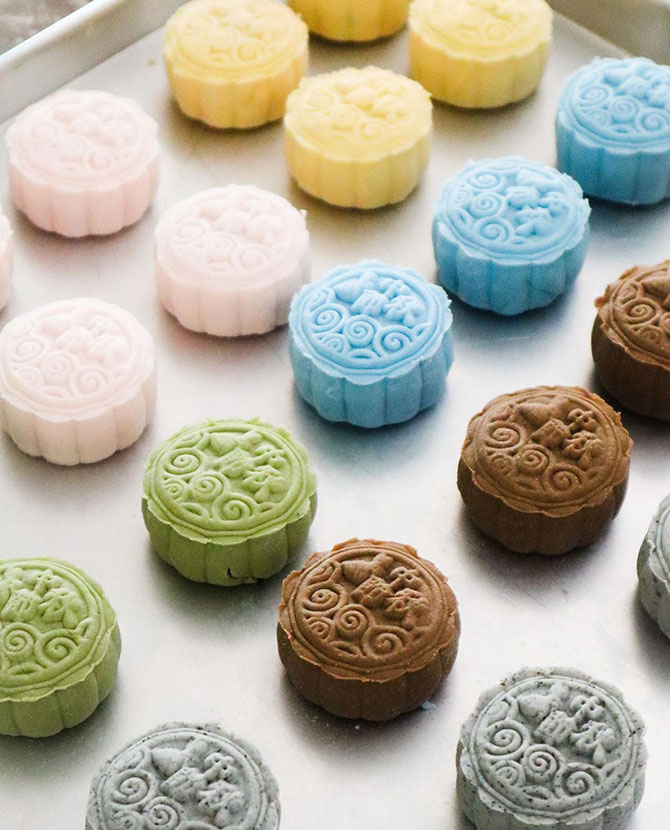 Helmed by digital creator and self-professed foodie Edeline How, The Line Kitchen is celebrating the Mid-Autumn Festival with a range of sweet and savoury mooncakes you probably won't find anywhere else. Expect an eclectic mix of yellow, pink, blue, green, grey, and brown treats made with no artificial colouring or flavouring—getting their colours naturally from dehydrated sakura, matcha, pumpkin powder, and more. They are sold in a set of four large mooncakes housed in a box shaped like a tower, as well as in sets of six or 12 bite-sized mooncakes.
Flavours:
Blue Pea Skin with Gula Melaka and Coconut
Pumpkin Skin with Chili Shrimp Chicken Floss
Matcha Skin with Yuzu Marmalade
Sakura and Lychee
Black Sesame
Earl Grey with Mixed Nuts
Price: Sets range from RM48 to RM125
To pre-order a set, contact +6019 700 9395 via WhatsApp.
Kitchen Confidante
View this post on Instagram
Karen Chai, a French discipline pâtissier from Le Courdon Bleu and the woman behind home patisserie Kitchen Confidante, has unveiled one of the most artistic mooncake series we've seen this year, dubbed the Zhong Qiu collection. The bamboo wood and paper packaging takes inspiration from the traditional Japanese pattern 'Asanoha', which resembles a hemp leaf and symbolises longevity and health. A classical piano piece by Yiruma plays when you open the box, revealing an array of eight uniquely designed artisanal mooncakes, with flavours ranging from Malaysian-inspired Dodol Durian to Japanese inflections in the form of Okinawan Sweet Potato.
Flavours:
Dodol Durian
Neko Anko
Maca Nola
Xian Xiang
Callebaut 811
Gui Hua
Okinawan Sweet Potato
Price: RM250
To order, contact +6012 636 6296 via WhatsApp.
A.Cross Creations X The Studio KL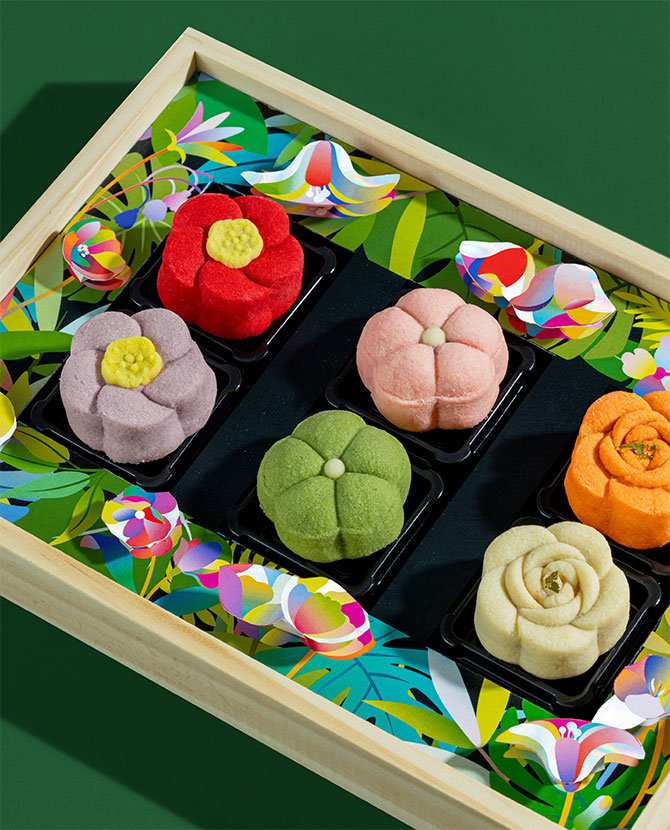 Local gifting brand A.Cross Creations has teamed up with The Studio KL to present the Celestial Blooms gift set in time for the festive season, comprising six artisanal mooncakes in three unique flavours. Drawing references from floral notes and drink pairings, the aesthetically pleasing mooncakes take the form of beautiful blooms that are aptly named Lucky Hibiscus, Blooming Sakura, and Darling Rose. These colourful confections are housed in handcrafted wooden boxes that unveil a whimsical garden framed by pop-up flowers when opened. Each gift set also comes with a festive paper bag and a complimentary gift card.
Flavours:
Darling Rose:

 

French rose, red bean and melon seed
Blooming Sakura:

 

Matcha and sakura
Lucky Hibiscus:

 

Coffee, lotus paste, and gula melaka
Price: RM320
Visit this website to order. 
Find more mooncake collections here.
| | |
| --- | --- |
| SHARE THE STORY | |
| Explore More | |