In the past few years, Malaysia (especially Kuala Lumpur and Petaling Jaya) has seen a rise in the number of co-working spaces—with some notable names such as Regus and Colony. Now, the city finally has its first co-cooking or cloud kitchen space. Meet Cookhouse, the first community-based co-sharing kitchen space in Malaysia.
Located in Petaling Jaya, the 10,000-square foot, shared cloud kitchen space aims to empower food entrepreneurs (also known as Residents) to hone their kitchen and entrepreneurial skills without the need to spend on their own brick-and-mortar property. Cookhouse can be accessed 24/7 and consists of five private kitchen studios, a shared baking production, Asian and Western kitchen, prep kitchen, walk-in freezers and chillers, dry storage, packing facility, loading area, as well as food delivery pick up stations for easy distribution.
In addition to complying with Malaysia's regulations—such as standards for safety and cleanliness, Cookhouse is currently in partnership with tech partners like Food Market Hub, Aliments, Oddle, SoCar, and Mr.Speedy.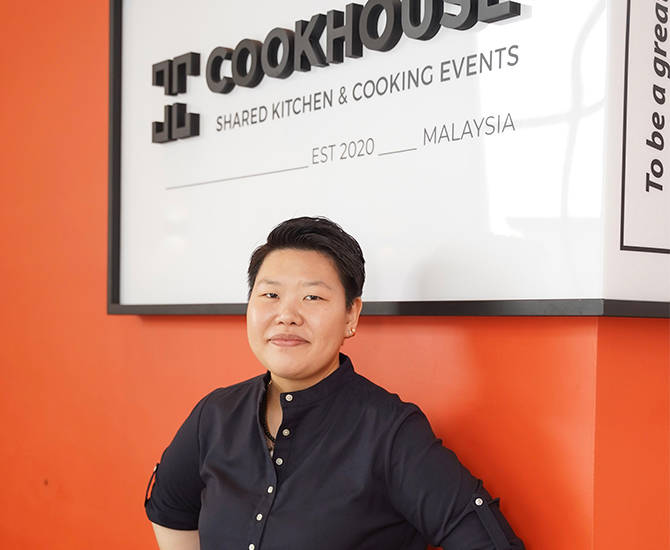 We had the opportunity to speak to the founder of Cookhouse, Huen Su San, to learn more about the cloud kitchen space, the idea behind its conception, and Cookhouse's objectives.
What is Cookhouse and who is it for?
"Cookhouse is a community-centric concept of shared kitchens with commercial-grade kitchen facilities and cloud kitchens, a cooking event space, and co-working office. Cookhouse is built for food entrepreneurs who are serving online and delivery markets—both new and established players.
"Cookhouse is a good fit for online and food delivery businesses, restaurants, and cafes looking for central kitchen and prep kitchens, caterers, food truck operators, and all sorts of food producers. New food startups benefit from the lower startup cost and supporting ecosystem which shortens its learning curve while established players leverage on reaching new markets at a faster pace and lower cost."
Where and how did the idea for Cookhouse come from?
"The idea of Cookhouse came about from my own experience in F&B as well as running Glasshouse at Seputeh, an events venue. At Glasshouse at Seputeh, we host all sorts of events, including food events. It was here that I saw a gap in the market for an event space built specifically for food events and demonstrations. In expanding my own F&B business, I had built up two central kitchens and realised the high capital expenditures involved and challenges in setting them up.
"Through this, I saw the value in being able to provide a shared alternative for other food businesses in Malaysia as an option while scaling up their businesses. Marrying both these solutions together saw the birth of Cookhouse—the name was a natural progression to complement our previous concept, Glasshouse."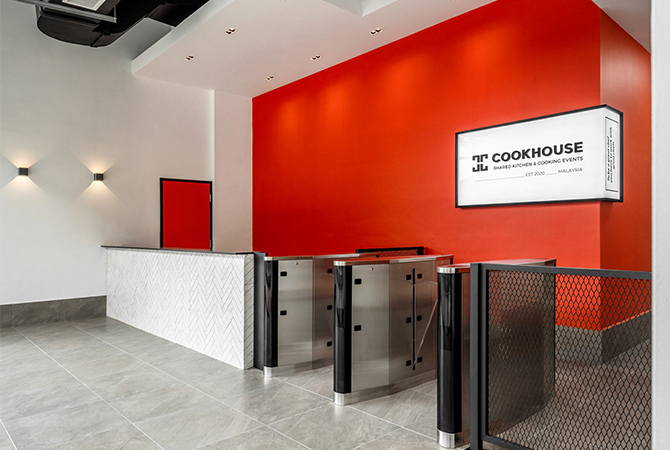 What is Cookhouse's main objective? Is there an ultimate goal that the team is working towards?
"Cookhouse's ultimate objective is to create an ecosystem of support for people passion for food and business. Besides providing the infrastructure, we build a network of solutions around these food businesses and entrepreneurs where we are able to share and pool resources, learn from one another, and grow together.
"In the short time which we have started operating, we have already built a network of partners and collaborators from logistic companies, tech companies, and food service providers which will benefit our Cookhouse community. In the end, our goal and hope is for our Cookhouse residents to be successful and profitable. Their success stories will be the very core of our community."
Cookhouse is a new concept to many. Why should one use the facilities in Cookhouse?
"Cookhouse provides lower barriers to entry and commercial setup which will allow entrepreneurs to capitalise on volume production equipment, tech gadgets, and conveniences as well as exposure and support from our partners and collaborators. For a new food startup, Cookhouse—with its ecosystem and support network—gives these new entrepreneurs a headstart in their business venture.
"More importantly, Cookhouse is built by a food business operator from the perspective of a food business operator to specifically address challenges and find solutions for the benefit of the food entrepreneur. Cookhouse is also able to cater to the food business through its different growth stages, from start up through expansion phases by adding satellite cloud kitchens across Klang Valley to reach its delivery markets."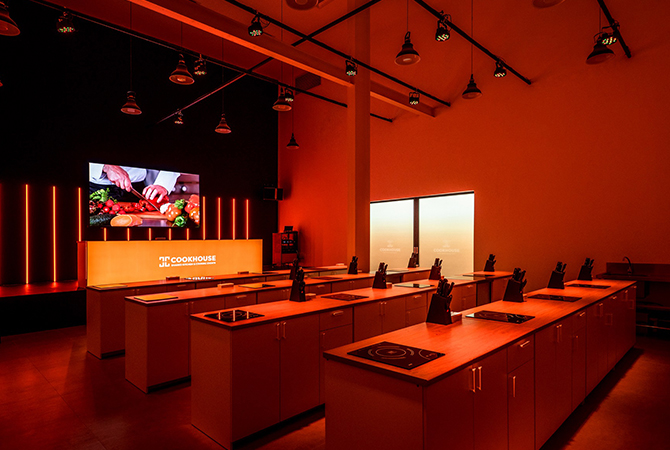 One of the most interesting aspects about Cookhouse is the design. Is there a specific reason behind the vivid colour palette?
"Orange is a vibrant colour that transmits positivity and energy. We opted for this colour as it is able to evoke these emotions within us, to fuel and drive our passion in food and business."
Did Cookhouse work with local personalities in the F&B industry on the kitchen's design and facilities?
"For the conception of the first flagship Cookhouse facility, it was primarily my own idea built around practicality and solving problems that I had experienced myself while growing my own food businesses. I do hope to get more feedback and input from other F&B personalities for our next upcoming kitchen setup. The current design and facilities are built to inspire and promote interaction between Residents."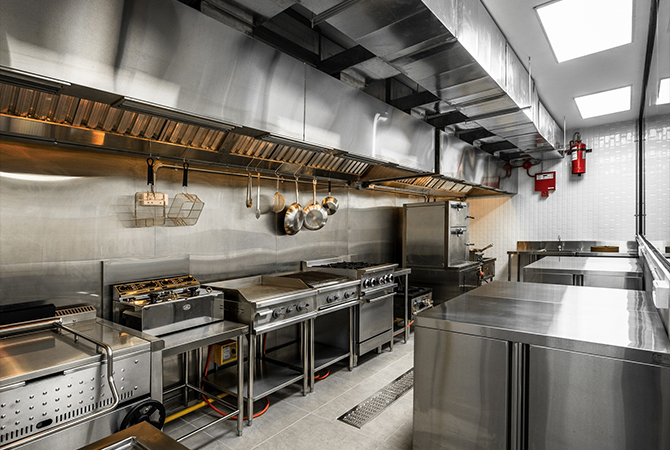 What are the basic rates for anyone who wants to start?
"The rates start as low as RM200 per pax per day or RM900 per pax per month, inclusive of utilities."
If you could invite a prominent chef to run a class at Cookhouse, who would you choose, and why?
"Chef Wan because he is an icon and an ambassador of Malaysian food. When the world is your oyster, after a journey or adventures of exploration, the taste we always long for will be one of home."
Lastly, do you have any advice for aspiring chefs and food entrepreneurs in Malaysia?
"Fight for your dreams, build your team, and live your dream. When we are dealing in the food business, we are very much a contributor to society's life experiences. Our products and services bring people together, give people comfort, memories, excitement, and happiness. It's a beautiful creative industry to be in, surrounded by a lot of passion. But it is important for business sustainability that passion projects are also profitable projects."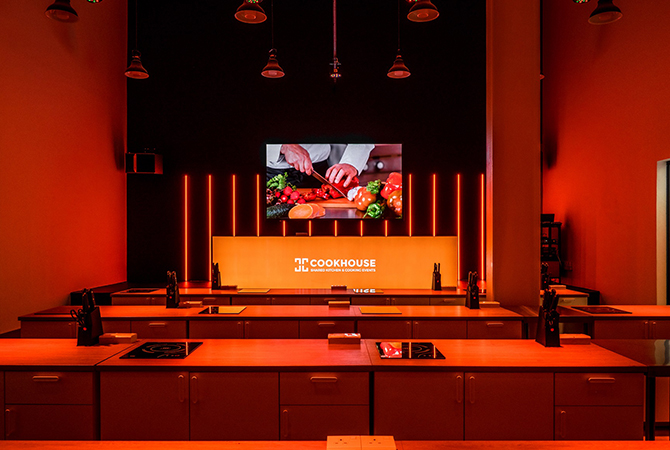 To ensure that F&B businesses grow efficiently and sustainably, food entrepreneurs require the right environment. Through the opportunities of shared spaces, Cookhouse plans to assist food entrepreneurs and chefs by providing them with a supporting network as well as taking away the expected issues such as pest control and equipment maintenance. It's the first-of-its-kind cloud kitchen in Malaysia and Cookhouse is definitely a beacon of hope for anyone in the F&B industry, especially during a zeitgeist filled with uncertainties.
---
Cookhouse Malaysia
Address: 3A, Jalan PJS3/1, Petaling Jaya
Contact: 012 521 8855
Email: [email protected]
Website | Facebook | Instagram
---
| | |
| --- | --- |
| SHARE THE STORY | |
| Explore More | |