If you watched today's (6 April 2020) special live speech by Prime Minister Muhyiddin Yassin, you will notice the mention of kolo mee (or mee kolok). The Prime Minister even gave Mee Kolok Haji Salleh Restaurant in Kuching, Sarawak as a delicious example to check out! This spot on Jalan Satok is probably one of the most popular places for the dish in the city (and all of Sarawak).
Now that many Malaysians are staying at home following the Movement Control Order (oh, Miss Corona), it is only normal for us to crave the tasty noodle dish. However, we can't be eating at the stall or restaurant right now. Worries be gone—we have it all sorted for you. There are some great places that you can order from in the Klang Valley. If you're up for it, you can even make it yourself!
What Is Kolo Mee?
Known as the signature dish of Sarawak, Kolo Mee or mee kolok is a type of all-over tossed noodle dish. All you need to form a brilliant dish of kolo mee are boiled springy and thin egg noodles, cooking oil, fried shallots, fried garlic, some seasoning (including pepper and monosodium glutamate or MSG), and light soy sauce. Of course, everyone has his or her own secret ingredients to set their concoctions apart from the rest.
Kolo Mee is available for indulgence all day. Really. You can have it for breakfast, lunch, and dinner. Although the dishes are usually topped with minced pork or char siew in the past, there are now halal versions of the Sarawakian delight—utilising substitutes (such as the ones at Mee Kolok Haji Salleh Restaurant in Kuching.
You can use pork lard, vegetable oil, or even peanut oil to coat the noodles. Of course, your choice of ingredient will affect how your kolo mee tastes.
Here's a fun fact: the term "kolo" literally means "dry mix" when translated from the Cantonese translation "gon lo". All in all, kolo mee is just a really, really palatable dish—one that's perfect for all Malaysians.
Here's A Simple Kolo Mee Recipe
If you don't plan to order in during the MCO, check out this really easy kolo mee recipe and make it yourself at home! What do you need?
Ingredients you require are:
1 packet of egg noodles
250 grammes of minced chicken/pork
1 medium shallot (sliced)
1 cube of chicken stock
A pot of water
Spring onion and fried shallot (for garnishing)
Seasoning for noodles
3 tablespoons of garlic/shallot oil
1 tablespoon of light soy sauce
1/2 tablespoon of sesame oil
Salt and white pepper to taste
Seasoning for meat
1 tablespoon of light soy sauce
1 tablespoon of dark soy sauce
1 tablespoon of sweet soy sauce
1 teaspoon of sesame oil
1/2 teaspoon of sugar
Salt and white pepper to taste
Steps:
1. Marinate your choice of minced meat with the seasoning mentioned at the "Seasoning for meat" section above. Do this for 15 minutes.
2. After heating up the oil on the pan, begin to fry the shallot. Proceed to take out the fried shallot after it turns brown.
3. Keep aside 3 tablespoons of shallot oil to be used as noodle seasoning later.
4. Utilising the remaining oil in the pan, cook the marinated minced meat until they are cooked through.
5. Gather all the noodle seasoning in a big bowl.
6. Boil a pot of water with a cube of chicken stock.
7. Cook the noodles and drain it.
8. After draining, place the noodles in the seasoning bowl and proceed to toss.
9. You can now start plating and garnishing with chopped green onions, fried shallot, and minced meat.
There you go! Now you have a rather simple and fun kolo mee recipe to try at home. At the end of the day, while many seek for the original/authentic variation, it is always up to you when it comes to making the dish your very own masterpiece.
Where To Get Kolo Mee Right Now?
With the Movement Control Order in place, you might be wondering how and where to buy/order the noodle dish.
1. SRK Noodle House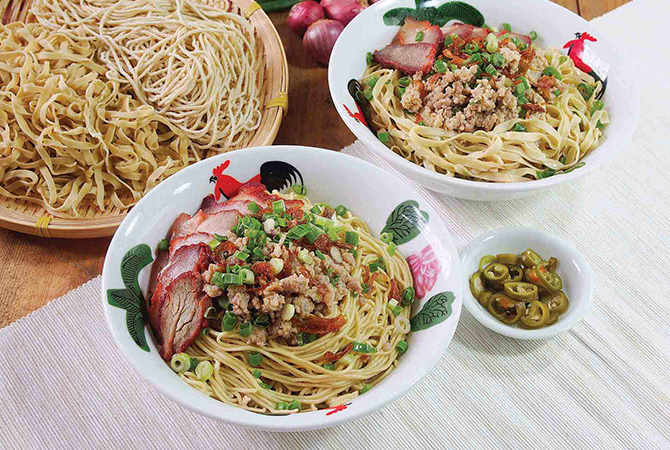 Available for delivery, you can order kolo mee from this popular noodle establishment in Kuala Lumpur. You can order through FoodPanda from the following branches: Paradigm Mall, [email protected] Wang, Taman Cheras, SS15, Section 14 PJ, Kuchai Lama, and Bandar Puteri Puchong. Make sure to check with specific branches for their operating hours.
2. Face To Face Noodle House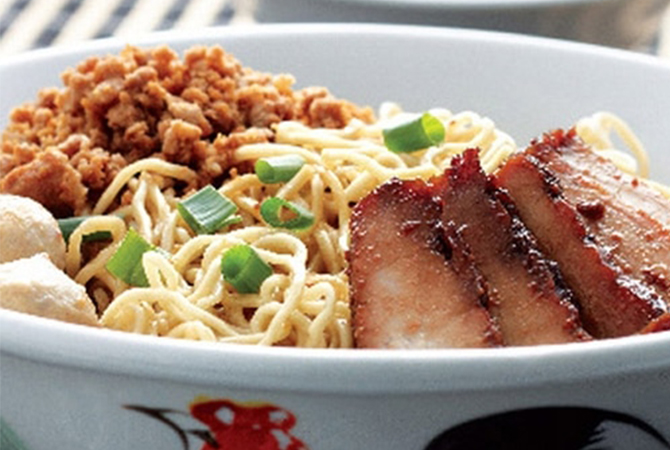 Available for delivery through both FoodPanda and GrabFood, you will be able to get kolo mee from many of the outlets in town from 9am onwards—including Sunway, Kajang, Taman Megah, Bangsar, Jalan Ipoh, Setapak, Taman Desa, and Kepong. Operating hours differ from branch to branch so make sure to check!
Website | Facebook | Instagram
3. L&R Sarawak Kolo Mee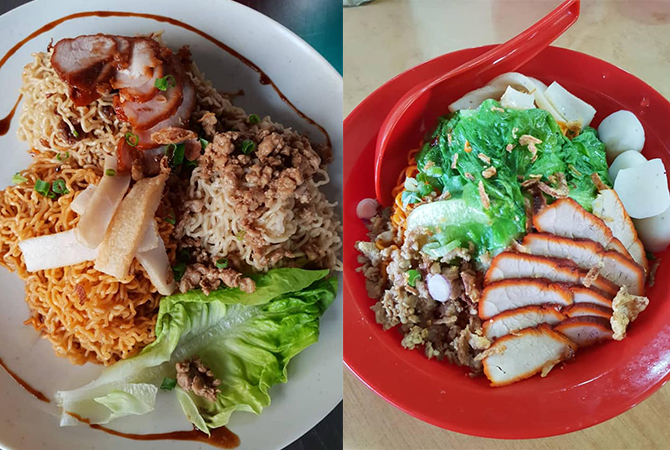 You can order kolo mee by contacting them on WhatsApp. Deliveries will be conducted by Lalamove but you have the option to collect yourself as well. L&R can be contacted at 019 3086 541 (Leo) and 019 4379 927 (Mina). Make sure to order in advance!
Address: Restoran One One Eight, Desa Tun Razak, Kuala Lumpur
4. Auntie Lan (I-Tea House)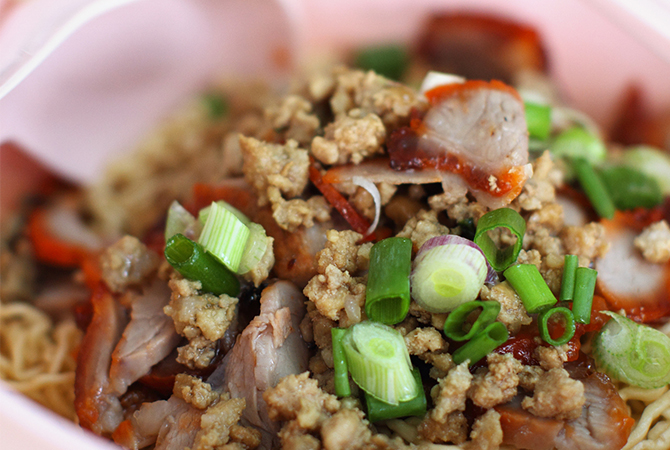 Available every day for takeaway only (from 8am – 12pm), you can get kolo mee and laksa here from Auntie Lan. To pre-order, call 011  3622 8262.
5. Ruth Noodle House
The kolo mee from Ruth Noodle House will be available from 8am to 3pm through GrabFood. The kolo mee here is served with minced pork and vegetable shallot. You can also order packs of noodles to cook at home. Choose between thick or thin noodles as well as signature sauce or black sauce. To order, call 012 3318 681. If you prefer to pick up the packs yourself, you can do so as well.
Address: 8, Jalan Sawi, Taman Goodwood, Off Jalan Kuchai Lama
6. FY Lunch and Break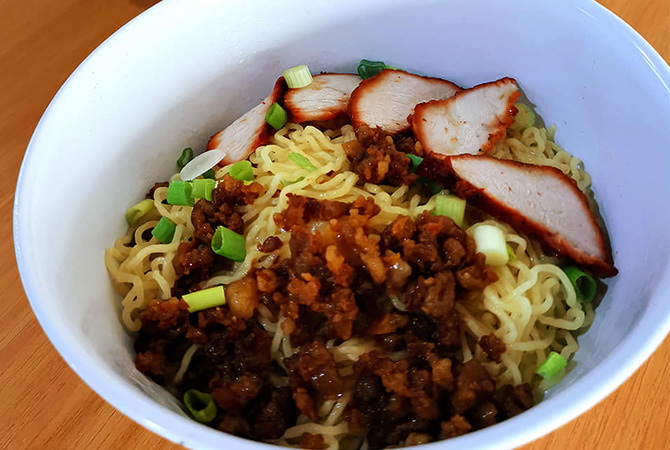 Operating from 8am to 8pm every day (except Thursday), the kolo mee here is available for delivery through GrabFood. You can also order a dry chili version.
Contact: 016 883 0755
Address: 12, Jalan Hujan Rahmat 3, Taman Overseas Union Garden
There you have it! Whether you decide to order in or make your very own kolo mee, you're bound for a delicious ride. Just because you have to stay in doesn't mean you can't still feast on scrumptious delicacies—like Sarawak's iconic kolo mee.
For more easy ingredients to cook at home, visit this website.
| | |
| --- | --- |
| SHARE THE STORY | |
| Explore More | |