There's no one who talks as passionately about food—Kristang cuisine in particular—as Chef Melba Nunis. The award-winning author and chef has made it her life's motto to educate as many people as possible about the heritage and culture of the Malacca Portuguese Eurasians. Kristang cuisine is rooted in fiery sambal and rich curries punctuated by a harmonious mix of culinary styles. It is best summarised as a bit of everything—one that fuses Portuguese-Dutch, British and Peranakan cooking with local Malay, Indian and Chinese spices and flavours.
In her quest to promote Kristang cuisine further, Chef Melba is currently running a supper club dubbed 'Dine with Mel' from her home at Ara Damansara. The traditional dishes that she prepares for her guests are all based on recipes that were passed down from generation to generation in her own family. The unique thing about Kristang cuisine is that it varies from each household and thus has a different identity wherever you taste it. For this episode of Malaysian Chefs Cook at Home, Chef Melba shares a simplified version of a kaya and pulut recipe that her mother used to make. One that will bring back the nostalgia of your childhood.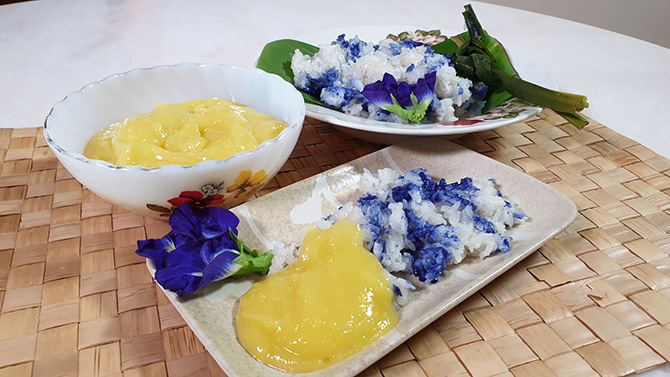 KAYA
Ingredients:
10 Egg yolks
400g Sugar
200ml Coconut Cream
1 Pandan leaf, knotted
Methods:
Whisk egg yolk and sugar until the sugar dissolves. Add the coconut cream and stir for 5 mins until the sugar is completely dissolved, then strain into a Pyrex bowl.
Put the pandan leaf in a bowl, then place the bowl in a steamer and stir every 10 mins for 30-40mins.
Check the consistency is smooth and set aside to cool.
PULUT
Ingredients:
Pulut rice
Coconut milk
Blue pea flowers, soaked
Methods:
Soak glutinous rice for 3-4 hours. Drain and place in a heatproof container. Add coconut milk and mix well.
Place in steamer and steam for 20-30 minutes until rice is tender.
Soak the blue pea flowers in hot water for a few minutes then squeeze to extract the blue colour. Drizzle this over the steamed rice.
Serve the pulut with kaya on top.
| | |
| --- | --- |
| SHARE THE STORY | |
| Explore More | |