The season of Ramadan is finally here and the countdown to Hari Raya Aidilfitri begins. For me, however, Ramadan has been lingering in both my mind and stomachs since over a month ago when the buffet previews were in full swing. Out of all the lip-smacking, rich rendangs, warm and comforting sup tulang and bubur labuk, and tender, juice satays, one dish struck an inspiration in mind. The ketupat. I've grown up with it, its imagery and its fragrant, soft texture and yet, because I'm so familiar with it, I think I've taken it for granted. A lot of us probably have.
Yes, the rendangs and nasi and laksa variations are important recipes to keep and pass down for generations. But let's not leave any behind. Not even the humble ketupat. Yes, it's mostly associated with Hari Raya Aidilfitri and Chef Norazizi bin Taslim, Chef de Cuisine at The St. Regis Kuala Lumpur even fondly recalled weaving ketupat with all his family members as a child on the eve of Hari Raya Aidilfitri for many years. And yes, he agreed that many of the younger generation today might not be practising that tradition anymore—due to the convenience of store-bought frozen ketupat palas or because the older generation are no longer around to continue it.
But even the smallest dish, if I may call it so, plays a part in our culture and a part that should be retained throughout time. And so, I decided to try my hand at weaving a ketupat with Chef Norazizi's assistance and a piece of black cloth's hindrance. It's our Side by Side Challenge (previously, I attempted making cocktails) where I can only listen to instructions of doing something and can't see a single step. So if you thought weaving a ketupat is easy (and according to Chef Norazizi, this is the simplest version!), watch the video and think again.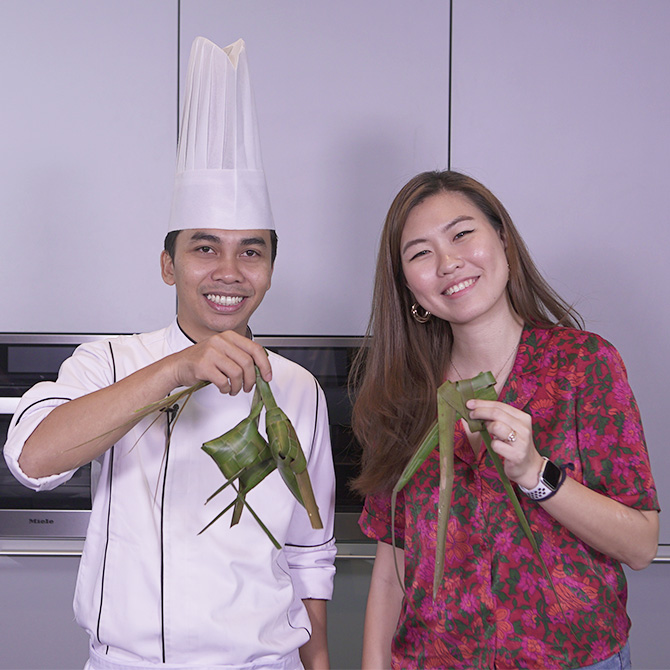 If you really want to have a go as well, here is a more detailed step-by-step guide by Chef Norazizi:
First, take one coconut leaf with your left hand and place it between your thumb and your index finger, with the bottom facing up, and leaving 6cm at the top.  Now, wrap the coconut leaf twice around your palm and hold the leaf with your thumb to keep it in place.
Now, take another coconut leaf with your right hand, but this time, with the bottom of the leaf facing down, and leaving 6cm at the bottom, and wrap the leaf around your palm twice. There are now three loops on your left hand, and three loops on your right hand. We shall name them 1, 2, 3, 4, 5, 6 starting from the left.
Place number 4 on top of number 3 and then continue by going under number 2, then back on top of number 1. Hold this loop with your thumb and you'll have your first layer done.
Now take number 5 and place under number 3, then go on top of number 2 and back to under number 1. And now hold this loop with your thumb, forming the second layer.
Next, take 6 and place on top of 3, then go under 2, and back on top of 1. Then, hold the loop with your left thumb, forming the third layer. You're almost done! At the bottom right, take that coconut leaf that is sticking out, loop it under 3, then go on top of 2 and then under 1 again.
What you need to do now is to tighten up your ketupat. Pull the "tail" of each leaf, making a tight close for the ketupat. Keep repeating the steps until you're satisfied with it!
And now, you are done with making a traditional ketupat. Congratulations!
The Malam Warisan Melayu buffet dinner at The St. Regis Kuala Lumpur is priced at RM228+ per person and will be available daily (6.30pm – 10pm) at The Astor Room from 10 May till 2 June 2019. For more information, email [email protected] or call 03 2727 6696.
| | |
| --- | --- |
| SHARE THE STORY | |
| Explore More | |