While Kuala Lumpur is a bustling culinary scene with eateries that can satisfy any craving, anywhere and anytime of the day; nothing beats home-cooked food. And for some, the act of cooking itself is a passion, hobby and even therapeutic. To this group of people, dare we challenge you to attempt making a whole Wagyu Prime Rib.
Le Meridien Kuala Lumpur's restaurant Prime recently made it into Asia Pacific's Top 52 Restaurants and Bars by Marriott Bonvoy. The list is a curation by Marriott International, featuring only the best of the best/one-of-a-kind dining experiences around Asia Pacific and Prime—with its fine, fine cuts of meats—is one of the three restaurants and bars that made it into the list. To celebrate, Prime will be hosting an activation week from now till 1 September 2019, featuring exclusive dishes that perfectly displays the restaurants finesse. One of them is the Wagyu Prime Rib, which you can otherwise also make at home with the recipe from Chef de Cuisine, Ramiro Moya, below.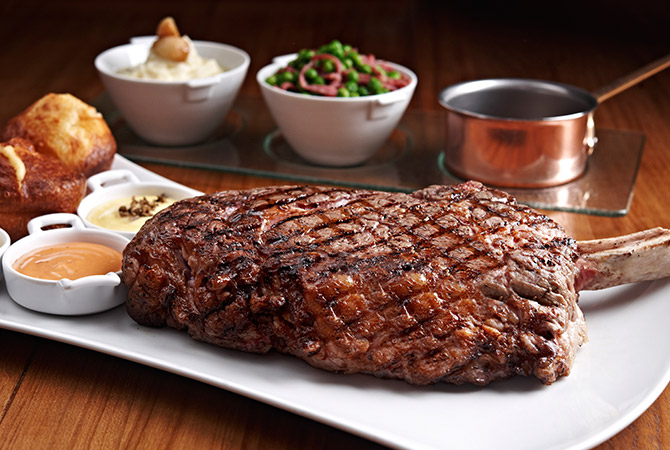 WAGYU PRIME RIB—2 to 4 pax
INGREDIENTS

Prime Ribs, 1kg to 1.5kg

Sea salt

Sarawak black pepper

Corn oil

METHOD

Remove the prime rib from the refrigerator and let it sit, covered, at room temperature. Do this 20 minutes prior to grilling.

Turn the grill to high heat.

Brush the steaks on both sides with oil and season liberally with salt and pepper.

Place the steaks on the grill, and grill until golden brown and slightly charred. Do this for about 3 to 5 minutes. Turn the steaks over and continue to grill for another 3 to 5 minutes.

Finish cooking in the oven at 180 degree Celsius until done to your preference. Tip: 10 to 12 minutes for rare (an internal temperature of 32 degrees C) or medium-rare (an internal temperature of 46 degrees C), 5 to 7 minutes more for medium (56 degrees C) or 8 to 10 minutes additional for medium-well (60 degrees C). Leave it on longer for well-done.

Remove the steak from the oven and allow the steak to rest on the rack for about 10 minutes. Cover and keep warm while resting.

Transfer the steaks to a cutting board. Cut crosswise into 1-inch slices.
SIDE SAUCES
Mushroom Fricassee, 10 persons

INGREDIENTS

Heavy cream 500g

Oyster mushrooms 100g

Button mushrooms 80g

Shitake mushrooms 60g

Thyme 5g

Black truffles 10g

METHOD

Sauté the mushrooms until golden brown.

Add shallots and simmer for a few minutes.

Taste and season—add cream, thyme and truffle and cook in low heat for 10 minutes.

Chimichurri salsa, 10 persons

INGREDIENTS

Fresh oregano 120g

Fresh thyme 60g

Fresh chili 30g

Corn oil 150g

White vinegar 70g

Sweet paprika 30g

METHOD

Chop oregano and thyme into thin julienne.

Cut the chili into brunoises.

Combine all fresh ingredients and mix with vinegar. Leave to infuse for 30 minutes, add oil and mix well.

Béarnaise sauce

, 10 persons

INGREDIENTS

Egg yolk 150g

Clarified butter 300g

Tarragon vinegar reduction 35g

Fresh tarragon 10g

Shallots 10g

METHOD

Whisk the egg yolk in a bain-marie until a sabayon texture is achieved.

Start to add the butter slowly, whisk until a creamy consistency is achieved.

Add tarragon and chopped shallots.
To make a reservation at Prime or for more info, call Dining Reservations at +603 2263 7434, email [email protected], visit the website. You can also find Prime on Facebook or Instagram.
| | |
| --- | --- |
| SHARE THE STORY | |
| Explore More | |