HOKKIEN MEE
Hokkien Mee is a traditional Chinese noodles dish commonly found in Malaysia and Singapore. This dish is made in lots of dark caramel soy sauce and thick yellow noodles. Commonly found in Hokkien Mee are key ingredients such as pork, duck, and seafood. We've made a pork-free version of this delicious meal using duck meat, prawns and squid. It's super easy to make and super delicious too. All you need is a good wok to get that 'wok hei' effect. To get that delicious duck taste, we first fry the duck skin in some oil until it gets crispy. Then we remove the skin and set aside. Using that same oil, we use it to make the noodles.
Dish by Ili's Smoked Duck Hokkien Mee — serves 4-6
Prep time: 10 minutes | Cooking time: 15 minutes | Ready in: 30 minutes
Level: Intermediate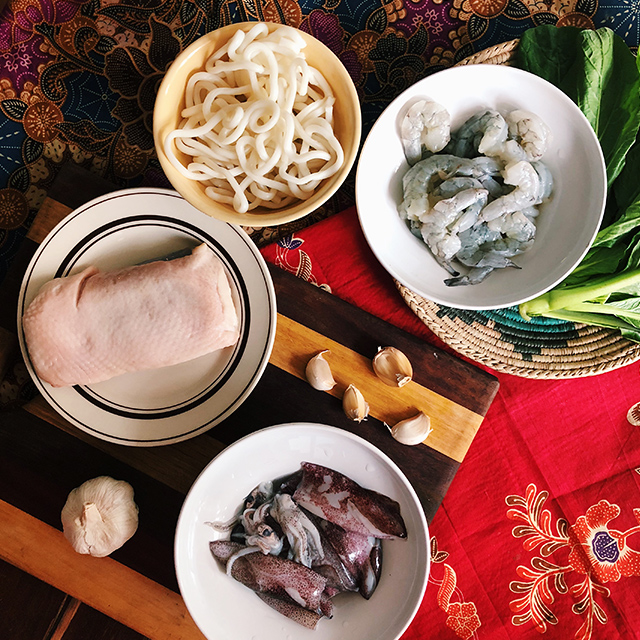 smoked duck hokkien mee recipe
INGREDIENTS
1 x duck breast with skin
8 x garlic cloves, finely minced
500g large prawns, peeled (reserve the heads, shells and tails for prawn stock)
200g squid, sliced
2 x cups white cabbage and Chinese mustard greens
250g thick yellow (or Japanese udon) noodles
1/2 cup thick caramel sauce (for colour)
2-4 tbsp light soy sauce
Salt to taste
MAKING THE PRAWN STOCK
1. In a pot of water, add in your prawn shells and bring it to a boil to make the prawn stock.
2. Once boiled, strain the stock and discard the prawn shells. Keep the stock for later.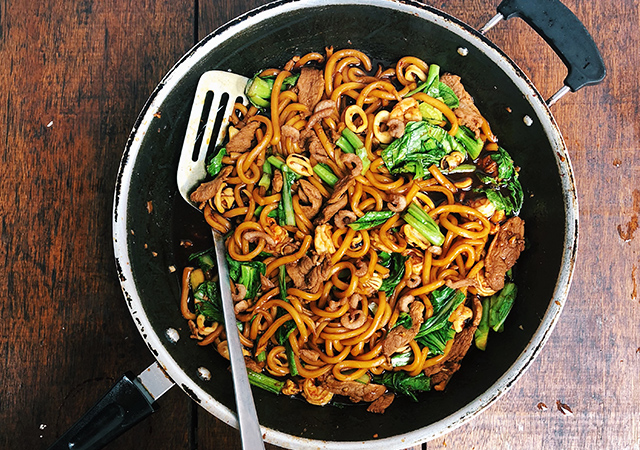 smoked duck hokkien mee recipe
METHOD
1. Remove skin from the duck and slice the meat and skin thinly. Set aside.
2. Then, in a wok, heat some oil and fry the duck skin until golden. Once done, set aside.
3. In the same wok, over medium-high heat, add in the duck, prawns and squid. Cook it halfway so that you do not overcook your proteins. Remove from the wok and set aside.
4. Then, add in the garlic and fry for a couple of minutes. Once fragrant, add in 5 cups of prawn stock. Then add in the noodles and soy sauce. Cook it until the sauce reduces to a thick consistency.
5. After about 10 minutes, add in the half-cooked prawns, squid and duck. Then, add in your vegetable stalks and let it cook for another 1 minute before adding in the rest of the vegetables.
6. Once your vegetables have wilted, remove from heat and serve immediately. Garnish with the fried duck skin.
Tip: Serve this yummy noodles with some side of pickled green chillies or cut red chillies for an extra kick!
For more delicious recipes like this, check out Dish by Ili's website.
| | |
| --- | --- |
| SHARE THE STORY | |
| Explore More | |