---
Cheese platters are perfect for all kinds of situations, including a party for one (#FMCO). Planning for something bigger once lockdown eases up? Opt for grazing tables that can be arranged to match your ideal themes or styles.
Grazing tables and cheese platters aren't just for the appetites, but they are also easy on the eyes—with "easy" being an understatement. Whether you're relaxing at home or having a picnic post-MCO, pair your artisan cheeses with a glass of wine (or juice) and you're set for a great time.
---
1. For the Grater Gouda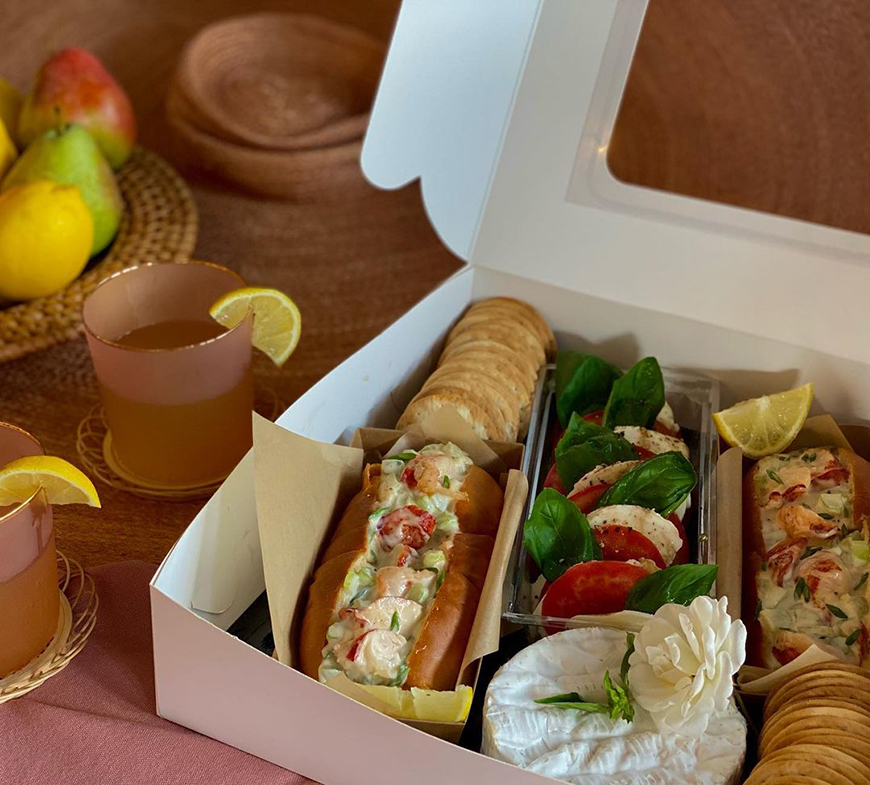 Befitting its pun-tastic name (a plus in our books), For the Grater Gouda has a simple question for cheese lovers: "To Brie or not to Brie?" Founder Elaine Lamb began putting together beautiful cheese platters, signature cheese "towers", and cheese "bouquets" for friends and family as an alternative to sugary cakes and sweets during special occasions.
Elaine's curations are a combination of cheese and produce sourced from local gourmet producers and her homemade, savoury accompaniments. The chicken liver pâté is especially popular! This lockdown, indulge in the Bor'd at Home—this dainty grazing board features the Lockdown Lobster Roll, Caprese Salad and Camembert.
Contact: 012 276 6142 (WhatsApp)
2. La Petite Bouchée
La Petite Bouchée's skills in event design is evident in their premium cheese platters and grazing tables. Splashes of colour from fresh fruits mingle with shades of brown and yellow, making for a stunning—and highly Instagrammable—contrast.
Their platters come in three sizes: S (best for two pax), M (four pax) and L (six to eight pax). They can also be customised to your preference, right down to the type of cheese, meat, grains, spreads, fruits, as well as extras such as olives and nuts. Just be sure to order at least 48 hours in advance for grazing platters, or one week ahead for grazing tables.
Contact: Through DM or 012 899 7761 (WhatsApp)
3. Bon Bon Box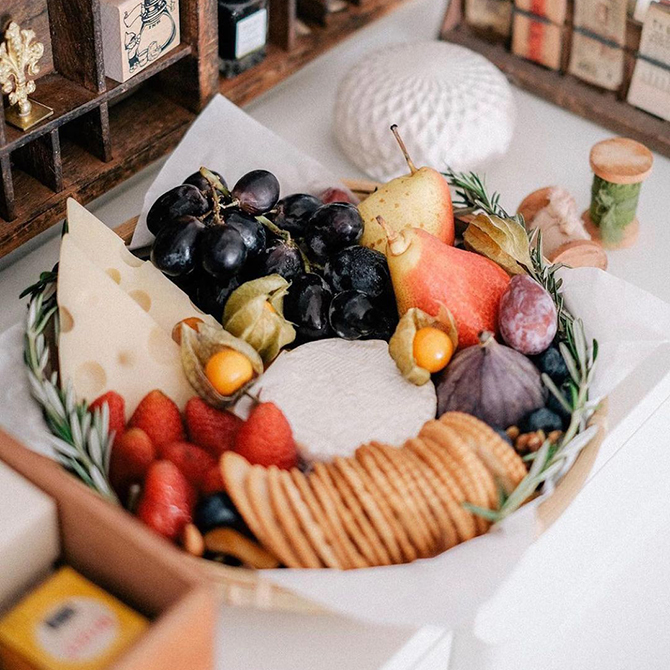 Bon Bon Box's exquisite cheese pairings make great gifts—to share together with your nearest and dearest, or to order as a care package for your lucky recipient. The Cheese and Fruit Platter is plated on a bamboo platter that's reusable, with a beautiful cheese knife included for convenience. Two sizes are available: 10" and 12". Both platters include soft and hard cheese, premium seasonal fruits, dried fruit, nuts, and crackers.
For a special occasion, the Double-decker Cheese and Floral Basket is a treat as beautiful as it is delectable. There's more to it than meets the eye, with seasonal flowers artfully arranged above delicious edible cheeses and fruits. If a drink is on the agenda, the Cheese and Wine Crate combines the finer things in life. Choose a bottle from Bon Bon Box's list or reach out to the team for recommendations on pairings that are a match made in gourmet paradise.
Contact: Through Direct Message (DM)
4. D'Artisan Cheese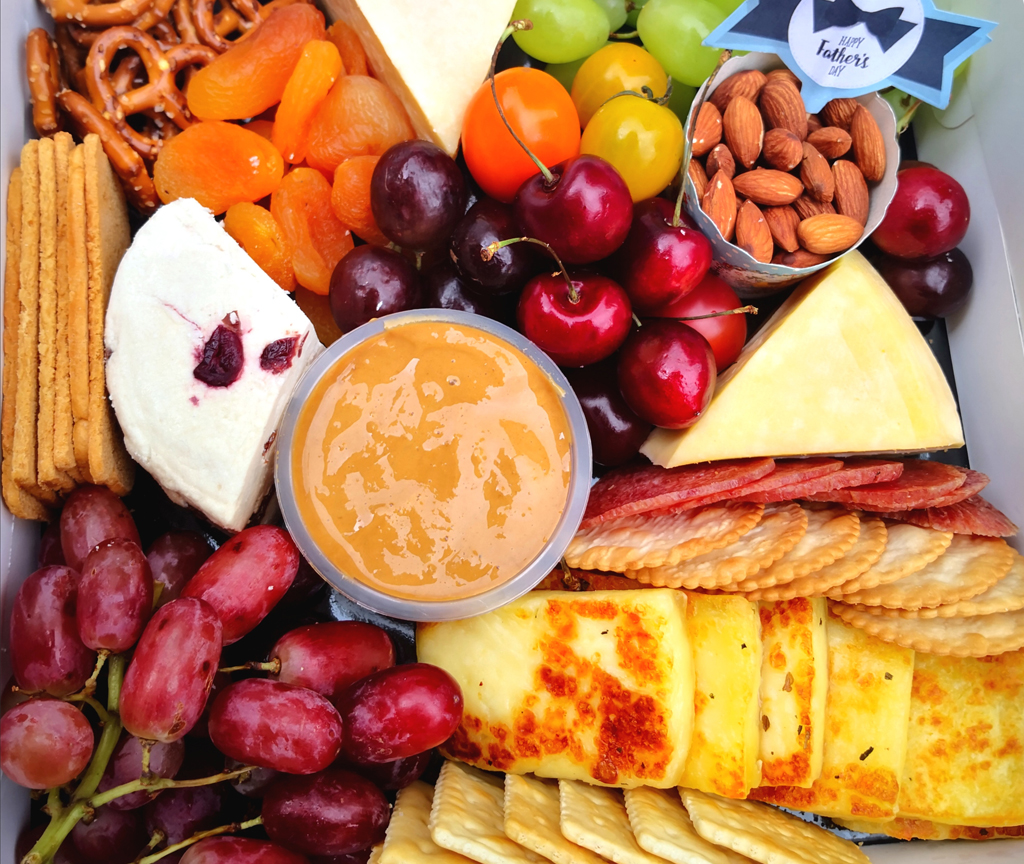 D'Artisan Cheese's founder, Dexter Lim, meticulously crafts his own range of semi-soft, hard aged, semi-hard, stinky, and even vegan cheese. All of his dairy cheeses are made with organic cows' milk, himalayan salt, and vegetable rennet.
Sample five types of cheeses (two hard, two semi-hard and one spreadable) in the Artisan Gourmet Cheese Box (good for four to five pax) which also comes with premium nuts, seasonal fruits, dried apricot, crackers, pretzel, and one type of meat. For a larger group of six to 10, the Aventuriere Cheese Box includes the option to try an assortment of cow, goat, blue and smoked cheese.
Solo city dwellers or those who are coupled up can start out on the path of artisan cheese appreciation with the Entrée Cheese Box consisting of D'Artisan Cheese's bestselling Grilled Herbed Halloumi, Ricotta, Mysosts (spreadable scandinavian cheese), fresh fruits, and crackers. Junior cheese aficionados aren't left out either—there is the Kiddo Entrée Cheese Box consisting of child-friendly selections.
Contact: [email protected] or 012 496 9978 (WhatsApp)
Website | Facebook | Instagram
5. Jo + Ko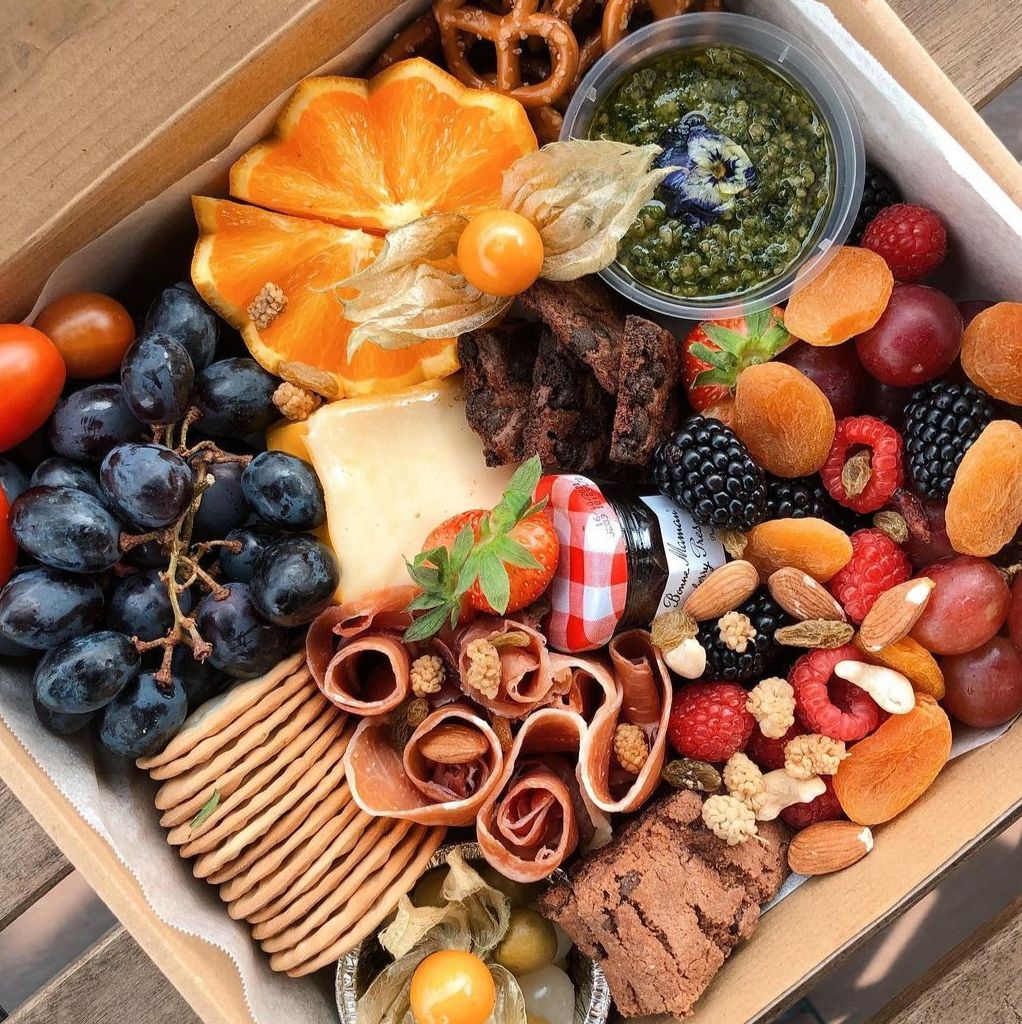 If the combination of dairy and dessert hits your sweet spot, then the rustic cheese platters by Jo + Ko are sure to please. Fun yet stylish, they come in four sizes: Petit Kiddo, Smol (for two to four pax), Midyum (five to eight pax), and Loorge (nine to 12 pax).
Besides cheese and savoury gourmet produce, sink your teeth into honey almonds and a sweet surprise, with jam or honey included too. Additional dips and spread can be added on (the Salted Miso Caramel and Camarelized Onion Jam sound especially deletable with cheese), along with a bottle of wine.
Jo + Ko takes Monday off, so plan ahead and get your orders in from 10am to 6pm on any other day of the week. Two days' notice is appreciated as everything is made fresh upon receiving your order.
Contact: Through DM or 013 799 4614 (WhatsApp)
6. Together-gather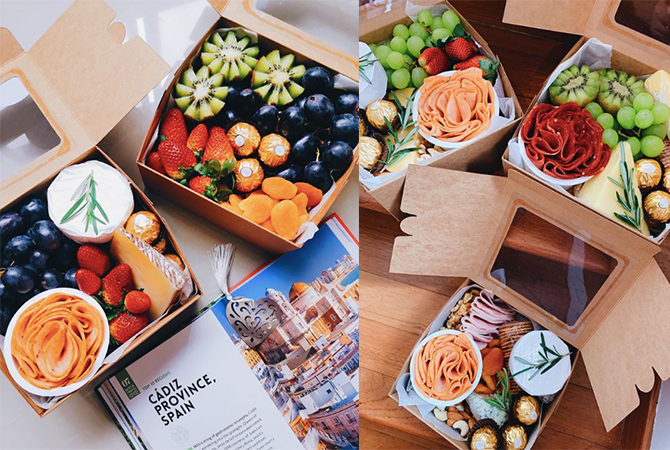 Combining aesthetically pleasing food displays with the communal spirit of gathering together in celebration, Together-gather is a Malaysian company that curates beautiful and vibrant grazing tables and platters. From fruit cones and brownies towers to artisan cheese spread (brie, cheddar, and more) as well as cold cuts, Together-gather's platters are available in various sizes and you can also customise the content according to your preference.
Their signature cheese and fruit platters can also be delivered to you—consisting of a selection of artisan cheese, meats, dried fruits, fresh fruits, mixed nuts, crackers, chocolates, and a bottle of wine (optional).
Contact: [email protected]
7. Platter People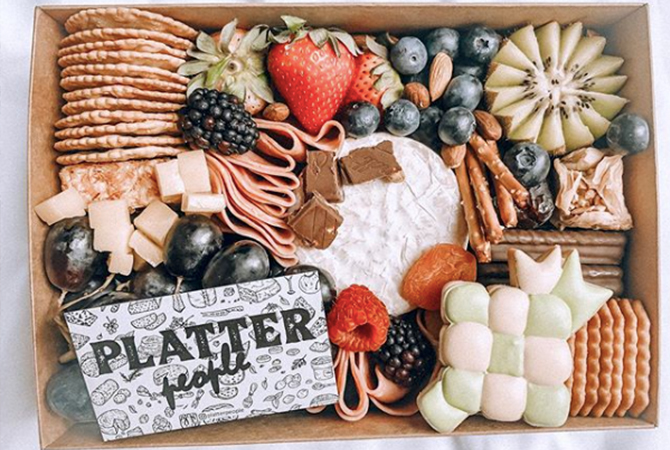 Known for bespoke artisanal platters and grazing tables, Platter People aims to complement your ideal occasion or event through delicious and beautiful treats—including a s'mores table. Platters by Platter People are available in various sizes and and are suitable for any time of the day. In addition to cheese platters, there are also fruit and chocolate options. If you're planning an event, Platter People offers cus omisation to your theme and taste buds.
Contact: Through Direct Message (DM)
8. Splatter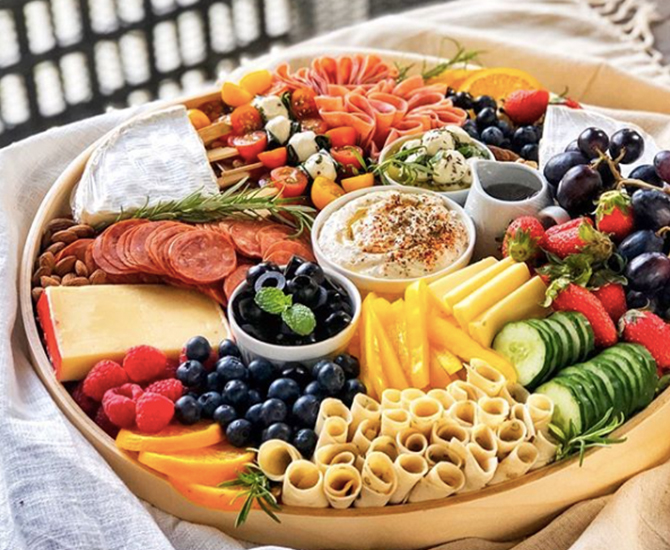 The online-based party platters and events catering team in Klang Valley offers carefully and lovingly-arranged platters. In addition to platters, Splatter also does grazing tables for events—including spreads of cheeses, fruits, cold cuts, cold cuts, and more. Splatter's Cheese Platter consists of assorted cheeses (such as savoury cheese infused with Sarawak black peppers and blue cheese done in the Fourme d'Ambert style); smoked salmon and deli meats; fresh seasonal fruits and nuts; olives, breads, and crackers; as well as fruit spread and honey.
Splatter's signature grazing table menu comes with cheese wheel cake, a selection of cured meats, a selection of artisan cheeses, crudités, delectable dips, homemade cake stack, imported chocolates, and more.
Contact: 016 603 9674
Website | Facebook | Instagram
9. Keju By Carmen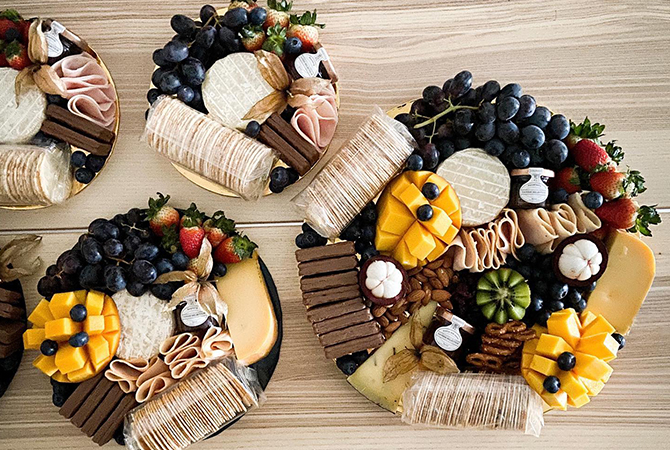 Whether it's for yourself or for an entire village, Keju by Carmen's platters are available in a myriad of sizes—from Baby to Extra Large—as well as in either a round platter or in boxes. They can satisfy your cravings by customising and putting all your favourites in one platter. A platter consists of charcuterie, artisan cheeses, fresh fruits, as well as a combination of sweet and savoury accompaniments. From Truffle Brie and Truffle Gouda to Honeycomb and Smoked Salmon, you're bound for a great time.
Contact: 012 605 5481 or [email protected]
10. Milky Whey Cheese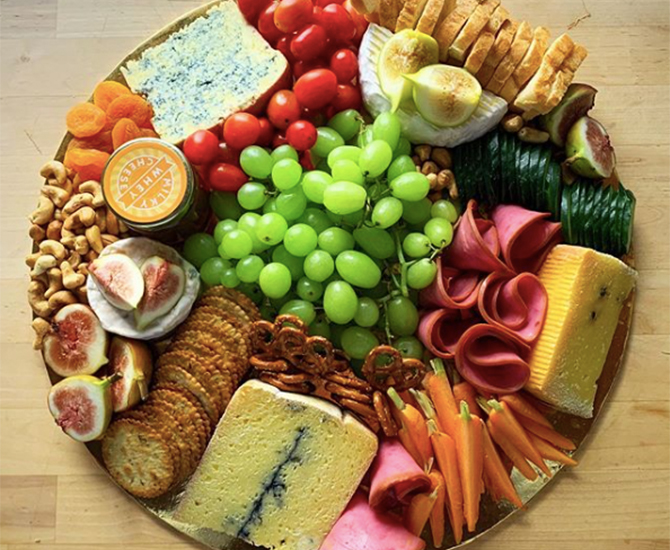 Milky Whey Cheese—founded by Annisa Iwan—is a prominent local cheesemaker and can be found in major establishments, such as Atas Modern Malaysian Eatery in Ruma Hotel and Residences, as well as Flock in W Kuala Lumpur. Some cheeses on offer include Goat Sarawak (made with cow's and goat's milk and Sarawak black pepper); Venezia (semi-hard cow's milk cheese with olive oil); as well as Marbler (washed rind semi-hard cow's milk cheese with a black layer of ash). Fortunately, Milky Whey Cheese does not just sell cheese; the cheesemaker also provides cheese platters!
Contact: 016 622 0361 (or send a Direct Message on Instagram)
---
Are you ready to get cheesy? Whether it's for yourself, for special occasions, or for a fun gathering with friends, the options above have you covered—from beautifully-arranged grazing tables to delicious cheese platters. If you're a fan of all things cheese (as well as other sweet and savoury treats), you're bound to have a tasty time.
 Alternatively, for tips on assembling your own charcuterie board, click here.
---
| | |
| --- | --- |
| SHARE THE STORY | |
| Explore More | |