It's National Nachos Day—what better way to celebrate than with a scrumptiously good bowl of nachos? You can hardly go wrong with this comfort snack, but for that extra kick, we looked up three hearty recipes for your Friday (or weekend) nachos fix:
A sinful munch: Bacon Nachos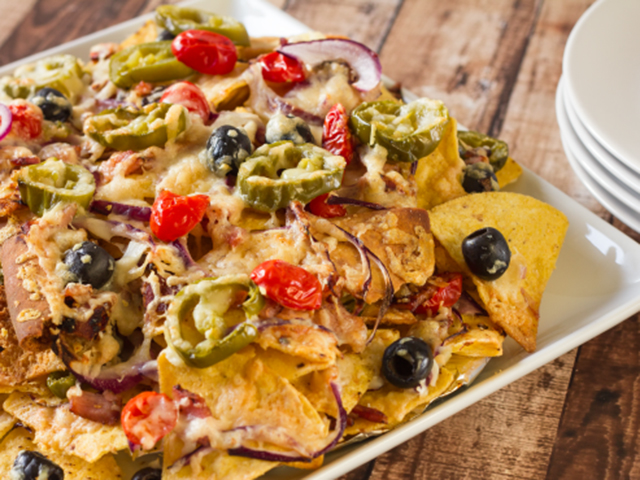 Ingredients:
220g bacon, cooked and crumbled
1/2-3/4 cup red onion, chopped
1 medium tomato, seeded and chopped
1 can sliced black olives
6-7 jalapeno peppers, seeded and chopped
2 1/2 cups Mexican blend cheese (Shredded cheddar and Monterey Jack Cheese)
250g tortilla chips
Directions:
1. Preheat oven to 218°C (high heat).
2. Line a baking sheet with aluminimum foil.
3. Spread 1/2 bag of tortilla chips over the foil.
4. Sprinkle with half the bacon, onion, peppers and 1 cup of cheese.
5. Spread the remaining 1/2 bag of tortilla chips on top.
6. Top with remaining bacon, onion, peppers, olives and tomatoes.
7. Top with 1 1/2 cup remaining cheese.
8. Bake for 5-10 minutes or until the cheese is melted and slightly browned.
For the health conscious: Southwest Veggie Nachos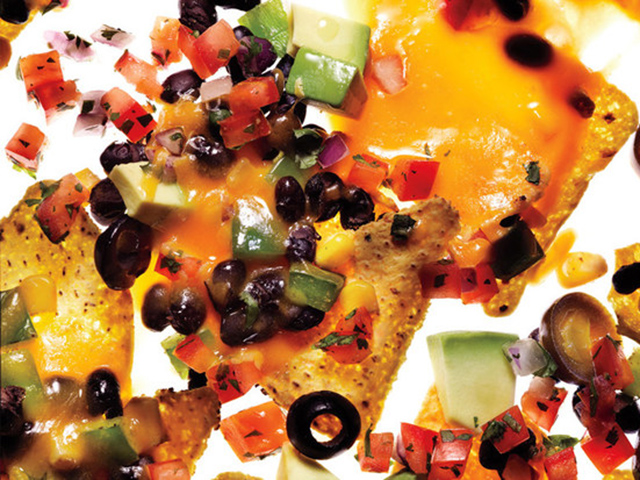 Ingredients:
Vegetable oil cooking spray
170 grams baked tortilla chips
1 can low-sodium black beans, rinsed and drained
1 green bell pepper, diced
1/2 cup frozen corn, thawed
1/4 teaspoon ground cumin
1/4 cup sliced black olives
3 tablespoons pickled jalapeño slices
1 1/2 cups reduced-fat shredded Mexican blend cheese
4 large plum tomatoes (about 12 ounces), chopped
1/2 cup chopped red onion
1/4 cup cilantro, chopped
1 teaspoon fresh lime juice
1/2 avocado, diced
Directions:
1. Heat oven to 218°C (high heat).
2. Coat a baking sheet with cooking spray; spread chips evenly on sheet.
3. In a bowl, combine beans, pepper, corn and cumin; spoon over chips. Top with olives, jalapeños and cheese; bake until cheese melts, 5 to 6 minutes.
4. In same bowl, combine tomato, onion, cilantro and juice; gently mix in avocado.
5. Serve nachos topped with salsa.
Go all out with: Super Nachos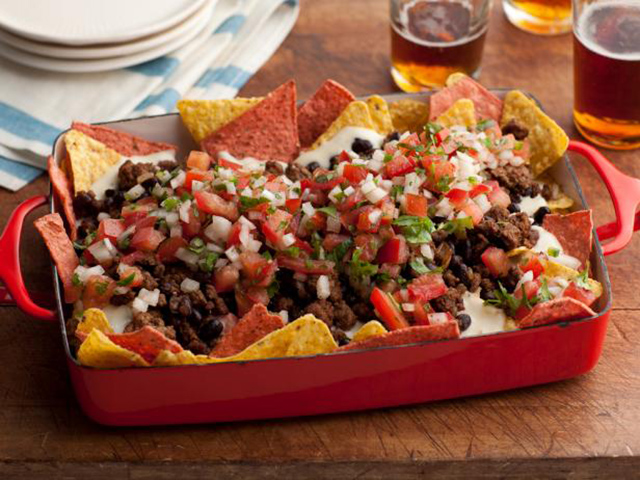 Ingredients:
2 bags corn tortilla chips in 2 colours or different flavours
Pico de Gallo Salsa:
4 vine ripe tomatoes, seeded and chopped
1 jalapeno pepper, seeded and finely chopped, for medium to hot heat level
1 small white onion, chopped
1/4 cup, 2 handfuls, cilantro leaves, finely chopped (substitute parsley if cilantro is not to your liking)
Salt
Beef and beans topping:
1 tablespoon extra-virgin olive oil
450g ground sirloin
2 cloves garlic, chopped
1 small onion, chopped
1 jalapeno pepper, seeded and chopped
1 teaspoon salt
1 1/2 teaspoons dark chili powder
1 1/2 ground cumin, half a palmful
2 teaspoons to 1 tablespoon cayenne pepper sauce, giving you medium to hot heat level
1 can black beans, drained
Cheese sauce:
2 tablespoons butter
2 tablespoons all-purpose flour
2 cups milk
340g pepper jack cheese, shredded (about 2 1/2 cups)
Additional optional toppings (sour cream, hot sauces etc.) according to taste
Directions:
1. Arrange a mixture of 2 varieties of tortilla chips on a very large platter or use your broiler pan as a platter.
2. Combine salsa ingredients in a bowl and set aside for flavors to marry.
3. Heat a medium nonstick skillet over medium high heat. Add oil, garlic, onion and peppers to the pan and saute 2 minutes, then add meat and crumble with wooden spoon. Season meat with salt, chili powder, cumin and cayenne pepper sauce. Cook meat 5 minutes, then stir in beans and reduce heat to low.
4. In a medium sauce pot, melt butter and add flour to it. Cook flour and butter 1 to 2 minutes over moderate heat, then whisk in milk. When milk comes to a bubble, stir in cheese with a wooden spoon. Remove cheese sauce from the heat.
5. Pour cheese sauce evenly over the massive spread of chips and top evenly with beef and beans and the pico de gallo. Serve immediately as is or, garnish with your choice of extra toppings.
| | |
| --- | --- |
| SHARE THE STORY | |
| Explore More | |