The Blue Mansion, also known as Cheong Fatt Tze, is one of the most iconic landmarks—not just in Penang, but in the whole of Malaysia. Built in the 19th century by Cheong Fatt Tze for his descendants, it's definitely the place to check out in George Town. Recently reopened after almost 80 days of closure due to the Movement Control Order, The Blue Mansion is ready for guests again, including for dine-in at Indigo.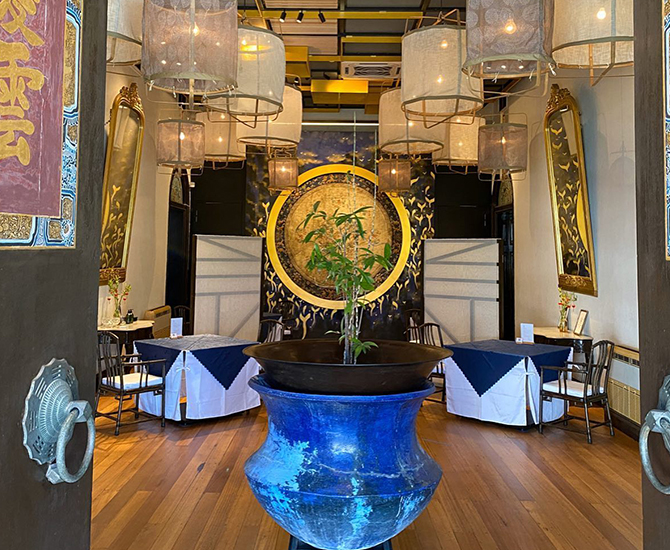 Executive Chef Jack Yeap helms the kitchen here at Indigo, with a menu inspired by his upbringing in Penang as well as his experiences as a chef across the globe. Paired with an elegant and inviting setting, one can only expect a sublime experience. With that, I knew I had to give the spot a go and I finally did.
Indigo has a new Tasting Menu—priced at RM200 per person—that consists of five courses. Here's my full review:
Cold Laksa Capellini with Blue Fin Tuna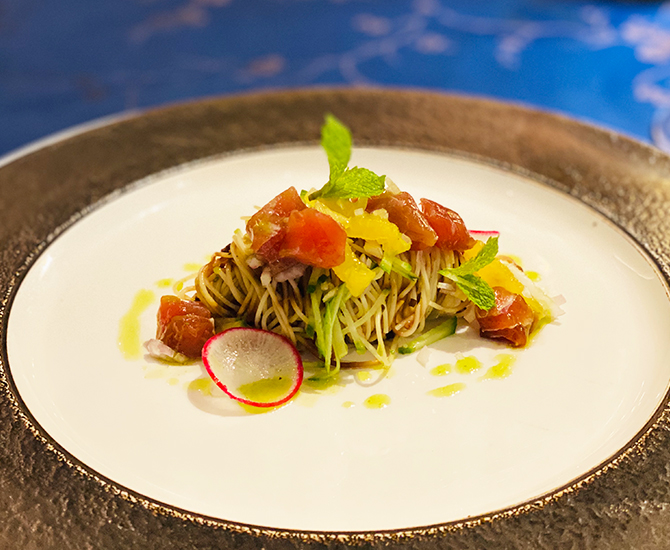 If there's only one way to begin the meal, this is it. Served cold and with condiments of Penang assam laksa, it's a delectable and unique combination of cultures. Reminiscent of the Japanese cold soba (for obvious reasons), I loved how nostalgia played a role here in terms of taste. Don't go into this hoping for actual assam laksa but be prepared for something you've never experienced before. It's also really light and hence, can be considered the perfect appetiser.
Would the dish benefit from stronger flavours? Yes. However, it is precisely because of the mildness of the overall dish that allowed the distinctive sourness you would expect from the assam laksa you recognize to shine through. Paired with bits of blue fin tuna, you are presented with an ambrosial creation—one that truly evokes a sense of local culture.
Seared Hokkaido Scallop with Sugar Cane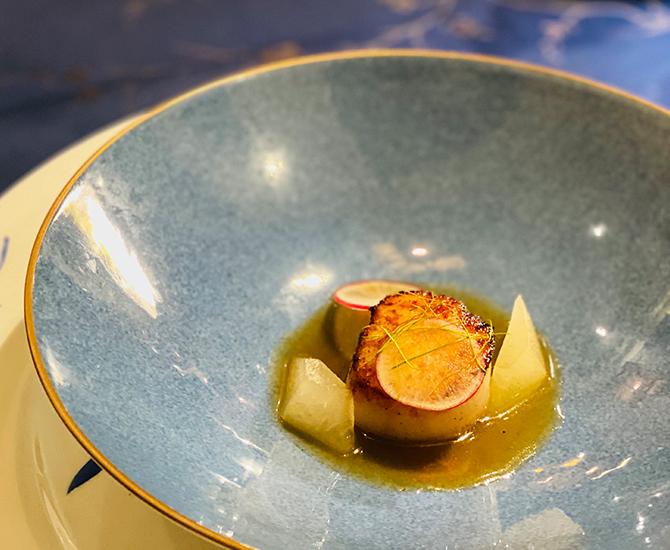 The next dish on the Tasting Menu is the Seared Hokkaido Scallop—served with spicy fermented bean, nashi pear, kaffir lime leaf, ginger, and sugar cane broth. I'd describe this as the perfect example of size does not matter. In spite of its appearance and plating, this is brilliant. The scallop is prepared well; with the seared ends being my favourite parts.
While the Hokkaido scallop is seasoned perfectly on its own, the sugar cane broth elevated the entire dish. There's this sensational and interesting combination of sweet and salty. The result? A well-balanced dish that really got the palate on a joyful overdrive. It's divine how a simple ingredient such as sugar cane can inspire such a concoction—and that is why Indigo is so revered.
Seared Foie Gras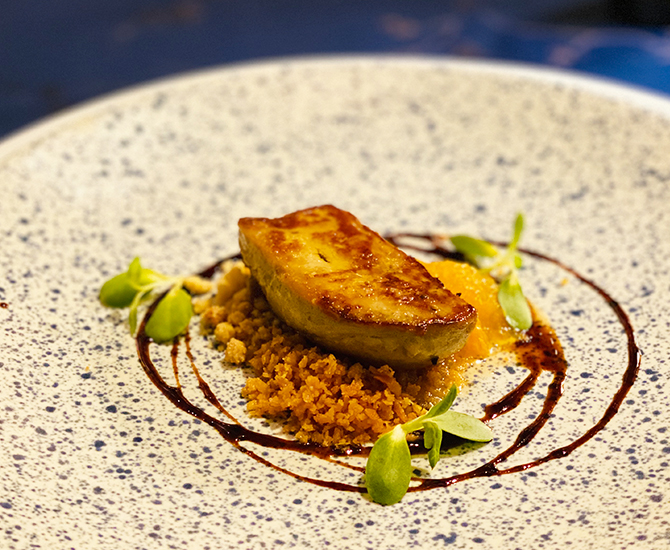 With toasted jack fruit bread, tangerine marmalade, almond sea salt crumble, and balsamic glaze, the Seared Foie Gras is probably my least favourite from the Tasting Menu. I enjoyed it; I really did—but the menu also has four other top-notch contenders. In addition, I have a love-hate relationship with foie gras.
What I really loved about this is the tangerine marmalade. I've had foie gras in many different ways but this is something I've never seen before. Prepared mildly sweet, the marmalade does not, in any way, overpower the briny texture and flavour of the foie gras. Combined with added dimension from the almond sea salt crumble and jack fruit bread, it's a rather toothsome dish. I would be happy to give this another go but with a stronger tangerine marmalade flavour profile. That'd be interesting, don't you think? Still, kudos to the culinary team for putting together such uncommon pairings.
Australian Beef Tenderloin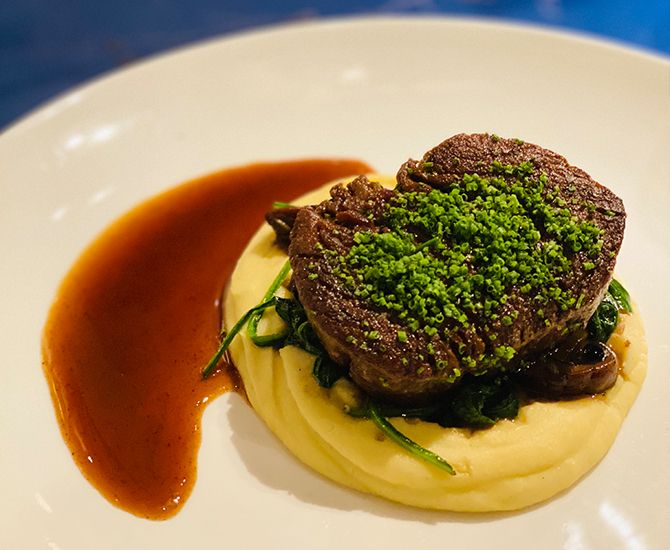 The main comes in the form of steak, or more specifically, Australian Beef Tenderloin. Prepared medium rare (just how I like it), the dish came with mashed potatoes, sautéed mixed mushrooms, baby spinach, and sauce bordelaise. I'm not going to lie; this dish looks divine and I wasted no time digging in.
Seasoned and cooked with finesse, the steak is everything you'd expect from a premium quality beef. It's succulent, rich, and lush. However, special mention has to be given to the sauce borderlaise. While you don't need the extra relish to really enjoy the dish, the mild jus actually complemented the beef without taking away from its natural flavour profile. Not too brackish, the Beef Tenderloin is definitely the way to end the meal with a heavenly bang.
Chocolate and Banana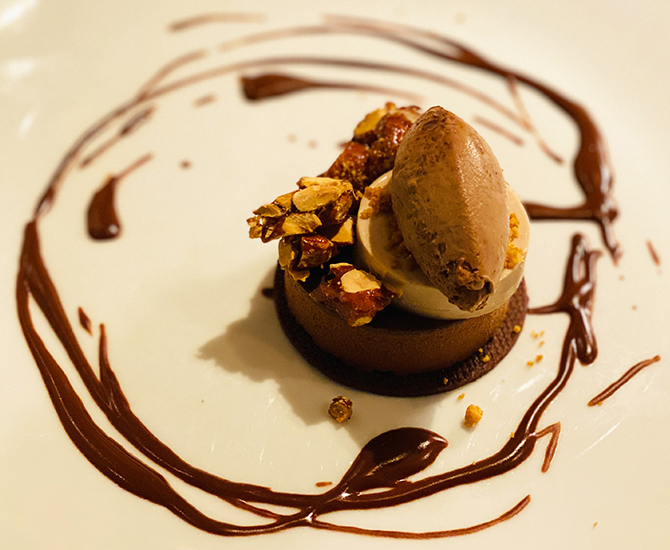 Aptly named Chocolate and Banana, the dessert comprises of a duo of chocolate, almond praline, and banana panna cotta. My attention went directly to the banana panna cotta. Soft and delicate, its mild sweetness juxtaposes with the stronger chocolate flavours. Although I'm on the fence with regards to the combination, I'm a massive fan of how Indigo manages to include a popular local fruit in a chocolate-heavy creation. We all deserve desserts and we should always go for the best options—with one of them being this particular concoction at Indigo.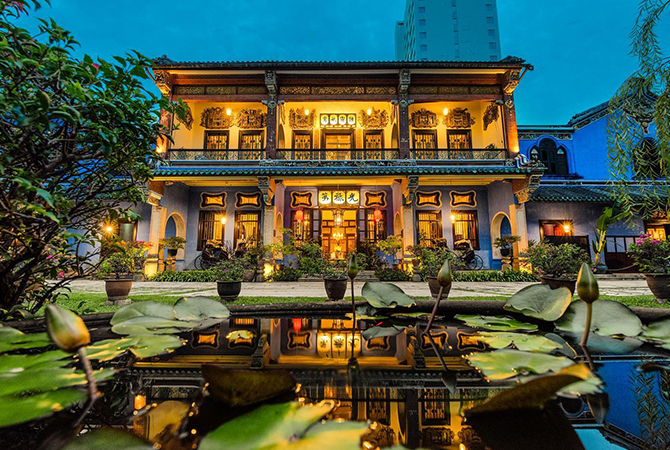 It's clear that I truly enjoyed the Tasting Menu at Indigo. I remember walking out of the restaurant thinking to myself: "That was undeniably one of the most unparalleled and extraordinary meals I've ever had." It's the utilisation of common and local produce and ingredients that really upped the ante on the menu—and I have no second thought when it comes to recommending Indigo. Even better, end your night with by staying at one of the guest rooms.
---
Indigo at The Blue Mansion
Address: 14, Leith Street, 10200 Penang
Contact: 04 262 0006
Website | Facebook | Instagram
---
| | |
| --- | --- |
| SHARE THE STORY | |
| Explore More | |