Understanding the symbolism behind Shin'Labo's name is akin to reading the label on a bottle of champagne or whisky: you get an idea of what to expect and, more importantly, why. Shin, in Japanese, could mean "true", "extend", "new" or "heart". And Labo, both in French and Japanese, is the word for "laboratory". The etymology of labo is especially significant to Chef James Won, as the fusion of two cultures birthing one cuisine is the very foundation of yōshoku, a Japanese-Western style of cuisine that came about from experimentation.
In Won's hands, elevated yōshoku is an intricate amalgamation of modern French techniques, exquisite Japanese produce and Malaysian indigenous ingredients. Shin'Labo is simultaneously a nod to Won's culinary heritage, a homage to his time in top Japanese and French kitchens, as well an opportunity to do things differently post-pandemic. No detail has been left to chance. Take its location at the entrance of Lalaport BBCC. It's hard to miss, while also allowing diners to be dropped off and picked up discreetly without having to walk through the mall.
A distinct lack of windows keeps out prying eyes, but step in and you'll notice the space doesn't feel claustrophobic or cavernous. Instead, good use of lighting, texture, colour and interior architecture evoke an intimate ambience. I immediately felt at ease and invited to linger, chat and engage with my surroundings.
Shin'Lounge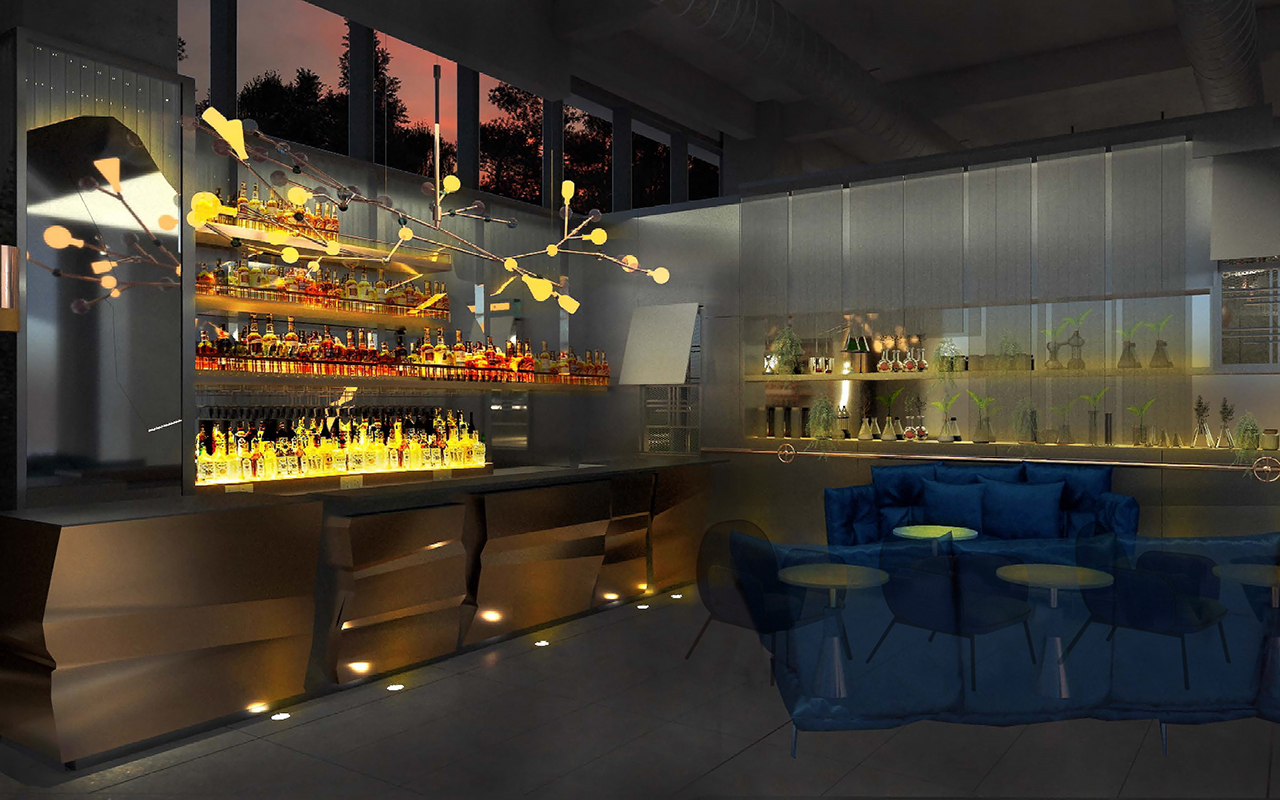 Calling Shin'Labo a restaurant—or a restaurant and bar—wouldn't do it justice, as Won has envisioned it as a "transcendental experience". Come for afternoon tea or a pre-dinner drink at Shin'Lounge, which seats just 14 guests, giving it the cosy exclusivity of an invitation-only club. If you're not in the mood for a multi-course meal, the lounge's menu includes small bites akin to a modern take on luxury kushiyaki.
Caviar bar and lounge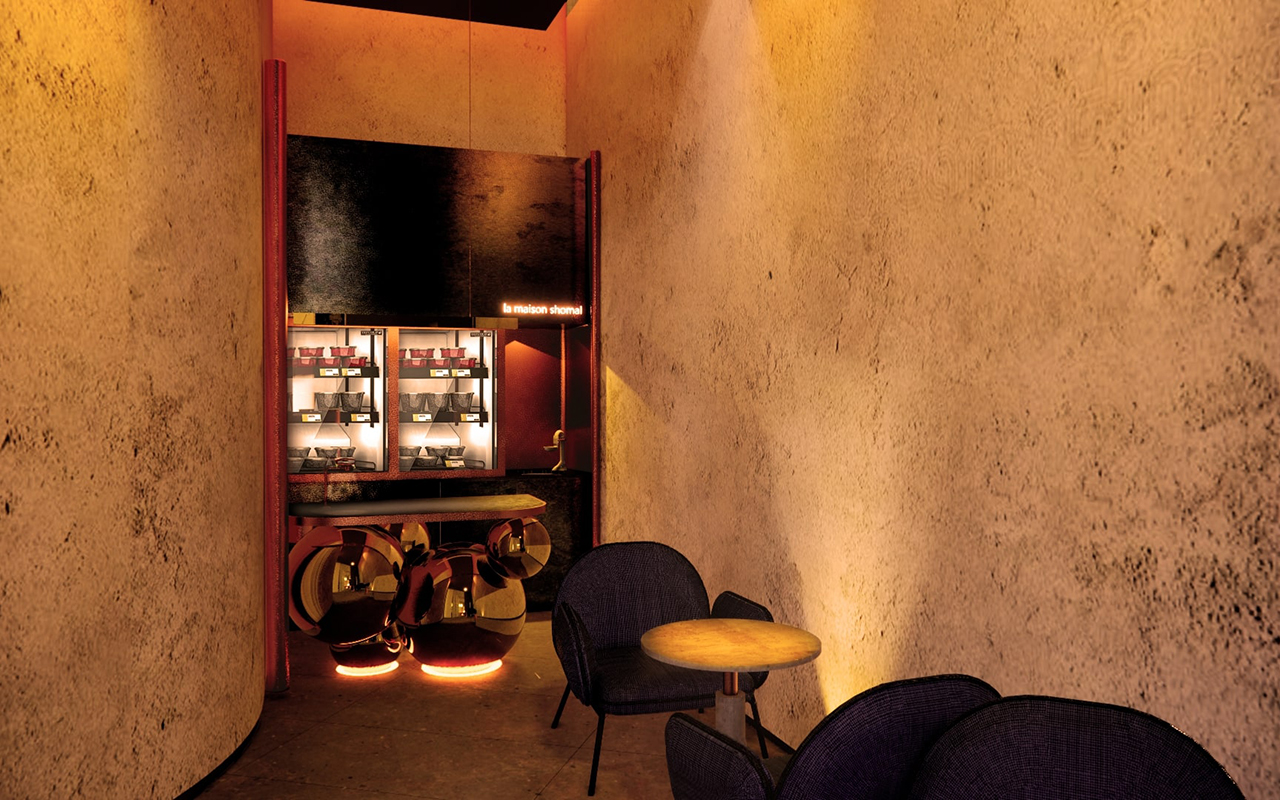 A few steps away is the Shin'Labo x Maison du Caviar Caspienne pièce de résistance: a luxe bar and caviar lounge where you get to see, taste and discover top-tier caviar. Won is so confident about their quality that he urges us to examine the caviar under a magnifier. Up close, each egg is perfect—round, unbroken, and without any liquid around them. These are truly the crème de la crème: pure-breed sturgeon caviar, farmed and selected directly from the heritage sites of the Caspian Sea.
In the mouth, they taste mild and slightly briny, like fresh ocean water. The buttery richness is divine, with my favourite (for now) being the Royal Beluga as I enjoy its stronger flavour profile. It's a delicacy a long time in the making, as the farm waits 20 years before harvesting any eggs from their beluga sturgeons.
The Baerii is milder and smoother, while Won prefers to incorporate the rich and nutty Sevruga in his dishes. The Almas is also available to taste when it's in season, as Maison du Caviar Caspienne selects only the best from each season irrespective of the sturgeon breed.
Krug Ryoutei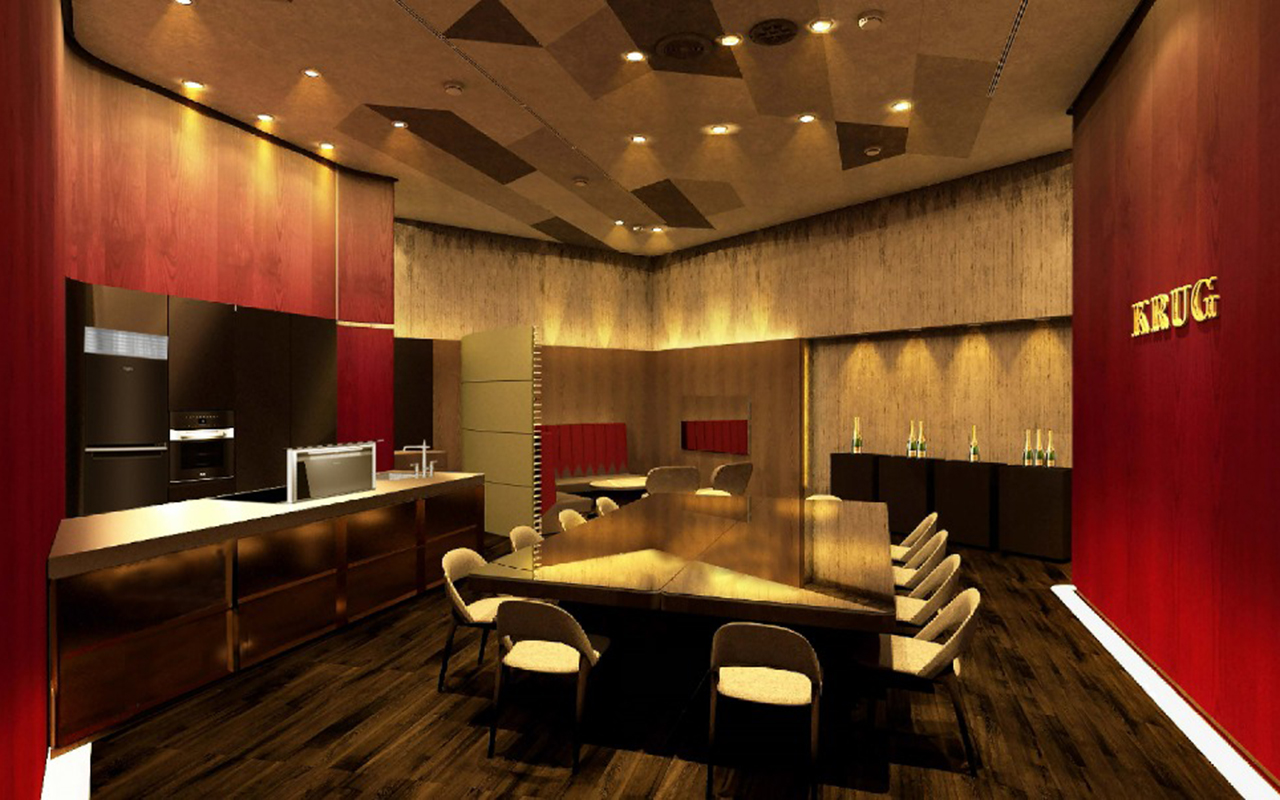 Then there's the Krug Chef's Table, dubbed "the most prestigious dining room in the world" and a privilege granted only to a Krug Ambassade. Here, it's styled as a Krug Ryoutei in keeping with the spirit of Shin'Labo's French-Japanese influences. This private dining room, furnished with a state-of-the-art Chef James' Test Laboratory (aka Won's test kitchen) comfortably sits up to 16 guests and has its own lounge area. Besides specially curated food and champagne pairings, it also offers access to a very private list of limited-edition Krug champagnes.
Shin'Kappou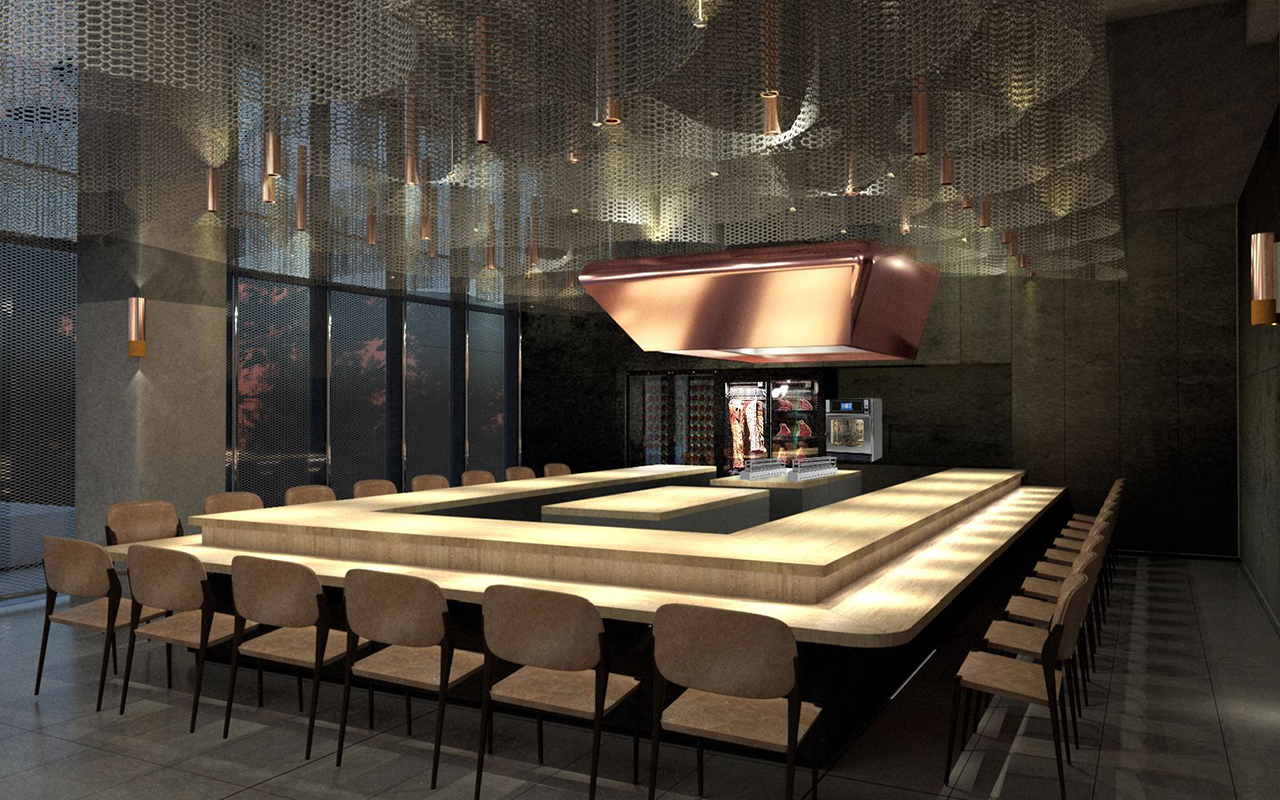 The room where most diners will embark on their gastronomical journey is the Shin'Kappou. Separated from the other areas by a sliding door, it's the only dining area in Shin'Labo with floor-to-ceiling windows on one side. The effect is contemporary and fluid, in symmetry with the space's juxtaposition of textures and tones: light with dark, and matte with glossy.
Won's exacting vision for Shin'Labo extends to the sleek tableware, from Italy's House of Pinnifarina, and cutlery designed in collaboration with the brand and emblazoned with his signature. The seats and tables are built to comfortably accommodate the height of Asians, so you never have to lean forward too much just to pick up your food, or find it uncomfortable to rest your feet on the floor while seated.
Kappou is a style of cooking originating in Osaka, which involves making dishes and cooking in front of diners. By closing the gap between guest and chef and engaging all five of the senses, this multi-course kappou meal is a less formal experience than kaiseki dining. (Chef James Won's Omakase can be arranged at least seven days in advance, with the menu starting from RM2,000.)
In this age of social media, Shin'Kappou is designed to showcase both people and food in the best light, both literally and figuratively. I remark on this to Won, who quips that it's to ensure he looks good in photos. That's all the encouragement we need to whip out our phones and take a selfie for the 'gram.
Kappou Dinner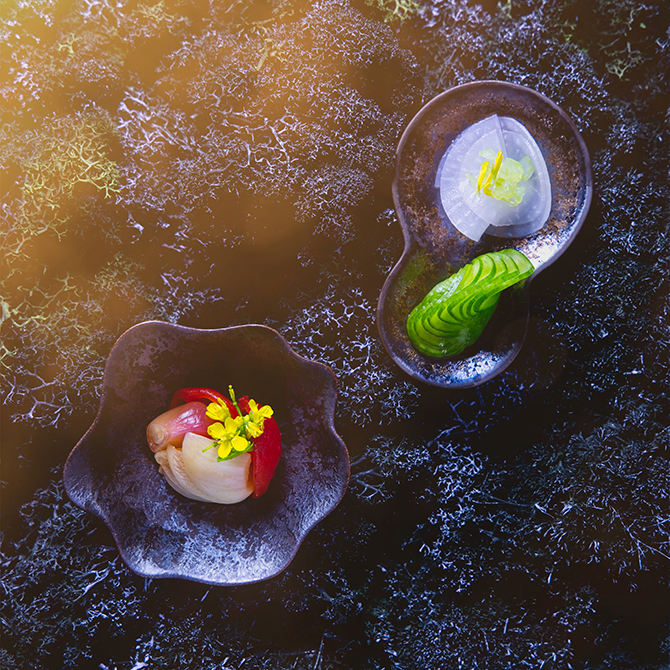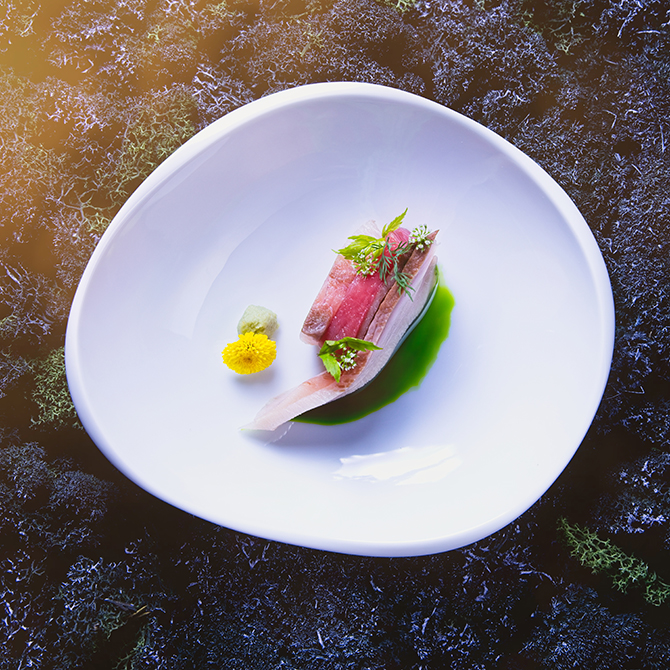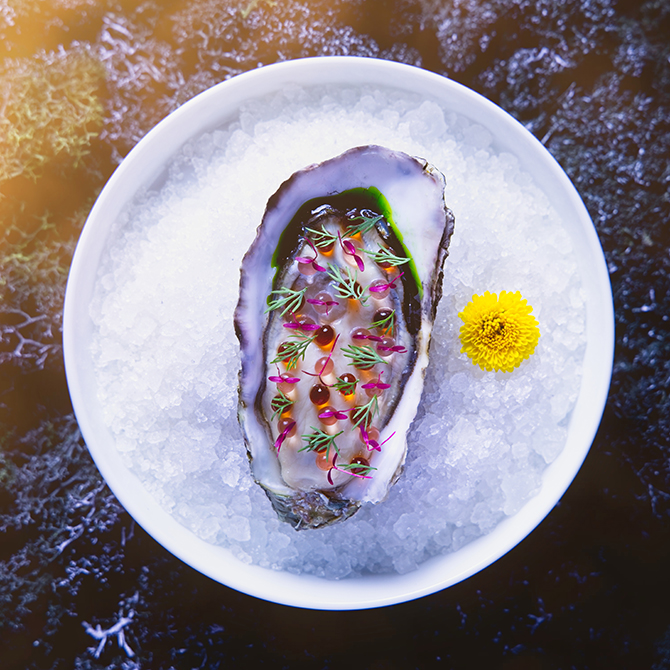 Decor aside, the food's elegant simplicity is also inherently Instagrammable. For inspiration, Shin'Labo looked to the intricate layering of a geisha's dressing and makeup: distinctive, yet cultured and restrained. The Kappou Dinner menu presents diners with two options: Kikuryo (RM668+) and Kikumaru (RM888+). What's different in Kikumaru is the addition of Binchotan Duck à l'Orange, the choice of A5 Ribeye Omi Hime Beef instead of Tomahawk Beef (MB3), and Truffle Hayashi Rice in place of Bouillabaisse Donabe. I recommend opting for Kikumaru as it's worth the top-up in price, with all three dishes ending up among my top five.
At the core of every dish is a delicate balance between umami—a meaty, savoury taste that deepens flavour—and amami, the sweet taste which counters umami. This harmony between both flavours is explored by Won and his team via prepping, cooking and presentation methods based on the five elements of wood, fire, water, earth and metal.
Kikumaru
From the get-go, it's apparent that while Won has taken inspiration from time-honoured traditions, each dish is a fresh interpretation. For example, the amuse-bouche trio of Omurice, Hambagu, and Korokke will sound familiar to purveyors of Japanese cuisine—but they don't take the form you've come to expect. Likewise, Won's version of sambal olek doesn't contain any belacan but retains a spicy tang. This theme of subverting preconceptions continues throughout the meal, so keep an open mind to fully enjoy the experience.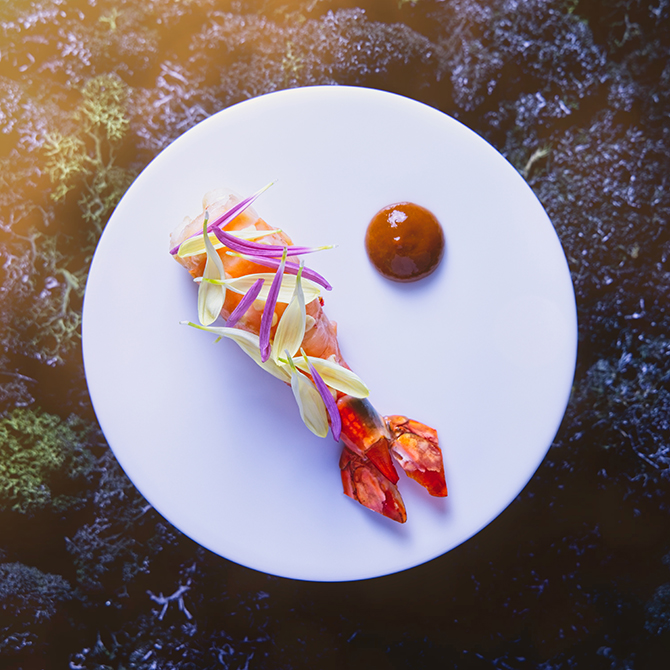 I discovered this personally with the Binchotan Duck à l'Orange. The duck—as with all meat used at Shin'Labo, including fish—is dry-aged to remove its liquids, a process that firms up the meat and seals in its flavour. It's then beautifully seared over a bincho grill. The result is duck that's tender and juicy, with a subtle smoky flavour. As someone who's wary about encountering the unpleasant gamey taste rather typical of red meat, the lack of it here did not go unnoticed: I enjoyed every morsel that was on my plate.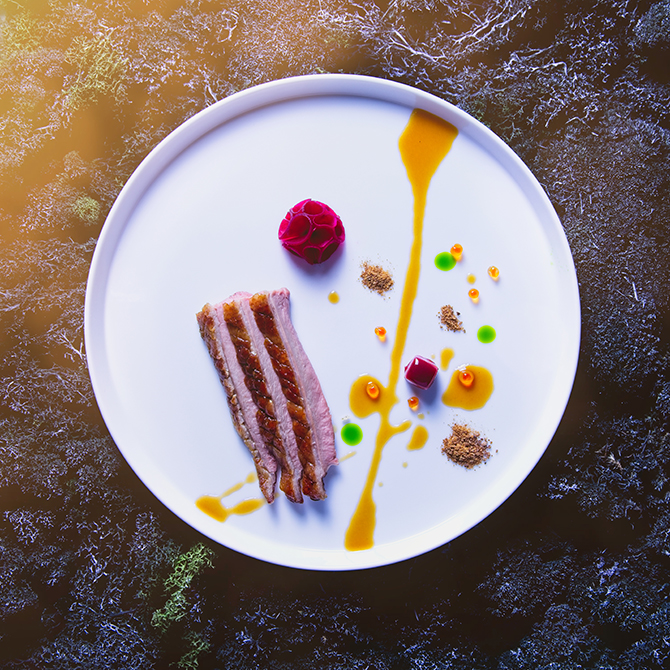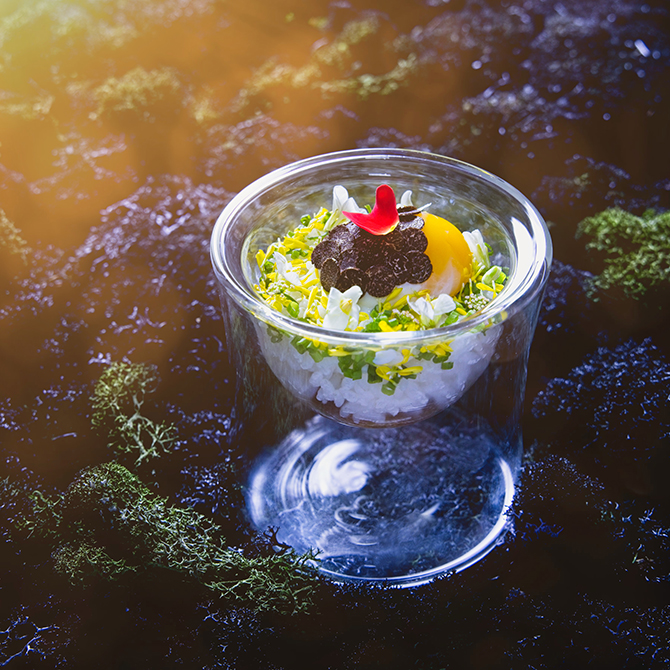 Duck meat also features in the Truffle Hayashi Rice, topped with an onsen egg. As a prelude to dessert, it's warm and flavourful comfort food that reminded me of feel-good, food-centric Japanese dramas like Midnight Diner: feeding the soul and tummy. Other dishes I wish I could have right now are the super-fresh Japanese Oyster; Hokkaido Scallop & Caviar; and melt-in-the-mouth A5 Ribeye Omi Hime Beef. And dessert, all of it, from the strawberry (diners get seasonal Japanese fruit) to the Soba Sablé, Keluak, and Chocolate Parfait to the sip of green tea.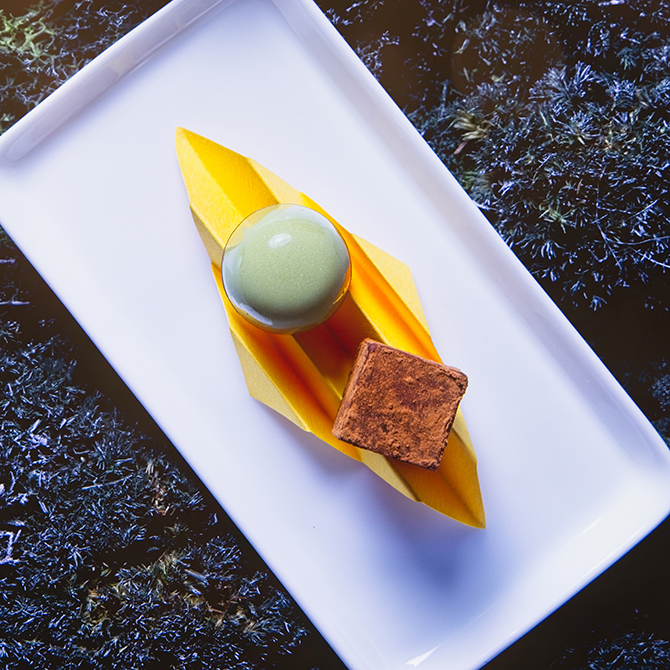 Serendipitous pairings
It isn't a James Won dining experience without a selection of expertly curated drinks to complement the food. For the Kappou Dinner, Won's picks are the Krug Grande Cuvée for amuse-bouche; Tanaka 1789 x Chartier sake for the entrée; and Iwa 5 sake to go with the grilled dishes. Both sakes stand out for their French influences and affinity with Shin'Labo's own genealogy. The Tanaka 1789 x Chartier is surprisingly aromatic for a sake, lending itself well to the lighter flavours of the entrées. The Iwa 5 is also pleasant to drink; here, it's best enjoyed chilled, with the sake's acidity cutting through the fats of the grilled meat to release more flavours. Kanpai!
---
In short, Shin'Labo is an exciting addition to KL's upscale F&B scene, tailored for post-pandemic dining with its emphasis on the intimacy of smaller groups and integration of lounge, dining areas, and caviar bar. The food is exquisite and so are the drinks, with every attention paid to detail.
| | |
| --- | --- |
| SHARE THE STORY | |
| Explore More | |